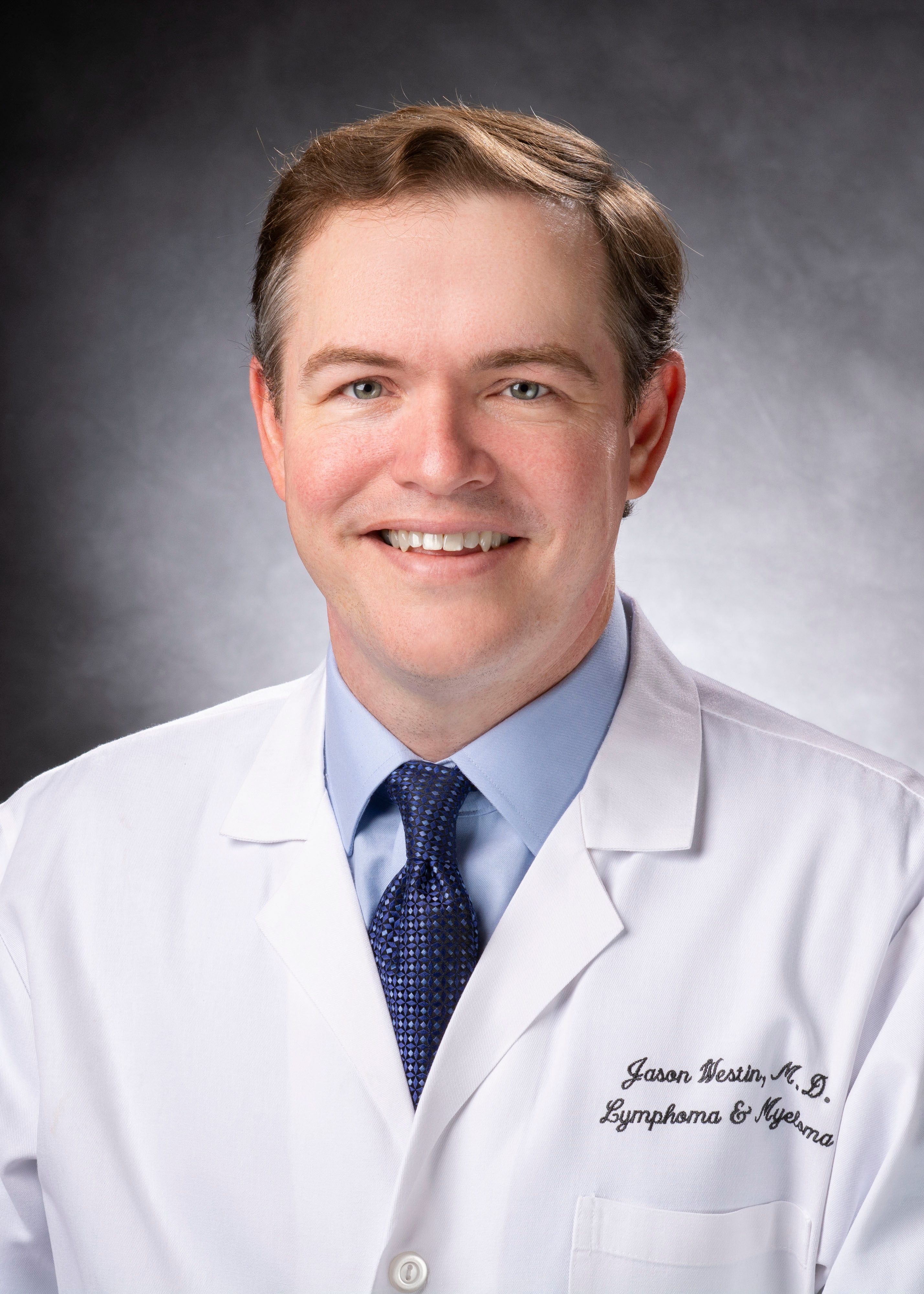 Jason Westin
Department of Lymphoma and Myeloma, Division of Cancer Medicine
About Dr. Westin
Dr. Jason Westin is the leader of the diffuse large B-cell lymphoma research team at the University of Texas MD Anderson Cancer Center in the Department of Lymphoma and Myeloma. His research interests include designing and conducting innovative clinical trials, the development of new drugs and new methods to improve outcomes for patients with lymphoma, including the study of scale-free networks and complex systems. Dr. Westin believes that clinical research is our best weapon in the fight against cancer, and has designed and conducted numerous clinical trials to find new cures for cancer.
Dr. Westin has presented his research at national and international conferences, including the American Society of Hematology, the American Society of Clinical Oncology, the American College of Clinical Pharmacology, the Lymphoma Research Foundation, and in Japan, Thailand, China, Spain, Switzerland, Belgium, Canada, and Peru.
He has received multiple awards to fund his research, including a prestigious Conquer Cancer Foundation Career Development Award from the American Society of Clinical Oncology, a Hope Foundation Grant from the Southwest Oncology Group, a Waun Ki Hong Award for Team Science, a Paul Calabresi NIH K12 Career Development Award, a Conquer Cancer Foundation Young Investigator Award, an R. Lee Clark Fellow award recognizing America's future cancer leaders, and many others.
Read More
Primary Appointment
Leader, DLBCL Clinical Research, The University of Texas MD Anderson Cancer Center, Houston, TX
Assistant Professor, Department of Lymphoma/Myeloma, Division of Cancer Medicine, The University of Texas MD Anderson Cancer Center, Houston, TX
Degree-Granting Education
| | |
| --- | --- |
| 2015 | University of Texas Graduate School of Biomedical Sciences, Houston, TX, USA, MS, Clinical and Translational Sciences |
| 2002 | University of Florida, Gainesville, FL, USA, MD, Medicine |
| 1998 | University of Florida, Gainesville, FL, USA, BS, Microbiology |
Postgraduate Training
| | |
| --- | --- |
| 2011-2012 | Research Fellowship, Advanced Scholar - Lymphoma, University of Texas MD Anderson Cancer Center, Houston, TX |
| 2010-2011 | Chief Fellow, M.D. Anderson Cancer Center, Houston, TX |
| 2008-2011 | Clinical Fellowship, Hematology/Oncology, M.D. Anderson Cancer Center, Houston, TX |
| 2002-2005 | Clinical Residency, University of North Carolina, Chapel Hill, NC |
| | |
| --- | --- |
| 2011 | ABIM Medical Oncology |
| 2005 | ABIM Internal Medicine |
Academic Appointments
Instructor, Department of Lymphoma/Myeloma - Research, Division of Cancer Medicine, The University of Texas MD Anderson Cancer Center, Houston, TX, 2011 - 2012
Instructor, Department of General Internal Medicine, The University of Texas MD Anderson Cancer Center, Houston, TX, 2006 - 2008
Assistant Professor, Division of Internal Medicine, The University of North Carolina, Chapel Hill, NC, 2005 - 2006
Administrative Appointments/Responsibilities
Clinical Operations Team Member, The University of Texas MD Anderson Cancer Center, Houston, TX, 2015 - Present
Hematology Grand Rounds, Lymphoma Chair, Department of Lymphoma/Myeloma, The University of Texas MD Anderson Cancer Center, Houston, TX, 2013 - Present
Co-Director Lymphoma Planning Clinic, Department of Lymphoma/Myeloma, The University of Texas MD Anderson Cancer Center, Houston, TX, 2013 - Present
Other Appointments/Responsibilities
Chair, Diffuse Large B Cell Lymphoma Translational Biology Program, Houston, TX, 2013 - Present
Institutional Committee Activities
Faculty Lead, eResearch Design Project Implementation Team, 2013 - 2013
Senator, MD Anderson Faculty Senate, 2013 - Present
Member, New Drug Development Team, MD Anderson Cancer Center Lymphoma Department, 2013 - Present
Chair, Lymphoma Informatics Committee, 2013 - Present
Member, DLBCL Clinical Trial Team, MD Anderson Cancer Center Lymphoma Department, 2010 - Present
| | |
| --- | --- |
| 2016 | Waun Ki Hong Award for Team Science, MD Anderson |
| 2015 | Lymphoma Clinical Research Mentoring Program, Lymphoma Research Foundation |
| 2015 | 2015 Career Development Award from Conquer Cancer Foundation, ASCO |
| 2014 | R. Lee Clark Fellow, MD Anderson Cancer Center |
| 2012 | American Society of Clinical Oncology Young Investigator Award |
| 2011 | Conquer Cancer Foundation of ASCO Oncology Trainee Travel Award |
| 2011 | American Society of Hematology Clinical Research Training Institute |
| 2010 | Janice Davis Singletary Fellowship for Lymphoma, M.D. Anderson Cancer Center |
| 2010 | Paul Calabresi Career Development Award in Clinical Oncology, M.D. Anderson Cancer Center |
| 2009 | American Society of Hematology Travel Award |
| 2003 | Intern of the Year Award |
| 2002 | Equal Access Homeless Clinic Award, University of Florida College of Medicine |
| 2002 | Alpha Omega Alpha Medical Honor Society |
American Association for Cancer Research
Associate Member, 2010 - Present
Association for Patient Oriented Research
Member, 2010 - Present
American Society of Hematology
Associate Member, 2009 - Present
American Society of Clinical Oncology
Associate Member, 2009 - Present
Peer-Reviewed Articles
Chihara D, Fanale MA, Miranda RN, Noorani M, Westin JR, Nastoupil LJ, Hagemeister FB, Fayad LE, Romaguera JE, Samaniego F, Turturro F, Lee HJ, Neelapu SS, Rodriguez MA, Wang M, Fowler NH, Davis RE, Medeiros LJ, Hosing C, Nieto YL, Oki Y

The survival outcome of patients with relapsed/refractory peripheral T-cell lymphoma-not otherwise specified and angioimmunoblastic T-cell lymphoma. Br J Haematol 176 (5) :1365-2141, 2017. PMID: 27983760

Nastoupil LJ, McLaughlin P, Feng L, Neelapu SS, Samaniego F, Hagemeister FB, Ayala A, Romaguera JE, Goy AH, Neal E, Wang M, Fayad L, Fanale MA, Oki Y, Westin JR, Rodriguez MA, Cabanillas F, Fowler NH

High ten-year remission rates following rituximab, fludarabine, mitoxantrone and dexamethasone (R-FND) with interferon maintenance in indolent lymphoma: Results of a randomized Study. Br J Haematol 177 (2) :263-270, 2017. PMID: 28340281

Pinnix CC, Dabaja BS, Milgrom SA, Smith GL, Abou Z, Nastoupil L, Romaguera J, Turturro F, Fowler N, Fayad L, Westin J, Neelapu S, Fanale MA, Rodriguez MA, Hagemeister F, Lee HJ, Oki Y, Wang M, Samaniego F, Chi L, Esmaeli B

Ultra-low-dose radiotherapy for definitive management of ocular adnexal B-cell lymphoma. Head Neck 39 (6) :1095-1100, 2017. PMID: 28370694

Lee HJ, Romaguera JE, Feng L, Desai AP, Zhang L, Fanale M, Samaniego F, Hagemeister FB, Fayad LE, Rodriguez MA, Medeiros JL, Hartig K, Nomie K, Ahmed M, Badillo M, Ye H, Oki Y, Lin P, Nastoupil L, Westin J, Wang M

Phase II Study of Bortezomib in Combination with Cyclophosphamide and Rituximab for Relapsed or Refractory Mantle Cell Lymphoma. Oncologist 22 (5) :549-553, 2017. PMID: 28408615

Pinnix CC, Shah JJ, Chuang H, Costelloe CM, Medeiros LJ, Wogan CF, Reed V, Smith GL, Milgrom S, Patel K, Huo J, Turturro F, Romaguera J, Fayad L, Oki Y, Fanale MA, Westin J, Nastoupil L, Hagemeister FB, Rodriguez A, Qazilbash M, Shah N, Bashir Q, Ahmed S, Nieto Y, Hosing C, Rohren E, Dabaja B

Doxorubicin-Based Chemotherapy and Radiation Therapy Produces Favorable Outcomes in Limited-Stage Plasmablastic Lymphoma: A Single-Institution Review. Clin Lymphoma Myeloma Leuk 16 (3) :122-8, 2016. PMID: 26795083

Issa AK, Westin JR

What to Do With Success? The Optimist's Creed in Relapsed Hodgkin Lymphoma. Clin Lymphoma Myeloma Leuk 16 (9) :483-487, 2016. PMID: 27364263

Chen Y, Neelapu S, Feng L, Bi W, Yang TH, Wang M, Fanale MA, Westin JR, Hagemeister FB, Fayad LE, Romaguera JE, Samaniego F, Turturro F, Fowler NH, McLaughlin P, Cabanillas F, Oki Y, Nastoupil LJ, Rodriguez A

Prognostic significance of baseline peripheral absolute neutrophil, monocyte and serum β2-microglobulin level in patients with diffuse large b-cell lymphoma: a new prognostic model. Br J Haematol 175 (2) :290-299, 2016. e-Pub 2016. PMID: 27448187

Pinnix CC, Dabaja B, Ahmed MA, Chuang HH, Costelloe C, Wogan CF, Reed V, Romaguera JE, Neelapu S, Oki Y, Rodriguez MA, Fayad L, Hagemeister FB, Nastoupil L, Turturro F, Fowler N, Fanale MA, Nieto Y, Khouri IF, Ahmed S, Medeiros LJ, Davis RE, Westin J

Single-Institution Experience in the Treatment of Primary Mediastinal B Cell Lymphoma Treated With Immunochemotherapy in the Setting of Response Assessment by (18)Fluorodeoxyglucose Positron Emission Tomography. Int J Radiat Oncol Biol Phys 92 (1) :113-121, 2015. PMID: 25863759

Pinnix CC, Smith GL, Milgrom S, Osborne EM, Reddy JP, Akhtari M, Reed V, Arzu I, Allen PK, Wogan CF, Fanale MA, Oki Y, Turturro F, Romaguera J, Fayad L, Fowler N, Westin J, Nastoupil L, Hagemeister FB, Rodriguez MA, Ahmed S, Nieto Y, Dabaja B

Predictors of Radiation Pneumonitis in Patients Receiving Intensity Modulated Radiation Therapy for Hodgkin and Non-Hodgkin Lymphoma. Int J Radiat Oncol Biol Phys 92 (1) :175-182, 2015. PMID: 25863764

Cai Q, Westin J, Fu K, Desai M, Zhang L, Huang H, Jiang W, Liang R, Qian Z, Champlin RE, Wang M

Accelerated Therapeutic Progress in Diffuse Large B-cell Lymphoma Ann Hematol 93 (4) :541-56, 2014. e-Pub 2013. PMID: 24375125

Westin JR, Chu F, Zhang M, Fayad LE, Kwak LW, Fowler N, Romaguera J, Hagemeister F, Fanale M, Samaniego F, Feng L, Baladandayuthapani V, Wang Z, Ma W, Gao Y, Wallace M, Vence LM, Radvanyi L, Muzzafar T, Rotem-Yehudar R, Davis RE, Neelapu SS

Safety and activity of PD1 blockade by pidilizumab in combination with rituximab in patients with relapsed follicular lymphoma: a single group, open-label, phase 2 trial. Lancet Oncol 15 (1) :69-77, 2014. e-Pub 2013. PMID: 24332512

Westin JR

Status of PI3K/Akt/mTOR Pathway Inhibitors in Lymphoma. Clin Lymphoma Myeloma Leuk 14 (5) :335-342, 2014. e-Pub 2014. PMID: 24650973

Oki Y, Noorani M, Lin P, Davis RE, Neelapu SS, Ma L, Ahmed M, Rodriguez MA, Hagemeister FB, Fowler N, Wang M, Fanale MA, Nastoupil L, Samaniego F, Lee HJ, Dabaja BS, Pinnix CC, Medeiros LJ, Nieto Y, Khouri I, Kwak LW, Turturro F, Romaguera JE, Fayad LE, Westin JR

Double Hit Lymphoma: the MD Anderson Cancer Center clinical experience Br J Haematol 166 (6) :891-901, 2014. e-Pub 2014. PMID: 24943107

Westin JR, McLaughlin P, Romaguera J, Hagemeister FB, Pro B, Dang NH, Samaniego F, Rodriguez MA, Fayad L, Oki Y, Fanale M, Fowler N, Nastoupil L, Feng L, Loyer E, Younes A

Paclitaxel, topotecan and rituximab: long term outcomes of an effective salvage programmed for relapsed or refractory aggressive B-cell non-Hodgkin lymphoma. Br J Haematol 167 (2) :177-84, 2014. e-Pub 2014. PMID: 25039868

Younes A, Thieblemont C, Morschhauser F, Flinn I, Friedberg JW, Amorim S, Hivert B, Westin J, Vermeulen J, Bandyopadhyay N, de Vries R, Balasubramanian S, Hellemans P, Smit JW, Fourneau N, Oki Y

Combination of ibrutinib with rituximab, cyclophosphamide, doxorubicin, vincristine, and prednisone (R-CHOP) for treatment-naive patients with CD20-positive B-cell non-Hodgkin lymphoma: a non-randomized, phase 1b study. Lancet Oncol 15 (9) :1019-26, 2014. e-Pub 2014. PMID: 25042202

Fowler NH, Davis RE, Rawal S, Nastoupil L, Hagemeister FB, McLaughlin P, Kwak LW, Romaguera JE, Fanale MA, Fayad LE, Westin JR, Shah J, Orlowski RZ, Wang M, Turturro F, Oki Y, Claret LC, Feng L, Baladandayuthapani V, Muzzafar T, Tsai KY, Samaniego F, Neelapu SS

Safety and activity of lenalidomide and rituximab in untreated indolent lymphoma: an open-label, phase 2 trial. Lancet Oncol 15 (12) :1311-8, 2014. e-Pub 2014. PMID: 25439689

Sasaki K, Pemmaraju N, Westin JR, Wang WL, Khoury JD, Podoloff DA, Moon B, Daver N, Borthakur G

A single case of rosai-dorfman disease marked by pathologic fractures, kidney failure, and liver cirrhosis treated with single-agent cladribine. Front Oncol 4:297, 2014. e-Pub 2014. PMID: 25401088

Westin JR, Thompson MA, Cataldo VD, Fayad LE, Fowler N, Fanale MA, Neelapu S, Samaniego F, Romaguera J, Shah J, McLaughlin P, Pro B, Kwak LW, Sanjorjo P, Murphy WA, Jimenez C, Toth B, Dong W, Hagemeister FB

Zoledronic Acid for Prevention of Bone Loss in Patients Receiving Primary Therapy for Lymphomas: A Prospective, Randomized Controlled Phase III Trial. Clin Lymphoma Myeloma Leuk 13 (2) :99-105, 2013. e-Pub 2012. PMID: 23276888

Dabaja BS, Phan J, Mawlawi O, Medeiros LJ, Etzel C, Liang FW, Podoloff D, Oki Y, Hagemeister FB, Chuang H, Fayad LE, Westin JR, Shihadeh F, Allen PK, Wogan CF, Rodriguez MA

Clinical implications of positron emission tomography-negative residual computed tomography masses after chemotherapy for diffuse large B-cell lymphoma. Leuk Lymphoma 54 (12) :2631-8, 2013. e-Pub 2013. PMID: 23488661

Oki Y, Westin JR, Vega F, Chuang H, Fowler N, Neelapu S, Hagemeister FB, McLaughlin P, Kwak LW, Romaguera JE, Fanale M, Younes A, Rodriguez MA, Orlowski RZ, Wang M, Ouzounian ST, Samaniego F, Fayad L

Prospective phase II study of rituximab with alternating cycles of hyper-CVAD and high-dose methotrexate with cytarabine for young patients with high-risk diffuse large B-cell lymphoma. Br J Haematol 163 (5) :611-20, 2013. e-Pub 2013. PMID: 24117234

Westin JR, Gibbs A, Mills KR, Neelapu SS

Hodgkin lymphoma untreated for six years presenting with tracheoesophageal fistula. Case Report Med 2012:457908, 2012. e-Pub 2012. PMID: 22811723

Westin JR, Neelapu SS

Therapy of newly diagnosed follicular lymphoma. Front Oncol 2:188, 2012. e-Pub 2012. PMID: 23248775

Westin JR, Kurzrock R

It's About Time: Lessons for Solid Tumors from Chronic Myelogenous Leukemia Therapy. Mol Cancer Ther 11 (12) :2549-55, 2012. e-Pub 2012. PMID: 23204432

Davis RE, Westin JR

Vive la resistance: stem cells in mantle cell lymphoma. Leuk Lymphoma 52 (6) :944-5, 2011. e-Pub 2011. PMID: 21463111

Westin JR, Saliba RM, De Lima M, Alousi A, Hosing C, Qazilbash MH, Khouri IF, Shpall EJ, Anderlini P, Rondon G, Andersson BS, Champlin R, Couriel DR

Steroid-Refractory Acute GVHD: Predictors and Outcomes. Adv Hematol 2011:601953, 2011. e-Pub 2011. PMID: 22110505

Westin J, McLaughlin P

De novo CD5+ diffuse large B-cell lymphoma: a distinct subset with adverse features, poor failure-free survival and outcome with conventional therapy. Leuk Lymphoma 51 (1) :161-3, 2010. PMID: 19863175

Westin JR, Fayad LE

Beyond R-CHOP and the IPI in large-cell lymphoma: molecular markers as an opportunity for stratification. Curr Hematol Malig Rep 4 (4) :218-24, 2009. PMID: 20425411

Westin JR

Busting Robustness: Using Cancer's Greatest Strength to Our Advantage Future Oncology 11 (1) :73-77. PMID: 24673642

Cheah CY, Oki Y, Westin JR, Turturro F

A clinician's guide to double hit lymphomas. Br J Haematol 168 (6) :784-785. e-Pub 2014. PMID: 25529575

Chihara D, Fowler NH, Oki Y, Fanale MA, Fayad LE, Westin JR, Hagemeister FB

Dose-Adjusted EPOCH-R and Mid-Cycle High Dose Methotrexate for Patients with Systemic Lymphoma and secondary CNS Involvement. Br J Haematol. PMID: 27502933

Chihara D, Westin JR, Miranda RN, Cheah CY, Oki Y, Turturro F, Romaguera JE, Neelapu SS, Nastoupil LJ, Fayad LE, Rodriguez MA, Fowler NH, Orlowski RZ, Wang M, Hagemeister FB, Medeiros LJ, Fanale MA

Dose adjusted-EPOCH-R and mediastinal disease may improve outcomes for patients with gray-zone lymphoma. Br J Haematol. PMID: 27378601

Chihara D, Westin JR, Oki Y, Ahmed MA, Do B, Fayad LE, Hagemeister FB, Romaguera JE, Fanale MA, Lee HJ, Turturro F, Samaniego F, Neelapu SS, Rodriguez MA, Fowler NH, Wang M, Davis RE, Nastoupil LJ

Management strategies and outcomes for very elderly patients with diffuse large B-cell lymphoma. Cancer 122 (20) :3145-3151. PMID: 27351173

Pinnix CC, Osborne EM, Chihara D, Lai P, Zhou S, Ramirez MM, Oki Y, Hagemeister FB, Rodriguez AM, Samaniego F, Fowler N, Romaguera JE, Turturro F, Fayad L, Westin JR, Nastoupil L, Neelapu SS, Cheah CY, Dabaja BS, Milgrom SA, Smith GL, Horace P, Milbourne A, Wogan CF, Ballas L, Fanale MA

Maternal and Fetal Outcomes After Therapy for Hodgkin or Non-Hodgkin Lymphoma Diagnosed During Pregnancy. JAMA Oncol 2 (8) :1065-9. e-Pub 2016. PMID: 27227654

Cheah CY, Chihara D, Horowitz S, Sevin A, Oki Y, Zhou S, Fowler NH, Romaguera JE, Turturro F, Hagemeister FB, Fayad LE, Wang M, Neelapu SS, Nastoupil LJ, Westin JR, Rodriguez MA, Samaniego F, Anderlini P, Nieto Y, Fanale MA

Patients with classical Hodgkin lymphoma experiencing disease progression after treatment with brentuximab vedotin have poor outcomes. Ann Oncol. e-Pub 2016. PMID: 27091808

Laubach J, Garderet L, Mahindra A, Gahrton G, Caers J, Sezer O, Voorhees P, Leleu X, Johnsen HE, Streetly M, Ludwig H, Mellqvist UH, Chng WJ, Pilarski L, Einsele H, Hou J, Turesson I, Zamagni E, Chim J, Mazumder A, Westin J, Lu J, Reiman T, Kristinsson S, Joshua D, Roussel M, O'Gorman P, Terpos E, Dimopoulos M, Moreau P, Anderson K, Palumbo A, Kumar S, Rajkumar V, Durie B, Richardson P

Management of relapsed multiple myeloma: Recommendations of the international myeloma working group. Leukemia. PMID: 26710887

Cheah CY, Chihara D, Ahmed M, Davis RE, Nastoupil LJ, Phansalkar K, Hagemeister FB, Fayad LE, Westin JR, Oki Y, Fanale MA, Romaguera JE, Wang ML, Lee H, Turturro F, Samaniego F, Rodriguez MA, Neelapu SS, Fowler NH

Factors influencing outcome in advanced stage, low-grade follicular lymphoma treated at MD Anderson Cancer Center in the rituximab era. Ann Oncol. PMID: 26802151

Chihara D, Cheah CY, Westin JR, Fayad LE, Rodriguez MA, Hagemeister FB, Pro B, McLaughlin P, Younes A, Samaniego F, Goy A, Cabanillas F, Kantarjian H, Kwak LW, Wang ML, Romaguera JE

Rituximab plus hyper-CVAD alternating with MTX/Ara-C in patients with newly diagnosed mantle cell lymphoma: 15-year follow-up of a phase II study from the MD Anderson Cancer Center. Br J Haematol. e-Pub 2015. PMID: 26648336

Wang ML, Lee H, Chuang H, Wagner-Bartak N, Hagemeister F, Westin J, Fayad L, Samaniego F, Turturro F, Oki Y, Chen W, Badillo M, Nomie K, Rosa MD, Zhao D, Lam L, Addison A, Zhang H, Young KH, Li S, Santos D, Medeiros LJ, Champlin R, Romaguera J, Zhang L

Ibrutinib in combination with rituximab in relapsed or refractory mantle cell lymphoma: a single-centre, open-label, phase 2 trial. Lancet Oncol. PMID: 26640039

Oki Y, Younes A, Knicerkbocker J, Samaniego F, Nastoupil L, Hagemeister F, Romaguera J, Fowler N, Kwak L, Westin J

Experience with HSP90 inhibitor AUY922 in patients with relapsed or refractory non-Hodgkin lymphoma. Haematologica. e-Pub 2015. PMID: 25820332

Tao R, Allen PK, Rodriguez A, Shihadeh F, Pinnix CC, Arzu I, Reed VK, Oki Y, Westin JR, Fayad LE, Medeiros LJ, Dabaja B

Benefit of Consolidative Radiation Therapy for Primary Bone Diffuse Large B-Cell Lymphoma. Int J Radiat Oncol Biol Phys. e-Pub 2015. PMID: 25754633

Bui PL, Vicens RA, Westin JR, Jensen CT

Multimodality imaging of Epstein-Barr virus-associated inflammatory pseudotumor-like follicular dendritic cell tumor of the spleen: case report and literature review. Clin Imaging. e-Pub 2015. PMID: 25725946

Havranek O, Xu J, Köhrer S, Wang Z, Becker L, Comer JM, Henderson J, Ma W, Ma JMC, Westin JR, Ghosh D, Shinners N, Sun L, Yi AF, Karri AR, Burger JA, Zal T, Davis RE

Tonic B-cell receptor signaling in diffuse large B-cell lymphoma. Blood. PMID: 28646116

Fanale MA, Cheah CY, Rich A, Medeiros LJ, Lai CM, Oki Y, Romaguera JE, Fayad L, Hagemeister FB, Samaniego F, Rodriguez MA, Neelapu SS, Lee HJ, Nastoupil L, Fowler N, Turturro F, Westin J, Wang M, McLaughlin P, Pinnix C, Milgrom S, Dabaja B, Horowitz SB, Younes A

Encouraging activity for R-CHOP in Advanced Stage Nodular Lymphocyte Predominant Hodgkin Lymphoma. Blood. PMID: 28522441

Ho JC, Dabaja BS, Milgrom SA, Smith GL, Reddy JP, Mazloom A, Young KH, Deng L, Medeiros LJ, Dong W, Allen PK, Andraos TY, Fowler NH, Nastoupil LJ, Oki Y, Fayad LE, Turturro F, Neelapu SS, Westin J, Hagemeister FB, Rodriguez MA, Pinnix CC

Radiation therapy improves survival in patients with testicular diffuse large B-cell lymphoma(). Leuk Lymphoma:1-12. PMID: 28482717

Galanina N, Smith SM, Liao C, Petrich A, Libao B, Gartenhaus R, Westin JR, Cohen KS, Knost JA, Stadler WM, Doyle A, Karrison T, Gordon LI, Evens AM

University of Chicago phase II consortium trial of selumetinib (MEKi) demonstrates low tolerability and efficacy in relapsed DLBCL. Br J Haematol. PMID: 28419407

Huang XJ, Liu K, Ritchie D, Andersson B, Lu J, Hou J, Burguera AF, Wang J, Yeoh A, Yan C, Zhou D, Tan D, Kim DW, Wu D, Shpall E, Kornblau S, Neelapu S, Hongeng S, Li J, Hu J, Zhang LS, Wang M, Malhotra P, Jiang Q, Qin Y, Wong R, Champlin R, Hagemeister F, Westin J, Iyer S, Mathews V, Wang Y, Hu Y, Xiao Z, Shao Z, Orlowski RZ, Chim CS, Mulligan S, Sanz M, Ozawa K, Parmar S, Issaragrisil S

Hematology oncology practice in the Asia-Pacific APHCON survey results from the 6th international hematologic malignancies conference: bridging the gap 2015, Beijing, China. Oncotarget 8 (25) :41620-41630. PMID: 28404929

Fanale MA, Cheah C, Rich A, Medeiros LJ, Lai CM, Oki Y, Romaguera JE, Fayad LE, Hagemesiter F, Samaniego F, Rodriguez MA, Neelapu S, Lee HJ, Nastoupil L, Fowler N, Turturro F, Westin J, Wang M, McLaughlin P, Pinnix C, Milgrom S, Dabaja B, Horowitz S, Younes A

Potential Improvement of Clinical Outcomes for Advanced Stage Nodular Lymphocyte Predominant Hodgkin Lymphoma Patients Treated With R-CHOP
Editorials
Westin J, Hagemeister F, J Comp Eff Res, 2 (6) :537-40, 2013
Westin JR, Future Oncol
Abstracts
Sathyanarayanan V, Oki Y, Issa AK,Ahmed MA, Noorani M, Fanale MA, Hagemeister FB, Neelapu SS, Nastoupil LJ, Fowler N, Turturro F, Davis ER, Rodriguez AM, Wang M, Feng L, Young KH, McDonnell TJ, Pinnix CC, Fayad LE, Westin JR

High Risk Diffuse Large B Cell Lymphoma: A Comparison of Aggressive Subtypes Treated with Dose Adjusted Chemotherapy—the University of Texas MD Anderson Experience Blood (2016 ASH Annual Meeting) 128 (26) :106, 2016

Wang M, Lee HJ, Thirumurthi S, Chuang HH, Hagemeister FB, Westin JR, Fayad LE, Samaniego F, Turturro F, Chen W*, Oriabure O*, Huang SY, Li S, Zhang L, Badillo M, Hartig KH*, Ahmed M, Nomie K, Lam LT, Addison AA, Romaguera JE

Chemotherapy-Free Induction with Ibrutinib-Rituximab Followed By Shortened Cycles of Chemo-Immunotherapy Consolidation in Young, Newly Diagnosed Mantle Cell Lymphoma Patients: A Phase II Clinical Trial Blood (2016 ASH Annual Meeting) 128 (26) :147, 2016

Quesada AQ, Desai P, Tang G, Lin P, Westin JR, Seegmiller AC, Yin CC, Wang W, Xu J, Miranda RN, Reddy N, Medeiros LJ, Li S

MYC Copy Number Aberrancies Predict a Worse Prognosis in Patients with Diffuse Large B-Cell Lymphoma Blood (2016 ASH Annual Meeting) 128 (26) :154, 2016

Havranek O, Xu J, Koehrer S, Wang Z, Comer J, Becker L, Yi AF, Burger JA, Westin JR, Zal T, Davis RE

Molecular Aspects of Tonic B-Cell Receptor Signaling in Diffuse Large B-Cell Lymphoma Provide Biomarkers and Targets for Specific Inhibition Blood (2016 ASH Annual Meeting) 128 (26) :779, 2016

Locke FL, Neelapu SS, Bartlett NL, Siddiqi T, Jacobson CA, Westin JR, Chavez JC, Ghobadi A, Herrera AF, LaCasce AS, Bot A, Rossi JM, Jiang Y, Aycock JS, Elias M, Wiezorek J, Go Wy

A Phase 2 Multicenter Trial of KTE-C19 (anti-CD19 CAR T Cells) in Patients With Chemorefractory Primary Mediastinal B-Cell Lymphoma (PMBCL) and Transformed Follicular Lymphoma (TFL): Interim Results From ZUMA-1 Blood (2016 ASH Annual Meeting) 128 (26) :998, 2016

Scherer F, Kurtz DM, Newman AM, Esfahani MS, Craig A, Stehr H, Lovejoy AF, Chabon JJ, Liu CL, Zhou Li, Glover C, Visser BC*, Poultsides G, Advani RH, Maeda LS, Gupta NK, Levy R, Ohgami RS, Davis ER, Gaidano G, Kunder CA, Rossi D, Westin JR, Diehn M, Alizadeh AA

Development and Validation of Biopsy-Free Genotyping for Molecular Subtyping of Diffuse Large B-Cell Lymphoma Clinically Relevant Abstract Blood (2016 ASH Annual Meeting) 128 (26) :1089, 2016

Hu B, Younes A, Claret L, Feng L, Westin JR, Fowler N, Neelapu SS, Hagemeister FB, Rodriguez MA, Samaniego F, Fayad LE, Nastoupil LJ, Copeland AR, Fanale MA, Oki Y

The Final Report of a Phase I/II Study of Panobinostat in Combination with ICE (Ifosfamide, Carboplatin and Etoposide) in Patients (pts) with Relapsed or Refractory (R/R) Classical Hodgkin Lymphoma (cHL) Blood (2016 ASH Annual Meeting) 128 (26) :1833, 2016

Kurtz DM, Scherer F, Newman AM, Craig A, Jin M, Stehr H, Chabon JJ, Esfahani M, Liu CL, Zhou L, Glover C, Visser BC, Poultsides G, Advani RH, Maeda LS, Gupta NK, Levy R, Ohgami RS, Davis ER, Kunder CA, Westin JR, Diehn M, Alizadeh AA

Noninvasive Detection of BCL2, BCL6, and MYC Translocations in Diffuse Large B-Cell Lymphoma Blood (2016 ASH Annual Meeting) 128 (26) :2930, 2016

Jain P, Kanagal-Shamanna R, San Lucas F, Wang M, Romaguera JE, Fayad LE, Oki Y, Westin JE, Medeiros LJ, Fowler N

Characteristics, Outcome and Pattern of Mutations in Patients with Follicular Lymphoma Who Progressed on BTK Inhibitors (Ibrutinib and acalabrutinib) Blood (2016 ASH Annual Meeting) 128 (26) :2975, 2016

Chihara D, Fanale MA, Miranda RN, Noorani M, Westin JR, Nastoupil LJ, Hagemeister FB, Fayad LE, Romaguera JE, Samaniego F, Turturro F, Lee HJ, Neelapu SS, Rodriguez MA, Wang M, Fowler N, Medeiros LJ, Davis RE, Oki Y

The Risk of Central Nervous System (CNS) Relapses in Patients with Peripheral T-Cell Lymphoma Blood (2016 ASH Annual Meeting) 128 (26) :4153, 2016

Simar KA, Sathyanarayanan V, Issa AK, Ahmed MA, Noorani M, Fanale MA, Oki Y, Hagemeister FB, Neelapu SS, Nastoupil LJ, Fowler N, Turturro F, Davis RE, Rodriguez MA, Wang M, Feng L, Young KH, McDonnell TJ, Pinnix CC, Fayad LE, Westin JR

Analyzing Patient Characteristics Who Received (DA) EPOCH-R for High Risk Diffuse Large B-Cell Lymphoma: MD Anderson Cancer Center Experience Blood (2016 ASH Annual Meeting) 128 (26) :4208, 2016

Neelapu SS, Locke FL, Bartlett NL, Lekakis L, Miklos D, Jacobson CA, Braunschweig I, Oluwole O, Siddiqi T, Lin Y, Timmerman J, Stiff PJ, Friedberg J, Flinn I, Goy A, Smith M, Deol A, Farooq U, McSweeney P, Munoz J, Avivi I, Castro JE, Westin JR, Chavez JC, Ghobadi A, Komanduri KV, Levy R, Jacobsen ED, Reagan P, Bot A, Rossi JM, Navale L, Jiang Y, Aycock JS, Elias M, Wiezorek J, Go WY

Kte-C19 (anti-CD19 CAR T Cells) Induces Complete Remissions in Patients with Refractory Diffuse Large B-Cell Lymphoma (DLBCL): Results from the Pivotal Phase 2 ZUMA-1 Blood (2016 ASH Annual Meeting) 128 (26) :LBA-6, 2016

Westin JR, Oki Y, Fayad LE, Nastoupil L, Turturro F, Hagemeister FB, Sathyanarayanan V, Young KH, McDonnell T, Chuang HH, Zhou S, Neelapu SS, Davis RE

Rituximab, lenalidomide, and ibrutinib alone and combined with dose adjusted chemotherapy for patients with high risk diffuse large B-cell lymphoma J Clin Oncol 34:TPS7575, 2016

Westin JR, Maris MB, Al-Katib AM, Lakhani NJ, Patel PA, Harb WA, McCaul K, Patel-Donnelly D, Messmann RA, Klencke BJ

A phase 2 study of PNT2258 in patients with relapsed or refractory (r/r) diffuse large b-cell lymphoma (DLBCL): An initial report from the Wolverine study J Clin Oncol 34:TPS7577, 2016

Issa A, Sathyanarayanan V, Fanale MA, Oki Y, Hagemeister FB, Neelapu SS, Nastoupil LJ, Fowler NH, Turturro F, Noorani M, Ahmed MA, Davis RE, Rodriguez MA, Wang M, Feng L, Young K, McDonnell T, Pinnix CC, Fayad LE, Westin JR

Outcomes of diffuse large b-cell lymphoma with MYC and/or BCL2 protein expression treated with intensive chemotherapy J Clin Oncol 34:7563, 2016

Chihara D, Fanale M, Noorani M, Westin J, Nastoupil L, Hagemeister F, Fayad L, Romaguera J, Samaniego F, Turturro F, Lee JL, Neelapu S, Rodriguez A, Wang M, Fowler N, Miranda R, Hosing C, Nieto Y, Davis RE, Oki Y

The Survival Outcome of the Patients with Relapsed/Refractory PTCL-NOS and AITL Blood (2015 ASH Annual Meeting) 126 (123) , 2015

Chihara D, Fanale M, Noorani M, Westin J, Nastoupil L, Hagemeister F, Fayad L, Romaguera J, Samaniego F, Turturro F, Lee HJ, Neelapu S, Rodriguez A, Wang M, Fowler N, Miranda R, Hosing C, Nieto Y, Davis RE, Oki Y

The Survival Outcome of the Patients with Relapsed/Refractory Anaplastic Large-Cell Lymphoma Blood (2015 ASH Annual Meeting) 126 (123) , 2015

Chihara D, Oki Y, Westin J, Nastoupil L, Fayad L, Samaniego F, Wesson E, Ruben C, Horowitz S, Feng L, Garg N, Ahmed S, Khouri I, Hosing C, Romaguera J, Fowler N, Fanale M

High Response Rate of Romidepsin in Combination with ICE (Ifosfamide, Carboplatin and Etoposide) in Patients with Relapsed or Refractory Peripheral T-Cell Lymphoma: Updates of Phase I Trial Blood (2015 ASH Annual Meeting) 126 (123) , 2015

Galamina N, Smith S, Liao C, Petrick A, Libao B, Gartenhaus R, Westin J, Cohen K, Knost J, Stadler W, Doyle A, Karrison T, Gordon L, Evens A

Selective MEK Inhibition with AZD-6244 (selumetinib) in Patients with Relapsed/Refractory Diffuse Large B-Cell Lymphoma (DLBCL): A University of Chicago Phase II Consortium Trial Blood (2015 ASH Annual Meeting) 126 (123) , 2015

Ahmed M, Oki Y, Noorani M, Nastoupil L, Fayad L, Hagemeister F, Rodriguez A, Davis RE, Westin J

The Clinical Outcome of Newly Diagnosed Patients >60 Years of Age with Diffuse Large B-Cell Lymphoma (DLBCL) Treated with Standard or Liposomal Chemotherapies Blood (2015 ASH Annual Meeting) 126 (123) , 2015

Havranek O, Koehrer S, Xu J, Becker L, Comer J, Karri A, Wang Z, Ma W, Westin J, Sal T, Burger J, Davis RE

B-Cell Receptor Signaling in Diffuse Large B-Cell Lymphoma: Tonic Alone in the Germinal B-Cell Subtype, Plus Self Antigen-induced in the Activated B-Cell Subtype Blood (2015 ASH Annual Meeting) 126 (123) , 2015

Khouri I, Sui D, Turturro F, Erwin W, Basset R, Korbling M, Valverde R, Ahmed S, Alousi A, Anderlini P, Bashir Q, Cuirea S, Oran B, Olson A, Popat U, Patel K, Qazilbash M, Fanale M, Fayad L, Nastoupil L, Westin J, Gulbis A, Medeiros J, Young K, Jessop A

In-Vivo Purging with Rituximab (R) Followed by Z/BEAM vs BEAM/R Autologous Stem Cell Conditioning for Relapsed Diffuse Large B-Cell Lymphoma (DLBCL) Patients (pts): Mature Results from a Combined Analysis of 3 Trials Blood (2015 ASH Annual Meeting) 126 (123) , 2015

Chihara D, Ahmed M, Oki Y, Westin J, Hagemeister F, Romaguera J, Fanale M, Lee HJ, Turturro F, Samaniego F, Neelapu S, Rodriguez A, Fowler N, Wang M, Fayad L, Davis RE, Nastoupil L

Management Strategies and Outcomes for Very Elderly Patients with Diffuse Large B-Cell Lymphoma (DLBCL) Blood (2015 ASH Annual Meeting) 126 (123) , 2015

Rodriguez A, Samaniego F, Fanale M, Wang M, Oki Y, Turturro F, Westin J, Kwak L, Nastoupil L, Cheah C, Feng L, Rohren E

SUVmax on Pre-Treatment FDG PET Scan is Not Predictive of Outcome in Follicular Lymphoma after R-CHOP Therapy Blood (ASH Annual Meeting Abstracts 2014) 124 (21) , 2014

Rodriguez A, Samaniego F, Fanale M, Wang M, Oki Y, Turturro F, Westin J, Nastoupil L, Kwak L, David RE, Neelapu S

R-Bendamustine vs. R-CHOP as Initial Treatment for Advanced Stage Low Grade Follicular Lymphoma: A Matched-Pair Analysis Blood (ASH Annual Meeting Abstracts 2014) 124 (21) , 2014

Fayad L, Rodriguez A, Samaniego F, Fowler N, Oki Y, Turturro F, Westin J, Kwak L, Sabaja B, Feng L, Davis RE, Neelapu S

Antibiotic Therapy of H. Pylori negative Gastric MALT Lymphoma Blood (ASH Annual Meeting Abstracts 2014) 124 (21) , 2014

Ahmed S, Ciurea SO, Fayad L, Oran B, Parmar S, Popat U, Westin J, Turturro F, Medeiros LJ, Gulbis AM, Young KH

Outcomes Following Allogenic Stem Cell Transplantation (AlloSCT) in Patients with Primary Mediastinal (PMBL) Germinal Center B (GCB) and Non-GCB Cell-like Diffuse Large B-Cell Lymphomas (DLBCL) Blood (ASH Annual Meeting Abstracts 2014) 124 (21) , 2014

Hagemeister F, Westin J, Fayad L, Samaniego F, Turturro F, Chen W, Zhang L, Badillo M

Ibrutinib and Rituximab are an Efficacious and Safe Combination in Relapsed Mantel Cell Lymphoma: Preliminary Results from a Phase II Clinical Trial Blood (ASH Annual Meeting Abstracts 2014) 124 (21) , 2014

Xu J, David RE, Zhiqiang Wang, Westin J

Selinexor (KPT-330) is Not Cross-Resistant with Chemotherapy and Demonstrates Strong Synergy with Targeted Therapy in DLBCL Blood (ASH Annual Meeting Abstracts 2014) 124 (21) , 2014

Saliba RM, Xu-Monette ZY, Rondon G, Valverde R, Korbling M, Gulbis AM, Anderlini P, Sairah A, Hosing CM, Popat UR, Kebriaei P, Fayad LE, Westin JR, Turturro F, Medeiros LJ, Champlin RE, Young KH

Outcomes following Autologous Stem Cell Transplantation (ASCT) in in Patients with Germinal Center B (GCB) and non-GCB Cell-Like Diffuse Large B cell Lymphomas (DLBCL) According to Conditioning with BEAM-Rituximab (Standard vs. High-Dose) vs. BEAM/Yttrium-90 Ibritumomab Tiuxetan (90YIT) Blood (ASH Annual Meeting Abstracts) 2013 122 (21) :3350, 2013

Noorani M, Davis RE, Neelapu SS, Rodriguez A, Hagemeister FB, Fowler N, Wang M, Fanale MA, Samaniego F, Dabaja BS, Pinnix C, Kwak LW, Romaguera JE, Khouri I, Westin JR, Fayad LE

Double Hit Lymphoma: M.D. Anderson Experience Submitted Blood (ASH Annual Meeting Abstracts) 2013 122 (21) :1776, 2013

Flinn I, Berdeja J, Friedberg JW, Casulo C, Thieblemont C, Morschhauser F, Westin JR, Seetharam S, Hellemans P, Smit H, de Vries R, Dauphinee E, Badamo-Dotzis J, Fourneau N, Oki Y

Combining Ibrutinib With Rituximab, Cyclophosphamide, Doxorubicin, Vincristine, and Prednisone (R-CHOP): Updated Results From a Phase 1b Study in Patients With CD20-Positive B-Cell non-Hodgkin's lymphoma (NHL) Blood (ASH Annual Meeting Abstracts) 2013 122 (21) :852, 2013

Westin J., Chu F., Fayad L, Kwak LW, Fowler NH, Romaguera J., Hagemeister FB, Fanale M, Samaniego F, Allen R, Feng L, Baladandayuthapani V, Rotem-Yehudar R, and Neelapu SS

Final Update of Phase II Safety and Efficacy Study of CT-011, a Humanized anti-PD-1 Monoclonal Antibody, in Combination with Rituximab in Patients with Relapsed Follicular Lymphoma Hematological Oncology Volume 31 (Issue S1) , 2013

Romaguera JE, Kwak LW, Hagemeister FB, Rodriguez MA, Oki Y, Westin JR, Turturro F, Overman MJ, Neelapu SS, Fowler N, Fayad LE

Long-Term Remissions of Patients with Follicular Lymphoma Grade 3 Treated with Rituximab, Cyclophospamide, Doxorubicine, Vincristine and Prednisone (R-CHOP) Blood (ASH Annual Meeting Abstracts) 2013 122 (21) :3028, 2013

Garrido-Laguna I, Velez-Bravo V, Falchook GS, Subbiah V, Hong DS, Oki Y, Westin JR, Nunez CA, Fayad LE, Kwak LW, Shpall EJ, Wheler JJ, Liang W, Salhia B, Meric-Bernstam F, Kurzrock R, Fanale MA

Significant activity of the mTOR inhibitor sirolimus and HDAC inhibitor vorinostat in heavily pretreated refractory Hodgkin lymphoma patients Blood (ASH Annual Meeting Abstracts) 2013 122 (21) :3048, 2013

Fanale MA, Westin JR, Fowler N, Neelapu SS, Hagemeister FB, Rodriguez MA, Younes A

A Phase I Study Of Panobinostat In Combination With ICE (Ifosfamide, Carboplatin and Etoposide) In Patients With Relapsed Or Refractory Classical Hodgkin Lymphoma (cHL) Blood (ASH Annual Meeting Abstracts) 122 (21) :252, 2013

Jason R. Westin, Min Zhang, Seema Rawal, Larry W. Kwak, Sattva S. Neelapu, and R. Eric Davis

Integrated Analysis Of Genomic and Gene Expression Profiles In Follicular Lymphoma Reveals Subsets and Driver Genes Of Potential Microenvironmental Importance Blood (ASH Annual Meeting Abstracts) 2013 122 (21) :2487, 2013

Westin J., Chu F., Fayad L, Kwak LW, Fowler NH, Romaguera J., Hagemeister FB, Fanale M, Samaniego F, Allen R, Feng L, Baladandayuthapani V, Rotem-Yehudar R, and Neelapu SS

Phase II Safety and Efficacy Study of CT-011, a Humanized anti-PD-1 Monoclonal Antibody, in Combination with Rituximab in Patients with Relapsed Follicular Lymphoma. Blood (ASH Annual Meeting Abstracts) 120:Abstract 793, 2012

Chu F., Westin J., Zhang M, Feng L, Baladandayuthapani V, Wang Z., Allen R, Wallace M., Vence LM, Radvanyi L, Kwak LW, Rotem-Yehudar R, Davis RE, and Neelapu SS.

Immunological Effects and Predictive Gene Signatures in Patients with Relapsed Follicular Lymphoma treated with CT-011, a Humanized anti-PD-1 Monoclonal. Blood (ASH Annual Meeting Abstracts) 120:Abstract 162, 2012

Oki Y., Westin J., Fowler N, Neelapu S, McLaughlin P, Kwak LW, Romaguera J, Fanale M, Rodriguez MA, Orlowski RZ, Wang M, Ouzanian S

R-HCVAD Alternating with R-Methotrexate Cytarabine in Younger Patients (pts) with IH and High-Risk Age Adjusted-IPI DLBCL Blood (ASH Annual Meeting Abstracts) 12:Abstract 3707, 2012

Westin J., Fu S., Hong D., Helgason T., Culotta C., Angelo L., Ouyang F., Westin S., Kurzrock R.

Validation of the Phase 0 Concept J Clin Oncol 29:(suppl; abstr TPS143), 2011

Westin J., Thompson M., Cataldo V, Toth B, Sanjorjo P, Bourgeois S, Jimenez C, Murphy W, Fanale M, Fayad L, Fowler N, Kwak L, McLaughlin P, Neelapu S, Pro B, Rodriguez A, Shah J, Hagemeister F

Bone Loss in Lymphoma Patients Prior to Receiving Frontline Therapy. Presented at the 2010 14th Annual International Congress on Hematologic Malignancies, 2010

Westin J., Thompson M., Cataldo V, Toth B, Sanjorjo P, Bourgeois S, Jimenez C, Murphy W, Fanale M, Fayad L, Fowler N, Kwak L, McLaughlin P, Neelapu S, Pro B, Rodriguez A, Shah J, Hagemeister F

The effect of zoledronic acid on the prevention of bone loss in lymphoma patients receiving first-line therapy J Clin Oncol 28 (no. 15_suppl 9103) , 2010

Westin J., Chu F., Foglietta,M., Rodionov G., Rotem-Yehudar R., Neelapu SS.

Phase II safety and efficacy study of CT-011, a humanized anti-PD-1 monoclonal antibody, in combination with rituximab in patients with relapsed follicular lymphoma. J Clin Oncol 28 (15_suppl TPS305) , 2010

Westin J., Thompson M., Cataldo V, Toth B, Sanjorjo P, Bourgeois S, Jimenez C, Murphy W, Fanale M, Fayad L, Fowler N, Kwak L, McLaughlin P, Neelapu S, Pro B, Rodriguez A, Shah J, Hagemeister F.

Zoledronic acid treatment of frontline lymphoma patients; Prevention of bone loss. Poster presentation at the Hematologic Malignancies 2010 - Sixth International Conference, 2010

Westin J., Thompson M., Cataldo V, Toth B, Sanjorjo P, Bourgeois S, Jimenez C, Murphy W, Fanale M, Fayad L, Fowler N, Kwak L, McLaughlin P, Neelapu S, Pro B, Rodriguez A, Shah J, Hagemeister F.

The Effect of Zoledronic Acid on the Prevention of Bone Loss in Lymphoma Patients Receiving First-line Therapy Clin Lymphoma Myeloma 9 ((6)) :E30, 2009

Westin J., Thompson M., Cataldo V, Toth B, Sanjorjo P, Bourgeois S, Jimenez C, Murphy W, Fanale M, Fayad L, Fowler N, Kwak L, McLaughlin P, Neelapu S, Pro B, Rodriguez A, Shah J, Hagemeister F

Bone Loss in Lymphoma Patients Receiving Frontline Therapy: Urine NTx and Bone Specific Alkaline Phosphatase Provide Early Evidence of Zoledronic Acid Response Blood (ASH Annual Meeting Abstracts) 114:Abstract 3922, 2009

Westin J., Saliba R., de Lima M, Alousi A., Hosing C., Qazilbash M, Khouri I., Shpall E., Champlin R. Couriel, D.

Risk Factors for Response after Initial Therapy for Acute Graft-Versus-Host-Disease (aGVHD) Blood (ASH Annual Meeting Abstracts) 110:Abstract 5015, 2007

Ahmed MA, Barac R, Medeiros LJ, Ma L, Fayad L, Romaguera JE, Oki Y, Rodriguez MA, Pinnix C, Kwak LW, Hagemeister FB, Davis RE, Westin JR

Treatment outcomes and prognostic factors for primary mediastinal B-cell lymphoma: The MD Anderson experience. J Clin Oncol 32:5s:(suppl; abstr 8564). e-Pub 2014

Janku F, Oki Y, Falchook GS, Subbiah V, Naing A, Bravo VMV, Hong DS, Westin JR, Nunez C, Fayad L, Neelapu SS, Kwak LW, Shpall EJ, Wheler JJ, Barnes T, Liang WS, Salhia B, Meric-Bernstam F

Activity of the mTOR inhibitor sirolimus and HDAC inhibitor vorinostat in heavily pretreated refractory Hodgkin lymphoma patients. J Clin Oncol 32:5s, 2014:(suppl; abstr 8508). e-Pub 2014

Nastoupil LJ, Neelapu SS, Samaniego F, Hagemeister FB, Romaguera JR, Kwak LW, Wang M, Fayad L, Fanale MA, Oki Y, Westin JR, Rodriguez MA, Cabanillas F, McLaughlin P, Fowler NH

10-year remission rates following rituximab (R) and FND chemotherapy (fludarabine, mitoxantrone, dexamethasone) with interferon (IFN) maintenance in indolent lymphoma: Results of a randomized study. J Clin Oncol 32:5s, ((suppl; abstr 8528)) . e-Pub 2014

Hu B, Loghavi S, Fayad LE, Noorani M, Fowler NH, Hagemeister FB, Lee HJ, Nastoupil LJ, Neelapu SS, Fanale MA, Samaniego F, Turturro F, Wang M, Davis RE, Westin JR, Medeiros LJ, Oki Y

Outcomes of De Novo CD5+ Diffuse Large B-Cell Lymphoma (DLBCL) in the Rituximab (R) Era J Clin Oncol ASCO 2017
Book Chapters
Westin JR, Konoplev SN, Fayad LE, Medeiros LJ, Chapter 8: Aggressive B-Cell Lymphomas, In: The MD Anderson Manual of Medical Oncology, Third Edition, 3rd, McGraw-Hill: New York, 2016
Liu, X, Westin J, "Targeted Therapy of Lymphomas", In: Handbook of Targeted Cancer Therapy, 1st, Lippincott Williams & Wilkins, 2014
Westin J, Kantarjian H, Kurzrock R, "Treatment of Chronic Myelogenous Leukemia as a Paradigm for Solid Tumors: How Targeted Agents in Newly Diagnosed Disease Transformed Outcomes", In: 2012 ASCO Educational Book, ASCO Annual Meeting, 2012
Westin J, Romaguera J, "Multidisciplinary Approach to Cancer: A Medical Oncologists View.", In: Oncologic Imaging for the Practicing Radiologist, Medical Oncologist and Surgeon, 2010
Westin J, Hagemeister R, Fanale M., "Hodgkin Lymphoma", In: The MD Anderson Manual of Medical Oncology. Second edition, 2009
Letters to the Editor
Westin J, Oki Y, Fayad L, Could treatment with R-HCVAD/R-MA as compared to R- CHOP truly result in improved outcomes for patients with high-risk diffuse large B cell lymphoma? - Response to Landsburg et al., Br J Haematol, 165: 146-7, 2014
Thompson MA, Westin JR, Hagemeister FB, Bone mineral density screening should be routine in lymphoma patients., Ann Oncol, 25: 913-4, 2014
Thompson MA, Westin JR, Hagemeister FB, BMD Screening should be routine in lymphoma-Response to Paccou et al, Annals of Oncology
| | |
| --- | --- |
| Title: | Paul Calabresi K12 Career Development Award in Clinical Oncology |
| Funding Source: | NIH/NCI |
| Role: | Co-Principal Investigator |
| | |
| --- | --- |
| Title: | Loan Repayment Clinical Research - Extramural |
| Funding Source: | NIH/NCI |
| Role: | Co-Principal Investigator |
| | |
| --- | --- |
| Title: | Developing Combination Chemotherapy and Targeting Resistance in B-Cell Lymphoma |
| Funding Source: | Southwest Oncology Group |
| Role: | Co-Principal Investigator |
| | |
| --- | --- |
| Title: | ASCO YIA Targeting Chemotherapy Resistance in Diffuse Large B-Cell Lymphoma: Defining the Role of the PI3K/Akt/mTOR Pathway |
| Funding Source: | American Society of Clinical Oncology (ASCO) |
| Role: | Principal Investigator |
| | |
| --- | --- |
| Title: | R. Lee Clark Fellow Award Development of Therapeutically Relevant Biomarkers in Relapsed Diffuse Large B Cell Lymphoma |
| Funding Source: | MD Anderson Cancer Center |
| Role: | Principal Investigator |
| | |
| --- | --- |
| Title: | B-Cell Lymphoma Moon Shot-Developing Minimal Residual Disease Assays |
| Funding Source: | M.D. Anderson Cancer Center |
| Role: | Project Leader |
| | |
| --- | --- |
| Title: | Conquer Foundation Career Investigator Award |
| Funding Source: | American Society of Clinical Oncology (ASCO) |
| Role: | Project Leader |