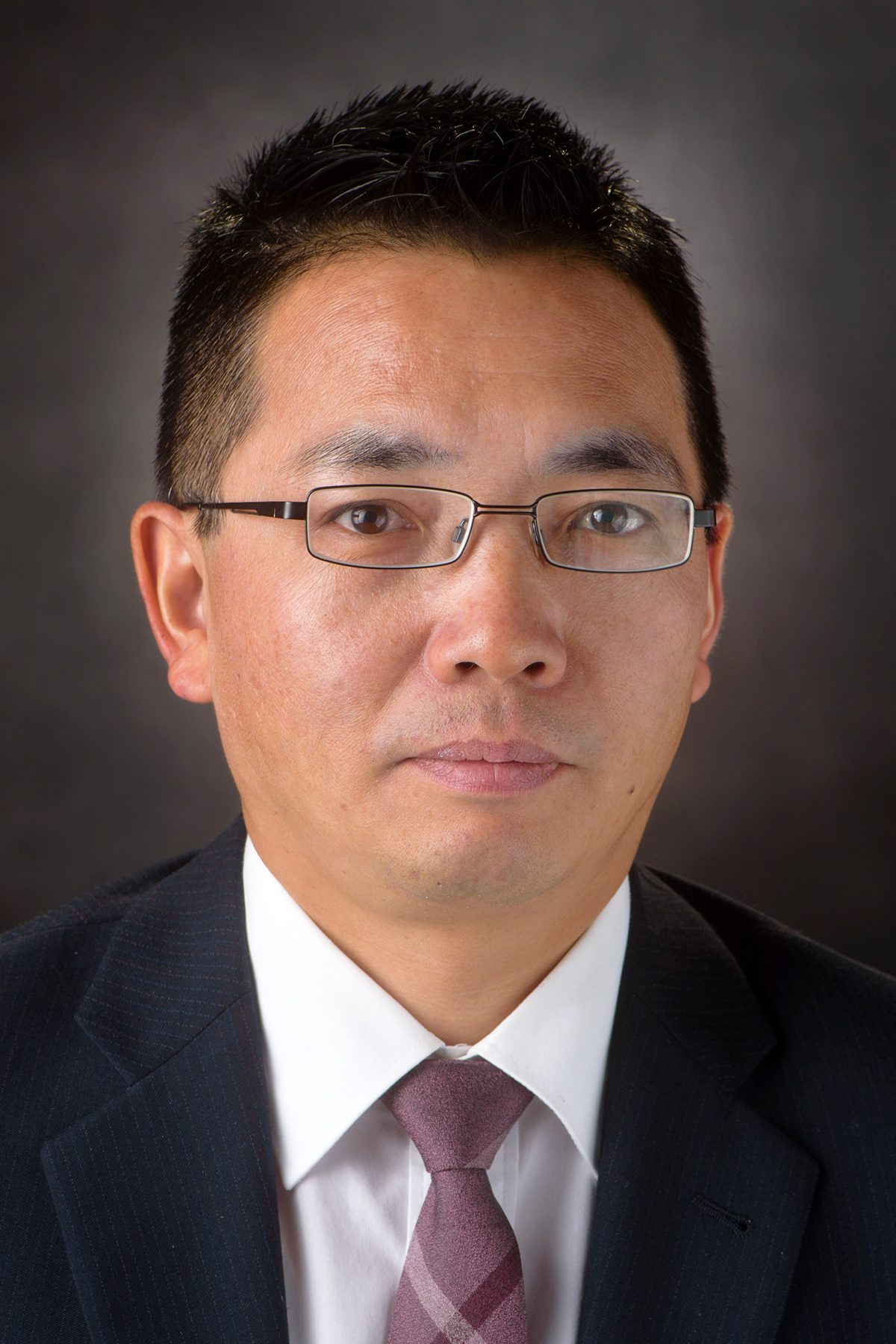 Jianbo Wang, MD, PhD
Department of Genitourinary Medical Oncology, Division of Cancer Medicine
Degree-Granting Education
| | |
| --- | --- |
| 2002 | Peking Union Medical University, Beijing, CHN, PHD, Oncology |
| 1999 | Tongji Medical University, Wuhan, CHN, MMS, Biochemistry |
| 1994 | Hubei University of Medicine, Shiyan, CHN, MD, Medicine |
Postgraduate Training
| | |
| --- | --- |
| 2014-2017 | Clinical Fellowship, Hematology/Oncology, Baylor College of Medicine, Houston, TX |
| 2011-2014 | Clinical Residency, Internal Medicine, St. Luke's Hospital, Chesterfield, MO |
| | |
| --- | --- |
| 2017 | Hematology and Medical Oncology |
| 2014 | American Board of Internal Medicine |
| 2009 | ECFMG Certification |
Academic Appointments
Assistant Professor, Department of Genitourinary Medical Oncology, Division of Cancer Medicine, The University of Texas MD Anderson Cancer Center, Houston, TX, 2017 - Present
| | |
| --- | --- |
| 2012 | Best Poster Award, St. Luke's Hospital |
| 1998 | Excellent Graduate Student of the Year, Tongji Medical University |
| 1991 | Scholarship Recipient, Hubei University of Medicine |
American Society of Clinical Oncology
Member, 2014 - Present
The American Society of Hematology
Member, 2014 - Present
American College of Physicians
Member, 2011 - Present
Peer-Reviewed Articles
Wang J, Kuperman DI

. A blood-making lung mass. Ann Hematol 92(11):1559-60, 2013. e-Pub 2013. PMID: 23525685.

Wang J, Zhang K, Grabowska D, Li A, Dong Y, Day R, Humphrey P, Lewis J, Kladney RD, Arbeit JM, Weber JD, Chung CH, Michel LS

. Loss of Trop2 promotes carcinogenesis and features of epithelial to mesenchymal transition in squamous cell carcinoma. Mol Cancer Res 9(12):1686-95, 2011. e-Pub 2011. PMID: 21970857.

Saporita AJ, Chang HC, Winkeler CL, Apicelli AJ, Kladney RD, Wang J, Townsend RR, Michel LS, Weber JD

. RNA helicase DDX5 is a p53-independent target of ARF that participates in ribosome biogenesis. Cancer Res 71(21):6708-17, 2011. e-Pub 2011. PMID: 21937682.

Dong Y, Li A, Wang J, Weber JD, Michel LS

. Synthetic lethality through combined Notch-epidermal growth factor receptor pathway inhibition in basal-like breast cancer. Cancer Res 70(13):5465-74, 2010. e-Pub 2010. PMID: 20570903.

Wang J, Day R, Dong Y, Weintraub SJ, Michel L

. Identification of Trop-2 as an oncogene and an attractive therapeutic target in colon cancers. Mol Cancer Ther 7(2):280-5, 2008. PMID: 18281513.

Yueying W, Jianbo W, Hailin L, Huaijing T, Liping G, Shih-Hsin L

. ECRG1, a novel esophageal gene, cloned and identified from human esophagus and its inhibition effect on tumors. Carcinogenesis 29(1):157-60, 2008. e-Pub 2007. PMID: 17971341.

Zhao N, Wang J, Cui Y, Guo L, Lu SH

. Induction of G1 cell cycle arrest and P15INK4b expression by ECRG1 through interaction with Miz-1. J Cell Biochem 92(1):65-76, 2004. PMID: 15095404.

Cui YP, Wang JB, Zhang XY, Bi MX, Guo LP, Lu SH

. Using yeast two-hybrid system to identify ECRG2 associated proteins and their possible interactions with ECRG2 gene. World J Gastroenterol 9(9):1892-6, 2003. PMID: 12970870.

Cui Y, Wang J, Zhang X, Lang R, Bi M, Guo L, Lu SH

. ECRG2, a novel candidate of tumor suppressor gene in the esophageal carcinoma, interacts directly with metallothionein 2A and links to apoptosis. Biochem Biophys Res Commun 302(4):904-15, 2003. PMID: 12646258.

Wang J, Fan Y, Guo L, Lu S

. [Search for interacting proteins of esophageal cancer related gene-1 encoded protein through the yeast two-hybrid system]. Zhonghua Zhong Liu Za Zhi 24(3):219-21, 2002. PMID: 12515610.

Wang J, Wang C, Liu Z, Tian J, Qu S,

. The modification on lipoprotein labeling method with DiI. Chinese Journal of Arteriosclerosis 10(1):65-68, 2002.

Liu R, QU S, Wang J, Guo J, Zhou H

. IL-6 and B7-1 costimulation cooperate in the induction of T lymphocytes activation in vitro. Chinese Journal of Immunology 16(2):96-98, 2000.

Qu Shen, Wang J, Liu Z, Deng Y, Feng Z

. Cloning of Chinese very low density lipoprotein receptor gene and its expression in CHO cells. Chinese Journal of Arteriosclerosis 8(3):189-192, 2000.

Liu R, Wang J, Qu S, Zhou H

. Antitumor effect of mouse B16 melanoma cells transfected with mB7-1. Chinese Journal of Clinical Oncology 26(12):924-927, 1999.

Qu S, Liu R, Wang Y, Wang J

. Preliminary study on the cooperation of IL-6 and mB7-1 in the induction of effective anti-tumor immunity in vitro. Journal of Tongji Medical University 19(2):86-89, 1999.

Qu S, Liu R, Wang J, Wang Y

. Experimental study on the anti-tumor effect of mouse B7-1 gene. Journal of Tongji Medical University 19(1):10-14, 1999.
Abstracts
Ma C, Wang J, Lo J, Naughton M, Nagaraj G, Bazzell N, Ellis M

. A phase study of BKM120 and fulvestrant in postmenopausal women with estrogen receptor positive metastatic breast cancer. Cancer Research:3;73 (24 Suppl), 2013. e-Pub 2013.
Book Chapters
Wang J, Hayes TG. Early Stage Prostate Cancer: Controversies in Management. In: Handbook of Prostate Cancer and Other GU Malignancies, 2017.