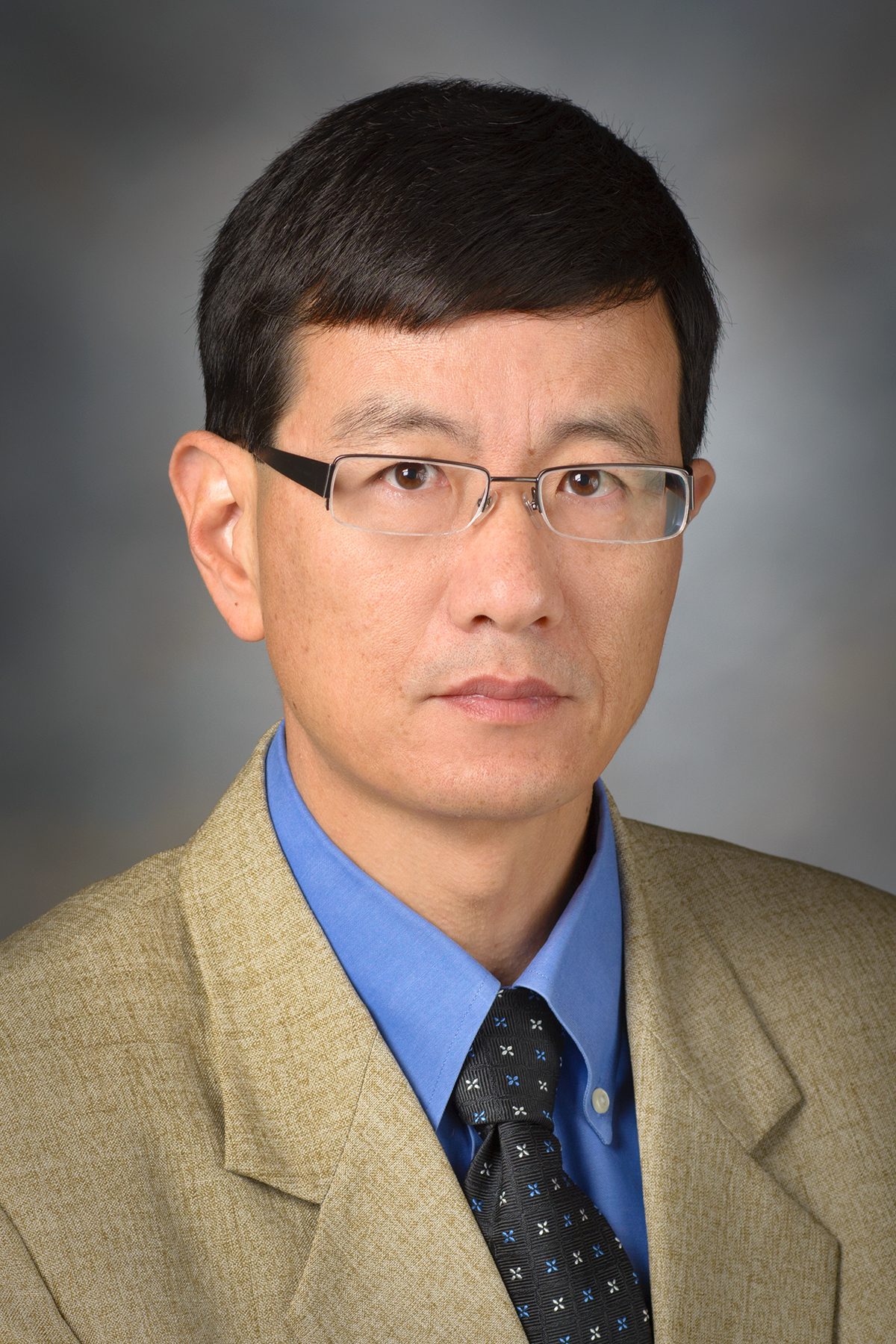 Jingfei Ma, Ph.D.
Department of Imaging Physics, Division of Diagnostic Imaging
About Dr. Ma
Jingfei Ma, Ph.D., DABR, is Professor of Imaging Physics at the University of Texas MD Anderson Cancer Center. He is the director of the MR Applications Laboratory and serves as the primary physics support for the Abdominal and Breast MR sections.

He received his Ph.D. in physics from the University of Pennsylvania in 1991 and joined GE Medical Systems first as an Applications Engineer in 1996 and then promoted to a Senior Scientist in 1999. He began his career in MD Anderson as an Assistant Professor in Diagnostic Radiology in 2001 and became board-certified in Diagnostic Radiological Physics by the American Board of Radiology in 2003. He was promoted to Associate Professor with Tenure in 2005 and to Professor in 2011.

His primary research interests are in the development of novel MRI techniques and clinical applications, particularly in phase-sensitive MRI, motion management, and functional MRI (e.g., DWI, DCE-MRI, MRS) for improved detection, assessment and early prediction of treatment efficacy of cancer. He is an inventor of over 20 US patents and an author of over 60 journal publications. Several of his MRI techniques have been commercialized and in worldwide routine clinical use. He has been an active collaborator with radiologists, oncologists, imaging physicists, and industry. He has been invited to many international and national conferences as well as outside institutions. He also has been a supervisor to junior faculty/staff, postdoctoral fellows, and students, and has twice received commendation from the Graduate School of Biomedical Sciences for his contribution to education.
Read More
Primary Appointment
Professor, Department of Imaging Physics, Division of Diagnostic Imaging, The University of Texas MD Anderson Cancer Center, Houston, TX
Dual/Joint/Adjunct Appointment
Regular Faculty, Department of Medical Physics Program, University of Texas Graduate School of Biomedical Sciences, Houston, TX
Magnetic Resonance Imaging | Fast Imaging | Chemical Shift Imaging | Image Quality
Novel clinical applications of MRI | Novel clinical protocol development and optimization | Clinical MR image quality improvement
Degree-Granting Education
| | |
| --- | --- |
| 1991 | University of Pennsylvania, Philadelphia, PA, USA, PHD, Physics |
| 1986 | University of Louvain, Louvain-la-Neuve, BEL, MS, Physics |
| 1983 | Beijing University, Beijing, CHN, BS, Physics |
| | |
| --- | --- |
| 2003 | American Board of Radiology |
Peer-Reviewed Articles
Eghtedari M, Ma J, Fox P, Guvenc I, Yang WT, Dogan BE

. Effects of magnetic field strength and b value on the sensitivity and specificity of quantitative breast diffusion-weighted MRI. Quant Imaging Med Surg 6(4):374-380, 2016. e-Pub 2016.

Son JB, Hwang KP, Madewell JE, Bayram E, Hazle JD, Low RN, Ma J

. A flexible fast spin echo triple-echo Dixon technique. Magn Reson Med. e-Pub 2016. PMID: 26982770.

Bhosale P, Ma J, Iyer R, Ramalingam P, Wei W, Soliman P, Frumovitz M, Kundra V

. Feasibility of a reduced field-of-view diffusion-weighted (rFOV) sequence in assessment of myometrial invasion in patients with clinical FIGO stage I endometrial cancer. J Magn Reson Imaging. e-Pub 2015. PMID: 26185031.

Morani AC, Vicens RA, Wei W, Gupta S, Vikram R, Balachandran A, Reed BJ, Ma J , Qayyum A, Szklaruk J

. CAIPIRINHA-VIBE and GRAPPA-VIBE for liver MRI at 1.5 T: a comparative in vivo patient study. J Comput Assist Tomogr 39(2):263-9, 2015. PMID: 25635931.

Jacobsen MC, Dogan BE, Adrada BE, Plaxco JS, Wei W, Son JB, Hazle JD, Ma J

. 3-T Breast Diffusion-Weighted MRI by Echo-Planar Imaging With Spectral Spatial Excitation or With Additional Spectral Inversion Recovery: An In Vivo Comparison of Image Quality. J Comput Assist Tomogr. e-Pub 2015. PMID: 25695868.

Choi H, Underwood M, Boonsirikamchai P, Matin S, Troncoso P, Ma J

. Technical challenges in 3 T magnetic resonance spectroscopic imaging of the prostate-A single-institution experience. Quant Imaging Med Surg 4(4):251-8, 2014. PMID: 25202660.

Rambow O, Hazle J, Clark J, Ma J

. Direct water and fat determination in two-point Dixon imaging with flexible echo times. Med Phys 40(11):112302, 2013. PMID: 24320458.

Costelloe CM, Madewell JE, Kundra V, Harrell RK, Bassett RL, Ma J

. Conspicuity of Bone Metastases on Fast Dixon-Based Multisequence Whole Body MRI: Clinical Utility per Sequence. Magn Reson Imaging 31(5):669-75, 2013. e-Pub 2013. PMID: 23290478.

Boonsirikamchai P, Choi S, Frank SJ, Ma J, Elsayes KM, Kaur H, Choi H

. MR imaging of prostate cancer in radiation oncology: what radiologists need to know. Radiographics 33(3):741-61, 2013. PMID: 23674772.

Ravoori M, Duggal J, Gagea M, Han L, Singh S, Liu P, Wei W, Ragan DK, Bankson JA, Ma J, Kundra V

. Visualizing the prostate gland by MR imaging in young and old mice. PLoS One 8(3):e55746, 2013. e-Pub 2013. PMID: 23469167.

Hu HH, Börnert P, Hernando D, Kellman P, Ma J, Reeder S, Sirlin C

. ISMRM workshop on fat-water separation: insights, applications and progress in MRI. Magn Reson Med 68(2):378-388, 2012. e-Pub 2012. PMID: 22693111.

Costelloe CM, Kundra V, Ma J, Chasen BA, Rohren EM, Bassett RL, Madewell JE

. Fast dixon whole-body MRI for detecting distant cancer metastasis: A preliminary clinical study. J Magn Reson Imaging 35(2):399-408, 2012. e-Pub 2011. PMID: 21990095.

Barnhart KF, Christianson DR, Hanley PW, Driessen WH, Bernacky BJ, Baze WB, Wen S, Tian M, Ma J, Kolonin MG, Saha PK, Do KA, Hulvat JF, Gelovani JG, Chan L, Arap W, Pasqualini R

. A peptidomimetic targeting white fat causes weight loss and improved insulin resistance in obese monkeys. Sci Transl Med 3(108):108ra112, 2011. PMID: 22072637.

Dogan BE, Ma J, Hwang K, Liu P, Yang WT

. T1-weighted 3D dynamic contrast-enhanced MRI of the breast using a dual-echo Dixon technique at 3 T. J Magn Reson Imaging 34(4):842-51, 2011. e-Pub 2011. PMID: 21769987.
Abstracts
Son JB, Hazle J, Ma J

. An optimized region growing algorithm for phase correction in MRI. 2015 Annual Scientific Meeting of the International Society of Magnetic Resonance in Medicine:3769, 2015.
| | |
| --- | --- |
| Title: | Development and Dissemination of Clinical CEST MRI Acquisition and Analysis Methods for Cancer Imaging Applications |
| Funding Source: | NIH/NCI |
| Role: | Principal Investigator |
| | |
| --- | --- |
| Title: | In vivo molecular breast imaging with TC 99M sestamibi for the prediction of multidrug resistance in triple negative breast cancers |
| Funding Source: | GE Healthcare Technologies - MD Anderson collaborative research for CABIR |
| Role: | Collaborator |