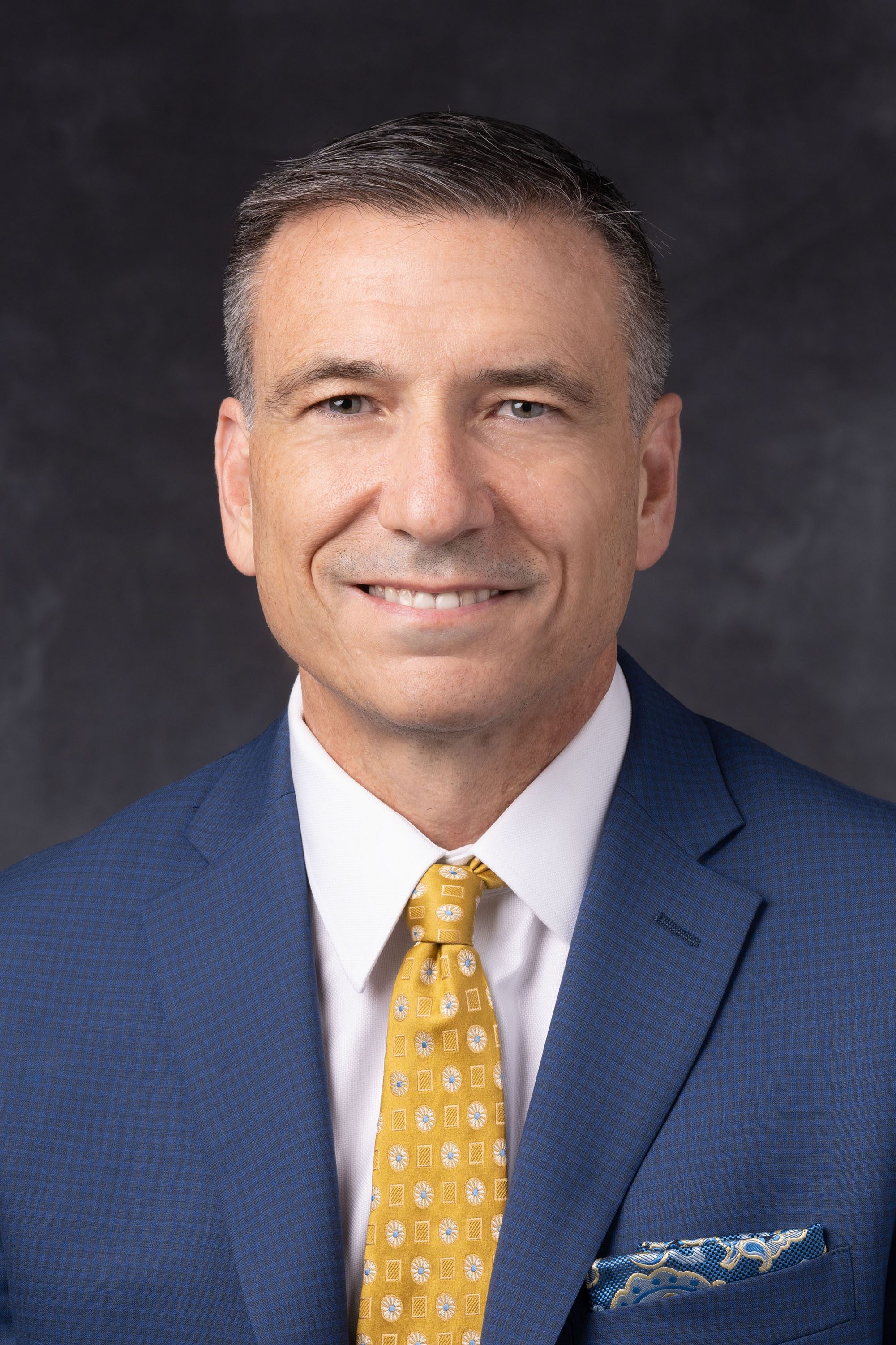 John V. Heymach, M.D., Ph.D.
Department of Thoracic-Head & Neck Med Onc, Division of Cancer Medicine
About Dr. Heymach
Dr. Heymach is the Chair of Thoracic/Head and Neck Medical Oncology at MD Anderson Cancer Center. He holds the David Bruton Endowed Chair in Cancer Research. He received his undergraduate degree from Harvard University and his MD/PhD from Stanford. He completed his Internship and Residency at Brigham and Women's Hospital and his fellowship in Medical Oncology from the Dana Farber/Mass General Brigham program. As a physician-scientist, Dr. Heymach's research focuses on investigating mechanisms of therapeutic resistance to targeted agents, understanding the regulation of angiogenesis in lung cancer, and the development of biomarkers for targeted agents and immunotherapy. His research has led to new therapeutic approaches for KRAS mutant lung cancer, small cell lung cancer (SCLC), EGFR mutant non-small cell lung cancer (NSCLC), adenoid cystic carcinoma, and oligometastatic NSCLC, many of which are now considered standard of care regimens or undergoing clinical testing. He serves as PI on 4 R01 awards investigating molecular subsets of lung cancer, and on an U01 focused on SCLC. He serves as the MDACC PI for the SU2C-ACS Lung Cancer Dream Team targeting KRAS mutant lung cancers, as the leader of the Lung CCSG Program, and the co-leader of the Lung Cancer Moon Shot. He is also the co-PI and project leader of the Lung SPORE. As a clinical investigator, he leads a number of biomarker-directed clinical trials using targeted and immunotherapy agents in lung cancer. He has directly mentored numerous fellows, including physician-scientists, and serves as chair of the NCI Molecular Cancer Therapeutics-1 study section.
Read More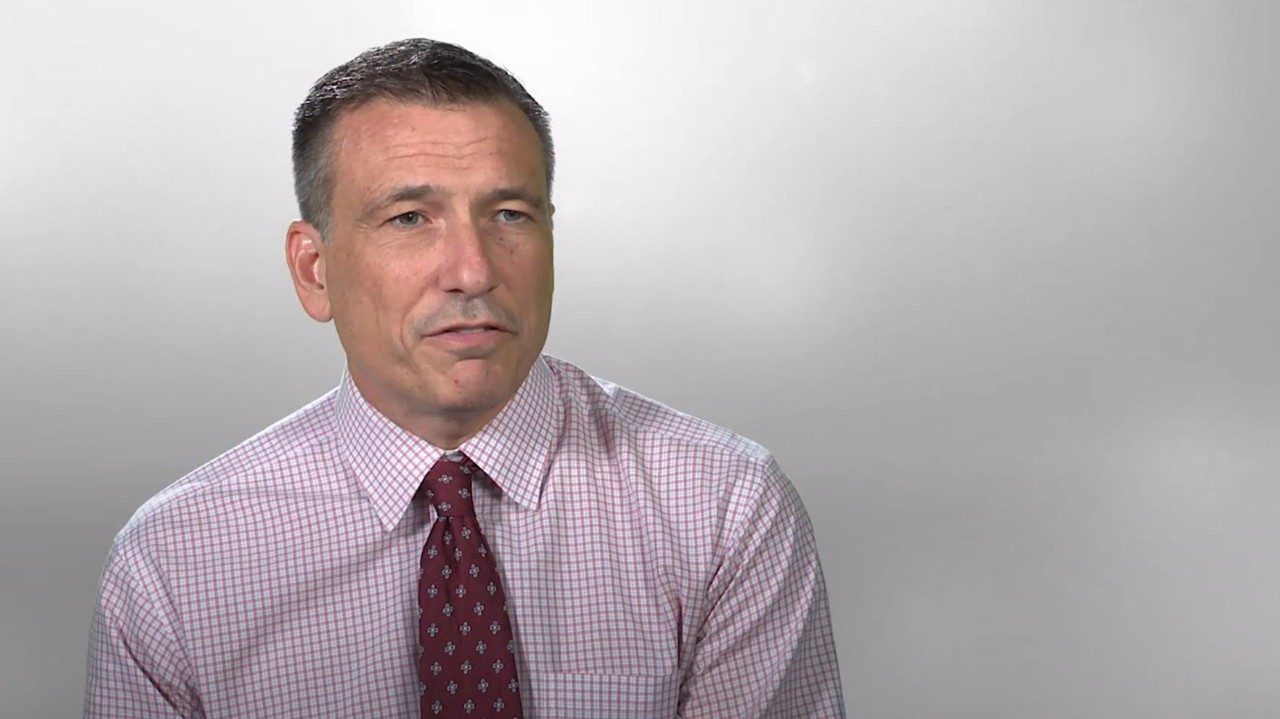 Meet John Heymach, M.D., Ph.D.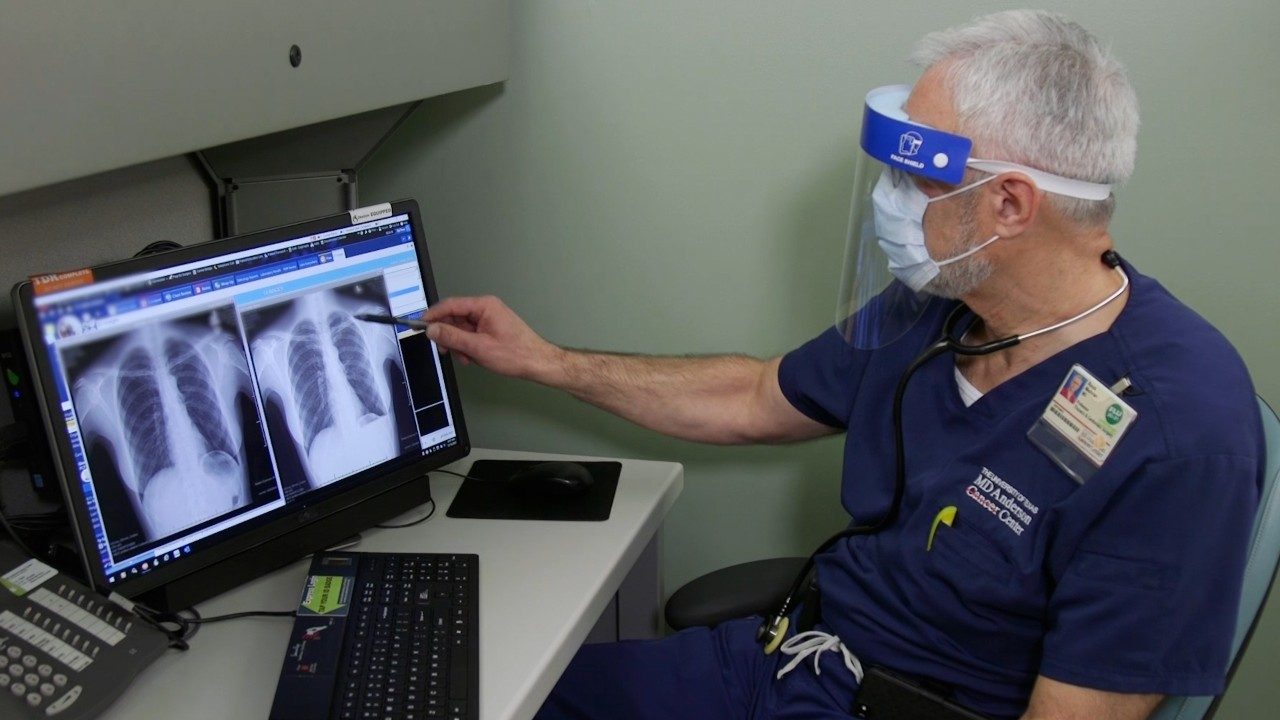 MD Anderson's cutting-edge lung cancer research and clinical trials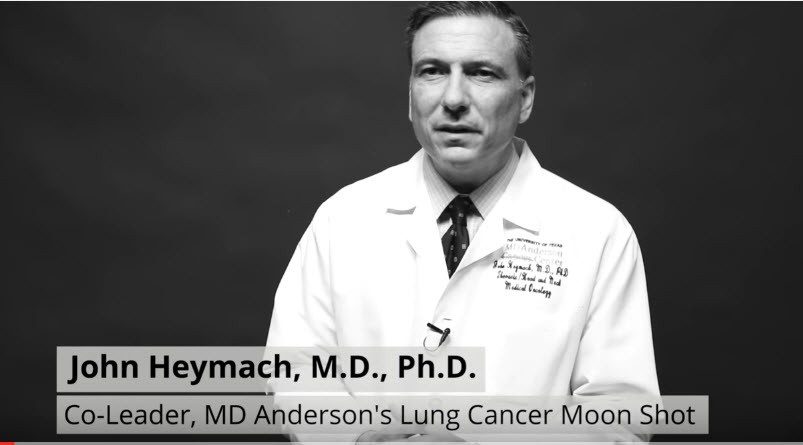 Present Title & Affiliation
Primary Appointment
Chair, Department of Thoracic/Head and Neck Medical Oncology, Division of Cancer Medicine, The University of Texas MD Anderson Cancer Center, Houston, TX
Professor, Department of Thoracic/Head and Neck Medical Oncology, Division of Cancer Medicine, The University of Texas MD Anderson Cancer Center, Houston
David Bruton, Jr Chair in Cancer Research, Department of Thoracic/Head and Neck Medical Oncology, Division of Cancer Medicine, The University of Texas MD Anderson Cancer Center, Houston, TX
Dual/Joint/Adjunct Appointment
Professor, Department of Cancer Biology, Division of Cancer Medicine, The University of Texas MD Anderson Cancer Center, Houston, TX
Degree-Granting Education
| | |
| --- | --- |
| 1998 | Stanford University Medical School, Stanford, CA, USA, MD, Medicine |
| 1996 | Stanford University Medical School, Stanford, CA, USA, PHD, Neuroscience |
| 1989 | Harvard University, Cambridge, MA, USA, BA, Chemistry |
Postgraduate Training
| | |
| --- | --- |
| 2000-2003 | Clinical Fellowship, Medical Oncology, Dana-Farber/Partners CancerCare Medical Oncology Fellowship Program, Boston, MA |
| 1999-2000 | Clinical Residency, Internal Medicine, Brigham and Women′s Hospital, Boston, MA |
| 1998-1999 | Clinical Internship, Internal Medicine, Brigham and Women′s Hospital, Boston, MA |
| | |
| --- | --- |
| 2005 | Medical Oncology, American Board of Internal Medicine |
| 2002 | Internal Medicine, American Board of Internal Medicine |
| | |
| --- | --- |
| 2020 | Potu N. Rao Award: Excellence in Basic Science Award, The University of Texas MD Anderson Cancer Center |
| | |
| --- | --- |
| Title: | Molecular Signatures for Individualizing Lung Cancer Therapy - University of Texas SPORE in Lung Cancer |
| Funding Source: | NIH/NCI |
| Role: | Principal Investigator |
| | |
| --- | --- |
| Title: | Targeting KRAS Mutant Lung Cancers |
| Funding Source: | AACR Stand Up to Cancer (SU2C) |
| Role: | Sub PI/Leader |
| | |
| --- | --- |
| Title: | Overcoming Resistance to Anti-EGFR Therapy by Drug Repurposing |
| Funding Source: | NIH/NCI |
| Role: | Principal Investigator |
| | |
| --- | --- |
| Title: | Therapeutic approaches for LKB1-deficient non-small cell lung cancer |
| Funding Source: | NIH/NCI |
| Role: | Principal Investigator |
| | |
| --- | --- |
| Title: | Cancer Center Support Grant |
| Funding Source: | NIH/NCI |
| Role: | Leader, Lung Cancer Program |
| | |
| --- | --- |
| Title: | Novel therapeutic approaches for enhancing anti-tumor immunity in SCLC |
| Funding Source: | NIH/NCI |
| Role: | Co-Principal Investigator |
| | |
| --- | --- |
| Title: | The Role of Epithelial-Mesenchymal Transition in Re-Wiring KRAS Mutant Lung Cancer |
| Funding Source: | NIH/NCI |
| Role: | Co-Investigator |
| | |
| --- | --- |
| Title: | Molecular Features Impacting Drug Resistance in Atypical Acquired EGFR Exon 18 and Exon 20 Mutant NSCLC and the Development of Novel Mutant-Selective Inhibitors |
| Funding Source: | Cancer Prevention & Research Institute of Texas (CPRIT) |
| Role: | Principal Investigator |
| | |
| --- | --- |
| Title: | Developing therapeutic strategies to enhance the effects of immune checkpoint inhibitors in KRAS mutant cancers harboring a concomitant LKB1 mutation |
| Funding Source: | MSKCC/The Mark Foundation |
| Role: | Site Principal Investigator |
| | |
| --- | --- |
| Title: | Targeting selective vulnerabilities in energetic, proteotoxic and oxidative stress in LKB1-deficient KRAS mutant tumors |
| Funding Source: | Cancer Prevention & Research Institute of Texas (CPRIT) |
| Role: | Project Leader |
| | |
| --- | --- |
| Title: | Therapeutic strategies against EGFR exon 20 mutant lung cancer |
| Funding Source: | NIH/NCI |
| Role: | Principal Investigator |
| | |
| --- | --- |
| Title: | Molecular features impacting drug resistance in atypical EGFR exon 18 and exon 20 mutant non-small cell lung cancer and the Development of Novel Mutant-Selective Inhibitors |
| Funding Source: | NIH/NCI |
| Role: | Principal Investigator |
| | |
| --- | --- |
| Title: | Investigation of CD70 targeting as a novel strategy to overcome EGFR tyrosine kinase inhibitor-resistant non-small cell lung cancer |
| Funding Source: | Emerson Collective |
| Role: | Principal Investigator |
| | |
| --- | --- |
| Title: | Immunogenomic and Microbiota Evolution from Premalignancy to Lung Cancer |
| Funding Source: | AACR Johnson & Johnson Lung Cancer |
| Role: | Co-Investigator |
| | |
| --- | --- |
| Title: | The molecular and immune evolution in the progression of lung neoplasia to invasive adenocarcinoma |
| Funding Source: | NIH/NCI |
| Role: | Co-Investigator |
| | |
| --- | --- |
| Title: | Ziopharm SIV Alliance Research and Development Agreement |
| Funding Source: | Ziopharm |
| Role: | Principal Investigator |
| | |
| --- | --- |
| Title: | Bristol-Myers Squibb Strategic Collaboration Agreement Lung Cancer LONESTAR Randomized phase III trial of local consolidation therapy (LCT) after nivolumab and ipilimumab for immunotherapy-naïve patients with metastatic non-small cell lung cancer |
| Funding Source: | Bristol-Myers Squibb |
| Role: | Principal Investigator |
| | |
| --- | --- |
| Title: | Pharmacokinetic and in vivo studies for HER2 and other genomically-defined subgroups of NSCLC |
| Funding Source: | Spectrum Pharmaceuticals |
| Role: | Principal Investigator |
| | |
| --- | --- |
| Title: | Molecular and immunological heterogeneity of Small Cell Lung Cancer (SCLC) and its impact on relapse and therapeutic response |
| Funding Source: | NIH/NCI |
| Role: | Principal Investigator |
John V. Heymach, M.D., Ph.D