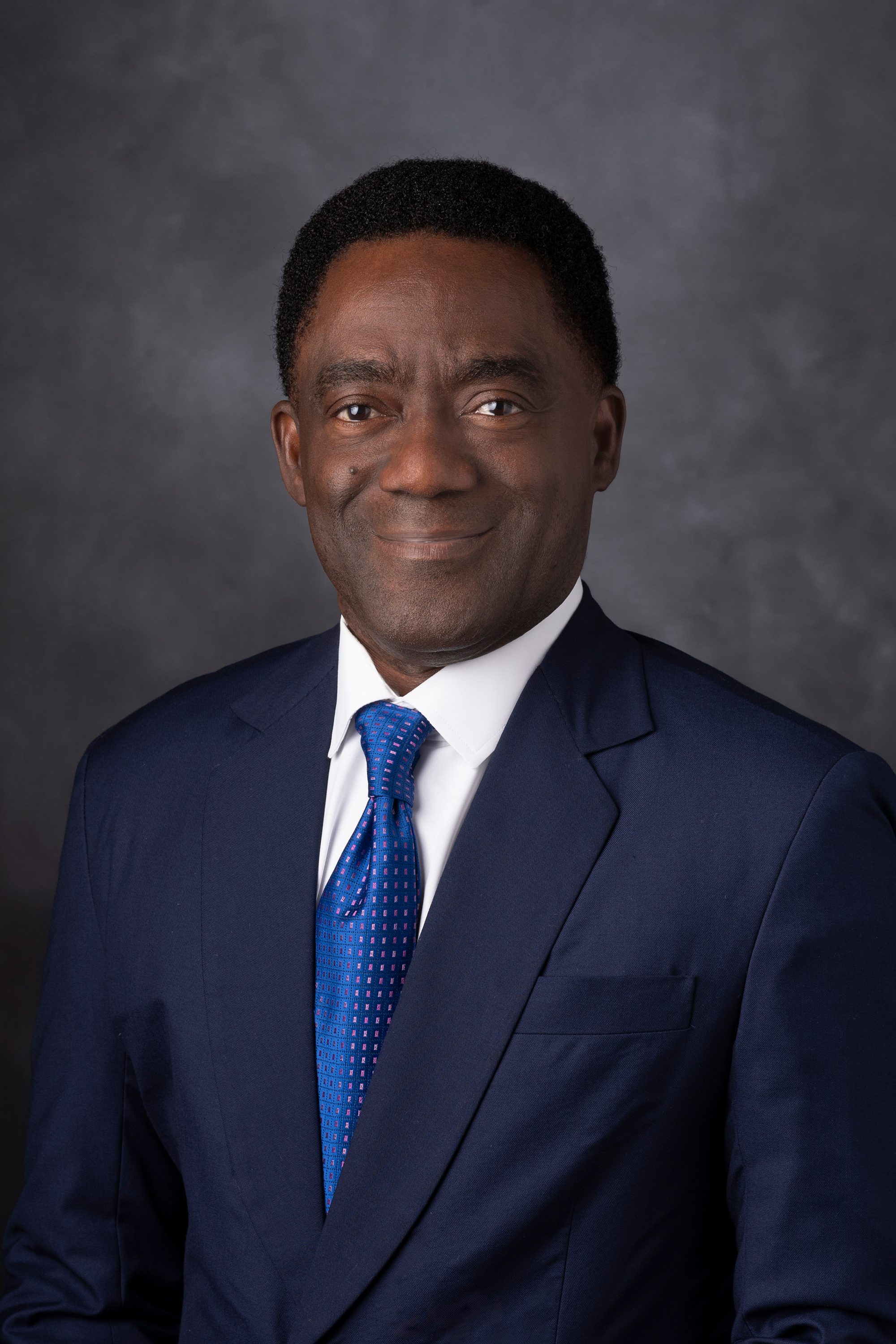 Josiah K. Halm, MD, MS, FACP, FHM, CMQ
Department of Hospital Medicine, Division of Internal Medicine
Primary Appointment
Department Chair ad interim, Department of Hospital Medicine, Division of Internal Medicine, The University of Texas MD Anderson Cancer Center, Houston, TX
Degree-Granting Education
| | |
| --- | --- |
| 2003 | Medical College of Wisconsin, Milwaukee, WI, USA, MS, Clinical Epidemiology |
| 1996 | University of Ghana Medical School, Accra, GHA, MB.chB, Medicine |
Postgraduate Training
| | |
| --- | --- |
| 2001-2003 | Primary Care Research & Faculty Development, Medical College of Wisconsin, Milwaukee, WI |
| 1998-2001 | Residency, Internal Medicine, Cook County Hospital, Chicago, IL |
| 1996-1997 | Housemanship, Internal Medicine & Ob/Gyn, Korle-bu Teaching Hospital, Accra |
| | |
| --- | --- |
| 2013 | The American Board of Medical Quality |
| 2001 | Diplomat, American Board of Internal Medicine (ABIM) |
Academic Appointments
Professor, Department of General Internal Medicine, Division of Internal Medicine, The University of Texas MD Anderson Cancer Center, Houston, TX, 2020 - 2020
Associate Professor, Department of General Internal Medicine, Division of Internal Medicine, The University of Texas MD Anderson Cancer Center, Houston, TX, 2014 - 2020
Assistant Professor, Department of General Internal Medicine, Division of Internal Medicine, The University of Texas MD Anderson Cancer Center, Houston, TX, 2008 - 2014
Administrative Appointments/Responsibilities
Clinical Medical Director, Clinical Decision Unit (CDU), The University of Texas MD Anderson Cancer Center, Houston, TX, 2014 - 2015
Director of Hospitalist Program, Aurora Sinai Medical Center, Milwaukee, WI, 2005 - 2008
Other Appointments/Responsibilities
Adjunct Associate Professor, Department of Medicine, Baylor College of Medicine, Volunteer Clinical Faculty, Houston, TX, 2015 - 2016
Institutional Committee Activities
Member, Africa Committee, 2016 - Present
Member, Institutional Patient Safety Committee, 2015 - Present
Alternate Member, Accreditation Alternatives Committee, 2014 - 2014
Member, Clinical Effectiveness Committee, Venous Thromboembolism (VTE) Treatment Algorithm Subcommittee, 2013 - Present
Member, Clinical Effectiveness Committee, Venous Thromboembolism (VTE) Prophylaxis Algorithm and Order Set Committee, 2013 - Present
Alternate Member for Department Chair, Acute and Critical Care Services Subcommittee, 2013 - 2015
Member, Quality Improvement Assessment Board (QIAB), 2011 - Present
Member, Ongoing Professional Practice Evaluation/Focus Professional Practice Evaluation (OPPE/FPPE) Quality Officers, 2010 - Present
Member, Division of Internal Medicine Quality Council, 2009 - Present
| | |
| --- | --- |
| 2019 | Member, American Board of Medical Quality |
| 2014 | Clinical Leader of the Year Award, The University of Texas MD Anderson Cancer Center, Division of Internal Medicine, November |
Multinational Association of Supportive Care in Cancer (MASCC)
Member, 2014 - Present
Society of Hospital Medicine
Member, Hospital Quality and Patient Safety Committee, 2012 - 2013
Abstracts
Robert J. Litwin, Alda L. tam, Rahul A. Sheth, Steven M. Yevich, Johanna L. Chan, Amir A. Jazeri, Josiah K. Halm, Sanjay Gupta, Steven Y. Huang

. Safety and efficacy of percutaneous transabdominal and transesophageal decompression gastric catheters for palliation of malignant bowel obstruction. Abdominal Radiology https://doi.org/10.1007/s00261-021-03115-7, 2021.

Carmen Escalante*, Ali Zalpour, Juhee Song, Marsha Richardson, Josiah Halm, S. Wamique Yusuf, Terry Rice

. Adverse Events of Rivaroxaban Usage in Younger versus Older Cancer Patients MASCC20-ABS-1195, Annual Meeting, (accepted) Seville Spain, 2020.

Joanna-Grace Manzano, Anne Park, Heather Lin, Suyu Liu, Josiah Halm

. Demonstrating Value: Association of Cost and Quality Outcomes With Implementation of a Value-Driven Oncology-Hospitalist Inpatient Collaboration for Patients With Lung Cancer. BMJ Open Quality 8:e000381.doi:10 1136/bmjoq, 2019.

Manzano, F, Halm, J, et al

. Readmission Among Patient With Cancer Who Were Discharges With Hospice Care. Journal of Clinical Oncology, 25 (suppl 8S, abstract 46), 2017.

2014 ASCO Quality Care Symposium

. Utilizing TQM and CQI Principles in Establishing a Type1 Observation Unit in a Comprehensive Cancer Center Boston, MA, 2014.

Halm J, Amoako EP

. Physical Activity Recommendation for Hypertension Management: Does Healthcare Provider Advice Make a Difference?. Ethnicity and Disease (International Society of Hypertension in Blacks, 2008.

Jordan J, Halm J, et al

. Benefits of Initiating a Hospitalist PICC Program - Experience from an Academic Community Medical Center. Journal of Hospital Medicine 3(1):62, 2008.

Reiss M, Halm J

. Lead Poisoning in an Adult: Lead Mobilization by Pregnancy?. JGIM(22):1212-1215, 2007.

Halm J

. Using electronic medical records to help improve control of hypertension: Secondary database analysis of blood pressure in a large healthcare system in Wisconsin. JCH 8:A215, 2006.

Halm J, Schapira M, Grimm C et al

. Do physicians' recommend exercise in adults with hypertension and do patients follow their advice? Ethnicity & Disease 14:S2-58, 2004.

Halm J, Scheidermayer D, Sebastian J et al

. The times…they are achanging: Survey of winners of best teacher award in a department of medicine. JGIM(18):243, 2003.

C. P. Escalante; A. Zalpour; J Song; M. Richardson; J. Halm; S. W. Yusuf; S, Gao

. Adverse Events of Rivaroxaban Usage in Cancer Patients. Internal Conference on Thrombosis & Hemostasis, Bergamo, Italy:S220-S221.

Manzano, F, Halm, J, et al

. Evaluating the Impact of Oncology-Hospitalist Model of Inpatient Care on Unplanned 30-Day Readmissions Among Patients with Lung Cancer. 2017 NCCN 22nd Annual Conference, Orlando, FL.

CP Escalante, MD, A Zalpour, PharmD, J Song, PhD, M Richardson, MSW, T Lam, PhD, J Halm, MD, SW Yusuf, MD, S Gao, MD

. Practice Patterns and Outcomes of Rivaroxaban Usage in Cancer Patients. ASCO 2016 Conference.
| | |
| --- | --- |
| Title: | Double Blind, Placebo-Controlled, Multicenter Acute Study of Clinical Effectiveness of Nesiritide in Subjects With Decompensated Heart Failure [ASCEND-HF] |
| Funding Source: | Aurora Sinai Medical Center |
| Role: | Principal Investigator |
| | |
| --- | --- |
| Title: | The TEXAS Project: Transitions Explored and Studied: Leveraging Data to Prevent Readmissions in the TMC |
| Funding Source: | TMC Health Policy Institute Review Committee |
| Role: | Co-Principal Investigator |
| | |
| --- | --- |
| Title: | Derivation and Validation of a Readmission Risk Scoring System in Cancer Patients |
| Funding Source: | University of Texas Healthcare and Effectiveness Quality of Care Grants Program |
| Role: | Co-Principal Investigator |