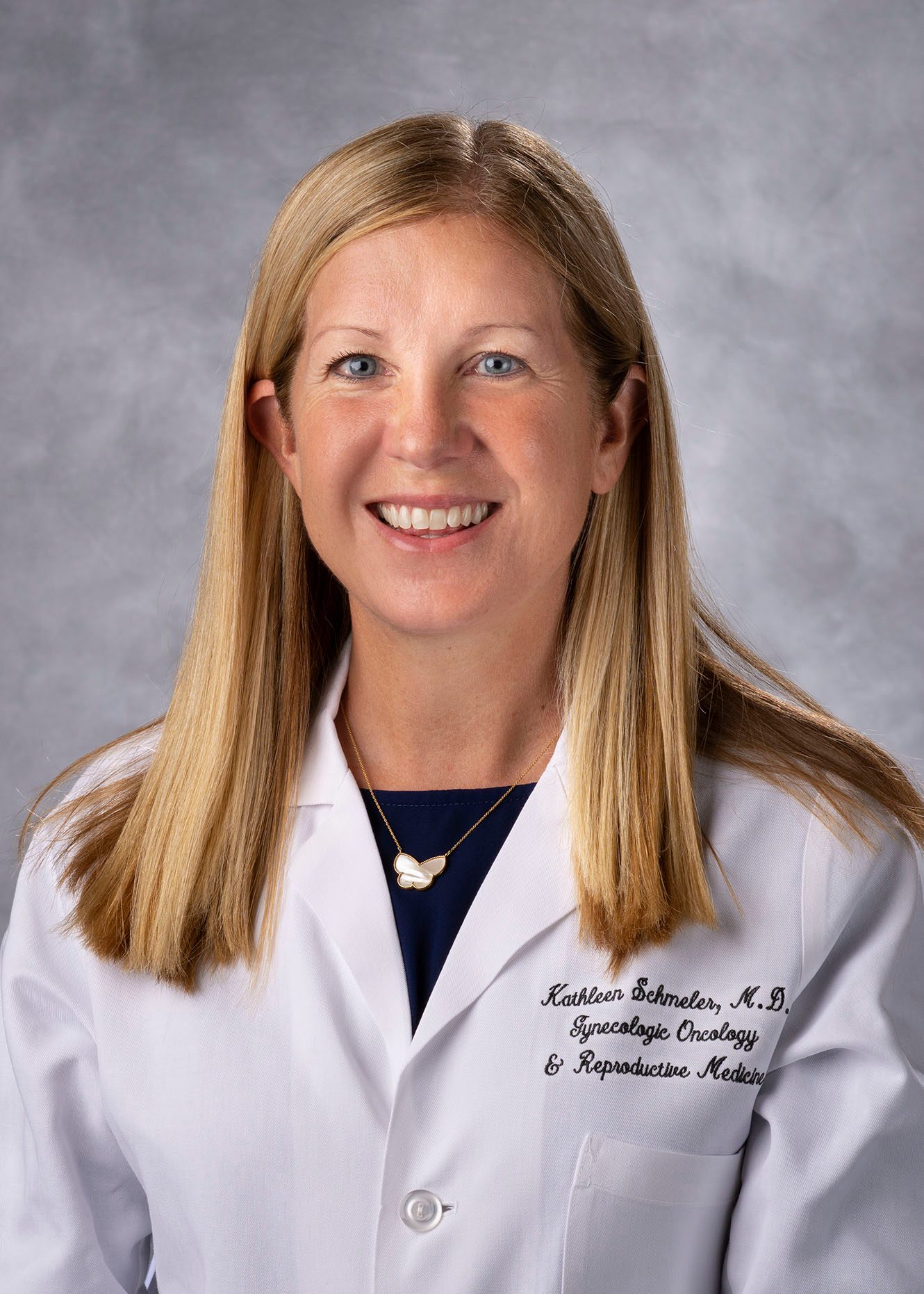 Kathleen M Schmeler, M.D.
Department of Gynecologic Oncology and Reproductive Medicine, Division of Surgery
About Dr. Schmeler
Dr. Kathleen Schmeler is an Associate Professor in the Department of Gynecologic Oncology and Reproductive Medicine. She provides surgical care and chemotherapy to women with gynecologic malignancies. Dr. Schmeler is also the Director of the MD Anderson Cancer Center and Lyndon B. Johnson (LBJ) Hospital colposcopy clinics where she treats women with pre-invasive cervical, vulvar and vaginal disease.
Her primary research interest is in cervical cancer prevention and treatment, particularly in developing countries and for medically underserved women in the United States. She is perfoming several clinical trials with MD Anderson Sister Institutions in Latin America and around the world. Dr. Schmeler has authored and co-authored numerous articles in peer-reviewed journals.
In addition, she has been invited to write book chapters and review articles on a variety of topics in gynecologic oncology. Dr. Schmeler is an active speaker, both nationally and internationally and is a reviewer for several journals.
Read More
Primary Appointment
Associate Professor, Department of Gynecologic Oncology and Reproductive Medicine, Division of Surgery, The University of Texas MD Anderson Cancer Center, Houston, TX
Degree-Granting Education
| | |
| --- | --- |
| 2000 | Medical College of Pennsylvania-Hahnemann University School of Medicine, Philadelphia, PA, USA, MD, Medicine |
| 1991 | Clarkson University, Potsdam, NY, USA, BS, Mechanical Engineering |
Postgraduate Training
| | |
| --- | --- |
| 2004-2007 | Fellow, Gynecologic Oncology, The University of Texas MD Anderson Cancer Center, Houston, TX |
| 2000-2004 | Resident, Obstetrics & Gynecology, Women & Infants' Hospital/Brown University, Providence, RI |
| | |
| --- | --- |
| 2011 | American Board of Obstetrics & Gynecology, Gynecologic Oncology Subspecialty Boards |
| 2010 | American Board of Obstetrics & Gynecology, Obstetrics & Gynecology General Boards |
Administrative Appointments/Responsibilities
Quality Officer, Department of Gynecologic Oncology and Reproductive Medicine, The University of Texas MD Anderson Cancer Center, Houston, TX, 2013 - Present
Director of Colposcopy and Pre-invasive Disease, Department of Gynecologic Oncology and Reproductive Medicine, The University of Texas MD Anderson Cancer Center, Houston, TX, 2013 - Present
Director of Colposcopy, Lyndon B. Johnson Hospital, Houston, TX, 2013 - Present
Clinical Team Leader, Department of Gynecologic Oncology and Reproductive Medicine, The University of Texas MD Anderson Cancer Center, Houston, TX, 2009 - Present
Institutional Committee Activities
Member, International Advisory Board, MD Anderson Global Academic Programs (GAP), 2012 - Present
Member, Prevention, HSR, QI & Survivorship Research Program, Department of Gynecologic Oncology, The University of Texas MD Anderson Cancer Center, 2010 - Present
Member, Innovative Surgery Research Working Group, Department of Gynecologic Oncology, The University of Texas MD Anderson Cancer Center, 2008 - Present
| | |
| --- | --- |
| 2017 | Award of Merit, ASCCP |
| 2017 | Humanitarianism & Volunteerism Award, Society of Gynecologic Oncologists |
| 2017 | Excellence in Prevention Outreach Award, MDACC Board of Visitors President's Recognition for Faculty Excellence |
| 2016 | Heroes in Medicine Award, Physician's Weekly |
| 2016 | Award for Community Advancement in the Developing World, International Gynecologic Cancer Society |
| 2016 | Emperor Science Award Program Mentor, Emperor Science |
| 2015 | President's Recognition for Faculty Excellence, The University of Texas MD Anderson Cancer Center |
| 2013 | ACOG Mentor Award, The American Congress of Obstetricians and Gynecologists |
| 2013 | Norman F. Gant/American Board of Obstetrics and Gynecology Fellow, Institute of Medicine |
| 2012 | AAOGF Travel Award, The American Association of Obstetricians and Gynecologists |
| 2010 | Silver Award in Creating Improvement, Celebrating Improvement at MD Anderson |
| 2005 | ASCO Foundation Merit Award |
| 2004 | David H. Nichols Award for Excellence in Pelvic Surgery, Women & Infants' Hospital, Providence, RI |
| 2004 | Outstanding Laparoendoscopic Resident Award, Society of Laparoendoscopic Surgeons |
| 2002 | PGY2 Berlex Best Teaching Resident Award |
| 2001 | Dean's Excellence in Teaching Award, Brown University Medical School |
| 1999 | Alpha Omega Alpha Medical Honor Society |
Peer-Reviewed Articles
Taylor JS, Marten CA, Munsell MF, Sun CC, Potts KA, Burzawa JK, Nick AM, Meyer LA, Myers K, Bodurka DC, Aloia TA, Levenback CF, Lairson DR, Schmeler KM

The DISINFECT Initiative: Decreasing the Incidence of Surgical INFECTions in Gynecologic Oncology. Ann Surg Oncol 24 (2) :362-368, 2017. e-Pub 2016. PMID: 27573526

Bhalwal AB, Nick AM, Dos Reis R, Chen CL, Munsell MF, Ramalingam P, Salcedo MP, Ramirez PT, Sood AK, Schmeler KM

Carcinoma of the Bartholin's Gland: A Review of 33 cases Int J Gynecol Cancer 26 (4) :785-9, 2016. e-Pub 2016. PMID: 26844611

Callegaro-Filho D, Gershenson DM, Nick AM, Munsell MF, Ramirez PT, Eifel PJ, Euscher ED, Marques RM, Nicolau SM, Schmeler KM

Small cell carcinoma of the ovary-hypercalcemic type (SCCOHT): A review of 47 cases. Gynecol Oncol 140 (1) :53-7, 2016. PMID: 26546963

Keahey P, Ramalingam P, Schmeler K , Richards-Kortum RR

Differential structured illumination microendoscopy for in vivo imaging of molecular contrast agents. Proc Natl Acad Sci U S A 113 (39) :10769-73, 2016. e-Pub 2016. PMID: 27621464

Bhalwal AB, Nick AM, Dos Reis R, Chen CL, Munsell MF, Ramalingam P, Salcedo MP, Ramirez PT, Sood AK, Schmeler KM

Carcinoma of the Bartholin Gland: A Review of 33 Cases International Journal of Gynecological Cancer 26 (4) :785-789, 2016. e-Pub 2016. PMID: 26844611

Prescott LS, Kidin LM, Downs RL, Cleveland DJ, Wilson GL, Munsell MF, DeJesus AY, Cain KE, Ramirez PT, Kroll MH, Levenback CF, Schmeler KM

Improved compliance with venous thromboembolism (VTE) pharmacologic prophylaxis for patients with gynecologic malignancies hospitalized for nonsurgical indications did not reduce VTE incidence Int J Gynecol Cancer 25 (1) :152-9, 2015. PMID: 25365592

Prescott LS, Aloia TA, Brown AJ, Taylor JS, Munsell MF, Sun CC, Schmeler KM, Levenback CF, Bodurka DC

Perioperative blood transfusion in gynecologic oncology surgery: Analysis of the National Surgical Quality Improvement Program Database Gynecol Oncol 136 (1) :65-70, 2015. PMID: 25451693

Ramirez PT, Pareja R, Rendón GJ, Millan C, Frumovitz M, Schmeler KM

Management of low-risk early-stage cervical cancer: Should conizations, simple trachelectomy, or simple hysterectomy replace radical surgery as the new standard of care? Gynecol Oncol 132 (1) :254-9, 2014. PMID: 24041877

Schmeler K, Wilson G, Cain K, Munsell M, Ramirez P, Soliman P, Nick A, Frumovitz M, Coleman R, Kroll M, Levenback C

Venous thromboembolism (VTE) rates following the implementation of extended duration prophylaxis for patients undergoing surgery for gynecologic malignancies Gynecol Oncol 128 (2) :204-208, 2013. PMID: 23200912

Westin SN, Sun CC, Lu KH, Schmeler K, Soliman PT, Lacour RA, Johnson KG, Daniels MS, Arun BK, Peterson SK, Bodurka DC

Satisfaction with ovarian carcinoma risk-reduction strategies among women at high risk for breast and ovarian carcinoma Cancer 117 (12) :2659-67, 2011. PMID: 21656744

Schmeler K, Sun C, Malpica A, Deavers M, Bodurka D, Gershenson D

Low-grade serous primary peritoneal carcinoma Gynecol Oncol 121 (3) :482-6, 2011. e-Pub 2011. PMID: 21397305

Schmeler K, Daniels M, Soliman P, Broaddus R, Deavers M, Vu T, Chang G, Lu K

Primary peritoneal cancer after bilateral salpingo-oophorectomy in two patients with lynch syndrome Obstet Gynecol 115 (2 Part 2) :432-4, 2010. PMID: 20093870

Schmeler K, Tao X, Frumovitz M, Deavers M, Sun C, Sood A, Brown J, Gershenson D, Ramirez P

Prevalence of lymph node metastasis in primary mucinous carcinoma of the ovary Obstet Gynecol 116 (2 Part 1) :269-73, 2010. PMID: 20664385

Frumovitz M, Sun C, Schmeler K, Deavers M, Dos Reis R, Levenback C, Ramirez P

Parametrial involvement in radical hysterectomy specimens for women with early-stage cervical cancer Obstet Gynecol 114 (1) :93-9, 2009. PMID: 19546764

Schmeler K, Sun C, Bodurka D, White K, Soliman P, Uyei A, Erlichman J, Arun B, Daniels M, Rimes S, Peterson S, Slomovitz A, Slomovitz B, Milam M, Gershenson D, Lu K

Prophylactic bilateral salpingo-oophorectomy compared with surveillance in women with BRCA mutations Obstet Gynecol 108 (3, Part 1) :515-20, 2006. PMID: 16946209

Schmeler K, Lynch H, Chen L, Munsell M, Soliman P, Clark M, Daniels M, White K, Boyd-Rogers S, Conrad P, Yang K, Rubin M, Sun C, Slomovitz B, Gershenson D, Lu K

Prophylactic surgery to reduce the risk of gynecologic cancers in the lynch syndrome N Eng J Med 354 (3) :261-9, 2006. PMID: 16421367

Lopez M, Baker E, Milbourne A, Gowen R, Rodriguez A, Lorenzoni C, Mwaba C, Msadabwe S, Humberto Tavares J, Fontes Cintra G, Zucca Matthes G, Callegaro Filho D, Ramos Martin D, Thiago de Carvalho I, Coelho R, Moretti Marques R, Chulam T, Pontremoli Salcedo M, Nozae F, Fiol V, Maza M, Arora S, Hawk E, Schmeler K

Project ECHO: A telementoring program for cervical cancer prevention and treatment in low-resource settings Journal of Global Oncology. e-Pub 2016
Invited Articles
Schmeler K, Frumovitz M, Ramirez P, Conservative management of early stage cervical cancer: is there a role for less radical surgery?, 120 (3) :321-5, 2011