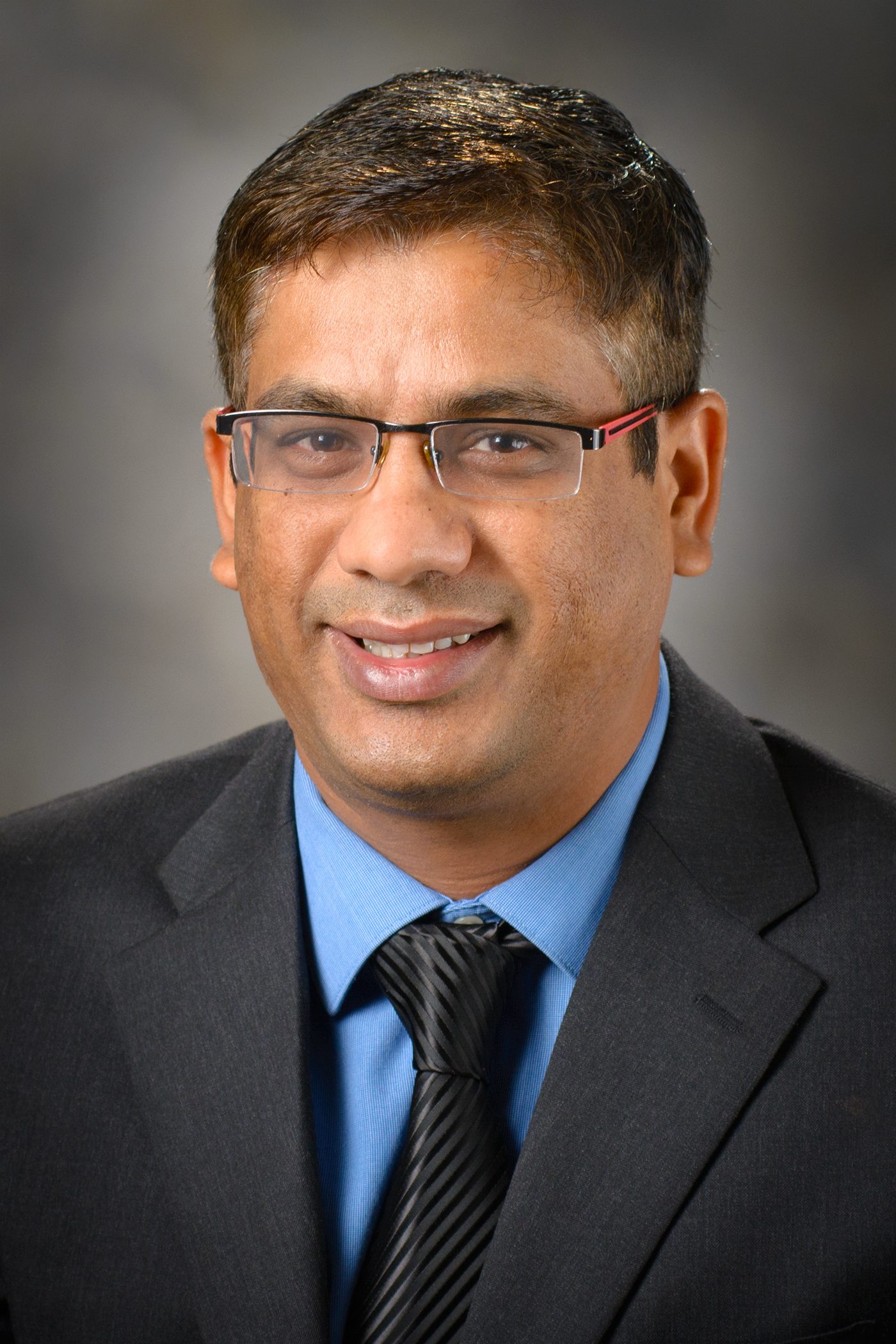 Kunal Rai, Ph.D.
Department of Genomic Medicine, Division of Cancer Medicine
About Dr. Rai
I am an Associate Professor of Genomic Medicine at MD Anderson Cancer Center. I also serve as Scientific Director of an epigenetics-focused translation research initiative at MDA, named MDACC Epigenomics Therapy Initiative (METI). My research is focused on understanding contribution of epigenome to cancer progression and identifying new venues for therapy and diagnostic tools. My lab utilizes cutting-edge epigenomic approaches to study chromatin state changes and higher order chromatin structure during evolution of tumor cells. Over last 20 years, I have developed expertise in studying epigenetic processes by identifying factors that perform epigenetic functions, identifying their roles in cellular events that regulate normal organ development and abnormal cell growth during tumorigenesis. The highlights of my current research include comprehensive understanding of chromatin state reprogramming during immunotherapy response (Under revision in Cancer Cell ), melanoma progression ( Cell Reports 2017 and Cell Reports 2021 ), colon cancer progression ( Gut 2021), head and neck cancer ( Frontiers in Cell and Developmental Biology 2022 ) and rare diseases including DSRCT ( Nature Communications, 2022 ), liposarcoma ( Journal of Clinical Investigation 2015 ), MPNST ( Acta Neuropathologica 2021). We also identified major epigenetic drivers of in melanoma ( Cancer Discovery 2015), triple negative breast cancer (Nature Communications 2019); Cell Reports 2019 ) and stem cell differentiation ( Stem Cell Reports 2017). Importantly, we have made significant contribution in the mechanistic biology and therapeutic opportunities in KMT2D-mutant cancers ( Cancer Cell, 2020, Cell Reports 2020, Nature Communications 2018 and biorxiv 2021). Previously, as a trainee I defined a DNA-repair mediated DNA demethylation process ( Cell 2008 ), and discovered its role in colon cancer initiation ( Cell 2010 ). My PhD work deciphered roles of DNA and histone methyltransferases in early embryonic development ( MCB 2006, G&D 2007 and JBC 2010 ). We have systematically generated chromatin state maps into 9 other tumor types and have generated > 3000 ChIP-Seq datasets (usually undertaken by large consortium efforts) (Under revision in Nature Cell Biology ). These data have led to the discovery of several new concepts including a strategy to stratify patients based on their epigenomic content for specific therapies. We are also heavily invested in the single cell epigenomics ( PNAS, 2021 and Nature Communications 2021 ). Current research focus is on: 1) utilizing machine learning approaches to fully exploit cancer epigenomic data; 2) defining epigenetic aberrations at the single-cell resolution; 3) functionalizing 'cancer-specific' epigenetic elements using CRISPR-Cas9 based epigenetic editing approaches and 4) evaluating aberrations in higher-order chromatin structure. My lab is funded by NCI (three RO1s, two R21s, CEPs from 5 SPOREs), CPRIT (two IIRAs), ACS (RSG), private foundations (Melanoma Research Alliance and Melanoma Research Foundation), and MDA Moonshot (Prostate, Colorectal, Pancreatic). In addition, I am the leader of the Epigenetics SPORE for MDA.
Read More
Primary Appointment
Assistant Professor, Department of Genomic Medicine, Division of Cancer Medicine, The University of Texas MD Anderson Cancer Center, Houston, TX
Instructor, Department of Genomic Medicine, Division of Cancer Medicine, The University of Texas MD Anderson Cancer Center, Houston, TX
Instructor, Harvard Medical School, Boston, MA
Degree-Granting Education
| | |
| --- | --- |
| 2006 | University of Utah, Salt Lake City, UT, USA, PHD, Cancer Biology |
| 2002 | Indian Institute of Technology, Kharagpur, IND, B.Tech, Biotechnology and Biochemical Engineering |
Postgraduate Training
| | |
| --- | --- |
| 2010-2011 | Research Fellowship, Cancer Epigenetics, Dana Farber Cancer Institute, Boston, MA |
| 2007-2009 | Research Fellowship, Cancer Epigenetics, University of Utah, Salt Lake City, UT |
Peer-Reviewed Articles
Keung EZ, Akdemir KC, Al Sannaa GA, Garnett J, Lev D, Torres KE, Lazar AJ, Rai K, Chin L

. Increased H3K9me3 drives dedifferentiated phenotype via KLF6 repression in liposarcoma. J Clin Invest 10(8):1172, 2015. e-Pub 2015. PMID: 26193637.

Rai K

. Genomic Classification of Cutaneous Melanoma. Cell 7(161):1681-96. e-Pub 2015. PMID: 26091043.

Cheng CS, Rai K, Garber M, Hollinger A, Robbins D, Anderson S, Macbeth A, Tzou A, Carneiro MO, Raychowdhury R, Russ C, Hacohen N, Gershenwald JE, Lennon N, Nusbaum C, Chin L, Regev A, Amit I

. Semiconductor-based DNA sequencing of histone modification states. Nat Commun 4:2672, 2013. PMID: 24157732.

Genovese G, Ergun A, Shukla SA, Campos B, Hanna J, Ghosh P, Quayle SN, Rai K, Colla S, Ying H, Wu CJ, Sarkar S, Xiao Y, Zhang J, Zhang H, Kwong L, Dunn K, Wiedemeyer WR, Brennan C, Zheng H, Rimm DL, Collins JJ, Chin L

. microRNA Regulatory Network Inference Identifies miR-34a as a Novel Regulator of TGF-β Signaling in Glioblastoma. Cancer Discov 2(8):736-749, 2012. e-Pub 2012. PMID: 22750848.

Rai K, Sarkar S, Broadbent TJ, Voas M, Grossmann KF, Nadauld LD, Dehghanizadeh S, Hagos FT, Li Y, Toth RK, Chidester S, Bahr TM, Johnson WE, Sklow B, Burt R, Cairns BR, Jones DA

. DNA demethylase activity maintains intestinal cells in an undifferentiated state following loss of APC. Cell 142(6):930-42, 2010. PMID: 20850014.

Rai K, Jafri IF, Chidester S, James SR, Karpf AR, Cairns BR, Jones DA

. Dnmt3 and G9a cooperate for tissue-specific development in zebrafish. J Biol Chem 285(6):4110-21, 2010. e-Pub 2009. PMID: 19946145.

Phelps RA, Chidester S, Dehghanizadeh S, Phelps J, Sandoval IT, Rai K, Broadbent T, Sarkar S, Burt RW, Jones DA

. A two-step model for colon adenoma initiation and progression caused by APC loss. Cell 137(4):623-34, 2009. PMID: 19450512.

Rai K, Huggins IJ, James SR, Karpf AR, Jones DA, Cairns BR

. DNA demethylation in zebrafish involves the coupling of a deaminase, a glycosylase, and gadd45. Cell 135(7):1201-12, 2008. PMID: 19109892.

Rai K, Chidester S, Zavala CV, Manos EJ, James SR, Karpf AR, Jones DA, Cairns BR

. Dnmt2 functions in the cytoplasm to promote liver, brain, and retina development in zebrafish. Genes Dev 21(3):261-6, 2007. PMID: 17289917.

Rai K, Nadauld LD, Chidester S, Manos EJ, James SR, Karpf AR, Cairns BR, Jones DA

. Zebra fish Dnmt1 and Suv39h1 regulate organ-specific terminal differentiation during development. Mol Cell Biol 26(19):7077-85, 2006. PMID: 16980612.

Nadauld LD, Chidester S, Shelton DN, Rai K, Broadbent T, Sandoval IT, Peterson PW, Manos EJ, Ireland CM, Yost HJ, Jones DA

. Dual roles for adenomatous polyposis coli in regulating retinoic acid biosynthesis and Wnt during ocular development. Proc Natl Acad Sci U S A 103(36):13409-14, 2006. e-Pub 2006. PMID: 16938888.
Invited Articles
Keung EZ, Rai K. H3K9me3 Mediated Repression of KLF6: Discovering a Novel Tumor Suppressor in Liposarcoma Using a Systematic Epigenomic Approach. Mol Cell Oncol 3(3):e1093691, 2016. e-Pub 2015. PMID: 27314083.
| | |
| --- | --- |
| Title: | Investigating the Mechanism of Action of Epigenetic Modifications and Factors during Metastatic Progression of Melanoma |
| Funding Source: | Charles A King Trust Post-doctoral Fellowship |
| Role: | Principal Investigator |
| | |
| --- | --- |
| Title: | Epigenetic regulators of metastasis in bladder cancer |
| Funding Source: | MDACC BLADDER CANCER SPORE |
| Role: | Principal Investigator |
| | |
| --- | --- |
| Title: | Defining metastasis-specific higher-order chromatin structure in melanoma |
| Funding Source: | UTMDACC Center for Cancer Epigenetics |
| Role: | Co-Principal Investigator |
| | |
| --- | --- |
| Title: | Epigenome changes during melanoma progression |
| Funding Source: | Center for Cancer Epigenetics |
| Role: | Principal Investigator |
| | |
| --- | --- |
| Title: | Epigenetic of Melanoma Metastasis |
| Funding Source: | NIH/NCI |
| Role: | Principal Investigator |
| | |
| --- | --- |
| Title: | Characterization of epigenome in cancer cell lines |
| Funding Source: | UTMDACC |
| Role: | Principal Investigator |
| | |
| --- | --- |
| Title: | UT MD Anderson Cancer Center Melanoma SPORE- Project 4 |
| Funding Source: | NIH/NCI |
| Role: | Co-Investigator |
| | |
| --- | --- |
| Title: | UTMDACC Brain SPORE - Career Enhancement Project |
| Funding Source: | NIH/NCI |
| Role: | Principal Investigator |
| | |
| --- | --- |
| Title: | Epigenetic of Melanoma Metastasis |
| Funding Source: | NIH/NCI |
| Role: | Principal Investigator |
| | |
| --- | --- |
| Title: | CRC Moonshot project #9 |
| Funding Source: | UTMDACC |
| Role: | Investigator |
| | |
| --- | --- |
| Title: | UTMDACC Lung SPORE: Career Enhancement Program Award |
| Funding Source: | NIH/NCI |
| Role: | Investigator |
| | |
| --- | --- |
| Title: | Melanoma Research Foundation |
| Funding Source: | Melanoma Research Foundation |
| Role: | Principal Investigator |
| | |
| --- | --- |
| Title: | Fasting Protects Small Intestinal Stem Cells from Lethal DNA Damage: Mechanistic Insight and Preclinical Translation |
| Funding Source: | NIH/NCI |
| Role: | Collaborator |
| | |
| --- | --- |
| Title: | Contribution of Epigenome to Head and Neck Cancer |
| Funding Source: | NIH/NCI |
| Role: | Principal Investigator |
| | |
| --- | --- |
| Title: | Epigenetic effectors of responses to immune checkpoint blockade agents |
| Funding Source: | Melanoma Research Alliance |
| Role: | Principal Investigator |
| | |
| --- | --- |
| Title: | Characterization of EZH2s Pro-Oncogenic Activity as a Transcriptional Modulator in NF1-Associated MPNST |
| Funding Source: | DOD/Congressionally Directed Medical Research Programs (DOD/CDMRP) |
| Role: | Co-Investigator |
| | |
| --- | --- |
| Title: | Epigenetic effectors of tumor response to immune checkpoint blockade therapy |
| Funding Source: | DOD/Congressionally Directed Medical Research Programs (DOD/CDMRP) |
| Role: | Principal Investigator |
| | |
| --- | --- |
| Title: | Role of HDAC8 and higher-order chromatin structure in melanoma metastasis |
| Funding Source: | Cancer Prevention & Research Institute of Texas (CPRIT) |
| Role: | Principal Investigator |
| | |
| --- | --- |
| Title: | Role of KMT2D and aberrant enhancers in modulation of tumor microenvironment in melanoma |
| Funding Source: | NIH/NCI |
| Role: | Principal Investigator |
| | |
| --- | --- |
| Title: | Co-operative Roles For YAP1 and UCHL5 in Cancer Progression and Therapy |
| Funding Source: | NIH/NCI |
| Role: | Principal Investigator |
| | |
| --- | --- |
| Title: | Role of UBR7, a novel H2BK120 E3 ubiquitin ligase, in suppression of breast cancer |
| Funding Source: | NIH/NCI |
| Role: | Principal Investigator |
| | |
| --- | --- |
| Title: | Role of RNA exosome in NF-1 mutant MPNSTs |
| Funding Source: | DOD/Congressionally Directed Medical Research Programs (DOD/CDMRP) |
| Role: | Principal Investigator |
| | |
| --- | --- |
| Title: | Heterogeneity of Enhancer Patterns in Colorectal Cancers - Mechanisms and Therapy |
| Funding Source: | Cancer Prevention & Research Institute of Texas (CPRIT) |
| Role: | Principal Investigator |
| | |
| --- | --- |
| Title: | Patient-Derived Models of Prostate Cancer for Personalized Medicine |
| Funding Source: | NIH/NCI |
| Role: | Co-Investigator |
| | |
| --- | --- |
| Title: | Flagship 4 - Lymphoma Moonshots |
| Funding Source: | UT MD Anderson Cancer Center |
| Role: | Co-Leader |
| | |
| --- | --- |
| Title: | Role of Aberrant Enhancer Activation in Colorectal Cancer |
| Funding Source: | American Cancer Society (ACS) |
| Role: | Principal Investigator |
| | |
| --- | --- |
| Title: | Synthetic Lethal Targeting of CREBBP/EP300 in Head and Neck Squamous Cell Carcinoma |
| Funding Source: | NIH/NIDCR |
| Role: | Co-Investigator |
| | |
| --- | --- |
| Title: | UCHL5 as a regulator and therapeutic target in metastatic melanoma |
| Funding Source: | NIH/NCI |
| Role: | Principal Investigator |
| | |
| --- | --- |
| Title: | PRC2-Dependent Enhancer Reprogramming Promotes MPNST Pathogenesis |
| Funding Source: | DOD/Congressionally Directed Medical Research Programs (DOD/CDMRP) |
| Role: | Co-Investigator |
| | |
| --- | --- |
| Title: | Stratification of colorectal cancers based on enhancer patterns for epigenetic therapy |
| Funding Source: | NIH/NCI |
| Role: | Principal Investigator |
| | |
| --- | --- |
| Title: | LoxL2 and H3K4 methylation as effectors of anti-PD1 response in melanoma |
| Funding Source: | UT MD Anderson Cancer Center |
| Role: | Principal Investigator |
| | |
| --- | --- |
| Title: | Contribution of Epigenome to PRKCI-Driven High-Grade Serous Ovarian Cancer |
| Funding Source: | NIH/NCI |
| Role: | Principal Investigator |
| | |
| --- | --- |
| Title: | MD Anderson Epigenetic Therapy Initiative (METI) |
| Funding Source: | The University of Texas MD Anderson Cancer Center Internal Funding |
| Role: | Principal Investigator |
| | |
| --- | --- |
| Title: | Mechanisms and therapies focused on epigenomic alterations in therapy-resistant prostate cancers |
| Funding Source: | Cancer Prevention & Research Institute of Texas (CPRIT) |
| Role: | Principal Investigator |
| | |
| --- | --- |
| Title: | Defining and targeting alterations of the epigenetic modifier KMT2D in non-small cell lung cancer |
| Funding Source: | NIH/NCI |
| Role: | Co-Investigator |