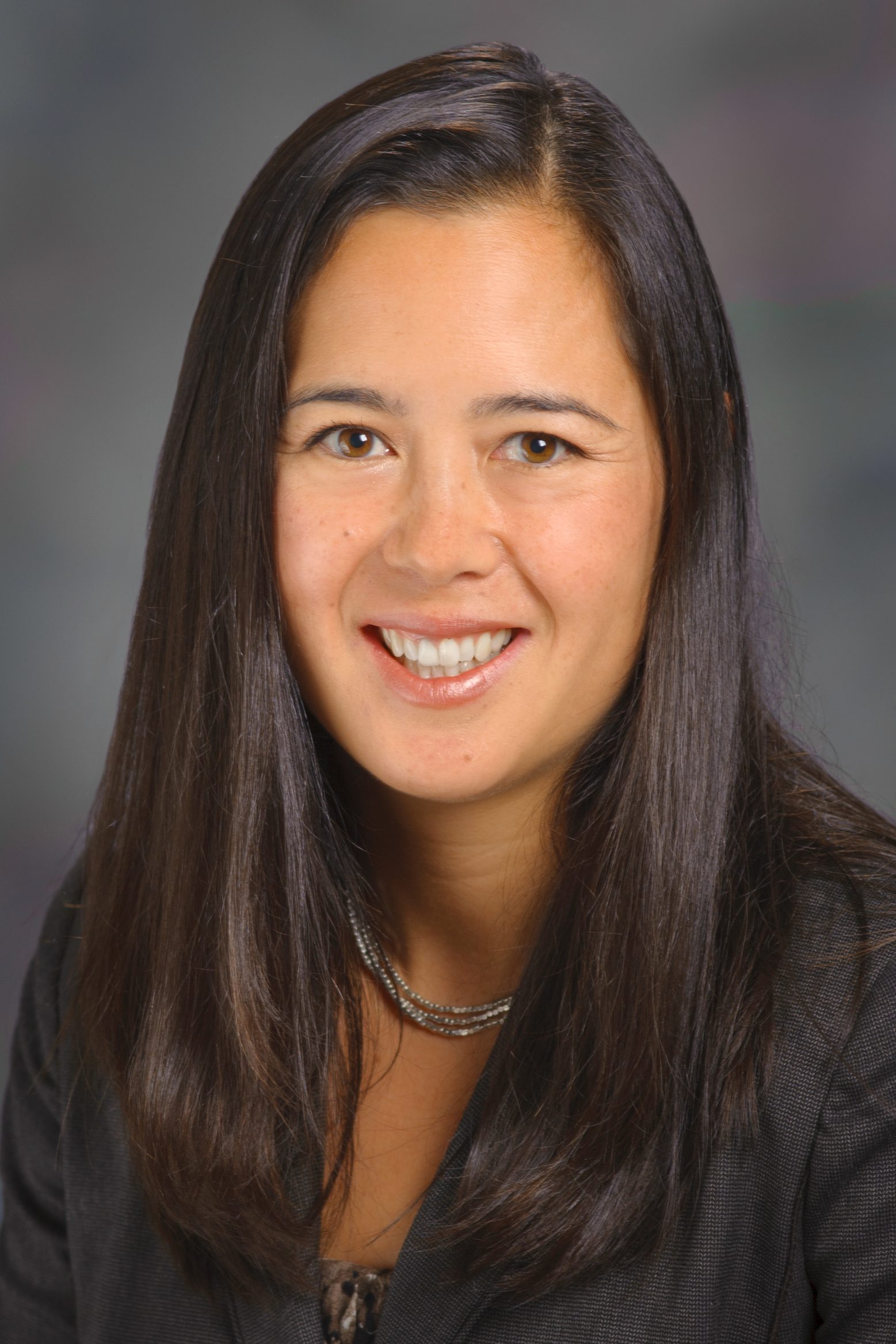 Larissa A. Meyer, MD, MPH, F.A.C.O.G., F.A.C.S.
Department of Gynecologic Oncology and Reproductive Medicine, Division of Surgery
About Dr. Meyer
Dr. Meyer is an Assistant Professor of Gynecologic Oncology. She cares for women with gynecologic malignancies in a compassionate and coordinated fashion by providing surgical care as well as chemotherapy. In addition to open surgery, Dr. Meyer performs specialized procedures in minimally invasive surgery, including robotic surgery and sentinel lymph node mapping, for appropriate patients with gynecologic cancers. Dr. Meyer serves as the co-lead for Enhanced Recovery After Surgery within the department.
Her research interests include health services research, patient reported outcomes, shared medical decision making, cancer prevention, and quality improvement. Dr. Meyer has authored and co-authored numerous articles in peer-reviewed journals. Dr. Meyer is a member of the American Society of Clinical Oncologists, the American College of Surgeons, the Society of Gynecologic Oncologists, the International Society for Quality of Life Research, th International Society for Pharmacoeconomics and Outcomes Research, and the International Gynecologic Cancer Society.
Read More
Primary Appointment
Assistant Professor, Department of Gynecologic Oncology and Reproductive Medicine, Division of Surgery, The University of Texas MD Anderson Cancer Center, Houston, TX
Degree-Granting Education
| | |
| --- | --- |
| 2011 | The University of Texas School of Public Health, Houston, TX, USA, Masters of Public Health, Epidemiology |
| 2002 | Harvard Medical School, Boston, MA, USA, MD, Medicine |
| 1997 | Pomona College, Claremont, CA, USA, BA, Anthropology |
Postgraduate Training
| | |
| --- | --- |
| 2007-2011 | Clinical Fellowship, Gynecologic Oncology, The University of Texas MD Anderson Cancer Center, Houston, TX |
| 2002-2006 | Residency, Obstetrics and Gynecology, Department of Obstetrics and Gynecology, New York Presbyterian Hospital, Columbia University, New York, NY |
| | |
| --- | --- |
| 2014 | American Board of Obstetrics & Gynecology |
| 2012 | American Board of Obstetrics and Gynecology |
| | |
| --- | --- |
| 2017 | Excellence in OneConnect Leadership Award, MDACC President's Recognition for Faculty Excellence |
| 2014 | American Association of Medical Colleges (AAMC) Early Career Women Faculty Professional Development Seminar, AAMC |
| 2010 | Celebrating Improvement at MD Anderson, Silver Award, The University of Texas MD Anderson Cancer Center |
| 2009 | 1st Place Bayer Healthcare Pharmaceuticals Inc. Award Population/Patient-Oriented Research., Trainee Research Day, The University of Texas MD Anderson Cancer Center |
| 2009 | ASCO Fellows Travel Grant |
| 2008 | ASCO/AACR Methods in Clinical Cancer Research Workshop, Vail, CO |
| 2006 | ACOG Shingo Exchange Program, 58th Annual Congress of the Japan Society of Obstetrics and Gynecology |
| 2004 | Organon Inc. Resident Research Award, Columbia University |
| 2000 | Sinclair Kennedy Traveling Fellowship, Harvard University |
| 1997 | Bessie Reiner Dill Award for a woman pursuing graduate studies in law, medicine or business, Pomona College |
| 1997 | Dwight L. Ryerson Memorial Pre-Medical Award for the senior premedical student who best exemplifies the humanitarian and compassionate qualities of the dedicated physician, Pomona College |
| 1997 | Ada May Fitts Award, awarded to the woman member of the graduating class for outstanding intellectual leadership and influence on other students at the college, Pomona College |
| 1997 | Mortar Board Honor Society, Pomona College |
| 1997 | Anthropology Department Senior Prize, Pomona College for senior thesis |
| 1997 | Phi Beta Kappa, Pomona College |
| 1996 | National Science Foundation Minority Scholarship in Anthropology, Pomona College |
| 1996 | Durfee Foundation Chinese Adventure Capital Program Grant, Pomona College |
NIH PDQ Screening and Prevention Editorial Board, Rockville, MD
Member, 2017 - Present
ASCO GYN Cancer Guideline Advisory Group
Member, 2017 - Present
American College of Surgeons, Council of the American College of Obstetrics and Gynecology
Fellow, 2016 - Present
European Society of Gynaecological Oncology
Member, 2015 - Present
International Society for Quality of Life Research, Milwaukee, WI
Member, 2015 - Present
International Gynecologic Cancer Society
Member, 2014 - Present
International Society for Pharmacoeconomics and Outcomes Research
Member, 2014 - Present
Society of Medical Decision Making
Member, 2013 - Present
Harris County Members Society, Houston, TX
Member, 2013 - Present
American Congress of Obstetricians and Gynecologists
Fellow, 2012 - Present
American College of Surgeons, Council of the American College of Obstetrics and Gynecology
Associate Member, 2011 - 2016
American College of Surgeons, Council of the American College of Obstetrics and Gynecology
Resident Member, 2009 - 2011
Society of Gynecologic Oncologists
Member, 2007 - Present
American Society of Clinical Oncology
Member, 2007 - Present
Junior Fellows Advisory Committee, Representative to the American College of Surgeons
Junior Fellow, 2006 - 2008
American Congress of Obstetricians and Gynecologists
Member, 2006 - Present
Peer-Reviewed Articles
Taylor JS, Marten CA, Munsell MF, Sun CC, Potts KA, Burzawa JK, Nick AM, Meyer LA, Myers K, Bodurka DC, Aloia TA, Levenback CF, Lairson DR, Schmeler KM

The DISINFECT Initiative: Decreasing the Incidence of Surgical INFECTions in Gynecologic Oncology. Ann Surg Oncol 24 (2) :362-368, 2017. e-Pub 2016. PMID: 27573526

Suidan RS, He W, Sun CC, Zhao H, Fleming ND, Ramirez PT, Soliman PT, Westin SN, Lu KH, Giordano SH, Meyer LA

Impact of body mass index and operative approach on surgical morbidity and costs in women with endometrial carcinoma and hyperplasia. Gynecol Oncol 145 (1) :55-60, 2017. e-Pub 2017. PMID: 28131529

Meyer LA , Wright AA

Reply to M.S. Copur et al. J Clin Oncol 35 (7) :803, 2017. e-Pub 2016. PMID: 28029325

Cohn DE, Ko E, Meyer LA , Wright JD, Temkin SM, Foote J, Jones NL, Havrilesky LJ

The "value" of value in gynecologic oncology practice in the United States: Society of Gynecologic Oncology evidence-based review and recommendations. Gynecol Oncol 145 (1) :185-191, 2017. e-Pub 2017. PMID: 28258763

Taylor JS, Rajan SS, Zhang N, Meyer LA , Ramondetta LM, Bodurka DC, Lairson DR, Giordano SH

End-of-Life Racial and Ethnic Disparities Among Patients With Ovarian Cancer. J Clin Oncol 35 (16) :JCO2016702894, 2017. e-Pub 2017. PMID: 28388292

Swanick CW, Eifel PJ, Huo J, Meyer LA , Smith GL

Challenges to delivery and effectiveness of adjuvant radiation therapy in elderly patients with node-positive vulvar cancer. Gynecol Oncol 146 (1) :87-93, 2017. e-Pub 2017. PMID: 28506563

Suidan RS, He W, Sun CC, Zhao H, Ramondetta LM, Badgwell BD, Bodurka DC, Lu KH, Giordano SH, Meyer LA

Treatment Patterns, Outcomes, and Costs for Bowel Obstruction in Ovarian Cancer. Int J Gynecol Cancer, 2017. e-Pub 2017. PMID: 28574929

Osborne EM, Klopp AH, Jhingran A, Meyer LA , Eifel PJ

Impact of treatment year on survival and adverse effects in patients with cervical cancer and paraortic lymph node metastases treated with definitive extended-field radiation therapy Pract Radiat Oncol 7 (3) :173, 2017. e-Pub 2016

Westin SN, Sun CC, Tung CS, Lacour RA, Meyer LA, Urbauer DL, Frumovitz MM, Lu KH, Bodurka DC

Survivors of gynecologic malignancies: impact of treatment on health and well-being. J Cancer Surviv, 2016. e-Pub 2015. PMID: 26245979

Gockley AA, Rauh-Hain JA, Anders AM, Meyer LA, Clemmer J, Lu KH, Clark RM, Schorge JO, Del Carmen MG

Patterns of Care, Predictors, and Outcomes of Adjuvant Therapy for Early- and Advanced-Stage Uterine Clear Cell Carcinoma: A Population-Based Analysis Int J Gynecol Cancer, 2016. PMID: 26825834

Miralpeix E, Nick AM, Meyer LA, Cata J, Lasala J, Mena GE, Gottumukkala V, Iniesta-Donate M2, Salvo G, Ramirez PT

A call for new standard of care in perioperative gynecologic oncology practice: Impact of enhanced recovery after surgery (ERAS) programs Gynecol Oncol, 2016. PMID: 2690606

Nelson G, Altman AD, Nick A, Meyer LA, Ramirez PT, Achtari C, Antrobus J, Huang J, Scott M, Wijk L, Acheson N, Ljungqvist O, Dowdy SC

Guidelines for postoperative care in gynecologic/oncology surgery: Enhanced Recovery After Surgery (ERAS®) Society recommendations - Part II Gynecol Oncol 140 (2) :323-32, 2016. PMID: 26757238

Nelson G, Altman AD, Nick A, Meyer LA, Ramirez PT, Achtari C, Antrobus J, Huang J, Scott M, Wijk L, Acheson N, Ljungqvist O, Dowdy SC

Guidelines for pre- and intra-operative care in gynecologic/oncology surgery: Enhanced Recovery After Surgery (ERAS®) Society recommendations - Part I Gynecol Oncol 140 (2) :313-22, 2016. PMID: 26603969

Miralpeix E, Nick AM, Meyer LA , Cata J, Lasala J, Mena GE, Gottumukkala V, Iniesta-Donate M, Salvo G, Ramirez PT

A call for new standard of care in perioperative gynecologic oncology practice: Impact of enhanced recovery after surgery (ERAS) programs. Gynecol Oncol 141 (2) :371-8, 2016. e-Pub 2016. PMID: 26906066

Esselen KM, Cronin AM, Bixel K, Bookman MA, Burger RA, Cohn DE, Cristea M, Griggs JJ, Levenback CF, Mantia-Smaldone G, Meyer LA , Matulonis UA, Niland JC, Sun C, O'Malley DM, Wright AA

Use of CA-125 Tests and Computed Tomographic Scans for Surveillance in Ovarian Cancer. JAMA Oncol 2 (11) :1427-1433, 2016. e-Pub 2016. PMID: 27442965

Wright AA, Bohlke K, Armstrong DK, Bookman MA, Cliby WA, Coleman RL, Dizon DS, Kash JJ, Meyer LA , Moore KN, Olawaiye AB, Oldham J, Salani R, Sparacio D, Tew WP, Vergote I, Edelson MI

Neoadjuvant Chemotherapy for Newly Diagnosed, Advanced Ovarian Cancer: Society of Gynecologic Oncology and American Society of Clinical Oncology Clinical Practice Guideline. J Clin Oncol 34 (28) :3460-73, 2016. e-Pub 2016. PMID: 27502591

Wright AA, Bohlke K, Armstrong DK, Bookman MA, Cliby WA, Coleman RL, Dizon DS, Kash JJ, Meyer LA , Moore KN, Olawaiye AB, Oldham J, Salani R, Sparacio D, Tew WP, Vergote I, Edelson MI

Neoadjuvant chemotherapy for newly diagnosed, advanced ovarian cancer: Society of Gynecologic Oncology and American Society of Clinical Oncology Clinical Practice Guideline Gynecol Oncol 143 (1) :3-15, 2016. e-Pub 2016. PMID: 27650684

Suidan RS, Sun CC, Westin SN, Coleman RL, Mills G, Meyer LA

Management of malignant ascites in women with ovarian cancer: a review Exp Rev of Qual of Life in Canc Care 1 (3) :231-38, 2016

Bishop AJ, Allen PK, Klopp AH, Meyer LA, Eifel PJ

Relationship Between Low Hemoglobin Levels and Outcomes after Treatment with Radiation or Chemoradiation in Patients with Cervical Cancer: Has the Impact of Anemia Been Overstated? Int J Radiat Oncol Biol Phys 91 (1) :196-205, 2015. PMID: 25446609

Hobeika M, Meyer LA

Massive lympohocele causing anorexia and deep-vein thrombosis after pelvic surgery Surgery 157 (3) :601-2, 2015. e-Pub 2014. PMID: 25879113

Meyer LA, Nick AM, Shi Q, Wang XS, Williams L, Brock T, Iniesta MD, Rangel K, Lu KH, Ramirez PT

Perioperative trajectory of patient reported symptoms: A pilot study in gynecologic oncology patients Gynecol Oncol 136 (3) :440-5, 2015. e-Pub 2015. PMID: 25647455

Smith GL, Jiang J, Giordano SH, Meyer LA, Eifel PJ

Trends in the quality of treatment for patients with intact cervical cancer in the United States, 1999 through 2011 Int J Radiat Oncol Biol Phys 92 (2) :260-7, 2015. PMID: 25968823

Wright AA, Cronin A, Milne DE, Bookman MA, Burger RA, Cohn DE, Cristea MC, Griggs JJ, Keating NL, Levenback CF, Mantia-Smaldone G, Matulonis UA, Meyer LA, Niland C, Weeks JC, O'Malley DM

Use and Effectiveness of Intraperitoneal Chemotherapy for Treatment of Ovarian Cancer J Clin Oncol, 2015. PMID: 26240233

Rauh-Hain JA, Diver E, Meyer LA, Clemmer J, Lu KH, Del Carmen MG, Schorge JO

Patterns of care, associations and outcomes of chemotherapy for uterine serous carcinoma: Analysis of the National Cancer Database Gynecol Oncol, 2015. PMID: 26325526

Rauh-Hain JA, Starbuck KD, Meyer LA, Clemmer J, Schorge JO, Lu KH, Del Carmen MG

Patterns of care, predictors and outcomes of chemotherapy for uterine carcinosarcoma: A National Cancer Database analysis Gynecol Oncol, 2015. PMID: 26307402

Arms RG 3rd, Sun CC, Burzawa JK, Fleming ND, Nick AM, Rallapalli V, Westin SN, Meyer LA, Ramirez PT, Soliman PT

Improvement in quality of life after robotic surgery results in patient satisfaction Gynecol Oncol 138 (3) :727-30, 2015. PMID: 26197762

Kim YJ, Munsell MF, Park JC, Meyer LA, Sun CC, Brown AJ, Bodurka DC, Williams JL, Bruera E, Ramondetta LM

Retrospective review of symptoms and palliative care interventions in women with advanced cervical cancer Gynecol Oncol, 2015. PMID: 26432043

Rauh-Hain JA, Pepin KJ, Meyer LA, Clemmer JT, Lu KH, Rice LW, Uppal S, Schorge JO, Del Carmen MG

Management for Elderly Women With Advanced-Stage, High-Grade Endometrial Cancer. Obstet Gynecol 126 (6) :1198-206, 2015. e-Pub 2015. PMID: 26551187

Meyer LA , Bohlke K, Wright AA

Postoperative Radiation Therapy for Endometrial Cancer: American Society of Clinical Oncology Clinical Practice Guideline Endorsement of the American Society for Radiation Oncology Evidence-Based Guideline J Oncol Pract, 2015. PMID: 25265171

Meyer LA, Slomovitz BM, Djordjevic B, Westin SN, Iglesias DA, Munsell MF, Jiang Y, Schmandt R, Broaddus RR, Coleman RL, Galbincea JM, Lu KH

The search continues: looking for predictive biomarkers for response to mammalian target of rapamycin inhibition in endometrial cancer Int J Gynecol Cancer 24 (4) :713-7, 2014. PMID: 24651628

Jones N, Fleming N, Nick A, Munsell M, Rallapalli V, Westin S, Meyer LA, Schmeler K, Ramirez PT, Soliman P

Conversion from robotic surgery to laparotomy: A case-control study evaluating risk factors for conversion Gynecol Oncol 134 (2) :238-42, 2014. e-Pub 2014. PMID: 24937481

Zhang Q, Celestino J, Schmandt R, McCampbell AS, Urbauer DL, Meyer LA, Burzawa JK, Huang M, Yates MS, Iglesias D, Broaddus RR, Lu KH

Chemopreventive effects of metformin on obesity-associated endometrial proliferation. Am J Obstet Gynecol 209 (1) :24.e1-24.e12, 2013. e-Pub 2013. PMID: 23500454

Wang LE, Ma H, Hale KS, Yin M, Meyer LA, Liu H, Li J, Lu KH, Hennessy BT, Li X, Spitz MR, Wei Q, Mills GB

Roles of genetic variants in the PI3K and RAS/RAF pathways in susceptibility to endometrial cancer and clinical outcomes. J Cancer Res Clin Oncol 138 (3) :377-85, 2012. e-Pub 2011. PMID: 22146979

Abkevich V, Timms KM, Hennessy BT, Potter J, Carey MS, Meyer LA, Smith-McCune K, Broaddus R, Lu KH, Chen J, Tran TV, Williams D, Iliev D, Jammulapati S, FitzGerald LM, Krivak T, DeLoia JA, Gutin A, Mills GB, Lanchbury JS

Patterns of genomic loss of heterozygosity predict homologous recombination repair defects in epithelial ovarian cancer. Br J Cancer 107 (10) :1776-82, 2012. e-Pub 2012. PMID: 23047548

Yin J, Lu K, Lin J, Wu L, Hildebrandt MA, Chang DW, Meyer L, Wu X, Liang D

Genetic variants in TGF-β pathway are associated with ovarian cancer risk. PLoS One 6 (9) :e25559, 2011. e-Pub 2011. PMID: 21984931

Yates MS, Meyer LA, Deavers MT, Daniels MS, Keeler ER, Mok SC, Gershenson DM, Lu KH

Microscopic and early-stage ovarian cancers in BRCA1/2 mutation carriers: building a model for early BRCA-associated tumorigenesis. Cancer Prev Res (Phila) 4 (3) :463-70, 2011. e-Pub 2011. PMID: 21278312

Burzawa JK, Schmeler KM, Soliman PT, Meyer LA, Bevers MW, Pustilnik TL, Anderson ML, Ramondetta LM, Tortolero-Luna G, Urbauer DL, Chang S, Gershenson DM, Brown J, Lu KH

Prospective evaluation of insulin resistance among endometrial cancer patients. Am J Obstet Gynecol 204 (4) :355.e1-7, 2011. e-Pub 2011. PMID: 21324431

Lacour RA, Westin SN, Meyer LA, Wingo SN, Schorge JO, Brooks R, Mutch D, Molina A, Sutphen R, Barnes M, Elder J, Teoh D, Powell CB, Choubey V, Blank S, Macdonald HR, Brady MF, Urbauer DL, Bodurka D, Gershenson DM, Lu KH

Improved survival in non-Ashkenazi Jewish ovarian cancer patients with BRCA1 and BRCA2 gene mutations. Gynecol Oncol 121 (2) :358-63, 2011. e-Pub 2011. PMID: 21276604

Meyer LA, Anderson ME, Lacour RA, Suri A, Daniels MS, Urbauer DL, Nogueras-Gonzalez GM, Schmeler KM, Gershenson DM, Lu KH

Evaluating women with ovarian cancer for BRCA1 and BRCA2 mutations: missed opportunities. Obstet Gynecol 115 (5) :945-52, 2010. PMID: 20410767

Hennessy BT, Timms KM, Carey MS, Gutin A, Meyer LA, Flake DD, Abkevich V, Potter J, Pruss D, Glenn P, Li Y, Li J, Gonzalez-Angulo AM, McCune KS, Markman M, Broaddus RR, Lanchbury JS, Lu KH, Mills GB

Somatic mutations in BRCA1 and BRCA2 could expand the number of patients that benefit from poly (ADP ribose) polymerase inhibitors in ovarian cancer. J Clin Oncol 28 (22) :3570-6, 2010. e-Pub 2010. PMID: 20606085

Liang D, Meyer L, Chang DW, Lin J, Pu X, Ye Y, Gu J, Wu X, Lu K

Genetic variants in MicroRNA biosynthesis pathways and binding sites modify ovarian cancer risk, survival, and treatment response. Cancer Res 70 (23) :9765-76, 2010. e-Pub 2010. PMID: 21118967

Meyer LA, Broaddus RR, Lu KH

Endometrial cancer and Lynch syndrome: clinical and pathologic considerations. Cancer Control 16 (1) :14-22, 2009. PMID: 19078925

Zhang Q, Shen Q, Celestino J, Milam MR, Westin SN, Lacour RA, Meyer LA, Shipley GL, Davies PJ, Deng L, McCampbell AS, Broaddus RR, Lu KH

Enhanced estrogen-induced proliferation in obese rat endometrium. Am J Obstet Gynecol 200 (2) :186.e1-8, 2009. PMID: 19185100

Tung CS, Sun CC, Schlumbrecht MP, Meyer LA, Bodurka DC

Survival after intestinal perforation: can it be predicted? Gynecol Oncol 115 (3) :349-53, 2009. e-Pub 2009. PMID: 19765809

Meyer LA, Westin SN, Lu KH, Milam MR

Genetic polymorphisms and endometrial cancer risk. Expert Rev Anticancer Ther 8 (7) :1159-67, 2008. PMID: 18588460

Lacour RA, Daniels MS, Westin SN, Meyer LA, Burke CC, Burns KA, Kurian S, Webb NF, Pustilnik TB, Lu KH

What women with ovarian cancer think and know about genetic testing. Gynecol Oncol 111 (1) :132-6, 2008. e-Pub 2008. PMID: 18684498

Meyer L, Ascher-Walsh CJ, Norman R, Idrissa A, Herbert H, Kimso O, Wilkinson J

Commonalities among women who experienced vesicovaginal fistulae as a result of obstetric trauma in Niger: results from a survey given at the National Hospital Fistula Center, Niamey, Niger Am J Obstet Gynecol 197 (1) :e1-4, 2007. PMID: 17618772

Meyer L, Pothuri B

Decompressive percutaneous gastrostomy tube use in gynecologic malignancies. Curr Treat Options Oncol 7 (2) :111-20, 2006. PMID: 16455022

Narayan G, Arias-Pulido H, Nandula SV, Basso K, Sugirtharaj DD, Vargas H, Mansukhani M, Villella J, Meyer L, Schneider A, Gissmann L, Dürst M, Pothuri B, Murty VV

Promoter hypermethylation of FANCF: disruption of Fanconi Anemia-BRCA pathway in cervical cancer. Cancer Res 64 (9) :2994-7, 2004. PMID: 15126331

Pothuri B, Meyer L, Gerardi M, Barakat RR, Chi DS

Reoperation for palliation of recurrent malignant bowel obstruction in ovarian carcinoma. Gynecol Oncol 95 (1) :193-5, 2004. PMID: 15385131

Frumovitz M, Singh DK, Meyer L, Smith DH, Wertheim I, Resnik E, Bodurka DC

Predictors of final histology in patients with endometrial cancer. Gynecol Oncol 95 (3) :463-8, 2004. PMID: 15581947

Meyer LA, Bohlke K, Powell MA, Fader AN, Franklin GE, Lee LJ, Matei D, Coallier L, Wright AA

Postoperative Radiation Therapy for Endometrial Cancer: American Society of Clinical Oncology Clinical Practice Guideline Endorsement of the American Society for Radiation Oncology Evidence-Based Guideline J Clin Oncol. e-Pub 2015. PMID: 26150442

Ramondetta LM, Meyer LA, Schmeler K, Sun CC

Avoidable Tragedies, Disparities in Healthcare Access Among Medically Underserved Women Diagnosed with Cervical Cancer Gynecol Oncol. e-Pub 2015. PMID: 26498912

Jochem AR, Ankah GN, Meyer LA , Elsenberg S, Johann C, Kraus T

Colloidal Mechanisms of Gold Nanoparticle Loss in Asymmetric Flow Field-Flow Fractionation. Anal Chem. e-Pub 2016. PMID: 27673742

Meyer LA , Cronin AM, Sun CC, Bixel K, Bookman MA, Cristea MC, Griggs JJ, Levenback CF, Burger RA, Mantia-Smaldone G, Matulonis UA, Niland JC, O'Malley DM, Wright AA

Use and Effectiveness of Neoadjuvant Chemotherapy for Treatment of Ovarian Cancer J Clin Oncol. e-Pub 2016. PMID: 27601552

Taylor JS, Marten CS, Potts KA, Cloutier LM, Cain KE, Fenton SL, Tatum TN, James DA, Myers KN, Hubbs CA, Burzawa JK, Vachhani S, Nick AM, Meyer LA , Graviss LS, Ware KM, Park AK, Aloia TA, Bodurka DC, Levenback CF, Schmeler KM

What Is the Real Rate of Surgical Site Infection? J Oncol Pract. e-Pub 2016. PMID: 27460495
Abstracts
Prescott LS, Taylor JS, Marten CA, Munsell MF, Myers K, Meyer LA , Ramirez PT, Levenback CF, Bodurka DC, Schmeler KM

Choosing Wisely: Decreasing the incidence of perioperative blood transfusions in gynecologic oncology Proceedings of the Society of Gynecologic Oncologists 48th Annual Meeting, 2017

61. Suidan RS, Sun C, Cantor S, Mariani A, Soliman P, Westin S, Lu K, Giordano S, Meyer LA

A cost-utility analysis of sentinel lymph node mapping, selective lymphadenectomy, and routing lymphadenectomy in the management of low-risk endometrial carcinoma Proceedings of the 2017 Society of Gynecologic Oncology Annual Meeting on Women's Cancer, 2017

Suidan RS, He W, Sun C, Zhao H, Smith G, Klopp A, Fleming N, Lu K, Giordano S, Meyer L

National Trends, Outcomes, and Costs of Radiation Therapy in the Management of Low- and High- Intermediate Risk Endometrial Carcinoma Proceedings of the 2017 ASCO Quality Care Symposium, 2017

Meyer LA , Shi Q, Iniesta M, Harris M, Sun C, Lasala J, Wang Q, Nick A, Lu K, Ramirez P

Comparison of patient reported symptom burden in patients with ovarian cancer undergoing primary vs. interval tumor reductive surgery Proceedings of the 2017 ASCO Annual Meeting, 2017

Suidan R, He W, Sun C, Zhao H, Lu K, Giordano S, Meyer L

Total and out-of-pocket costs of different primary management strategies in ovarian cancer Proceedings of the 2017 ASCO Annual Meeting, 2017

Meyer LA , Li Yao, Rodriguez A, Nick A, Lasala J, Guzman A, Calhoun J, Iniesta M, Harris M, Earles T, Lu K, Ramirez P

A cost comparison of resource utilization before and after implementing an enhanced recover after surgery (ERAS) program-A significant impact on the 'bottom line' World Congress of Enhanced Recovery After Surgery 2017, 2017

69. Lasala J, Mena G, Rodriguez-Restrepo A, Iniesta M, Corzo C, Meyer LA , Salvo G, Munsell M, Speer B, Cata J, Ifeanyi I, Lu K, Ramirez P

Implementation of an enhanced recovery after surgery (ERAS) program in gynecologic surgery: The Role of the Anesthesiologist in Opioid Sparing World Congress of Enhanced Recovery After Surgery 2017, 2017

Salvo G, Meyer LA , Lasala J, Iniesta M, Sheth N, Munsell M, Rodriguez-Restrepo A, Corzo C, Lu K, Ramirez P

Implementation of an Enhanced Recovery After Surgery (ERAS) Program: The MD Anderson Cancer Center Experience World Congress of Enhanced Receovery After Surgery 2017, 2017

Dood R, Meyer L , Lasala J, Cata J, Mena G, Rodriguez A, Iniesta M, Sheth N, Salvo G, Lu K, Ramirez P

Return to intended oncologic therapy (RIOT) after surgery for gynecologic cancer in an enhanced recovery after surgery (ERAS) program World Congress of Enhanced Recovery After Surgery 2017, 2017

Lasala J, Mena G, Iniesta M, Rodriguez-Restrepo A, Meyer LA , Salvo G, Corzo X, Munsell M, Heir J, Ifeanyi I, Cata J, Lu K, Ramirez P

Impact of an enhanced recovery after surgery (ERAS) program on postoperative renal function World Congress of Enhanced Recovery After Surgery 2017, 2017

Rodriguez-Restrepo A, Iniesta M, Salvo G, Sheth N, Corzo C, Lasala J, Meyer LA , Munsell M, Lu K, Ramirez P

Compliance with an enhanced recovery after surgery (ERAS) program in gynecologic surgery: impact on length of stay and complications World Congress of Enhanced Recovery After Surgery 2017, 2017

Nick AM, Meyer LA, Iniesta MD, Lasala JD, Harris M, Earles TW, Cain KE, Munsell MF, Lu KH, Ramirez PT

Implementation of an enhanced recovery program at a tertiary cancer center Proceedings of the 2016 Society of Gynecologic Oncology Annual Meeting on Women's Cancer, 2016

Lasala JD, Nick AM, Ramirez PT, Meyer LA, Cain KE, Munsell MF, Iniesta MD, Ifeanyi IC, Singh J, Calderon TM, Kwater P, Tsai J, Vachhani S, Cata JP, Mena G

Decreased intraoperative opioid consumption following institution of enhanced recovery program in open gynecologic surgery Proceedings of the 2016 Society of Gynecologic Oncology Annual Meeting on Women's Cancer, 2016

Taylor JS, Marten CA, Bodurka DC, Burzawa JK, Munsell MF, Potts K, Nick AM, Meyer LA, Levenback CF, Schmeler KM

The DISINFECT initiative: Decreasing the incidence of surgical INFECTions in gynecologic oncology Proceedings of the 2016 Society of Gynecologic Oncology Annual Meeting on Women's Cancer, 2016

Taylor JS, Marten CA, Sun CCL, Bodurka DC, Potts K, Nick AM, Meyer LA, Levenback CF, Lairson DR, Schmeler KM

The cost-effectiveness of the DISINFECT Initiative (Decreasing the Incidence of Surgical INFECTions) in gynecologic oncology Proceedings of the 2016 Society of Gynecologic Oncology Annual Meeting on Women's Cancer, 2016

Cain KE, Lasala JD, Nick AM, Meyer LA, Iniesta MD, Earles TW, Munsell MF, Ramirez PT

Decreased postoperative opioid consumption following implementation of enhanced recovery pathway after gynecologic surgery Proceedings of the 2016 Society of Gynecologic Oncology Annual Meeting on Women's Cancer, 2016

Suidan RS, He W, Sun CCL, Zhao H, Ramondetta LM, Badgwell BD, Bodurka DC, Lu KH, Giordano SH, Meyer LA

Treatment patterns and outcomes for bowel obstruction in elderly ovarian cancer patients: A population-based analysis Proceedings of the 2016 Society of Gynecologic Oncology Annual Meeting on Women's Cancer, 2016

Lasala JD, Ifeanyi IC, Singh J, Earles JW, Palmer LD, Harris M, Ramirez PT, Calderon TM, Nick AM, Meyer LA, Jackson TA

Implementation of an enhanced recovery after gynecologic oncology surgery pathway: Improving compliance with key elements of preoperative care Proceedings of the 2016 Society of Gynecologic Oncology Annual Meeting on Women's Cancer, 2016

Soliman PT, Garcia E, Lang K, Villanueva V, Westin SN, Fleming ND, Feeley T, Lu KH, Meyer LA

Evaluation of resource utilization using time-derived activity-based costing results in more effective processes and cost reduction Proceedings of the 2016 Society of Gynecologic Oncology Annual Meeting on Women's Cancer, 2016

Taylor JS, Zhang N, Meyer LA, Ramondetta LM, Bodurka DC, Rajan S, Giordano SH

When more is less: End-of-life disparities among ovarian cancer patients J Clin Oncol 34, 2016

Taylor JS, Zhang N, Meyer LA, Ramondetta LM, Bodurka DC, Rajan S, Giordano SH

Changing patterns of hospice and end of life care J Clin Oncol 34, 2016

Suidan RS, He W, Sun CC, Soliman PT, Ramirez PT, Zhao H, Fleming ND, Westin SN, Lu KH, Giordano SH, Meyer LA

Impact of body mass index on surgical costs and morbidity for women with endometrial carcinoma/hyperplasia J Clin Oncol 34, 2016

Meyer LA, Nick AM, Iniesta MD, Cain KE, Earler TW, Lasala JD, Shi Q, Wang XS, Lu KH, Ramirez PT

Is recovery really "enhanced" through enhanced recovery programs? An analysis of patient-reported perioperative symptom burden before and after implementation of an enhanced recovery pathway for gynecologic surgery Proceedings of the 2016 Society of Gynecologic Oncology Annual Meeting on Women's Cancer, 2016

Meyer LA, He W, Sun CC, Zhao H, Suidan RS, Lu KH, Giordano SH, Bodurka DC

Uptake and outcomes associated with neoadjuvant chemotherapy in the elderly: A population-based analysis Proceedings of the 2016 Society of Gynecologic Oncology Annual Meeting on Women's Cancer, 2016

Meyer L , Suidan R, He W, Sun CC, Zhao H, Westin S, Soliman P, Woodard T, Lu K, Giordano S

Endometrial hyperplasia and cancer in young women: A study of national patterns of care over time and pregnancy outcomes 16th Biennial Meeting of the International Gynecologic Cancer Society, 2016

Suidan RS, He W, Sun CC, Ramondetta LM, Badgwell BD, Bodurka DC, Lu KH, Giordano SH, Meyer LA

Treatment patterns, outcomes, and costs for bowel obstruction in ovarian cancer Proceedings of the 2016 Society of Gynecologic Oncology Annual Meeting on Women's Cancer, 2016

Meyer LA , Suidan RS, He W, Sun CC, Zhao H, Westin SN, Fleming ND, Soliman PT, Lu KH, Giordano SH

National patterns of care for women of child-bearing age with endometrial hyperplasia and cancer 16th Biennial Meeting of the International Gynecologic Cancer Society, 2016

Zhang H, Gounder M, Murthy R, Helgason T, Hong D, Benjamin R, Meyer LA, Zinner R, Meric-Bernstam F

Phase I clinical study of intratumoral injection of Clostridium novyi-NT spores in patients with advanced cancer Proceedings of the 13th International Congress on Targeted Anticancer Therapies (TAT 2015), 2015

Zhang Y, Allen P, Meyer LA, Sun CC, Basen-Engquist KM, Lu KH, Klopp AH

Visceral adiposity associated with increased risk of death from ovarian cancer Gynecol Oncol 137:118, 2015

Meyer LA, He W, Zhao H, Sun CC, Wright A, Bodurka DC, Lu KH, Giordano SH

Patterns of care and survival in a matched case–control study of intraperitoneal chemotherapy in a national population-based cohort of elderly ovarian cancer patients Gynecol Oncol 137:175-176, 2015

Ramondetta LM, Kim YJ, Munsell MF, Park J, Meyer LA, Sun CC, Brown AJ, Bodurka DC, Bruera E

Symptom burden in women with advanced or recurrent cervical cancer referred to a supportive care center Gynecol Oncol 137:197, 2015

Wainwright A, Brimmage B, Barratt MS, Robazetti S, Gomez MP, Ramondetta LM, Schmeler KM, Meyer LA

Structured patient reminder systems and HPV vaccine completion rates: A quality improvement initiative Gynecol Oncol 137:150, 2015

O'Malley DM, Niland J, Bookman MA, Burger RA, Cristea M, Griggs J, Mantia-Smaldone GM, |Meyer LA, Sun CC, Wright A, Cohn DE

The use of NCCN guideline therapy in the first line/adjuvant setting in patients with ovarian cancer from 6 NCCN institutions Gynecol Oncol 137:42, 2015

Meyer LA, Cronin AM, Sun CC, Bookman MA, Burger RA, Cristea M, Griggs JJ, Levenback C, Mantia-Smaldone G, Matulonis UA, Niland J, O'Malley DM, Wright AA

Use of neoadjuvant chemotherapy in advanced ovarian cancer J Clin Oncol 33 (15) , 2015

Nick A, Meyer L, Iniesta MD, LaSala J, Harris M, Palmer L, Earles TW, Cain KE, Washington L, Munsell M, Ramirez PT

Implementation of an Enhanced Recovery Program at a Tertiary Cancer Center Proceedings of the 2015 World Congress of Enhanced Recovery after Surgery and Perioperative Medicine Annual Meeting, 2015

Earles TW, Harris MG, Palmer LD, Meyer LA, Iniesta MD, Lasala JD, Cain KE, Washington LD, Ramirez PT, Nick AM

An Evaluation of an Enhanced Recovery Program Established for Patients Undergoing Open Gynecologic Surgery Proceedings of the 2015 World Congress of Enhanced Recovery after Surgery and Perioperative Medicine Annual Meeting, 2015

Iniesta MD, Patrono MG, Nick AM, Washington LD, Ramos KE, Earles TW, Lasala JD, Ramirez PT, Meyer LA

Utility of Activity Logs in an Enhanced Recovery Pathway in Gynecologic Surgery Proceedings of the 2015 World Congress of Enhanced Recovery after Surgery and Perioperative Medicine Annual Meeting, 2015

Lasala JD, Meyer LA, Nick AM, Ramirez P, Mena GE, Cata LP, Gottumukkala V, Kwater P, Hancher-Hodges S, Cain K, Harris M, Palmer L

Implementation of an Enhanced Recovery after Gynecologic Oncology Surgery Pathway: Improving Compliance with Key Elements of Preoperative Care Proceedings of the 2015 World Congress of Enhanced Recovery after Surgery and Perioperative Medicine Annual Meeting, 2015

Cain KE, Lasala JD, Nick AM, Meyer LA, Iniesta-Donate M, Earles TW, Munsell M, Ramirez PT

Decreased Postoperative Opioid Consumption Following Enhanced Recovery after Gynecologic Surgery Proceedings of the 2015 World Congress of Enhanced Recovery after Surgery and Perioperative Medicine Annual Meeting, 2015

Lasala JD, Cain KE, Meyer LA, Ramirez P, Iniesta-Donate M, Mena GE, Cata JP, Earles T, Gottumukkala V, Kwater P, Hancher-Hodges S, Speer B, Munsell M, Singh J, Nick AM

Decreased Intra-Operative Opioid Consumption Following Enhanced Surgery Within Enhanced Recovery after Gynecologic Surgery Proceedings of the 2015 World Congress of Enhanced Recovery after Surgery and Perioperative Medicine Annual Meeting, 2015

Meyer LA, Nick AM, Iniesta M, Shi Q, Washington L, Harris M, Palmer L, Cain KE, Earles T, Lasala J, Wang X, Ramirez PT

Comparison of Patient Reported Symptom Burden Pre- and Post- Implementation of an Enhanced Recovery Pathway for Gynecologic Surgery Proceedings of the 2015 World Congress of Enhanced Recovery after Surgery and Perioperative Medicine Annual Meeting, 2015

Meyer LA, Brimmage B, Gomez MP, Hodgson S, Dalrymple JL, Gregg A, Barratt MS

Barriers to human papillomavirus (HPV) vaccination: perspectives of parents of vaccine-eligible children Gynecol Oncol 133 (Suppl 1) :37, 2014

Brimmage B, Gomez MP, Hodgson S, Barratt MS, Dalrymple JL, Gregg A, Meyer, LA

Forgotten appointments equals missed opportunities: Exploring the reasons for low HPV vaccine series completion rates Gynecol Oncol 133 (Suppl 1) :188, 2014

Smith JA, Mathew LM, Gaikwad AG, Faro JP, Meyer, LA, Dalrymple JL

In vitro and in vitro evaluation of active hexose correlated compound (AHCC) for the erradication of HPV Gynecol Oncol 133 (Suppl 1) :189, 2014

Meyer LA, He W, Zhao H, Sun CC, Buchholz T, Lu K, Giordano S

Patterns of care and overall survival in the Medicare ovarian cancer population J Clin Oncol 32 (5s) , 2014

Meyer LA, Brimmage B, Gomez M, Hodgson S, Barratt M, Schmeler K, Ramondetta L, Sun CC

Parental Risk Perception and Decision Making Regarding Vaccination of their Eligible Children with the Human Papillomavirus Vaccine Proceedings of the 36th Annual Meeting of the Society for Medical Decision Making, 2014

Meyer L, Slomovitz B, Djordjevic B, Iglesias D, Westin S, Broaddus R, Munsell M, Wolf J, Gershenson D, Lu K

Can negative biomarkers be helpful? A novel combination test to predict non-response to inhibition of the mammalian target of rapamycin (mTOR) pathway in endometrial cancer Gynecol Oncol 125 (Suppl. 1) :S163, 2012

Meyer L, Schmeler K, Wallbillich J, Soliman P, Frumovitz M, Burke C, Bodurka D, Levenback C

Clinical practice guidelines decrease unnecessary Pap tests in survivors of gynecologic malignancies Gynecol Oncol 120 (Suppl 1) :S30, 2011

Huang M, Westin S, Sun C, Meyer L, Tung C, Urbauer D, Bodurka D

Menopausal symptoms and the use of hormone replacement therapy: The gynecologic cancer survivors' perspective Gynecol Oncol 120 (Suppl 1) :S82, 2011

Huang M, Djordjevic B, Urbauer D, Westin SN, Sun CC, Burzawa JK, Meyer L, Bodurka DC, Broaddus R, Lu KH

Molecular analysis of endometrial pathogenesis in Lynch Syndrome J Clin Oncol 29, 2011

Meyer LA, Slomovitz BM, Djordjevic B, Galbincea JM, Johnston TA, Munsell M, Burzawa JK, Huang M, Broaddus R, Iglesias DA, Coleman RL, Gershenson DM, Burke TW, Wolf J, Lu KH

The search continues: Looking for predictive biomarkers for response mTOR inhibition in endometrial cancer J Clin Oncol 29, 2011

Burzawa J, Schmandt R, Bowser J, Zhang Q, Huang M, Meyer L, Westin S, Gershenson D, Lu K

Preclinical evidence for exercise and pharmacologic exercise mimetics in the treatment of endometrial cancer Gynecol Oncol 116 (3 Supp 1) :S80, 2010

Westin SN, Sun CC, Schlumbrecht MP, Tung CS, Lacour RA, Meyer LA, Urbauer DL, Soliman PT, Lu KH, Bodurka DC

Persistent obesity among endometrial cancer survivors: A teachable moment? Gynecol Oncol 116:S81, 2010

Huang M, Burzawa J, Djordjevic B, McCampbell A, Boyd-Togers S, Meyer L, Westin S, Broaddus R, Lu K

Preinvasive disease in patients with Lynch syndrome-associated endometrial cancer Gynecol Oncol 116 (3 Supp 1) :S97, 2010

Meyer LA, Liang D, Lin J, Ye Y, Huang M, Pu X, Lu K, Wu X

Genetic Variants in the mammalian target of rapamycin (mTOR) pathway as predictors of clinical response and survival in women with ovarian cancer Gynecol Oncol 120 (Suppl 1) :S23, 2010

Burke CC, Meyer LA, Daniels MS, Schmeler KM, Garcia EA, Zook SU, Zalun G, Sam AV, Rothe ER, Anderson ME, Gershenson DM, Lu KH

Identification of women with ovarian cancer at risk for BRCA 1/2 mutations: Initial Results from a quality improvement initiative. Gynecol Oncol 112 (2, Suppl. 1) :S20, 2009

Burzawa JK, Schmeler KM, Soliman PT, Lacour RA, Meyer LA, Bevers MW, Frumovitz MM, Pustilnik T, Brown J, Anderson ML, Ramondetta LM, Tortolero-Luna G, Gershenson DM, Lu KH

Prospective, population-based evaluation of insulin resistance, polycystic ovary syndrome and metabolic syndrome in a cohort of patients with endometrial cancer Gynecol Oncol 112 (2, Suppl. 1) :S85, 2009

Meyer LA, Anderson ME, Lacour RA, Westin SN, Burzawa JK, Urbauer DL, Daniels MS, Burke CC, Gershenson DM, Lu KH

Evaluating women with ovarian cancer for BRCA 1 and BRCA 2 mutations: A trend over time Gynecol Oncol 112 (2, Suppl. 1) :S96, 2009

Liang D, Meyer LA, Lin J, Xia P, Ye Y, Wu L, Lu K, Wu X

Genetic Variants in microRNA processing pathway genes and ovarian cancer risk [abstract] In: Proceedings of the 100th Annual Meeting of the American Association for Cancer Research; 2009 Apr 18-22; Denver CO Philadelphia (PA): AACR, 2009

Zhang Q, Celestino J, Shen Q, Milam M, Westin S, Lacour R, Meyer L, Shipley G, Davies P, Lu K.

Estrogen- induced cell proliferation and cell- cycle signaling in obese rat endometrium, 2008

Lacour RA, White KG, Daniels MS, Westin SN, Meyer LA, Burke CC, Burns KA, Kurian S, Webb NF, Pustilnik T, Urbauer DL, Sun CC, Bodurka DC, Gershenson DM, Lu KH

What women with ovarian cancer think and know about genetic testing. Gynecol Oncol 108 (Suppl.1) :S59, 2008

Lacour RA, Daniels MS, Westin SN, Meyer LA, Choubey V, Blank SV, MacDonald HR, Roman L, Estes JM, Barnes M, Teoh D, Powell B, Sun CC, Urbauer DL, Ramirez PT, Bodurka DC, Gershenson DM, Lu KH

Do BRCA mutations confer a survival advantage in all cases of advanced-ovarian cancer? Gynecol Oncol 108 (Suppl. 1) :S108-109, 2008

Westin SN, Lu KH, Milam MR, Lacour, RA, Meyer LA, Urbauer, DL, Bodurka DC, Broaddus, RR

Adenocarcinoma of the lower uterine segment: A distinct clinical entity associated with Lynch Syndrome Gynecol Oncol 108 (Suppl. 1) :S64-65, 2008

Westin SN, Lu KH, Lacour RA, Meyer LA, Xie S, Urbauer DL, Broaddus RR

GRP78 has unique expression in normal endometrium and endometrial carcinoma. Gynecol Oncol 108 (Suppl. 1) :S74, 2008

Westin SN, Sun CC, Lacour RA, Meyer LA, Tung CS, Urbauer DL, Frumovitz MM, Lu KH, Gershenson DM, Bodurka DC

Survivors of Gynecologic Malignancies: Impact of treatment on health and well- being. J Clin Oncol 26 (7s, Suppl) , 2008

Meyer LA, Westin SN, Lacour RA, Urbauer DL, Schmeler KM, Daniels MS, Sun CC, Gershenson DM, Lu KH

Evaluating women with ovarian cancer for BRCA1/2: Missed opportunities. J Clin Oncol 26 (7s, Suppl) , 2008

Lacour, RA, Westin, SN, Meyer, LA, Soliman, PT, Keeler, ER, Boyd-Rogers, SG, Urbauer, DL, Broaddus, RR, Loose, DS, Lu, KH

Alterations in estrogen-associated proliferation markers in histologically-normal endometrium of obese women J Clin Oncol 26 (May 20- suppl) , 2008

Meyer L, Ascher-Walsh CJ, Norman R, Idrissa A, Herbert H, Kimso O, Wilkinson J

Commonalities among women who experienced vesicovaginal fistulae as a result of obstetric trauma in Niger: results from a survey given at the National Hospital Fistula Center, Niamey, Niger. Am J Obstet Gynecol 197 (1) :90.e1-4, 2007. PMID: 17618772

Ascher-Walsh CZJ, Meyer L, Norman R, Kimso O, Wilkinson JP

Commonalities among women who developed vesico-vaginal fistulae as a result of obstetric trauma in Niger: Results from a survey given at the National Hospital Fistula Center, Niamey Niger Int Urogynecol J 17 (Suppl. 3) :S392-393, 2006

Ascher-Walsh CJ, Meyer L, Norman R, Wilkinson JP

Access to healthcare, patient comprehension during preoperative counseling, and understanding of future plans of women undergoing surgery for repair of a vesico-vaginal fistula in western Niger: A report from a survey given at the National Hospital Fistula Center, Niamey, Niger Int Urogynecol J 17 (Suppl. 3) :S411-412, 2006

Pothuri B, Meyer L, Herzog T, Cohen C, Arons R.

Radiation is a risk factor for colon cancer development in patients with primary cervical cancer Gynecol Oncol 101 (S119) , 2006

Awtrey C, Meyer L, Kauff N. Levine D, Barakat R

Primary peritoneal cancer (PPC) following bilateral salpingo-oophorectomy (BSO) Gynecol Oncol 96:934, 2005

Graham G, Meyer L, Perez-Delboy A, Simpson L

The yield of congenital heart disease by indication for fetal echocardiogram Journal of Ultrasound in Medicine 23 (S101) , 2004
Book Chapters
Jhingran A, Meyer LA, Malignant Diseases of the Cervix - Microinvasive and Invasive Carcinoma: Diagnosis and Management, In: Comprehensive Gynecology, 7, 2016
Westin SN, Meyer LA, Coleman RL, Ovarian Cancer, In: Targeted Therapy in Translational Cancer Research, Wiley Blackwell, 240-254, 2015
Meyer L, Pothuri B, Early Cervical Cancer, In: Gynecologic Tumor Board: Clinical Cases in Diagnosis and Management of Cancer of the Female Reproductive System, Jones and Bartlett Publishers: Sudury, MA, 145-156, 2009