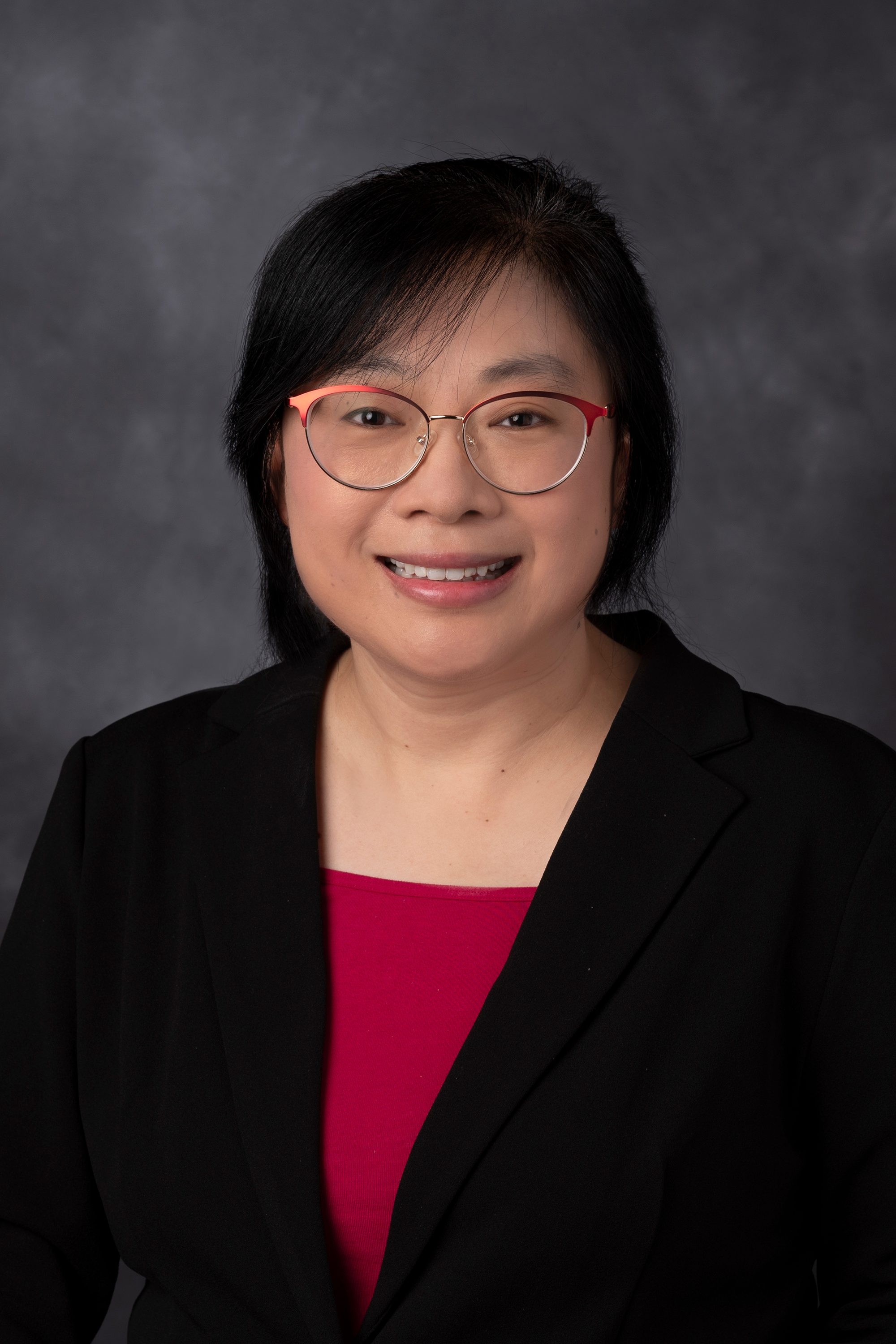 Linghua Wang, M.D., Ph.D.
Department of Genomic Medicine, Division of Cancer Medicine
About Dr. Wang
Dr. Wang is a tenure-track Assistant Professor at Department of Genomic Medicine. She has significant expertise in immunogenomics, single-cell computational biology, cancer genomics and biology. Her laboratory focuses to apply innovative bioinformatics approaches to dissect tumor-immune co-evolution to understand the cellular and molecular cues underlying tumor development, progression, immune resistance and identify new venue for development of therapeutic and diagnostic tools.
Over the years, her lab has developed expertise in deep profiling of intra-tumoral heterogeneity and tumor immune microenvironment, delineating tumor cells-of-origin and lineage diversity/plasticity, tumor-immune interactions and evolutionary dynamics using cutting-edge immunogenomics approaches, coupled with the state-of-the-art computation and modeling. She is PI of a highly competitive CPRIT Individual Investigator Research Award (IIRA) and two SPORE Career Enhancement Program (CEP) Awards. She is also the recipient of the Sabin Fellow Award and Institutional Research Grant (IRG) Awards. She leads/co-leads a number of single-cell studies to deeply profile immune microenvironment and tumor-immune crosstalk to understand tumor progression and patient response to immunotherapies.
She has published as the first, corresponding, or senior author in high-impact journals including Nature (2014, 2020), Nature Medicine (2020, 2021), Nature Genetics (2015), Science Translational Medicine (2019), GUT (2019, 2020), Clinical Cancer Research (2019), Genome Research (2012, 2013), Leukemia (2014a, 2014b), among many others. She has established productive and successful collaborations with investigators within and outside of MD Anderson and her lab works closely with physician scientists and clinicians to translate basic science discoveries into testable clinical hypotheses and innovative intervention strategies, toward better patient care.
Read More
Primary Appointment
Assistant Professor, Department of Genomic Medicine, Division of Cancer Medicine, The University of Texas MD Anderson Cancer Center, Houston, TX
Dual/Joint/Adjunct Appointment
Regular Member, The University of Texas Graduate School of Biomedical Sciences at Houston (GSBS), Houston, TX
Single cell computational biology, Tumor microenvironment, Tumor-immune interaction, Tumor heterogeneity and evolution, Immunogenomics
Degree-Granting Education
| | |
| --- | --- |
| 2011 | The University of Tokyo, Tokyo, JPN, PHD, Cancer Genomics |
| 2006 | Sun Yat-Sen University, Guangzhou, CHN, MS, Ophthalmology |
| 2003 | Taishan Medical University, Taian, CHN, MD, Medicine |
Postgraduate Training
| | |
| --- | --- |
| 2012-2014 | Postdoctoral Associate, Cancer Genomics, Baylor College of Medicine, Houston, TX |
| 2007-2008 | Research Fellowship, Cancer Genetics, Nihon University School of Medicine, Tokyo |
Academic Appointments
Assistant Professor, Baylor College of Medicine, Houston, TX, 2015 - 2017
Instructor, Baylor College of Medicine, Houston, TX, 2014 - 2015
| | |
| --- | --- |
| 2020 | Ovarian SPORE CEP Award, NIH/NCI |
| 2020 | Lung SPORE CEP Award, NIH/NCI |
| 2020 | Individual Investigator Research Award, CPRIT |
| 2019 | Sabin Fellow Award, Sabin Family Foundation |
| 2019 | Institutional Research Grant Award, MDACC |
| 2017 | Invited Speaker, AACR Annual Meeting |
| 2016 | Invited Speaker, Human Genome Meeting |
American Society of Hematology (ASH)
Member, 2020 - Present
The American Society of Human Genetics (ASHG)
Member, 2019 - Present
Human Genome Organisation (HUGO)
Member, 2017 - 2018
American Society of Clinical Oncology (ASCO)
Member, 2013 - Present
American Association for Cancer Research (AACR)
Active member, 2012 - Present
Peer-Reviewed Articles
Invited Articles
*Wang L, Wheeler DA, Prchal JT.. Acquired uniparental disomy of chromosome 9p in hematologic malignancies. Exp Hematol 44(8):644-52, 2016. e-Pub 2015. PMID: 26646991.
*Wang L & Wheeler DA.. Genomic sequencing for cancer diagnosis and therapy. Annu Rev Med 65:33-48, 2014. e-Pub 2013. PMID: 24274147.
Wheeler DA & *Wang L.. From human genome to cancer genome: the first decade. Genome Res 23(7):1054-62, 2013. PMID: 23817046.
Aburatani H & *Wang L.. Integrated genomic analysis of pancreatic ductal carcinoma. Experimental Medicine 30:33-38, 2012.
Wang L, Ajani JA. Ushering in Liquid Biopsy for the Microsatellite Status: Advantages and Caveats. Clin Cancer Res. e-Pub 2019. PMID: 31527165.
Other Articles
Wang Y, Wang R, Zhang S, Song S, Jiang C, Han G, Wang M, Ajani J, Futreal A, Wang L

iTALK: an R Package to Characterize and Illustrate Intercellular Communication. BioRxiv (preprint), 2020.
| | |
| --- | --- |
| Title: | NCI Exceptional Responders (Subaward-Subcontract) |
| Funding Source: | NIH/NCI |
| Role: | Principal Investigator-MDACC |
| | |
| --- | --- |
| Title: | Start-up fund for Tenure-Track Assistant Professor |
| Funding Source: | MDACC |
| Role: | Principal Investigator |
| | |
| --- | --- |
| Title: | B-Cell Lymphoma Moon Shot Program |
| Funding Source: | The University of Texas M.D. Anderson Cancer Center |
| Role: | Co-Investigator |
| | |
| --- | --- |
| Title: | High-Risk Multiple Myeloma Moon Shot Pilot Program |
| Funding Source: | The University of Texas M.D. Anderson Cancer Center |
| Role: | Bioinformatics Lead |
| | |
| --- | --- |
| Title: | A biomarker-based, combination therapy with immune checkpoint blockade and pemetrexed for MTAP-deficient metastatic bladder cancer |
| Funding Source: | Doris Duke Charitable Foundation |
| Role: | Co-Investigator |
| | |
| --- | --- |
| Title: | Targeting Tim-3 as a Novel Therapeutic Strategy for Advanced Gastric Cancer with Peritoneal Metastases |
| Funding Source: | Andrew Sabin Family Foundation |
| Role: | Principal Investigator |
| | |
| --- | --- |
| Title: | Dissecting the Multicellular Ecosystem of Metastatic Gastric Adenocarcinoma by Longitudinal Single Cell Sequencing of Malignant Ascites Cells and PBMCs with Primary and Normal Gastric Tissue as control |
| Funding Source: | MDACC-IRG |
| Role: | Principal Investigator |
| | |
| --- | --- |
| Title: | Epithelial memory of resolved inflammation as a driver of pancreatic cancer progression |
| Funding Source: | Cancer Prevention & Research Institute of Texas (CPRIT) |
| Role: | Co-Investigator |
| | |
| --- | --- |
| Title: | HPV+ Cancer Moon Shot Program |
| Funding Source: | The University of Texas M.D. Anderson Cancer Center |
| Role: | Co-Investigator |
| | |
| --- | --- |
| Title: | Uterine SPORE Developmental Research Award |
| Funding Source: | The University of Texas M.D. Anderson Cancer Center |
| Role: | Co-Principal Investigator |
| | |
| --- | --- |
| Title: | Ovarian SPORE CEP Award |
| Funding Source: | NIH/NCI |
| Role: | Principal Investigator |
| | |
| --- | --- |
| Title: | Lung SPORE CEP |
| Funding Source: | NIH/NCI |
| Role: | Principal Investigator |
| | |
| --- | --- |
| Title: | Predicting Response and Improving Efficacy of CAR T-cell Therapy in DLBCL |
| Funding Source: | Cancer Prevention & Research Institute of Texas (CPRIT) |
| Role: | Principal Investigator |
| | |
| --- | --- |
| Title: | V Foundation Award |
| Funding Source: | The V Foundation |
| Role: | Co-Investigator |
| | |
| --- | --- |
| Title: | Characterizing and targeting the tumor immune microenvironment in FGFR3-mutated bladder cancer |
| Funding Source: | CONQUER CANCER FOUNDATION |
| Role: | Co-Investigator |