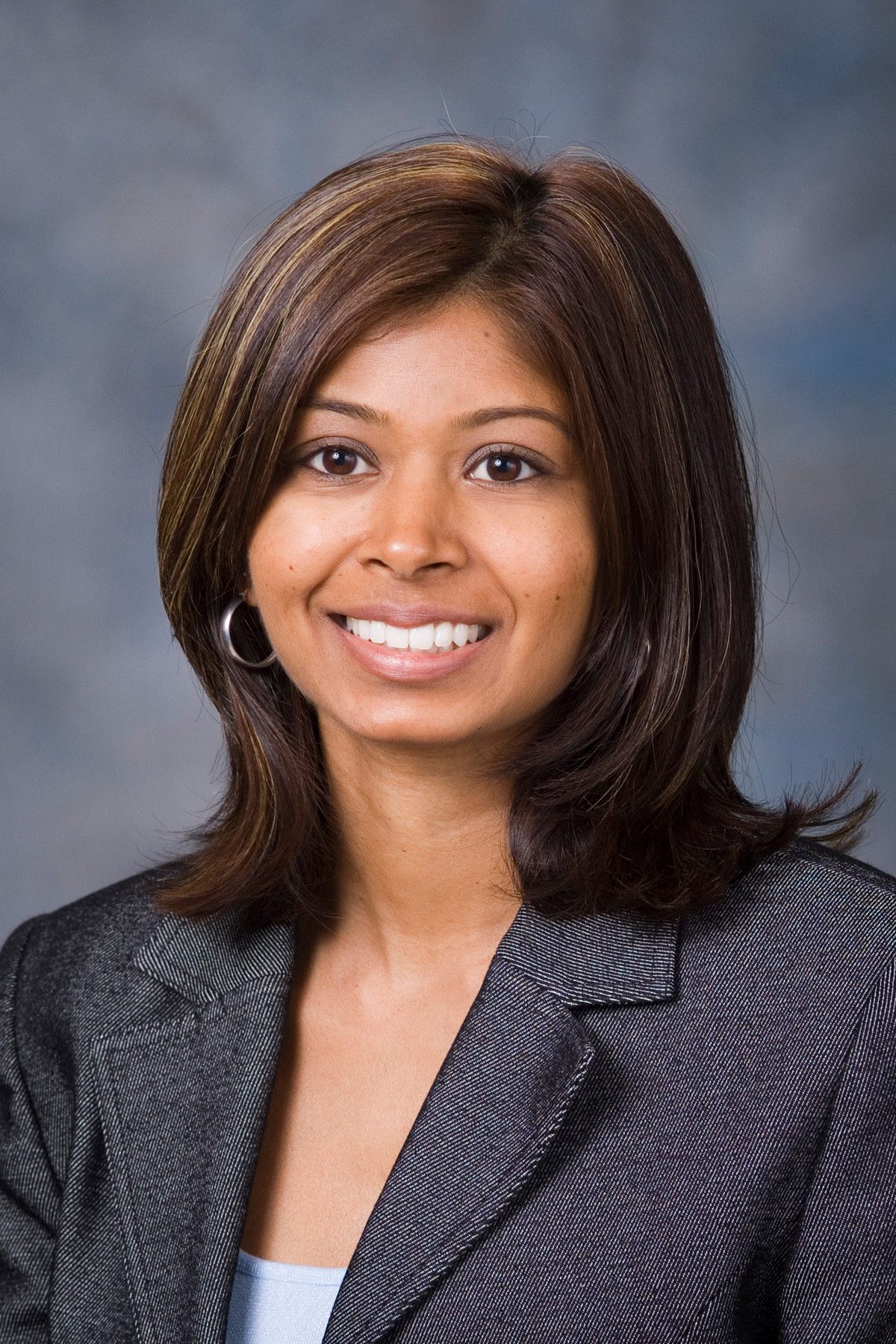 Madhavi Patnana, M.D.
Department of Diagnostic Radiology, Division of Diagnostic Imaging
About Dr. Patnana
Dr. Patnana completed her medical training upon graduation from St. George's University School of Medicine in June of 2000. She finished her Radiology residency at Maimonides Medical Center in Brooklyn, NY. She then went on to pursue a fellowship in Body Imaging at MD Anderson Cancer Center which she completed in June 2006 at which time she was offered and accepted a position as Assistant Professor in the Division of Diagnostic Imaging, Department of Diagnostic Radiology.
Since that time, she has become very active in teaching and mentoring our medical students, residents, and fellows by offering board reviews, case presentations, conferences and other specialized training in body imaging. She has served as the Radiology Rotation Site Director overseeing residents from the UT and Baylor Radiology programs since 2010.
Dr. Patnana is a productive author with 25 peer-reviewed articles and 29 abstracts to her credit. She quickly established herself as a dependable and knowledgeable radiologist who is well respected by faculty and staff on every level.
She is the past Co-Chair of the Maintenance of Certification committee for Diagnostic Radiology and serves on various education committees for the UT Residency program.
In September 2012, she was promoted to Associate Professor.
Read More
Primary Appointment
Associate Professor, Department of Diagnostic Radiology, Division of Diagnostic Imaging, The University of Texas MD Anderson Cancer Center, Houston, TX
Dual/Joint/Adjunct Appointment
Assistant Professor, Department of Diagnostic & Interventional Imaging, The University of Texas Medical School at Houston, Houston, TX
Degree-Granting Education
| | |
| --- | --- |
| 2000 | St. George's University School of Medicine, Grenada, West Indies, MD, Medicine |
| 1994 | The University of Wisconsin, Madison, WI, USA, BS, Bacteriology |
Postgraduate Training
| | |
| --- | --- |
| 2005-2006 | Clinical Fellowship, Body Imaging, The University of Texas MD Anderson Cancer Center, Houston, TX |
| 2000-2005 | Clinical Residency, Diagnostic Radiology, Maimonides Medical Center, Brooklyn, NY |
| 2000-2001 | Clinical Internship, Internal Medicine, Maimonides Medical Center, Brooklyn, NY |
| | |
| --- | --- |
| 2005 | American Board of Radiology |
Academic Appointments
Assistant Professor, Department of Diagnostic Radiology, Division of Diagnostic Imaging, The University of Texas MD Anderson Cancer Center, Houston, TX, 2006 - 2012
Assistant Professor ad interim, Department of Diagnostic Radiology, Division of Diagnostic Imaging, The University of Texas MD Anderson Cancer Center, Houston, TX, 2006 - 2006
Administrative Appointments/Responsibilities
Resident Site Director for Diagnostic Radiology, Department of Diagnostic Radiology, The University of Texas MD Anderson Cancer Center, Houston, TX, 2010 - 2015
Other Appointments/Responsibilities
Member, Clinical Ultrasound Advisory Group, The University of Texas MD Anderson Cancer Center, Houston, TX, 2013 - 2014
Institutional Committee Activities
Member, Abdominal Imaging Section Chief Search Committee, 2017 - Present
Member, Gastric Multidisciplinary Conference Group, 2017 - Present
Member, Executive Billing and Compliance Committee, 2016 - Present
Member, Diagnostic Imaging Quantitative Imaging Analysis Core, 2016 - Present
Co-Chair, Division of Diagnostic Imaging Maintenance of Certification Committee, 2014 - 2016
Member, Fellowship Program Evaluation Committee for Body Imaging, 2014 - 2015
Member, Diagnostic Imaging Mentorship and Sponsorship Subcommittee on Gender Inclusiveness, 2013 - 2014
Co-Chair, Division of Diagnostic Imaging Maintenance of Certification Ad Hoc Committee, 2013 - 2014
Member, Educational Functional Committee for Diagnostic Imaging, 2013 - 2015
Member, Radiology Residency Reporting QA Review Committee, 2012 - Present
Member, Diagnostic Imaging Quality Assurance Committee, 2010 - 2010
Senator, Faculty Senate, 2010 - 2016
Member, Diagnostic Imaging 24-Hour Coverage Committee, 2010 - 2011
| | |
| --- | --- |
| 2016 | Cum Laude, Poster Presentation - "Tumor markers: myths and facts unfolded", Society of Abdominal Radiology |
| 2015 | Certificate of Merit, "Tumor markers: myths and facts unfolded", Radiological Society of North America |
| 2014 | E-Poster Presentation Prize - "Recommended Poster" - "Multimodality pitfalls in abdominal imaging", European Society of Gastrointestinal and Abdominal Radiology (ESGAR) |
| 2013 | Certificate of Merit, Education Exhibit - "Changes in pelvic anatomy following pelvic exenteration, imaging findings pelvic exenteration for pelvic malignancies: a systematic review", Radiological Society of North America |
| 2011 | Teacher of the Year Award, Diagnostic Radiology Residency Program - The University of Texas Medical School at Houston |
| 2011 | Certificate of Merit, Education Exhibit - "Imaging of the gallbladder wall: a pattern recognition approach on CT and MRI with pathologic correlation", Radiological Society of North America |
| 2006 | Certificate of Merit for "The inguinal canal: anatomy and imaging features of common and uncommon masses", Radiological Society of North America |
| 2000 | Iota Epsilon Alpha Honor Society, St. George's University School of Medicine |
| 1993 | George Washington Carver Award in Chemistry, The University of Wisconsin |
| 1992 | Golden Key National Honor Society, The University of Wisconsin |
| 1991 | William B. Sweet Freshman Book Scholarship, The University of Wisconsin |
| 1991 | Phi Eta Sigma National Honor Society, The University of Wisconsin |
Texas Medical Association, TX
Member / Committee on Continuing Education, 2017 - Present
European Society of Radiology, Vienna
Member, 2016 - Present
American College of Radiology, Atlanta, GA
Member, 2015 - Present
Alliance of Clinical Educators in Radiology, Oakbrook, IL
Member, 2014 - 2015
European Society of Gastrointestinal and Abdominal Radiology, Vienna
Member, 2012 - Present
Association of University Radiologists, Oak Brook, IL
Member, Membership Committee, 2011 - Present
Radiological Society of North America, Oak Brook, IL
Reviewer, RSNA/AAPM Phase II Physics Modules, 2011 - 2012
Association of University Radiologists, Oak Brook, IL
Member, 2010 - Present
American Institute of Ultrasound in Medicine, Laurel, MD
Member, 2008 - 2008
American College of Radiology, Atlanta, GA
Member, 2007 - 2012
American Roentgen Ray Society, Leesburg, VA
Member, 2006 - Present
Harris County Medical Society, Houston, TX
Member, 2006 - Present
Houston Radiological Society, Houston, TX
Member, 2006 - 2014
Radiological Society of North America, Oak Brook, IL
Member, 2006 - 2012
Texas Medical Association, TX
Member, 2006 - Present
American Association of Women Radiologists, Houston, TX
Member, 2002 - 2011
Peer-Reviewed Articles
Javadi S, Menias CO, Korivi BR, Shaaban AM, Patnana M, Alhalabi K, Elsayes KM

Pancreatic calcifications and calcified pancreatic masses: pattern recognition approach on CT AJR Am J Roentgenol 209 (1) :1-11, 2017. e-Pub 2017. PMID: 28418702

Bhosale P, Wang J, Varma D, Jensen C, Patnana M, Wei W, Chauhan A, Feig B, Patel S, Somaiah N, Sagebiel T

Can abdominal computed tomography imaging help accurately identify a dedifferentiated component in a well-differentiated liposarcoma? J Comput Assist Tomogr 40 (6) :872-879, 2016. e-Pub 2016. PMID: 27454788

Vicens RA, Patnana M, Le O, Bhosale PR, Sagebiel TL, Menias CO, Balachandran A

Multimodality imaging of common and uncommon peritoneal diseases: a review for radiologists Abdom Imaging 40 (2) :436-56, 2015. e-Pub 2014. PMID: 25139643

Sagebiel TL, Viswanathan C, Patnana M, Devine CE, Frumovitz M, Bhosale PR

Overview of the role of imaging in pelvic exenteration Radiographics 35 (4) :1286-94, 2015. PMID: 26172363

Leursen G, Gardner CS, Sagebiel T, Patnana M, de CastroFaria S, Devine CE, Bhosale PR

Magnetic resonance imaging of benign and malignant uterine neoplasms Semin Ultrasound CT MR 36 (4) :348-360, 2015. e-Pub 2015. PMID: 26296485

Joseph J, Wang WL, Patnana M, Ramesh N, Benjamin R, Patel S, Ravi V

Cytotoxic and targeted therapy for treatment of pseudomyogenic hemangioendothelioma Clin Sarcoma Res 5:22, 2015. e-Pub 2015. PMID: 26500758

Almeida MF, Patnana M, Korivi BR, Kalhor N, Marcal L

Ewing sarcoma of the kidney: a rare entity Case Rep Radiol 2014:283902, 2014. e-Pub 2014. PMID: 24523977

Korivi BR, Jensen CT, Patnana M, Patel KP, Bathala TK

A rare presentation of lymphoma of the cervix with cross-sectional imaging correlation Case Rep Radiol 2014:1-5, 2014. e-Pub 2014. PMID: 24864220

Viswanathan C, Truong MT, Sagebiel TL, Bronstein Y, Vikram R, Patnana M, Silverman PM, Bhosale PR

Abdominal and pelvic complications of nonoperative oncologic therapy Radiographics 34 (4) :941-61, 2014. PMID: 25019433

Balachandran A, Tamm EP, Bhosale PR, Patnana M, Vikram R, Fleming JB, Katz MH, Charnsangavej C

Pancreatic neuroendocrine neoplasms: diagnosis and management. Abdom Imaging 38 (2) :342-357, 2013. e-Pub 2012. PMID: 22707246

Marcal LP, Patnana M, Bhosale P, Bedi DG

Intraoperative abdominal ultrasound in oncologic imaging World J Radiol 5 (3) :51-60, 2013. PMID: 23671741

Patnana M, Sevrukov AB, Elsayes KM, Viswanathan C, Lubner M, Menias CO

Inflammatory pseudotumor: the great mimicker AJR Am J Roentgenol 198 (3) :W217-27, 2012. PMID: 22358018

Patnana M, Bronstein Y, Szklaruk J, Bedi DG, Hwu WJ, Gershenwald JE, Prieto VG, Ng CS

Multimethod imaging, staging, and spectrum of manifestations of metastatic melanoma Clin Radiol 66 (3) :224-236, 2011. e-Pub 2011. PMID: 21295201

Tan CH, Marcal L, Tan D, Patnana M

Magnetic resonance imaging diagnosis of iron overload in a leukemic patient after allogeneic hematopoietic stem cell transplantation Transfusion 50 (5) :1113-1117, 2010. e-Pub 2010. PMID: 20070618

Hwu WJ, Knight RD, Patnana M, Bassett R, Papadopoulos NE, Kim KB, Hwu P, Bedikian A

Phase I safety study of lenalidomide and dacarbazine in patients with metastatic melanoma previously untreated with systemic chemotherapy Melanoma Res 20 (6) :501-506, 2010. PMID: 20859231

Bhosale PR, Patnana M, Viswanathan C, Szklaruk J

The inguinal canal: anatomy and imaging features of common and uncommon masses Radiographics 28 (3) :819-835, 2008. PMID: 18480486

Gerard PS, Gerczuk PZ, Idupuganti R, Patnana M, Geller MD

Compartment syndrome caused by computed tomography contrast infiltration seen on a Tc-99m methylene diphosphonate bone scan Clin Nucl Med 33 (1) :36-37, 2008. PMID: 18097256

Gerard PS, Gerczuk PZ, Idupuganti R, Patnana M

Massive gastrointestinal bleeding due to an aorto-enteric fistula seen by technetium-99m-labeled red blood cell scintigraphy Clin Nucl Med 32 (7) :551-552, 2007. PMID: 17581344

Jbara M, Patnana M, Kazmi F, Beltran J

MR imaging: arthropathies and infectious conditions of the elbow, wrist, and hand Radiol Clin North Am 44 (4) :625-642, 2006. PMID: 16829253

Jbara M, Patnana M, Kazmi F, Beltran J

MR imaging: arthropathies and infectious conditions of the elbow, wrist, and hand Magn Reson Imaging Clin N Am 12 (2) :361-379, vii, 2004. PMID: 15172391

Beltran J, Patnana M, Beltran L, Ozkarahan G

MRI of the hip Appl Radiol 31 (11) :33-41, 2002

Schneider RF, Ntimba FD, Houizadeh A, Schwartz JB, Eber CD, Patnana M, Goldfarb R

Massive pulmonary embolism: a comparison of radiological and clinical characteristics and outcomes Emerg Radiol 9 (2) :79-81, 2002. e-Pub 2002. PMID: 15290582

Manahan CL, Patnana M, Blumer KJ, Linder ME

Dual lipid modification motifs in G (alpha) and G (gamma) subunits are required for full activity of the pheromone response pathway in saccharomyces cerevisiae Mol Biol Cell 11 (3) :957-968, 2000. PMID: 10712512

Rao PS, Galal O, Patnana M, Buck SH, Wilson AD

Results of three to 10 year follow up of balloon dilatation of the pulmonary valve Heart 80 (6) :591-5, 1998. PMID: 10065029

Korivi BR, Javadi S, Faria S, Sagebiel T, Garg N, Patnana M, Prasad SR

Small cell carcinoma of the ovary, hypercalcemic type: clinical and imaging review

Ott L, Wood C, Vikram R, Patnana M, Bhosale P, Bassett R, Bedi D

Feasibility of contrast enhanced intraoperative ultrasound for detection and characterization of renal mass undergoing open partial nephrectomy J Ultrasound Med. e-Pub 2017. PMID: 28390143
Invited Articles
Le O, Tamm EP, Wagner-Bartak N, Bhosale PR, Patnana M, Vikram R, Qayyum A, An update of clinical CT imaging of pancreatic neoplasms - tips, tricks, and pitfalls, 3 (7) :1-3
Abstracts
Parseghian C, Patnana M, Bhosale P, Hess K, Kopetz S, Overman M, Naing A, Phia-Paul S, Subbiah V, Hong D, Le H, Pant S

Evaluating for pseudoprogression in colorectal and pancreatic tumor treated with immunotherapy Ann Oncol 28 (Suppl 3) , 2017

Ravi V, Ramesh N, Patnana M,Conley PC, Zarzour MA, Ingram D, Little L, Protopopov A, Lazar AJ, Araujo DM, Torres KE, Patel S, Zhang J, Ali SM, Miller VA, Stephens PJ, Benjamin RS, Hwu P, Futreal A

Whole-exome and targeted sequencing of angiosarcomas: target identification and treatment implications American Society of Clinical Oncology 32 (15) , 2014

Bedi D, Patnana M, Lu K, Hernandez M, Bevers T, Bast R

Ovarian cancer screening with CA 125 and selective use of ultrasound: sonographic findings 112th Annual Meeting of the American Roentgen Ray Society, 2012

Bhosale P, Vikram R, Patnana M, Bedi D

Intraoperative ultrasound 111th Annual Meeting of the American Roentgen Ray Society, AJR Am J Roentgen 196 (5 Suppl) , 2011

Ibarra J, Vikram R, Le O, Sagebiel T, Patnana M, Viswanathan C, Sandler C

Genitourinary malignancies TNM staging update based on the 7th edition of AJCC Staging Manual (2010) Abdominal Radiology Course Syllabus:94, 2011

Vikram R, Patnana M, Bhosale P, Elsayes K, Sandler C, Charnsangavej C

Unusual patterns of spread of prostate carcinoma Abdominal Radiology Course Syllabus:100, 2011

Bedi D, Ernst RD, Patnana M

Ovarian cancer: new sonographic findings in early cancers and how to utilize ultrasound effectively for early detection Abdominal Radiology Course / The Society of Gastrointestinal Radiologists and The Society of Uroradiology, 2011

Patnana M, Vikram R, Ng CS, Sandler C

Clear cell renal cell carcinoma: MDCT and MRI appearances 110th Annual Meeting of the American Roentgen Ray Society, AJR Am J Roentgenol 194 (5 Suppl) , 2010

Viswanathan C, Truong MT, Sagebiel TL, Bhosale PR, Patnana M

Complications of oncologic therapy in the abdomen and pelvis 96th Annual Meeting and Scientific Assembly of the Radiological Society of North America Meeting Program, 2010

Marcal LP, Ernst R, Bedi D, Patnana M, Vining D, Reading R, Borst D

Applications of 3D ultrasound 96th Annual Meeting and Scientific Assembly of the Radiological Society of North America Meeting Program, 2010

Bedi DG, Patnana M, Ernst RD, Lu KH

Sonographic findings in early ovarian cancer: preliminary experience in a population of high risk women screened with biannual ultrasound 96th Annual Meeting and Scientific Assembly of the Radiological Society of North America Meeting Program, 2010

Patnana M, Ernst R, Bedi D

Ultrasound in soft tissue tumors: an invaluable imaging tool in the diagnosis and management of malignancy and surveillance for recurrence 96th Annual Meeting and Scientific Assembly of the Radiological Society of North America Meeting Program, 2010

Patnana M, Vikram R, Ng CS, Sandler C

Clear cell renal cell carcinoma: multidetector computed tomography (MDCT) and magnetic resonance imaging (MRI) appearances (Scientific Poster) Abdominal Radiology Course Syllabus, 2010

Farinas C, Carter S, Patnana M, Sandler C, Szklaruk J

The treated kidney: a pictorial review of imaging findings following kidney-directed interventions, short-term and long-term follow-up European Society of Radiology Scientific Programme Planner, 2008

Carter S, Farinas C, Patnana M, Szklaruk J

The treated liver: a pictorial review of imaging findings following liver-directed therapy, short-term and long-term follow-up European Society of Radiology Scientific Programme Planner/Abstracts, 2008

Bedi D, Patnana M, Gonzalez-DeLuna M, Viswanathan C, Bhosale P, Ernst R, Bronstein Y, Balachandran A, LePetross C, Devine C, Marcal LP, Vikram R, Lem K

Ovarian cancer screening: corpus luteum and other factors - how to sort them out 108th Annual Meeting of the American Roentgen Ray Society 190 (4 Suppl) , 2008

Carter S, Farinas C, Patnana M, Szklaruk J

The treated liver: a pictorial review of imaging findings following liver-directed therapy, short-term and long-term follow-up 108th Annual Meeting of the American Roentgen Ray Society, AJR Am J Roentenol 190 (4 Suppl) , 2008

Farinas C, Patnana M, Sandler C, Carter S, Szklaruk J

The treated kidney: a pictorial review of imaging findings following kidney-directed interventions, short-term and long-term follow-up 108th Annual Meeting of the American Roentgen Ray Society, AJR Am J Roentenol 190 (4 Suppl) , 2008

Patnana M, Macapinlac H, Iyer R

Correlation of endometrial FDG uptake in patients with breast cancer treated with tamoxifen 107th Annual Meeting of the American Roentgen Ray Society, AJR Am J Roentenol 188 (5 Suppl) , 2007

Bhosale P, Patnana M, Viswanathan C, Szklaruk J

The inguinal canal: anatomy and imaging features of common and uncommon masses Proceedings of the Annual Meeting of the European Congress of Radiology, 2007

Patnana M, Gonzalez MA, Tamm EP, Szklaruk J

What to do with that coronal MR "scout" view? FIESTA and SSFSE sequence optimization and MR appearance of normal anatomy and common and uncommon abdominal masses 106th Annual Meeting of the American Roentgen Ray Society 186 (4 Suppl) , 2006

Gonzalez-de Luna MA, Patnana M, Silverman PM, Szklaruk J

A pictorial review of the anatomy and radiological characterization of common and uncommon male pelvic masses 106th Annual Meeting of the American Roentgen Ray Society, AJR Am J Roentgenol 186 (4 Suppl) , 2006

Bhosale P, Patnana M, Viswanathan C, Szklaruk J

The inguinal canal: anatomy and imaging features of common and uncommon masses 92nd Annual Meeting and Scientific Assembly of the Radiological Society of North America Meeting Program, 2006

Gonzalez MA, Szklaruk J, Silverman PM, Patnana M

The male pelvis: a pictorial review by organ system of the anatomy and radiological characterization of common and uncommon male pelvic masses European Society of Radiology Scientific Programme Planner, 2006

Wilson AD, Rao PS, Galal O, Patnana M, Buck SH

Five-to-ten-year follow-up results of balloon pulmonary valvuloplasty Pediatrics 100 (3) :432, 1997

Manahan CL, Patnana M, Blumer KJ, Linder ME

Mutation of putative palmitoylation site of Gpa1p disrupts protein function FASEB Journal 10 (6) :690, 1996

Elsayes KM, Menias CO, Wagner-Bartak NA, Patnana M, Balachandran A, Devine CE, Kundra V

Imaging of the gallbladder wall: a pattern recognition approach on CT and MRI with pathologic correlation 97th Scientific Assembly and Annual Meeting of the Radiological Society of North America. e-Pub 2011
Book Chapters
Vikram R, Patnana M, Devine C, Mansfield P, Phan A, Part IV: Gastrointestinal tract, gastric carcinoma, In: Oncologic Imaging: A Multidisciplinary Approach, Elsevier: Philadelphia, PA, 231-246, 2012
Patnana M, Gershenwald JE, Hwu, W-J, Ng CS, Part IX: Miscellaneous, melanoma, In: Oncologic Imaging: A Multidisciplinary Approach, 1st, Elsevier: Philadelphia, PA, 633-652, 2012
Patnana M, Vikram R, New staging system for gastric cancer, In: Advances in Surgical Pathology: Gastric Cancer, Lippincott Williams & Wilkins: Philadelphia, 266-282, 2011