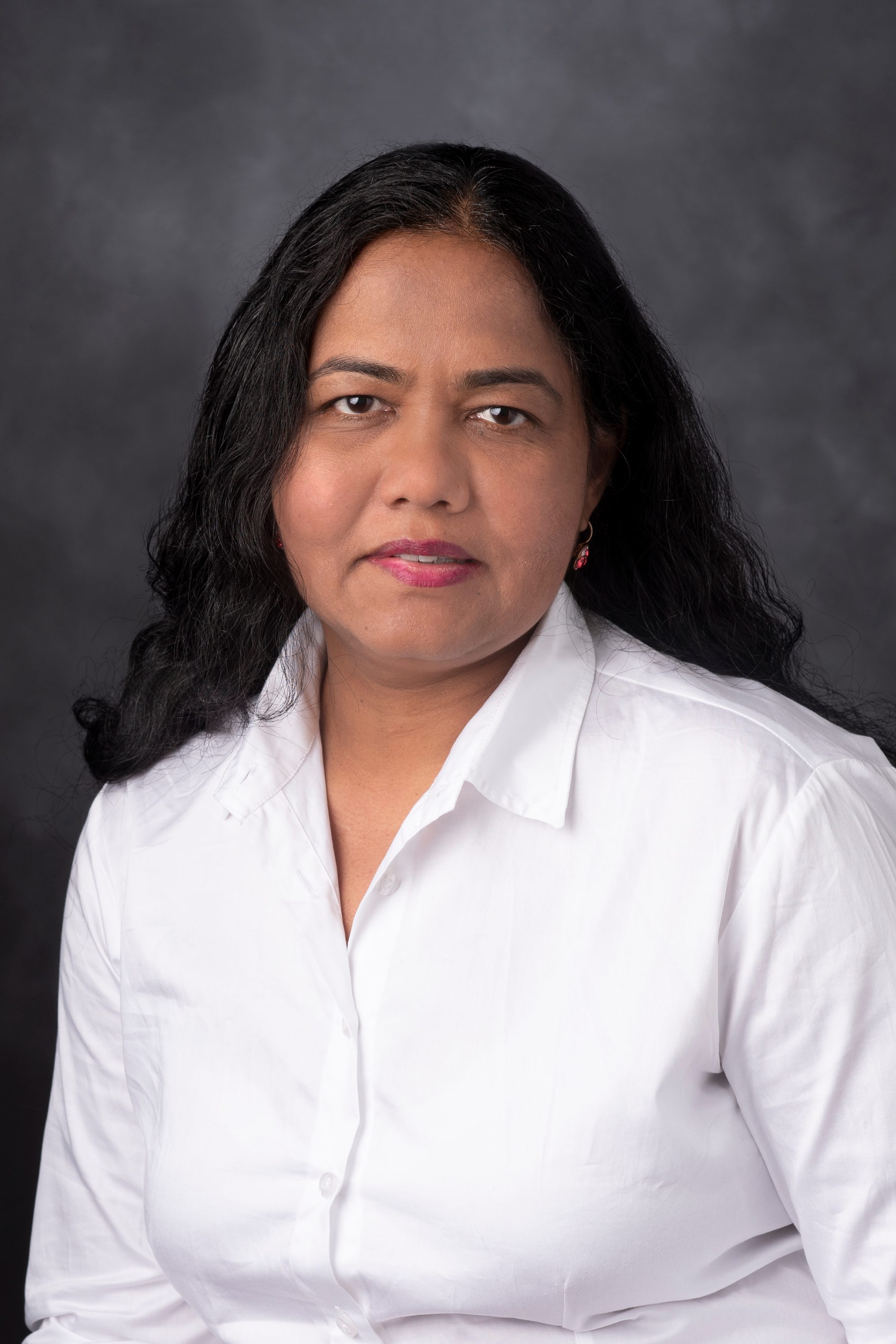 Manisha Singh, Ph.D.
Department of Gastrointestinal Medical Oncology, Division of Cancer Medicine
· Identify the differences at the genomic and epigenomic level between tumors that are resistant to immunotherapies and those that are sensitive to them:
· Understand the role of inflammation in immune suppression in cancer and resistance to immunotherapy: IL-1 as a potential therapeutic target in cancer
· Determine the role of immunotherapy-induced tumor-associated B cells and inflammatory monocytes in anti-tumor immunity
· Study the epigenetic changes in tumor-infiltrating innate immune cells in response to immunotherapy those make tumor resistant or sensitive to therapy
· Translate preclinical findings into more effective therapies for patients with cancer
Complete List of Published research work in My Bibliography:
https://www.ncbi.nlm.nih.gov/myncbi/manisha.singh.1/bibliography/public
Degree-Granting Education
| | |
| --- | --- |
| 2005 | Sanjay Gandhi Postgraduate Institute of Medical Science, Lucknow, IND, PHD, Microbiology |
| 1997 | Cancer Hospital and Research Institute, Gwalior, IND, MS, Applied Microbiology |
| 1995 | Government Autonomous Science College, Gwalior, IND, BS, Biology |
Postgraduate Training
| | |
| --- | --- |
| 2005-2010 | Post-Doctoral Fellow, Immunology, Baylor College of Medicine, Houston, TX |
| 2004-2005 | Post-Doctoral Fellow, Immunology, Mayo Clinic, Rochester, MN |
Peer-Reviewed Articles
Shubhra Singh, Jason Roszik, Neeraj Saini, Vipul Kumar Singh 4, Karishma Bavisi 3, Zhiqiang Wang 5, Long T Vien 5, Zixi Yang 6, Suprateek Kundu 7, Richard Davis, Laura Bover, Adi Diab, Sattva S Neelapu , Willem W Overwijk, Kunal Rai, Manisha Singh

. B Cells Are Required to Generate Optimal Anti-Melanoma Immunity in Response to Checkpoint Blockade. Front Immuno 13, 2022. PMID: 35720386.

Xiao Z, Singh S, and Singh M.

. Improving cancer immunotherapy by targeting IL-1. Oncoimmunology 10:((1)):2008111, 2021. PMID: 34858734.

Singh S, Xiao Z, Bavisi K, Roszik J, Melendez BD, Wang Z, Cantwell MJ, Davis RE, Lizee G, Hwu P, Neelapu SS, Overwijk WW, and Singh M.

. Interleukin-1α mediates innate and acquired resistance to immunotherapy in melanoma. The Journal of Immunology 206((8))::1966-1975, 2021. PMID: 33722878.

Sharma M, Khong H, Fa'ak F, Bentebibel SE, Janssen LME, Chesson BC, Creasy CA, Forget MA, Kahn LMS, Pazdrak B, Karki B, Hailemichael Y, Singh M, Vianden C, Vennam S, Bharadwaj U, Tweardy DJ, Haymaker C, Bernatchez C, Huang S, Rajapakshe K, Coarfa C, Hurwitz ME, Sznol M, Hwu P, Hoch U, Addepalli M, Charych DH, Zalevsky J, Diab A, Overwijk WW.

. Bempegaldesleukin selectively depletes intratumoral Tregs and potentiates T cell-mediated cancer therapy. Nature Communication 11(1):661, 2020. PMID: 32005826.

Khong H, Volmari A, Sharma M, Dai Z, Imo CS, Hailemichael Y, Singh M, Moore DT, Xiao Z, Huang XF, Horvath TD, Hawke DH, Overwijk WW

. Peptide Vaccine Formulation Controls the Duration of Antigen Presentation and Magnitude of Tumor-Specific CD8+ T Cell Response. J Immunol. e-Pub 2018. PMID: 29643190.

Hailemichael Y, Woods A, Fu T, He Q, Nielsen MC, Hasan F, Roszik J, Xiao Z, Vianden C, Khong H, Singh M, Sharma M, Faak F, Moore D, Dai Z, Anthony SM, Schluns KS, Sharma P, Engelhard VH, Overwijk WW

. Cancer vaccine formulation dictates synergy with CTLA-4 and PD-L1 checkpoint blockade therapy. J Clin Invest. e-Pub 2018. PMID: 29480817.

Singh M, Vianden C, Cantwell MJ, Dai Z, Xiao Z, Sharma M, Khong H, Jaiswal AR, Faak F, Hailemichael Y, Janssen LME, Bharadwaj U, Curran MA, Diab A, Bassett RL, Tweardy DJ, Hwu P, Overwijk WW

. Intratumoral CD40 activation and checkpoint blockade induces T cell-mediated eradication of melanoma in the brain. Nature Communications 8(1):1447, 2017. e-Pub 2017. PMID: 29129918.

Singh M, Khong H, Dai Z, Huang XF, Wargo JA, Cooper ZA, Vasilakos JP, Hwu P, Overwijk WW

. Effective Innate and Adaptive Antimelanoma Immunity through Localized TLR7/8 Activation. J Immunol 193(9):4722-31, 2014. e-Pub 2014. PMID: 25252955.

Singh M, Lee SH, Porter P, Xu C, Ohno A, Atmar RL, Greenberg SB, Bandi V, Gern J, Amineva S, Aminev A, Skern T, Smithwick P, Perusich S, Barrow N, Roberts L, Corry DB, Kheradmand F

. Human rhinovirus proteinase 2A induces TH1 and TH2 immunity in patients with chronic obstructive pulmonary disease. J Allergy Clin Immunol 125(6):1369-1378.e2, 2010. PMID: 20430426.

Feske M, Nudelman RJ, Medina M, Lew J, Singh M, Couturier J, Graviss EA, Lewis DE

. Enhancement of human antigen-specific memory T-cell responses by interleukin-7 may improve accuracy in diagnosing tuberculosis. Clin Vaccine Immunol 15(10):1616-22, 2008. e-Pub 2008. PMID: 18753334.

Singh M, Basu S, Camell C, Couturier J, Nudelman RJ, Medina MA, Rodgers JR, Lewis DE

. Selective expansion of memory CD4(+) T cells by mitogenic human CD28 generates inflammatory cytokines and regulatory T cells. Eur J Immunol 38(6):1522-32, 2008. PMID: 18446791.

Rajagopalan G, Polich G, Sen MM, Singh M, Epstein BE, Lytle AK, Rouse MS, Patel R, David CS

. Evaluating the role of HLA-DQ polymorphisms on immune response to bacterial superantigens using transgenic mice. Tissue Antigens 71(2):135-45, 2008. e-Pub 2007. PMID: 18086265.

Singh M, Prasad KN, Krishnani N, Saxena A, Yachha SK

. Helicobacter pylori infection, histopathological gastritis and gastric epithelial cell apoptosis in children. Acta Paediatr 95(6):732-7, 2006. PMID: 16754556.

Singh M, Prasad KN, Saxena A, Yachha SK

. Helicobacter pylori induces apoptosis of T- and B-cell lines and translocates mitochondrial apoptosis-inducing factor to nucleus. Curr Microbiol 52(4):254-60, 2006. e-Pub 2006. PMID: 16528467.

Singh M, Prasad KN, Yachha SK, Saxena A, Krishnani N

. Helicobacter pylori infection in children: prevalence, diagnosis and treatment outcome. Trans R Soc Trop Med Hyg 100(3):227-33, 2006. e-Pub 2005. PMID: 16260014.

Rajagopalan G, Iijima K, Singh M, Kita H, Patel R, David CS

. Intranasal exposure to bacterial superantigens induces airway inflammation in HLA class II transgenic mice. Infect Immun 74(2):1284-96, 2006. PMID: 16428778.

Singh M, Prasad KN, Yachha SK, Krishnani N

. Genotypes of Helicobacter pylori in children with upper abdominal pain. J Gastroenterol Hepatol 18(9):1018-23, 2003. PMID: 12911656.
Invited Articles
Hailemichael Y, Singh M, Overwijk W. Vaccinating with Stem Cells to Stop Cancer. Trends Mol Med. e-Pub 2018. PMID: 29731352.
Singh M, Overwijk WW. Intratumoral immunotherapy for melanoma. Cancer Immunol Immunother. e-Pub 2015. PMID: 26050024.
Other Articles
• Patel R, Devashish K, Singh S, Nath P, Gohel D, Prasad R, Singh M, Neeraj Saini

Vectofusin-1–based T-cell transduction approach compared with RetroNectin-based transduction for generating murine chimeric antigen receptor T-cells. bioRxiv, 2021.
Editorials
Manisha Singh and Overwijk Willem. News and View: HOUSTON, Nov. 18, 2015 /PRNewswire/ -- Memgen, LLC announced the presentation of preclinical results for its lead product, ISF35, during the 30th Annual Meeting of the Society of Immunotherapy of Cancer (SITC) in National Harbor, Maryland. The research was led by Willem Overwijk, Ph.D. and Manisha Singh, Ph.D. of The University of Texas MD Anderson Cancer Center in Houston, TX, 2015.
| | |
| --- | --- |
| Title: | "B cell dependent anti-melanoma immunity" |
| Funding Source: | NIH/NCI |
| Role: | Principal Investigator |
| | |
| --- | --- |
| Title: | "Rhinovirus mediated immune response in experimental COPD" |
| Funding Source: | Alpha-1 Foundation |
| Role: | Principal Investigator |
| | |
| --- | --- |
| Title: | B-Cell Mediated Anti-Melanoma Immunity |
| Funding Source: | DOD/Congressionally Directed Medical Research Programs (DOD/CDMRP) |
| Role: | Principal Investigator |
| | |
| --- | --- |
| Title: | IL-1 mediated resistance to immunotherapy in melanoma |
| Funding Source: | IRG, The University of Texas MD Anderson Cancer Center |
| Role: | Principal Investigator |
| | |
| --- | --- |
| Title: | Advanced approaches to understanding and targeting BRAF tumors |
| Funding Source: | Gastro-Intestinal Research Foundation |
| Role: | Co-Investigator |
| | |
| --- | --- |
| Title: | IL-1 pathway blockade to enhance the efficacy and lower the toxicity of cancer immunotherapy |
| Funding Source: | Cancer Prevention & Research Institute of Texas (CPRIT) |
| Role: | Principal Investigator |