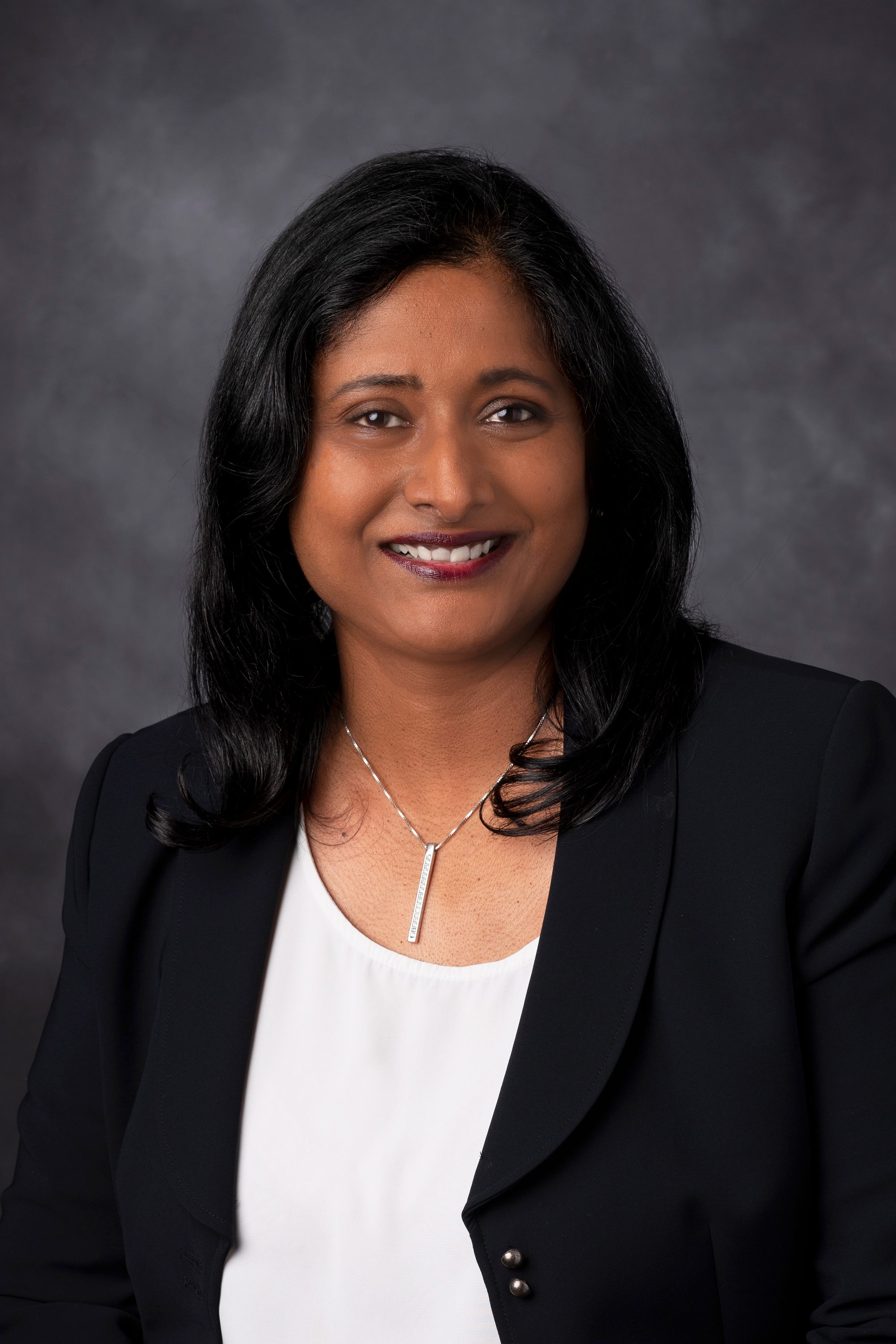 Marina C. George, MD
Department of Hospital Medicine, Division of Internal Medicine
Present Title & Affiliation
Primary Appointment
Vice President, Inpatient Medical Operations, Division of Office of Chief Operating Office, MD Anderson Cancer center, Houston, TX
Professor, Department of Hospital Medicine, Division of Internal Medicine, MD Anderson Cancer center, Houston, TX
Advisory Board, Houston Chapter of Society of Hospital Medicine, Houston, TX
Degree-Granting Education
| | |
| --- | --- |
| 1998 | University of Kerala, Kerala, IND, MBBS, Bachelor of Medicine and Surgery |
Postgraduate Training
| | |
| --- | --- |
| 2017-2019 | Master's in Business Administration, Business Administration, Rice University, Houston, TX |
| 2001-2004 | Internal Medicine Residency, St. Vincent's Medical Centre (Columbia University College of Physicians and Surgeons), Bridgeport, CT |
| | |
| --- | --- |
| 2015 | American Board of Internal Medicine, Focused Practice in Hospital Medicine |
Peer-Reviewed Articles
Tennison JM, Rianon NJ, Manzano JG, Munsell MF, George MC, Bruera E

. Thirty-day hospital readmission rate, reasons, and risk factors after acute inpatient cancer rehabilitation. Cancer Med 10(18):6199-6206, 2021. e-Pub 2021. PMID: 34313031.

Narayanan S, Reddy A, Lopez G, Liu W, Wu J, Liu D, Manzano J, Williams JL, Mallaiah S, George M, Amaram J, Subramaniam B, Cohen L, Bruera E

. Randomized Feasibility Study of Meditative Practices in Hospitalized Cancer Patients. Integr Cancer Ther(1534735420909903), 2020.

Abudayyeh A, Song J, Abdelrahim M, Dahbour I, Page VD, Zhou S, Shen C, Zhao B, Pai RN, Amaram-Davila J, Manzano JG, George MC, Yennu S, Mandayam SA, Nates JL, Moss AH

. Renal Replacement Therapy in Patients With Stage IV Cancer Admitted to the Intensive Care Unit With Acute Kidney Injury at a Comprehensive Cancer Center Was Not Associated With Survival. Am J Hosp Palliat Care(37(9):707-715), 2020.

Joanna-Grace M. Manzano MD; Ming Yang, MS; Hui Zhao, PhD; Linda S. Elting, DrPH; Marina C. George, MD; Maria E. Suarez-Almazar, MD, PhD

. Readmission Patterns After Gastrointestinal Cancer Hospitalizations: The Medical versus the Surgical Patient. Journal of Oncology Practice, 2018.

Salahudeen AK, Ali N, George M, Lahoti A, Palla S

. Tolvaptan in hospitalized cancer patients with hyponatremia: a double-blind, randomized, placebo-controlled clinical trial on efficacy and safety. Cancer 120(5):744-51, 2014. e-Pub 2013. PMID: 24895288.

Manzano J, Luo R, Elting L,George M, Suarez-Almazor M

. Patterns and predictors of unplanned hospitalization in a population-based cohort of elderly patients with gastrointestinal cancer. J. Clin. Oncology 2014, 2014.

Bir A, Bshara W,George M, , Fakih MG

. Idiopathic thrombocytopenic purpura in a newly diagnosed pancreatic adenocarcinoma. JOP 7(6):647-50, 2006. PMID: 17095846.

T Hahn, U Bunworasate, MC George, AS Bir, W Chinratanalab, AR Alam, B Bambach, MR Baer, JL Slack, M Wetzler, JL Becker and PL McCarthy Jr

. Use of nonvolume-reduced (unmanipulated after thawing) umbilical cord blood stem cells for allogeneic transplantation. Bone Marrow Transplantation 32:145-150, 2003.
Abstracts
Marina George, Hassan Shawa, Steve I Sherman, James C Yao

. Hypokalemia and Eosinopenia as the Initial Presentation of Hypercortisolism from Ectopic ACTH Secretion in Metastatic Neuroendocrine Tumors #1636886 Society of Hospital Medicine: 2013 RIV Abstract Issue, Volume 8, May 2013 Abstract Supplement, 2013.

Carmen P. Escalante, MD; Amit Lahoti, MD; Shana Palla, MS; Maggie Lu, PharmD; Michael Overman, MD;|Marina George, MD; Rana Abisaid Baker, MPH; Saketh Palasamudram Shakar, MD; Jean-Bernard Durand, MD.

. Practice Patterns of BevacizumAb-induced Hypertension in Cancer Patients. J Clin Oncol 31, 2013 (suppl: abstr e20664), 2013.

Theresa Hahn, Marina C. George, K. Michael Cummings

. Lack of Standardization in Reporting Clinical Data Creates Difficulty Comparing Studies in Systematic Evidence-based Reviews of the Medical Literature. Congress of Epidemiology 2001(Abstract #662), 2001.

Theresa E. Hahn, Lori Kautzman, K. Michael Cummings, Linda Duffy, Arthur M. Michalek, Allison Miller, Marina C. George, Arif R. Alam, Philip L. McCarthy Jr

. Quantitative Predictive Model for Regimen-Related Toxicity (RRT) after Hematopoietic Stem Cell Transplantation (SCT). Annual Meeting of the American Society of Hematology 2001(Abstract #3543), 2001.

22. Stepan K, Bashoura L, George M, Griffith,W, meyer,M, Norte,N,Price,K, Zhukovsky,Z,Rodriguez,M

. A Standardized Methodology for Actively Engaging Patients in Advance Care Planning, Manuscript.