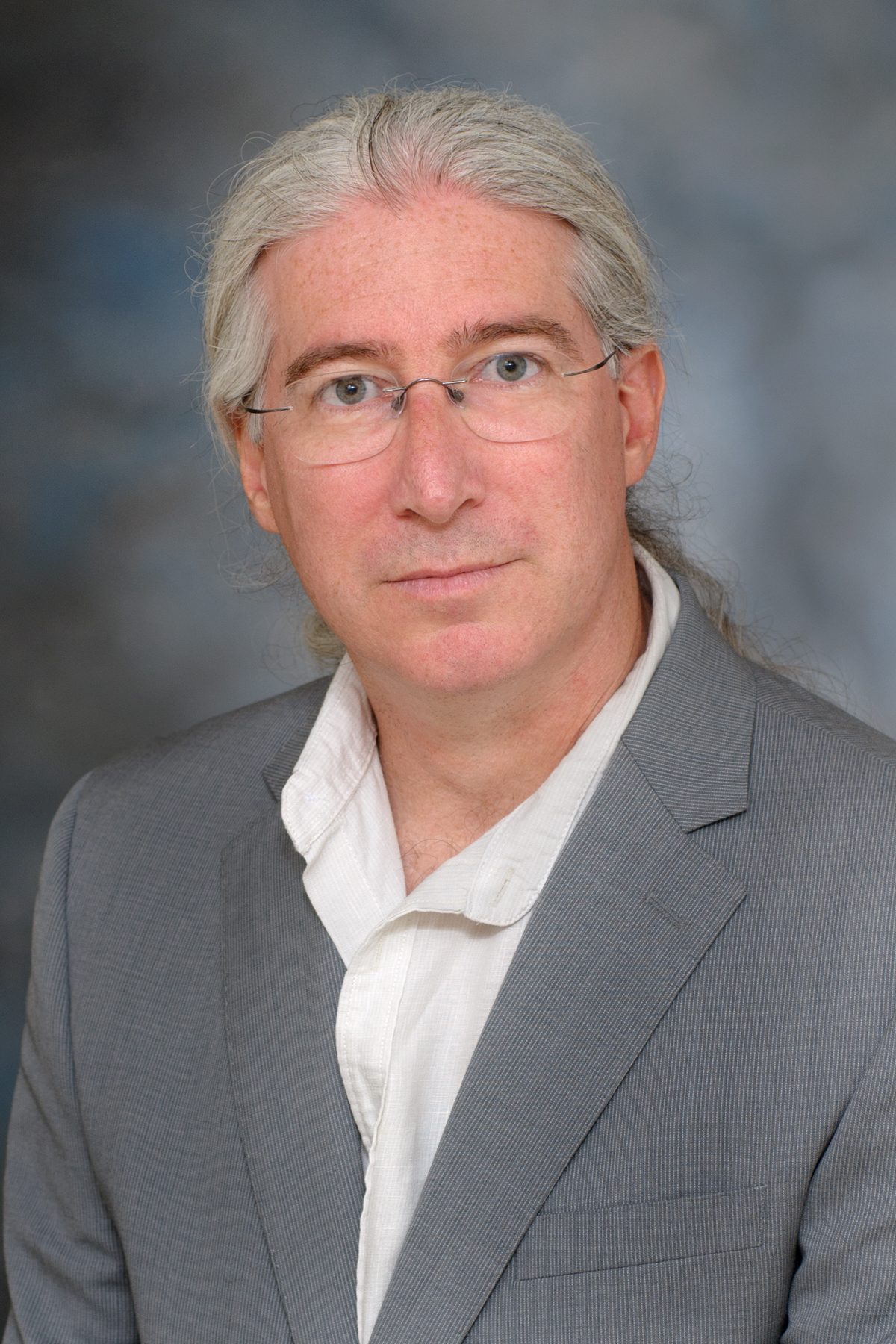 Mark T. Bedford, Ph.D.
Department of Epigenetics and Molecular Carcinogenesis, Division of Basic Sciences
About Dr. Bedford
Dr. Bedford's laboratory focuses on two research topics: 1) elucidating the biological role of arginine methylation – an abundant modification that has been implicated in signal transduction, transcriptional control and DNA repair, and 2) developing a protein domain microarray platform to interrogate the role of posttranslational modifications in driving protein-protein interactions in signal transduction. They have generated targeted disruptions and gain-of-function mouse models for these arginine methyltransferase enzymes, with a primary focus on CARM1. Using their protein-domain microarray platform, they have identified and characterized novel protein interactions; they have used these arrays to "read" the histone code. They have identified a number of novel proteins that interact with lysine and arginine methylated motifs, as well as with small molecules that can compete with these interactions. Recently, the Bedford lab expanded their array platform to include all the human phospho-reader domains, acetyl-reader domains, and most of the human PDZ domains and ubiquitin-binding domains.
Read More
Primary Appointment
Professor, Department of Epigenetics and Molecular Carcinogenesis, The University of Texas MD Anderson Cancer Center, Smithville, TX
The Bedford Lab studies the intersection between epigenetics and cancer with a specific focus on one class of epigenetic mark - arginine methylation. To better understand the biological roles of arginine methylation, their research group uses a number of different biological approaches to interrogate PRMT function. These include mouse gain- and loss-of-function PRMT models, protein microarrays screens for methyl-binding proteins, biochemical screens for PRMT substrates, and screens for chemical inhibitors of PRMT family members. They have generated targeted disruptions of a number of arginine methyltransferase genes in mice in the hopes of unmasking cellular and tissue-specific roles for this post-translational modification. In-hand they currently have CARM1, PRMT3 and PRMT6 null mice. They are performing transcriptome analysis (RNA-seq) and ChIP-seq on these null mice to identify the repertoire of genes that they regulate. The Bedford group is also performing double knockouts to investigate redundancy between the different PRMTs. They are also generating gain-of-function transgenic mouse models to determine the effects of PRMT overexpression in vivo. These are transgenic mice that can be activated by crossing to a tissue-specific cre line. The Cre expression removes a lox/STOP/los cassette and activates expression of the PRMT. They have already generated PRMT6 gain-of-function mice using this approach. They are currently producing CARM1, PRMT1, PRMT5 and TDRD3 transgenic mice using the same approach.
Degree-Granting Education
| | |
| --- | --- |
| 1996 | Weizmann Institute of Science, ISR, PHD, Developmental Biology |
| 1989 | University of Stellenbosch, ZAF, MS, Medical Biochemistry |
| 1986 | University of Stellenbosch, ZAF, BS, Honors in Biochemistry |
| 1985 | University of Stellenbosch, ZAF, BS |
Postgraduate Training
| | |
| --- | --- |
| 1996-2000 | Postdoctoral Fellowship, Harvard Medical School, Boston, MA |
Peer-Reviewed Articles
Wang Y, Person MD, Bedford MT

. Pan-methylarginine antibody generation using PEG linked GAR motifs as antigens. Methods S1046-2023(21):00157-2, 2021.

Wright T, Wang Y, Bedford MT

. The role of the PRMT5-SND1 axis in hepatocellular carcinoma. Epigenomes 5(1):2, 2021.

Veazey KJ, Cheng D, Lin K, Villarreal OD, Gao G, Perez-Oquendo M, Van HT, Stratton SA, Green M, Xu H, Lu Y, Bedford MT, Santos MA

. CARM1 inhibition reduces histone acetyltransferase activity causing synthetic lethality in CREBBP/EP300-mutated lymphomas. Leukemia 34(12):3269-3285, 2020. e-Pub 2020.

Chen J, Sagum C, Bedford MT

. Protein domain microarrays as a platform to decipher signaling pathways and the histone code. Methods 184:4-12, 2020. PMID: 31449908.

Cheng D, Gao G, Di Lorenzo A, Jayne S, Hottiger MO, Richard S, Bedford MT

. Genetic evidence for partial redundancy between the arginine methyltransferases CARM1 and PRMT6. J Biol Chem 295(50):17060-70, 2020. e-Pub 2020. PMID: 33008887.

Avasarala S, Wu PY, Khan SQ, Yanlin S, Van Scoyk M, Bao J, Di Lorenzo A, David O, Bedford MT, Gupta V, Winn RA, Bikkavilli RK

. PRMT6 promotes lung tumor progression via the alternate activation of tumor-associated macrophages. Mol Cancer Res 18(1):166-178, 2020. e-Pub 2019.

Manickavinayaham S, Vélez-Cruz R, Biswas AK, Bedford E, Klein BJ, Kutateladze TG, Liu B, Bedford MT, Johnson DG

. E2F1 acetylation directs p300/CBP-mediated histone acetylation at DNA double-strand breaks to facilitate repair. Nat Commun 10(1):4951, 2019.

Bao J, Di Lorenzo A, Lin K, Lu Y, Zhong Y, Sebastian MM, Muller WJ, Yang Y, Bedford MT

. Mouse models of overexpression reveal distinct oncogenic roles for different type I protein arginine methyltransferases. Cancer Res 79(1):21-32, 2019. e-Pub 2018.

Gao G, Zhang L, Villarreal OD, He W, Su D, Bedford E, Moh P, Shen J, Shi X, Bedford MT, Xu H

. PRMT1 loss sensitizes cells to PRMT5 inhibition. Nucleic Acids Res 47(10):5038-48, 2019. e-Pub 2019.

Wu X, Liu S, Sagum C, Chen J, Singh R, Chaturvedi A, Horton JR, Kashyap TR, Fushman D, Cheng X, Bedford MT, Wang B

. Crosstalk between Lys63- and Lys11-polyubiquitin signaling at DNA damage sites is driven by Cezanne. Genes Dev 33(23-24):1702-1717, 2019. e-Pub 2019.

Hupalowska A, Jedrusik A, Zhu M, Bedford MT, Glover DM, Zernicka-Goetz M

. CARM1 and paraspeckles regulate pre-implantation mouse embryo development. Cell 175(7):1902-1916, 2018.

Cheng D, Vemulapalli V, Lu Y, Shen J, Aoyagi S, Fry CJ, Yang Y, Foulds CE, Stossi F, Trevino LS, Mancini MA, O'Malley BW, Walker CL, Boyer TG, Bedford MT

. CARM1 methylates MED12 to regulate its RNA-binding ability. Life Sci Alliance 1(5):e201800117, 2018.

Han Z, Schwoerer MP, Hicks P, Liang J, Ruthel G, Berry CT, Freedman BD, Sagum CA, Bedford MT, Sidhu SS, Sudol M, Harty RN

. Host Protein BAG3 is a Negative Regulator of Lassa VLP Egress. Diseases 6(3):64, 2018.

Bae N, Viviano M, Su X, Lv J, Cheng D, Sagum C, Castellano S, Bai X, Johnson C, Khalil MI, Shen J, Chen K, Li H, Sbardella G, Bedford MT

. Developing Spindlin 1 small-molecule inhibitors by using protein microarrays. Nat Chem Biol 13(7):750-756, 2017. e-Pub 2017.

Gao G, Dhar S, Bedford MT

. PRMT5 regulates IRES-dependent translation via methylation of hnRNP A1. Nucleic Acids Res 45(8):4359-69, 2017. e-Pub 2017.

Shanle EK, Shinsky SA, Bridgers JB, Bae N, Sagum C, Krajewski K, Rothbart SB, Bedford MT*, Strahl BD* (*Corresponding authors)

. Histone peptide microarray screen of chromo and Tudor domains defines new histone lysine methylation interactions. Epigenetics Chromatin 10:12, 2017.

Espejo AB, Gao G, Black K, Gayatri S, Veland N, Kim J, Chen T, Sudol M, Walker C, Bedford MT

. PRMT5 C-terminal phosphorylation modulates a 14-3-3/PDZ interaction switch. J Biol Chem 292(6):2255-65, 2017.

Gayatri S, Cowles MW, Vemulapalli V, Cheng D, Sun ZW, Bedford MT

. Using oriented peptide array libraries to evaluate methylarginine-specific antibodies and arginine methyltransferase substrate motifs. Sci Rep 6:28718, 2016.

Yang Y, Hadjikyriacou A, Xia Z, Gayatri S, Kim D, Zurita-Lopez C, Kelly R, Guo A, Li W, Clarke SG, Bedford MT

. PRMT9 is a type II methyltransferase that methylates the splicing factor SAP145. Nat Commun 6:6428, 2015.

Di Lorenzo A, Yang Y, Macaluso M, Bedford MT

. A gain-of-function mouse model identifies PRMT6 as a NF-kB coactivator. Nucleic Acids Res 42(13):8297-309, 2014.

Yang Y, McBride KM, Hensley S, Lu Y, Chedin F, Bedford MT

. Arginine methylation facilitates the recruitment of TOP3B to chromatin to prevent R loop accumulation. Mol Cell 53(3):484-97, 2014.

Chen J, Horton J, Sagum C, Zhou J, Cheng X, Bedford MT

. Histone H3 N-terminal mimicry drives a novel network of methyl-effector interactions. Biochem J 478(10):1943-58. e-Pub 2021. PMID: 33969871.