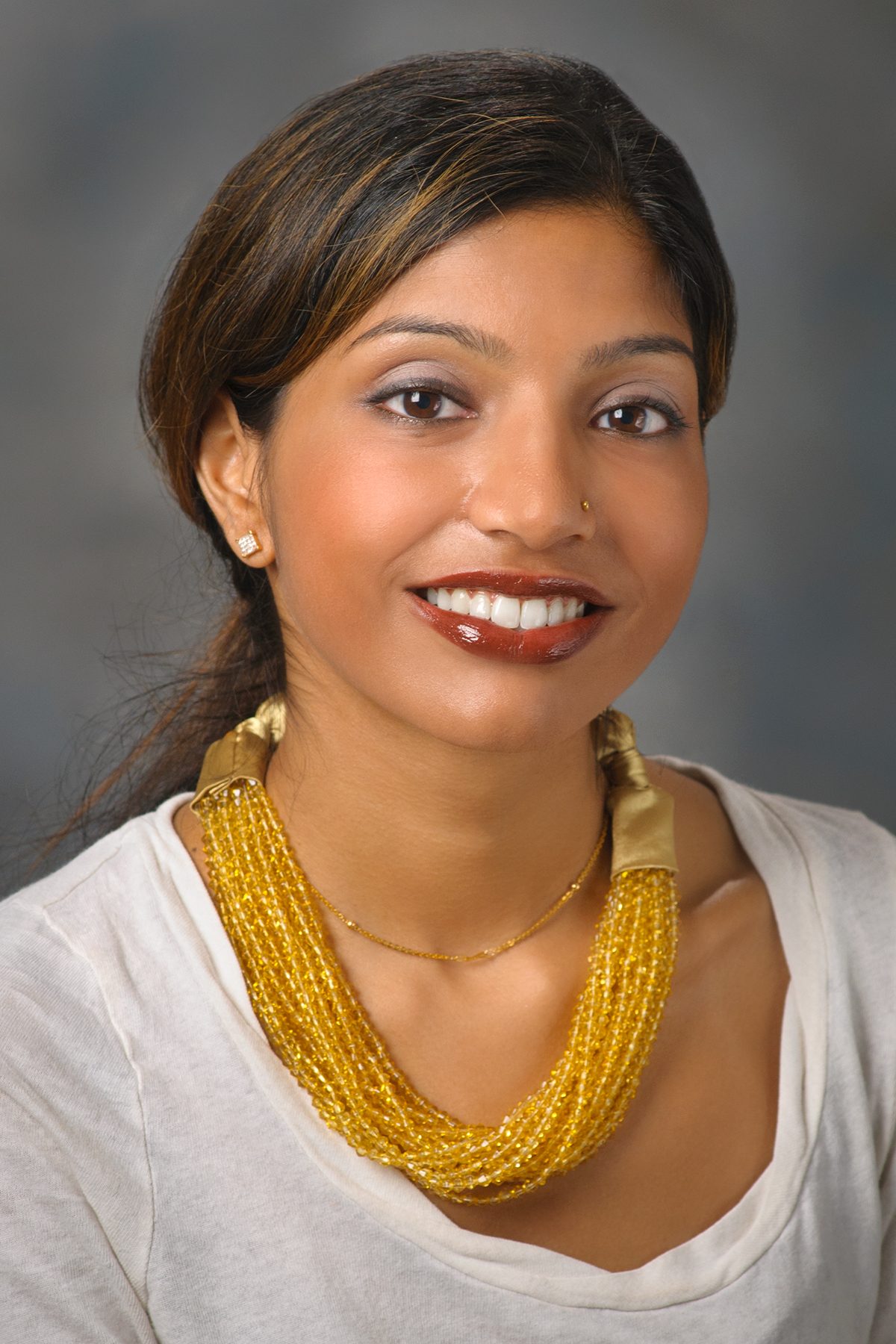 Meghan Karuturi
Department of Breast Medical Oncology, Division of Cancer Medicine
Primary Appointment
Assistant Professor, Department of Breast Medical Oncology, Division of Cancer Medicine, The University of Texas MD Anderson Cancer Center, Houston, TX
Degree-Granting Education
| | |
| --- | --- |
| 2016 | University of Texas Graduate School of Biomedical Science, Houston, TX, USA, MSc, Clinical Research |
| 2008 | George Washington University, Washington, DC, USA, MD, Medicine |
| 2004 | George Washington University, Washington, DC, USA, BA, Biology |
Postgraduate Training
| | |
| --- | --- |
| 2011-2014 | Clinical Fellowship, Medical Oncology, The University of Texas MD Anderson Cancer Center, Houston, TX |
| 2009-2011 | Clinical Residency, Internal Medicine, Hospital of the University of Pennsylvania, Philadelphia, PA |
| 2008-2009 | Clinical Internship, Internal Medicine, Hospital of the University of Pennsylvania, Philadelphia, PA |
Academic Appointments
Clinical Fellowship, Division of Cancer Medicine, The University of Texas MD Anderson Cancer Center, Houston, TX, 2011 - 2014
Clinical Residency, Department of Department of Medicine, Hospital of the University of Pennsylvania, Philadelphia, PA, 2009 - 2011
Clinical Internship Training, Department of Department of Internal Medicine, Hospital of the University of Pennsylvania, Philadelphia, PA, 2008 - 2009
Institutional Committee Activities
Member, Advisory Committee of Association of Community Cancer Center's Geriatric Oncology, 2018 - Present
Member, Clinical Effectiveness Committee, 2018 - Present
Member, Clinical Research Committee, 2017 - Present
Member, Geriatric Oncology Breast Cancer Working Group, 2017 - Present
Lead, Older Adult Working Group, Nelle B. Connally Breast Center, 2017 - Present
Member, Cancer and Aging Research Group, 2017 - Present
| | |
| --- | --- |
| 2018 | Breast Surgical Fellowship Multidisciplinary Teaching Award |
| 2018 | Butler-Williams Scholars Program, National Institute on Aging (NIA), National Instiitute of Health (NIH) |
| 2014 | Lyndon B. Johnson 3rd Year Fellow of the Year Award |
| 2014 | ASCO Young Investigator Award |
| 2013 | NCCN Fellows Recognition Awardee |
| 2007 | AOA Student Service Project Award |
| 2003 | Pembroke College, Oxford Fellowship Recipient: Junior Year Abroad Program |
| 2002 | Shapiro Award for Public Service |
| 2001 | Seven-Year Accelerated Combined BA/MD Program with Scholarship |
Alpha Omega Alpha Honor Society
Chapter Vice President, 2007 - 2008
Alpha Omega Alpha Honor Society
Member, 2007 - Present
Phi Beta Kappa
Member, 2004 - Present
Peer-Reviewed Articles
Abstracts
Karuturi M, Yorio JT, Titus A, Pharr SJ, Rieber AG

. Improving the care of acute lymphocytic leukemia (ALL) at a large county hospital. J Clin Oncol 31:suppl 31; abstr, 2013.

Hui D, Karuturi MS, Tanco KC, Kwon JH, Kim SH, Zhang T, Kang JH, Chisholm GB, Bruera E

. Targeted agents at the end of life. J Clin Oncol 30:Suppl 34; abstr, 2012.

Karuturi M, Arai S, Chen R, Gopal A, Feng L, Yuan Y, Smith S, Ansell S, Rosenblatt J, Savage K, Ramchandren R, Bartlet N, Cheson B, Forero-Torres A, Moskowitz C, Connors J, Fanale M, de Vos S, Engert A, Illidge T, Borchmann P, Morschhauser F, Horning S, Younes A

. Overall survival benefit for patients with relapse Hodgkin lymphoma treated with Brentuximab Vedotin after autologous stem cell transplant. Proceedings from the 2012 ASH Meeting, 2012.

Karuturi M, Tsai D

. Plasmacytic post-transplant lymphoproliferative disorder. American J Transplant 10, 2010.
Book Chapters
Karuturi M, VanderWalde N, Muss H. Approach and management of breast cancer in the elderly. In: Clin Geriatr Med. 1, 133-53, 2016.
Karuturi M, Younes A. Which therapies for which patients. In: Non-Hodgkin's Lymphoma, 124-136, 2013.
| | |
| --- | --- |
| Title: | Developing a decision aid for adjuvant chemotherapy in elderly women with early stage breast cancer |
| Funding Source: | The University of Texas MD Anderson Cancer Center (IRG Grant Award) |
| Role: | Principal Investigator |
| | |
| --- | --- |
| Title: | Rational combination treatment options to reverse resistance in hormone receptor positive breast cancer refractory to standard therapy |
| Funding Source: | Cancer Prevention & Research Institute of Texas (CPRIT) |
| Role: | Co-Investigator |
| | |
| --- | --- |
| Title: | TRINITY-I: A phase I/II, single arm, open-label study of ribociclib in combination with everolimus+ exemestance in the treatment of men and postmenopausal women with HR+, HER2-locally advanced breast cancer |
| Funding Source: | Novartis |
| Role: | Principal Investigator |
| | |
| --- | --- |
| Title: | Phase Ib study to assess the safety, tolerability, and clinical activity of gedatolisib in combination with palbociclib and either letrozole or fulvestrant in women with metastatic or locally advanced-recurrent breast cancer (MBC) |
| Funding Source: | Pfizer |
| Role: | Collaborator |
| | |
| --- | --- |
| Title: | POLARIS palbociclib in hormone receptor positive advanced breast cancer: A prospective multicenter non-interventional study |
| Funding Source: | Pfizer Pharmaceuticals |
| Role: | Principal Investigator |
| | |
| --- | --- |
| Title: | TBRCR 41 Randomized Phase II trial to evaluate Alisertib alone or combined with Fulvestrant in women with advanced, hormone-receptor positive breast cancer |
| Funding Source: | Mayo Clinic |
| Role: | Principal Investigator |
| | |
| --- | --- |
| Title: | MONALEESA-3: A randomized double-blind, placebo-controlled study of ribociclib in combination with fulvestrant for the treatment of postmenopausal women with hormone receptor positive, HER2-negative, advanced breast cancer who have received no or only one line of prior endocrine treatment |
| Funding Source: | Novartis |
| Role: | Principal Investigator |
| | |
| --- | --- |
| Title: | EMD Serono Strategic Collaboration Agreement |
| Funding Source: | EMD Serono, Inc |
| Role: | Principal Investigator |
| | |
| --- | --- |
| Title: | Developing a decision tool for chemotherapy in older women with early stage breast cancer |
| Funding Source: | NIH/NCI |
| Role: | Principal Investigator |