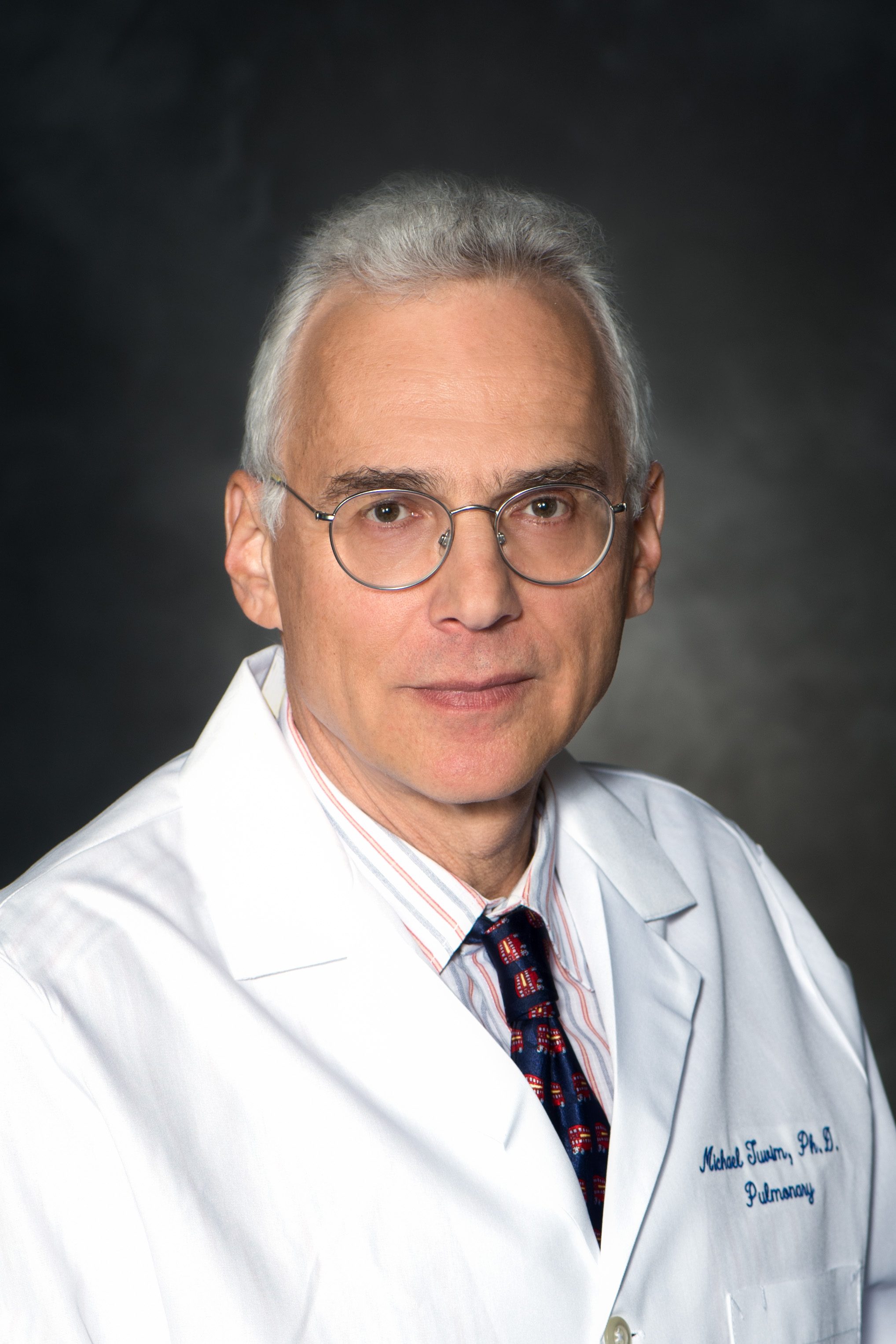 Michael J Tuvim
Department of Pulmonary Medicine, Division of Internal Medicine
Present Title & Affiliation
Primary Appointment
Professor, Department of Pulmonary Medicine - Research, Division of Internal Medicine, The University of Texas MD Anderson Cancer Center, Houston, TX
Director of Laboratory Research, Department of Pulmonary Medicine, The University of Texas MD Anderson Cancer Center, Houston, TX
Dual/Joint/Adjunct Appointment
Adjunct Associate Professor, Department of Center for Infectious and Inflammatory Diseases, Texas A & M University, Institute of Biosciences and Technology, Houston, TX
Adjunct Associate Professor, Tecnologico de Monterrey Escuela de Medicina, Nuevo Leon
My initial training was in chemical technology and organic chemistry. However with time I grew more and more interested in biology and the focus of my work shifted accordingly.
When possible, I attempt to address clinical problems using a mouse genetic approach coupled with pathophysiologic challenge. In recent years this has resulted in progress in four areas – mucus hypersecretion, inducible innate resistance, the intrinsic efficacy of beta-agonists, and the promotion of lung epithelial carcinogenesis by inflammation.
Mucus hypersecretion is an important problem in all of the common diseases of the airways, including asthma, cystic fibrosis, and COPD (chronic obstructive pulmonary disease). Mucin production is greatly upregulated by certain types of inflammation; when the stored mucins are explosively released in response to extracellular signals, lumenal mucus can obstruct the airways with fatal consequences. Tackling the molecular basis of this pathophysiology, we determined the ontogeny of airway mucous cells as the resident apical secretory cells of the airway epithelium – Clara cells; identified Muc5ac as the principal regulated mucin and Muc5b as the principal constitutive mucin; identified Munc13-2 and Syt2 as the key components of the exocytic machinery that respond to extracellular signals; and helped define the coupling of a low-affinity, fast calcium sensor (Syt2) to intracellular calcium stores in mucous cells, in contrast to its coupling to calcium entry from the extracellular space in all systems studied previously.
Our research on the inducible innate resistance of lung epithelial cells to infection was an extension of our work on mucins. Noticing the remarkable structural plasticity of the airway epithelium in response to inflammatory stimuli, we reasoned that the epithelium might show functional plasticity in defense against microbial infection. After experimentally establishing the phenomenon, we have partially dissected the mechanism, determining that epithelial cells rather than leukocytes are primarily responsible both for sensing stimuli and carrying out effector responses. We have elucidated the critical signaling pathways sufficiently to enable us to develop a chemically defined, fully synthetic stimulus to protect immunocompromised leukemia patients against pneumonia.
β 2 -adrenoceptor agonists (beta-agonists) such as albuterol are the most commonly used drugs in asthma. They relax smooth muscle in the airways to improve airflow and relieve symptoms of wheezing and shortness of breath. However, their regular use is associated with worsened asthma morbidity and mortality. This paradox has been poorly understood, but we feel we have recently gained important insight. In collaboration with a research pharmacologist Richard Bond and using both pharmacologic and genetic approaches, we have shown that β 2 -adrenoceptor is required for full expression of the inflammatory phenotype of allergic asthma in mice. The extension of this work to clinic has shown that inverse beta-agonists reduce airways hyperresponsiveness in human subjects.
Epidemiologic data suggest that inflammation contributes to lung epithelial carcinogenesis since smokers who develop COPD, an inflammatory disease, have a 3-fold higher rate of lung cancer than smokers without COPD matched for cigarette consumption. We tested this experimentally by inducing Type-17 inflammation in the lungs of mice with an activating allele of K-ras expressed in their airway epithelium, and found a 3.2-fold increased rate of carcinogenesis. This interaction is specific since Type-2 (allergic) inflammation did not promote carcinogenesis. This work opens the possibility of further stratifying the risk of cigarette smokers by analysis of their inflammatory phenotypes, and of preventing carcinogenesis through the use of anti-inflammatory drugs.
Degree-Granting Education
| | |
| --- | --- |
| 1988 | Institute of Organoelement Compounds of the Academy of Sciences, Moscow, USSR, PHD, Homogeneous Catalysis |
| 1980 | Moscow Institute of Fine Chemical Technology, Moscow, USSR, MS, Bio-Organic Chemistry |
| 1979 | Moscow Institute of Fine Chemical Technology, Moscow, USSR, BS, Chemical Technology and Engineering |
Other Appointments/Responsibilities
Member, Research Committee, The University of Texas MD Anderson Cancer Center, Division of Internal Medicine, Houston, TX, 2006 - Present
Shared Equipment and Core Committee, Texas A & M Institute of Biosciences and Technology, Houston, TX, 2006 - Present
Coordinator, Equipment Core, The University of Texas MD Anderson Cancer Center, Division of Internal Medicine, Houston, TX, 2004 - Present
Institutional Committee Activities
Member, MUE Research Committee, 2010 - Present
Member, Parking and Transportation Focus Group, 2010 - 2013
Member, Research Spend Council, 2009 - 2012
Emergency Responce Officer, Instutional Emergency Plan, 2004 - Present
Peer-Reviewed Articles
Moghaddam SJ, Barta P, Mirabolfathinejad SG, Ammar-Aouchiche Z, Garza NT, Vo TT, Newman RA, Aggarwal BB, Evans CM, Tuvim MJ, Lotan R, Dickey BF

. Curcumin Inhibits COPD-Like Airway Inflammation and Lung Cancer Progression in Mice. Carcinogenesis 10(11):229, 2009. e-Pub 2009. PMID: 19793800.

Tuvim MJ, Evans SE, Clement CG, Dickey BF, Gilbert BE

. Augmented Lung Inflammation Protects against Influenza A Pneumonia. PLoS One 1(e4176):e4176, 2009. e-Pub 2009. PMID: 19137067.

Nguyen LP, Lin R, Parra S, Omoluabi O, Hanania NA, Tuvim MJ, Knoll BJ, Dickey BF, Bond RA

. β2-Adrenoceptor signaling is required for the development of an asthma phenotype in a murine model. Proc Nat'l Acad Sci, U.S.A 106:2435-2440, 2009.