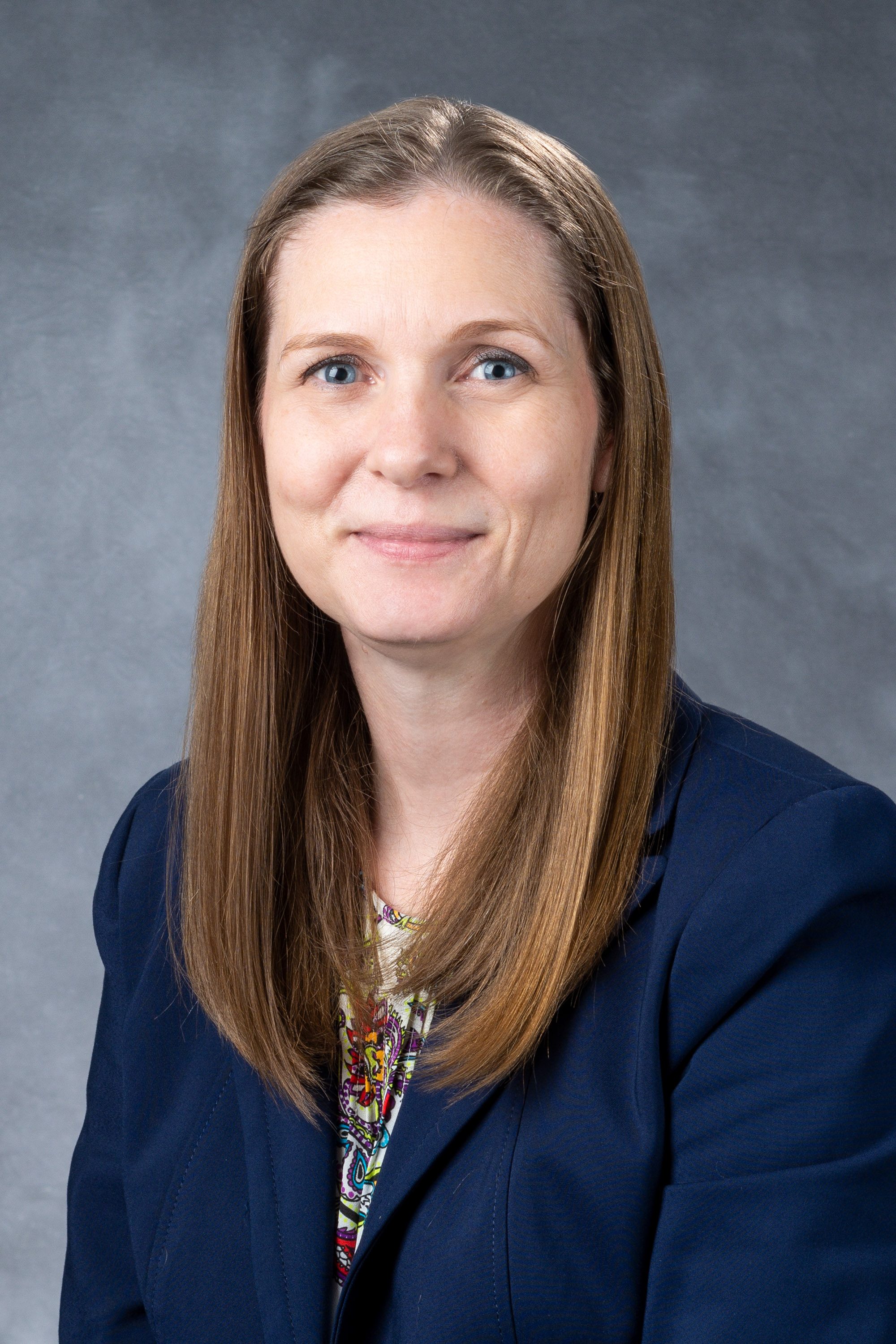 Michelle A.T. Hildebrandt, Ph.D.
Department of Epidemiology, Division of Cancer Prevention and Population Sciences
About Dr. Hildebrandt
My research program is focused on identifying genetic and phenotypic factors that are associated with outcomes following cancer diagnosis, including quality of life, response to therapy, toxicities, survival, and late-effects. The goal is to develop these predictors into strategies for risk-stratified screening, treatment, and follow-up recommendations to reduce cancer incidence, avoid adverse events, improve quality of life, and ultimately reduce mortality. I have contributed to several pharmacogenetic studies, including the discovery of novel genetic polymorphisms in drug metabolizing enzymes, and conducted functional genomics to determine the consequences of these variants in cell line model systems and through computational in silico approaches. Joining MD Anderson in 2007 enabled expansion of this research interest to cancer patient populations. I have conducted research identifying genetic and phenotypic predictors of acute toxicities and clinical outcomes through genome-wide, global, and targeted approaches – including genetic variants, gene expression profiling, and microRNA methylation patterns. I have also collaborated on several genome-wide association studies for risk of testicular, bladder, renal, and esophageal cancer, as well as overall survival in lung cancer. Currently, I am the contact multiple PI of a large R01 grant ($5.4 million) that will conduct next generation sequencing to identify novel ovarian cancer susceptibility genes in women who are BRCA1/2 negative. This effort includes extensive collaboration across five institutions and more broadly within the international Ovarian Cancer Association Consortium (OCAC). This grant is an extension of ongoing efforts in ovarian cancer that strives to clarify the genetic mediators of risk and clinical outcomes in this population. I lead a testicular cancer case-control study within the international Testicular Cancer Consortium (TECAC) and serve as site-PI for a R01 subcontract that supports efforts to identify common variants that confer risk to testicular cancer with studies also focusing on pharmacogenetic endpoints in this cancer site. I direct two parallel epidemiology recruitment studies in childhood cancer to enable a genetic and molecular approach to understand risk and outcomes in 1) childhood cancer patients and 2) long-term childhood cancer survivors. The research efforts in childhood long-term survivors have currently focused on the predictors and mechanisms for the development of anthracycline-induced cardiotoxicity. These studies bridge epidemiology and clinical research in a growing cohort of survivors to basic/laboratory-based studies of cellular changes in induced pluripotent stem cell (iPSC)-derived cardiomyocytes following exposure to anthracyclines.
Read More
Primary Appointment
Assistant Professor (Tenure-Track), Department of Epidemiology, Division of OVP, Cancer Prevention and Population Sciences, The University of Texas MD Anderson Cancer Center, Houston, TX
Dual/Joint/Adjunct Appointment
Adjunct Assistant Professor, Division of Division of Epidemiology, Human Genetics & Environmental Sciences, The University of Texas School of Public Health, Houston, TX
Regular Member, The University of Texas Graduate School of Biomedical Sciences, Houston, TX
Survivorship research focusing on treatment late-effects, toxicity, quality of life, and symptoms Molecular and biological mechanisms of cardiotoxicity in cancer survivors Identification of novel genetic susceptibility genes for ovarian cancer Molecular epidemiology studies of testicular cancer and myeloma (risk and clinical outcomes)
Degree-Granting Education
| | |
| --- | --- |
| 2007 | Mayo Clinic College of Medicine, Rochester, MN, USA, PHD, Molecular Pharmacology and Experimental Therapeutics, Mentor: Richard Weinshilboum, M.D. |
| 2001 | University of Wisconsin-River Falls, River Falls, WI, USA, BS, Biology |
Postgraduate Training
| | |
| --- | --- |
| 2015-2015 | Early Career Women Faculty Professional Development Seminar, Association of American Medical Colleges (AAMC), Denver, CO |
| 2007-2009 | Research Fellowship, Cancer Prevention Research Training Program, Epidemiology, The University of Texas MD Anderson Cancer Center, Houston, TX |
| 2005-2005 | Short Course in Medical and Experimental Mammalian Genetics, The Jackson Laboratory, Bar Harbor, ME |
Academic Appointments
Assistant Professor (Research Faculty Appointment), Department of Epidemiology, Division of OVP, Cancer Prevention and Population Sciences, The University of Texas MD Anderson Cancer Center, Houston, TX, 2012 - 2013
Instructor, Department of Epidemiology, Division of OVP, Cancer Prevention and Population Sciences, The University of Texas MD Anderson Cancer Center, Houston, TX, 2010 - 2012
| | |
| --- | --- |
| 2017 | Leading Mentor in Cancer Prevention Award, MD Anderson Division of Cancer Prevention and Population Sciences |
| 2017 | Robert M. Chamberlain Distinguished Mentor Award Nominee, MD Anderson Postdoctoral Association |
| 2016 | Robert M. Chamberlain Distinguished Mentor Award Nominee, MD Anderson Postdoctoral Association |
| 2015 | Faculty Excellence in Research Award, MD Anderson Cancer Center Cancer Survivorship Research Symposium |
| 2015 | AAMC Early Career Women Faculty Professional Development Seminar Travel Award, MD Anderson Cancer Center Women Faculty Program |
| 2012 | Highly Rated Poster Presentation, AACR Annual Meeting |
| 2012 | Leading Mentor in Cancer Prevention Award - Honorable Mention, MD Anderson Division of Cancer Prevention and Population Sciences |
| 2012 | Travel Award, Annual Sister Institution Meeting (Oslo, Norway), MD Anderson Cancer Center Global Academic Programs |
| 2012 | Travel Award, 5th Consortium Meeting (Madrid, Spain), International Consortium of Bladder Cancer |
| 2009 | MD Anderson Trainee Excellence Award, MD Anderson Cancer Center |
| 2009 | Bayer HealthCare Pharmaceuticals, Inc. Award for Postgraduate Population/Patient-Oriented Research, MD Anderson Cancer Center Trainee Research Day |
| 2009 | Trainee of the Quarter Award, MD Anderson Cancer Center |
| 2009 | American Association for Cancer Research Scholar-in-Training Award, funded by Susan G. Komen for the Cure, AACR - Frontiers in Cancer Prevention Research Meeting |
| 2008 | Bayer HealthCare Pharmaceuticals, Inc. Award for Postgraduate Population/Patient-Oriented Research and Winner of Poster Presentation Competition, MD Anderson Cancer Center Trainee Research Day |
| 2007 | Cancer Prevention Research Training Program Fellowship, NCI/MD Anderson Cancer Center |
| 2007 | Sigma Xi Scientific Research Society |
| 2005 | Mayo Graduate School Travel Award, Mayo Clinic College of Medicine |
| 2005 | Top Abstract, American Society of Clinical Pharmacology and Therapeutics Annual Meeting |
| 2000 | Summer Student Training Program, The Jackson Laboratory |
Peer-Reviewed Articles
Reyes ME, Ye Y, Zhou Y, Liang A, Kopetz S, Rodriquez MA, Wu X, Hildebrandt MA

Predictors of health-related quality of life and association with survival may identify colorectal cancer patients at high risk of poor prognosis Qual Life Res 26 (2) :319-330, 2017. e-Pub 2016. PMID: 27492454

Shu X, Hildebrandt MA, Gu J, Tannir NM, Matin SF, Karam JA, Wood CG, Wu X

MicroRNA profiling in clear cell renal cell carcinoma tissues potentially links tumorigenesis and recurrence with obesity. Br J Cancer 116 (1) :77-84, 2017. e-Pub 2016. PMID: 27907930

Thompson KA, Hildebrandt MA, Ater JL

Cardiac Outcomes With Pregnancy After Cardiotoxic Therapy for Childhood Cancer. J Am Coll Cardiol 69 (5) :594-595, 2017. PMID: 28153113

Kar SP, Adler E, Tyrer J, Hazelett D, Anton-Culver H, Bandera EV, Beckmann MW, Berchuck A, Bogdanova N, Brinton L, Butzow R, Campbell I, Carty K, Chang-Claude J, Cook LS, Cramer DW, Cunningham JM, Dansonka-Mieszkowska A, Doherty JA, Dörk T, Dürst M, Eccles D, Fasching PA, Flanagan J, Gentry-Maharaj A, Glasspool R, Goode EL, Goodman MT, Gronwald J, Heitz F, Hildebrandt MA, Høgdall E, Høgdall CK, Huntsman DG, Jensen A, Karlan BY, Kelemen LE, Kiemeney LA, Kjaer SK, Kupryjanczyk J, Lambrechts D, Levine DA, Li Q, Lissowska J, Lu KH, Lubinski J, Massuger LF, McGuire V, McNeish I, Menon U, Modugno F, Monteiro AN, Moysich KB, Ness RB, Nevanlinna H, Paul J, Pearce CL, Pejovic T, Permuth JB, Phelan C, Pike MC, Poole EM, Ramus SJ, Risch HA, Rossing MA, Salvesen HB, Schildkraut JM, Sellers TA, Sherman M, Siddiqui N, Sieh W, Song H, Southey M, Terry KL, Tworoger SS, Walsh C, Wentzensen N, Whittemore AS, Wu AH, Yang H, Zheng W, Ziogas A, Freedman ML, Gayther SA, Pharoah PD, Lawrenson K

Enrichment of putative PAX8 target genes at serous epithelial ovarian cancer susceptibility loci. Br J Cancer 116 (4) :524-535, 2017. e-Pub 2017. PMID: 28103614

Wu X, Ye Y, Barcenas CH, Chow WH, Meng QH, Chavez-MacGregor M, Hildebrandt MA, Zhao H, Gu X, Deng Y, Wagar E, Esteva FJ, Tripathy D, Hortobagyi GN

Personalized Prognostic Prediction Models for Breast Cancer Recurrence and Survival Incorporating Multidimensional Data. J Natl Cancer Inst 109 (7) , 2017. PMID: 28376179

Reid BM, Permuth JB, Chen YA, Teer JK, Monteiro AN, Chen Z, Tyrer J, Berchuck A, Chenevix-Trench G, Doherty JA, Goode EL, Iverson ES, Lawrenson K, Pearce CL, Pharoah PD, Phelan CM, Ramus SJ, Rossing MA, Schildkraut JM, Cheng JQ, Gayther SA, Sellers TA, Ovarian Cancer Association Consortium, Australian Ovarian Cancer Study Group and the Ovarian Cancer Association Consortium, Ovarian Cancer Association Consortium

Integration of Population-Level Genotype Data with Functional Annotation Reveals Over-Representation of Long Noncoding RNAs at Ovarian Cancer Susceptibility Loci. Cancer Epidemiol Biomarkers Prev 26 (1) :116-125, 2017. PMID: 28035019

Phelan CM, Kuchenbaecker KB, Tyrer JP, Kar SP, Lawrenson K, Winham SJ ... Hildebrandt MAT ... (412 total authors) ... Cheneviz-Trench G, Goode EL, Sellers TA, Gayther SA, Antoniou AC, Pharoah PD

Identification of 12 new susceptibility loci for different histotypes of epithelial ovarian cancer. Nat Genet 49 (5) :680-691, 2017. e-Pub 2017. PMID: 28346442

Zhang L, Ye Y, Tu H, Hildebrandt MA, Zhao L, Heymach JV, Roth JA, Wu X

MicroRNA-related genetic variants in iron regulatory genes, dietary iron intake, microRNAs and lung cancer risk. Ann Oncol 28 (5) :1124-1129, 2017. PMID: 28453699

Ovarian Cancer Association Consortium, Breast Cancer Association Consortium, and Consortium of Modifiers of BRCA1 and BRCA2,Hollestelle A, van der Baan FH, Berchuck A ... Hildebrandt MA ... Pharoah PD, Rookus MA, Hooning MJ, Goode EL

No clinical utility of KRAS variant rs61764370 for breast or ovarian cancer Gynecologic Oncology 141 (2) :386-401, 2016. e-Pub 2015

Wu X, Hildebrandt MA, Ye Y, Chow WH, Gu J, Cunningham S, Zhao H, Hawk ET, Wagar E, Rodriguez A, Hamilton SR

Cohort Profile: The MD Anderson Cancer Patients and Survivors Cohort (MDA-CPSC) Int J Epidemiol 45 (3) :713-713f, 2016. e-Pub 2015. PMID: 26686840

Hildebrandt MA (corresponding author), Reyes ME, Lin M, He Y, Nguyen SV, Hawk ET, Wu X

Germline genetic variants in the Wnt/β-catenin pathway as predictors of colorectal cancer risk Cancer Epidemiol Biomarkers Prev 25 (3) :540-6, 2016. e-Pub 2016. PMID: 26809274

Cuellar-Partida G, Lu Y, Dixon SC, Australian Ovarian Cancer Study, Fasching PA, Hein A, Burghaus S, Beckmann MW, Lambrechts D, Van Nieuwenhuysen E, Vergote I, Vanderstichele A, Doherty JA, Rossing MA, Chang-Claude J, Rudolph A, Wang-Gohrke S, Goodman MT, Bogdanova N, Dörk T, Dürst M, Hillemanns P, Runnebaum IB, Antonenkova N, Butzow R, Leminen A, Nevanlinna H, Pelttari LM, Edwards RP, Kelley JL, Modugno F, Moysich KB, Ness RB, Cannioto R, Høgdall E, Høgdall C, Jensen A, Giles GG, Bruinsma F, Kjaer SK, Hildebrandt MA, Liang D, Lu KH, Wu X, Bisogna M, Dao F, Levine DA, Cramer DW, Terry KL, Tworoger SS, Stampfer M, Missmer S, Bjorge L, Salvesen HB, Kopperud RK, Bischof K, Aben KK, Kiemeney LA, Massuger LF, Brooks-Wilson A, Olson SH, McGuire V, Rothstein JH, Sieh W, Whittemore AS, Cook LS, Le ND, Blake Gilks C, Gronwald J, Jakubowska A, Lubinski J, Kluz T, Song H, Tyrer JP, Wentzensen N, Brinton L, Trabert B, Lissowska J, McLaughlin JR, Narod SA, Phelan C, Anton-Culver H, Ziogas A, Eccles D, Campbell I, Gayther SA, Gentry-Maharaj A, Menon U, Ramus SJ, Wu AH, Dansonka-Mieszkowska A, Kupryjanczyk J, Timorek A, Szafron L, Cunningham JM, Fridley BL, Winham SJ, Bandera EV, Poole EM, Morgan TK, Goode EL, Schildkraut JM, Pearce CL, Berchuck A, Pharoah PD, Webb PM, Chenevix-Trench G, Risch HA, MacGregor S

Assessing the genetic architecture of epithelial ovarian cancer histological subtypes. Hum Genet 135 (7) :741-56, 2016. e-Pub 2016. PMID: 27075448

Scelo G, Hofmann JN, Banks RE, Bigot P, Bhatt RS, Cancel-Tassin G, Chew SK, Creighton CJ, Cussenot O, Davis IJ, Escudier B, Frayling TM, Häggström C, Hildebrandt MA, Holcatova I, Johansson M, Linehan WM, McDermott DF, Nathanson KL, Ogawa S, Perlman EJ, Purdue MP, Stattin P, Swanton C, Vasudev NS, Wu X, Znaor A, Brennan P, Chanock SJ

International cancer seminars: a focus on kidney cancer. Ann Oncol 27 (8) :1382-5, 2016. e-Pub 2016. PMID: 27130845

Dixon SC, Nagle CM, Thrift AP, Pharoah PD, Pearce CL, Zheng W, Painter JN, AOCS Group & Australian Cancer Study (Ovarian Cancer), Chenevix-Trench G, Fasching PA, Beckmann MW, Lambrechts D, Vergote I, Lambrechts S, Van Nieuwenhuysen E, Rossing MA, Doherty JA, Wicklund KG, Chang-Claude J, Rudolph A, Moysich KB, Odunsi K, Goodman MT, Wilkens LR, Thompson PJ, Shvetsov YB, Dörk T, Park-Simon TW, Hillemanns P, Bogdanova N, Butzow R, Nevanlinna H, Pelttari LM, Leminen A, Modugno F, Ness RB, Edwards RP, Kelley JL, Heitz F, Karlan BY, Kjær SK, Høgdall E, Jensen A, Goode EL, Fridley BL, Cunningham JM, Winham SJ, Giles GG, Bruinsma F, Milne RL, Southey MC, Hildebrandt MA, Wu X, Lu KH, Liang D, Levine DA, Bisogna M, Schildkraut JM, Berchuck A, Cramer DW, Terry KL, Bandera EV, Olson SH, Salvesen HB, Thomsen LC, Kopperud RK, Bjorge L, Kiemeney LA, Massuger LF, Pejovic T, Cook LS, Le ND, Swenerton KD, Brooks-Wilson A, Kelemen LE, Lubinski J, Huzarski T, Gronwald J, Menkiszak J, Wentzensen N, Brinton L, Yang H, Lissowska J, Høgdall CK, Lundvall L, Song H, Tyrer JP, Campbell I, Eccles D, Paul J, Glasspool R, Siddiqui N, Whittemore AS, Sieh W, McGuire V, Rothstein JH, Narod SA, Phelan C, Risch HA, McLaughlin JR, Anton-Culver H, Ziogas A, Menon U, Gayther SA, Ramus SJ, Gentry-Maharaj A, Wu AH, Pike MC, Tseng CC, Kupryjanczyk J, Dansonka-Mieszkowska A, Budzilowska A, Spiewankiewicz B, Webb PM, Ovarian Cancer Association Consortium

Adult body mass index and risk of ovarian cancer by subtype: a Mendelian randomization study. Int J Epidemiol 45 (3) :884-95, 2016. e-Pub 2016. PMID: 27401727

Hampras SS, Sucheston-Campbell LE, Cannioto R, Chang-Claude J, Modugno F, Dörk T, Hillemanns P, Preus L, Knutson KL, Wallace PK, Hong CC, Friel G, Davis W, Nesline M, Pearce CL, Kelemen LE, Goodman MT, Bandera EV, Terry KL, Schoof N, Eng KH, Clay A, Singh PK, Joseph JM, Aben KK, Anton-Culver H, Antonenkova N, Baker H, Bean Y, Beckmann MW, Bisogna M, Bjorge L, Bogdanova N, Brinton LA, Brooks-Wilson A, Bruinsma F, Butzow R, Campbell IG, Carty K, Cook LS, Cramer DW, Cybulski C, Dansonka-Mieszkowska A, Dennis J, Despierre E, Dicks E, Doherty JA, du Bois A, Dürst M, Easton D, Eccles D, Edwards RP, Ekici AB, Fasching PA, Fridley BL, Gao YT, Gentry-Maharaj A, Giles GG, Glasspool R, Gronwald J, Harrington P, Harter P, Hasmad HN, Hein A, Heitz F, Hildebrandt MA, Hogdall C, Hogdall E, Hosono S, Iversen ES, Jakubowska A, Jensen A, Ji BT, Karlan BY, Kellar M, Kelley JL, Kiemeney LA, Klapdor R, Kolomeyevskaya N, Krakstad C, Kjaer SK, Kruszka B, Kupryjanczyk J, Lambrechts D, Lambrechts S, Le ND, Lee AW, Lele S, Leminen A, Lester J, Levine DA, Liang D, Lissowska J, Liu S, Lu K, Lubinski J, Lundvall L, Massuger LF, Matsuo K, McGuire V, McLaughlin JR, McNeish I, Menon U, Moes-Sosnowska J, Narod SA, Nedergaard L, Nevanlinna H, Nickels S, Olson SH, Orlow I, Weber RP, Paul J, Pejovic T, Pelttari LM, Perkins B, Permuth-Wey J, Pike MC, Plisiecka-Halasa J, Poole EM, Risch HA, Rossing MA, Rothstein JH, Rudolph A, Runnebaum IB, Rzepecka IK, Salvesen HB, Schernhammer E, Schmitt K, Schwaab I, Shu XO, Shvetsov YB, Siddiqui N, Sieh W, Song H, Southey MC, Tangen IL, Teo SH, Thompson PJ, Timorek A, Tsai YY, Tworoger SS, Tyrer J, van Altena AM, Vergote I, Vierkant RA, Walsh C, Wang-Gohrke S, Wentzensen N, Whittemore AS, Wicklund KG, Wilkens LR, Wu AH, Wu X, Woo YL, Yang H, Zheng W, Ziogas A, Gayther SA, Ramus SJ, Sellers TA, Schildkraut JM, Phelan CM, Berchuck A, Chenevix-Trench G, Cunningham JM, Pharoah PP, Ness RB, Odunsi K, Goode EL, Moysich KB

Assessment of variation in immunosuppressive pathway genes reveals TGFBR2 to be associated with risk of clear cell ovarian cancer. Oncotarget 7 (43) :69097-69110, 2016. e-Pub 2016. PMID: 27533245

Kar SP, Beesley J, Amin Al Olama A, Michailidou K, Tyrer J, Kote-Jarai Z, Lawrenson K, Lindstrom S, Ramus SJ, Thompson DJ, ABCTB Investigators, Kibel AS, Dansonka-Mieszkowska A, Michael A, Dieffenbach AK, Gentry-Maharaj A, Whittemore AS, Wolk A, Monteiro A, Peixoto A, Kierzek A, Cox A, Rudolph A, Gonzalez-Neira A, Wu AH, Lindblom A, Swerdlow A, AOCS Study Group & Australian Cancer Study (Ovarian Cancer), APCB BioResource, Ziogas A, Ekici AB, Burwinkel B, Karlan BY, Nordestgaard BG, Blomqvist C, Phelan C, McLean C, Pearce CL, Vachon C, Cybulski C, Slavov C, Stegmaier C, Maier C, Ambrosone CB, Høgdall CK, Teerlink CC, Kang D, Tessier DC, Schaid DJ, Stram DO, Cramer DW, Neal DE, Eccles D, Flesch-Janys D, Edwards DR, Wokozorczyk D, Levine DA, Yannoukakos D, Sawyer EJ, Bandera EV, Poole EM, Goode EL, Khusnutdinova E, Høgdall E, Song F, Bruinsma F, Heitz F, Modugno F, Hamdy FC, Wiklund F, Giles GG, Olsson H, Wildiers H, Ulmer HU, Pandha H, Risch HA, Darabi H, Salvesen HB, Nevanlinna H, Gronberg H, Brenner H, Brauch H, Anton-Culver H, Song H, Lim HY, McNeish I, Campbell I, Vergote I, Gronwald J, Lubinski J, Stanford JL, Benítez J, Doherty JA, Permuth JB, Chang-Claude J, Donovan JL, Dennis J, Schildkraut JM, Schleutker J, Hopper JL, Kupryjanczyk J, Park JY, Figueroa J, Clements JA, Knight JA, Peto J, Cunningham JM, Pow-Sang J, Batra J, Czene K, Lu KH, Herkommer K, Khaw KT, kConFab Investigators, Matsuo K, Muir K, Offitt K, Chen K, Moysich KB, Aittomäki K, Odunsi K, Kiemeney LA, Massuger LF, Fitzgerald LM, Cook LS, Cannon-Albright L, Hooning MJ, Pike MC, Bolla MK, Luedeke M, Teixeira MR, Goodman MT, Schmidt MK, Riggan M, Aly M, Rossing MA, Beckmann MW, Moisse M, Sanderson M, Southey MC, Jones M, Hildebrandt MA, Hou MF, Schoemaker MJ, Garcia-Closas M, Bogdanova N, Rahman N, NBCS Investigators, Le ND, Orr N, Wentzensen N, Pashayan N, Peterlongo P, Guénel P, Brennan P, Paulo P, Webb PM, Broberg P, Fasching PA, Devilee P, Wang Q, Cai Q, Li Q, Kaneva R, Butzow R, Kopperud

Genome-Wide Meta-Analyses of Breast, Ovarian, and Prostate Cancer Association Studies Identify Multiple New Susceptibility Loci Shared by at Least Two Cancer Types. Cancer Discov 6 (9) :1052-67, 2016. e-Pub 2016. PMID: 27432226

Ong JS, Cuellar-Partida G, Lu Y, Ovarian Cancer Study A, Fasching PA, Hein A, Burghaus S, Beckmann MW, Lambrechts D, Van Nieuwenhuysen E, Vergote I, Vanderstichele A, Anne Doherty J, Anne Rossing M, Chang-Claude J, Eilber U, Rudolph A, Wang-Gohrke S, Goodman MT, Bogdanova N, Dörk T, Dürst M, Hillemanns P, Runnebaum IB, Antonenkova N, Butzow R, Leminen A, Nevanlinna H, Pelttari LM, Edwards RP, Kelley JL, Modugno F, Moysich KB, Ness RB, Cannioto R, Høgdall E, Høgdall CK, Jensen A, Giles GG, Bruinsma F, Kjaer SK, Hildebrandt MA, Liang D, Lu KH, Wu X, Bisogna M, Dao F, Levine DA, Cramer DW, Terry KL, Tworoger SS, Stampfer M, Missmer S, Bjorge L, Salvesen HB, Kopperud RK, Bischof K, Aben KK, Kiemeney LA, Massuger LF, Brooks-Wilson A, Olson SH, McGuire V, Rothstein JH, Sieh W, Whittemore AS, Cook LS, Le ND, Blake Gilks C, Gronwald J, Jakubowska A, Lubinski J, Kluz T, Song H, Tyrer JP, Wentzensen N, Brinton L, Trabert B, Lissowska J, McLaughlin JR, Narod SA, Phelan C, Anton-Culver H, Ziogas A, Eccles D, Campbell I, Gayther SA, Gentry-Maharaj A, Menon U, Ramus SJ, Wu AH, Dansonka-Mieszkowska A, Kupryjanczyk J, Timorek A, Szafron L, Cunningham JM, Fridley BL, Winham SJ, Bandera EV, Poole EM, Morgan TK, Risch HA, Goode EL, Schildkraut JM, Pearce CL, Berchuck A, Pharoah PD, Chenevix-Trench G, Gharahkhani P, Neale RE, Webb PM, MacGregor S

Association of vitamin D levels and risk of ovarian cancer: a Mendelian randomization study. Int J Epidemiol 45 (5) :1619-1630, 2016. e-Pub 2016. PMID: 27594614

Southey MC ... Hildebrandt MA ... Milne RL

PALB2, CHEK2 and ATM rare variants and cancer risk: data from COGS. J Med Genet 53 (12) :800-811, 2016. e-Pub 2016. PMID: 27595995

Permuth JB, Reid B, Earp M, Chen YA, Monteiro AN, Chen Z, Aocs Study Group , Chenevix-Trench G, Fasching PA, Beckmann MW, Lambrechts D, Vanderstichele A, Van Niewenhuyse E, Vergote I, Rossing MA, Doherty JA, Chang-Claude J, Moysich K, Odunsi K, Goodman MT, Shvetsov YB, Wilkens LR, Thompson PJ, Dörk T, Bogdanova N, Butzow R, Nevanlinna H, Pelttari L, Leminen A, Modugno F, Edwards RP, Ness RB, Kelley J, Heitz F, Karlan B, Lester J, Kjaer SK, Jensen A, Giles G, Hildebrandt M, Liang D, Lu KH, Wu X, Levine DA, Bisogna M, Berchuck A, Cramer DW, Terry KL, Tworoger SS, Poole EM, Bandera EV, Fridley B, Cunningham J, Winham SJ, Olson SH, Orlow I, Bjorge L, Kiemeney LA, Massuger L, Pejovic T, Moffitt M, Le N, Cook LS, Brooks-Wilson A, Kelemen LE, Gronwald J, Lubinski J, Wentzensen N, Brinton LA, Lissowska J, Yang H, Hogdall E, Hogdall C, Lundvall L, Pharoah PD, Song H, Campbell I, Eccles D, McNeish I, Whittemore A, McGuire V, Sieh W, Rothstein J, Phelan CM, Risch H, Narod S, McLaughlin J, Anton-Culver H, Ziogas A, Menon U, Gayther S, Ramus SJ, Gentry-Maharaj A, Pearce CL, Wu AH, Kupryjanczyk J, Dansonka-Mieszkowska A, Schildkraut JM, Cheng JQ, Goode EL, Sellers TA

Inherited variants affecting RNA editing may contribute to ovarian cancer susceptibility: results from a large-scale collaboration. Oncotarget 7 (45) :72381-72394, 2016. PMID: 27911851

Hildebrandt MA (corresponding author), Roth JA, Vaporciyan AA, Pu X, Ye Y, Correa AM, Kim JY, Swisher SG, Wu X

Genetic variation in the TNF/TRAF2/ASK1/p38 kinase signaling pathway as markers for postoperative pulmonary complications in lung cancer patients Sci Rep 5:12068, 2015. e-Pub 2015. PMID: 26165383

Tan W, Gu J, Huang M, Wu X, Hildebrandt MA

Epigenetic analysis of microRNA genes in tumors from surgically resected lung cancer patients and association with survival. Mol Carcinog 54 Suppl 1 (Special Issue: Recent Advances in Mechanisms, Prevention and Treatment of Lung Cancer) :E45-51, 2015. e-Pub 2014. PMID: 24665010

Wen CP, Zhang F, Liang D, Wen C, Gu J, Skinner H, Chow WH, Ye Y, Pu X, Hildebrandt MA, Huang M, Chen CH, Hsiung CA, Tsai MK, Tsao CK, Lippman SM, Wu X

The ability of bilirubin in identifying smokers with higher risk of lung cancer: a large cohort study in conjunction with global metabolomic profiling. Clin Cancer Res 21 (1) :193-200, 2015. e-Pub 2014. PMID: 25336700

Kuchenbaecker KB, Ramus SJ, Tyrer J, Lee A, Shen HC, Beesley J, Lawrenson K, McGuffog L, Healey S, Lee JM, Spindler TJ, Lin YG, Pejovic T, Bean Y, Li Q, Coetzee S, Hazelett D, Miron A, Southey M, Terry MB, Goldgar DE, Buys SS, Janavicius R, Dorfling CM, van Rensburg EJ, Neuhausen SL, Ding YC, Hansen TV, Jønson L, Gerdes AM, Ejlertsen B, Barrowdale D, Dennis J, Benitez J, Osorio A, Garcia MJ, Komenaka I, Weitzel JN, Ganschow P, Peterlongo P, Bernard L, Viel A, Bonanni B, Peissel B, Manoukian S, Radice P, Papi L, Ottini L, Fostira F, Konstantopoulou I, Garber J, Frost D, Perkins J, Platte R, Ellis S, EMBRACE, Godwin AK, Schmutzler RK, Meindl A, Engel C, Sutter C, Sinilnikova OM, GEMO Study Collaborators, Damiola F, Mazoyer S, Stoppa-Lyonnet D, Claes K, De Leeneer K, Kirk J, Rodriguez GC, Piedmonte M, O'Malley DM, de la Hoya M, Caldes T, Aittomäki K, Nevanlinna H, Collée JM, Rookus MA, Oosterwijk JC, Breast Cancer Family Registry, Tihomirova L, Tung N, Hamann U, Isaccs C, Tischkowitz M, Imyanitov EN, Caligo MA, Campbell IG, Hogervorst FB, HEBON, Olah E, Diez O, Blanco I, Brunet J, Lazaro C, Pujana MA, Jakubowska A, Gronwald J, Lubinski J, Sukiennicki G, Barkardottir RB, Plante M, Simard J, Soucy P, Montagna M, Tognazzo S, Teixeira MR, KConFab Investigators, Pankratz VS, Wang X, Lindor N, Szabo CI, Kauff N, Vijai J, Aghajanian CA, Pfeiler G, Berger A, Singer CF, Tea MK, Phelan CM, Greene MH, Mai PL, Rennert G, Mulligan AM, Tchatchou S, Andrulis IL, Glendon G, Toland AE, Jensen UB, Kruse TA, Thomassen M, Bojesen A, Zidan J, Friedman E, Laitman Y, Soller M, Liljegren A, Arver B, Einbeigi Z, Stenmark-Askmalm M, Olopade OI, Nussbaum RL, Rebbeck TR, Nathanson KL, Domchek SM, Lu KH, Karlan BY, Walsh C, Lester J, Australian Cancer Study (Ovarian Cancer Investigators), Australian Ovarian Cancer Study Group, Hein A, Ekici AB, Beckmann MW, Fasching PA, Lambrechts D, Van Nieuwenhuysen E, Vergote I, Lambrechts S, Dicks E, Doherty JA, Wicklund KG, Rossing MA, Rudolph A, Chang-Claude

Identification of six new susceptibility loci for invasive epithelial ovarian cancer Nat Genet 47 (2) :164-71, 2015. PMID: 25581431

Lee AW, Tyrer JP, Doherty JA, Stram DA, Kupryjanczyk J, Dansonka-Mieszkowska A, Plisiecka-Halasa J, Spiewankiewicz B, Myers EJ, Australian Cancer Study (Ovarian Cancer), Australian Ovarian Cancer Study Group, Chenevix-Trench G, Fasching PA, Beckmann MW, Ekici AB, Hein A, Vergote I, Van Nieuwenhuysen E, Lambrechts D, Wicklund KG, Eilber U, Wang-Gohrke S, Chang-Claude J, Rudolph A, Sucheston-Campbell L, Odunsi K, Moysich KB, Shvetsov YB, Thompson PJ, Goodman MT, Wilkens LR, Dörk T, Hillemanns P, Dürst M, Runnebaum IB, Bogdanova N, Pelttari LM, Nevanlinna H, Leminen A, Edwards RP, Kelley JL, Harter P, Schwaab I, Heitz F, du Bois A, Orsulic S, Lester J, Walsh C, Karlan BY, Hogdall E, Kjaer SK, Jensen A, Vierkant RA, Cunningham JM, Goode EL, Fridley BL, Southey MC, Giles GG, Bruinsma F, Wu X, Hildebrandt MA, Lu K, Liang D, Bisogna M, Levine DA, Weber RP, Schildkraut JM, Iversen ES, Berchuck A, Terry KL, Cramer DW, Tworoger SS, Poole EM, Olson SH, Orlow I, Bandera EV, Bjorge L, Tangen IL, Salvesen HB, Krakstad C, Massuger LF, Kiemeney LA, Aben KK, van Altena AM, Bean Y, Pejovic T, Kellar M, Le ND, Cook LS, Kelemen LE, Brooks-Wilson A, Lubinski J, Gronwald J, Cybulski C, Jakubowska A, Wentzensen N, Brinton LA, Lissowska J, Yang H, Nedergaard L, Lundvall L, Hogdall C, Song H, Campbell IG, Eccles D, Glasspool R, Siddiqui N, Carty K, Paul J, McNeish IA, Sieh W, McGuire V, Rothstein JH, Whittemore AS, McLaughlin JR, Risch HA, Phelan CM, Anton-Culver H, Ziogas A, Menon U, Ramus SJ, Gentry-Maharaj A, Harrington P, Pike MC, Modugno F, Rossing MA, Ness RB, Pharoah PD, Stram DO, Wu AH, Pearce CL

Evaluating the ovarian cancer gonadotropin hypothesis: a candidate gene study Gynecol Oncol 136 (3) :542-8, 2015. e-Pub 2014. PMID: 25528498

Kar SP, Tyrer JP, Li Q, Lawrenson K, Aben KK, Anton-Culver H, Antonenkova N, Chenevix-Trench G, Australian Cancer Study, Australian Ovarian Cancer Study Group, Baker H, Bandera EV, Bean YT, Beckmann MW, Berchuck A, Bisogna M, Bjørge L, Bogdanova N, Brinton L, Brooks-Wilson A, Butzow R, Campbell I, Carty K, Chang-Claude J, Chen YA, Chen Z, Cook LS, Cramer D, Cunningham JM, Cybulski C, Dansonka-Mieszkowska A, Dennis J, Dicks E, Doherty JA, Dörk T, du Bois A, Dürst M, Eccles D, Easton DF, Edwards RP, Ekici AB, Fasching PA, Fridley BL, Gao YT, Gentry-Maharaj A, Giles GG, Glasspool R, Goode EL, Goodman MT, Grownwald J, Harrington P, Harter P, Hein A, Heitz F, Hildebrandt MA, Hillemanns P, Hogdall E, Hogdall CK, Hosono S, Iversen ES, Jakubowska A, Paul J, Jensen A, Ji BT, Karlan BY, Kjaer SK, Kelemen LE, Kellar M, Kelley J, Kiemeney LA, Krakstad C, Kupryjanczyk J, Lambrechts D, Lambrechts S, Le ND, Lee AW, Lele S, Leminen A, Lester J, Levine DA, Liang D, Lissowska J, Lu K, Lubinski J, Lundvall L, Massuger L, Matsuo K, McGuire V, McLaughlin JR, McNeish IA, Menon U, Modugno F, Moysich KB, Narod SA, Nedergaard L, Ness RB, Nevanlinna H, Odunsi K, Olson SH, Orlow I, Orsulic S, Weber RP, Pearce CL, Pejovic T, Pelttari LM, Permuth-Wey J, Phelan CM, Pike MC, Poole EM, Ramus SJ, Risch HA, Rosen B, Rossing MA, Rothstein JH, Rudolph A, Runnebaum IB, Rzepecka IK, Salvesen HB, Schildkraut JM, Schwaab I, Shu XO, Shvetsov YB, Siddiqui N, Sieh W, Song H, Southey MC, Sucheston-Campbell LE, Tangen IL, Teo SH, Terry KL, Thompson PJ, Timorek A, Tsai YY, Tworoger SS, van Altena AM, Van Nieuwenhuysen E, Vergote I, Vierkant RA, Wang-Gohrke S, Walsh C, Wentzensen N, Whittemore AS, Wicklund KG, Wilkens LR, Woo YL, Wu X, Wu A, Yang H, Zheng W, Ziogas A, Sellers TA, Monteiro AN, Freedman ML, Gayther SA, Pharoah PD

Network-based integration of GWAS and gene expression identifies a HOX-centric network associated with serous ovarian cancer risk Cancer Epidemiol Biomarkers Prev 24 (10) :1574-84, 2015. e-Pub 2015. PMID: 26209509

Kelemen LE, Lawrenson K ... Hildebrandt MA ... Gayther SA, Berchuck A

Genome-wide significant risk associations for mucinous ovarian carcinoma Nat Genet 47 (8) :888-97, 2015. e-Pub 2015

Liu X, Meng QH, Ye Y, Hildebrandt MA, Gu J, Wu X

Prognostic significance of pretreatment serum levels of albumin, LDH and total bilirubin in patients with non-metastatic breast cancer Carcinogenesis 36 (2) :243-248, 2015. e-Pub 2014. PMID: 25524924

Chornokur G, Lin HY, Tyrer JP, Lawrenson K, Dennis J, Amankwah EK, Qu X, Tsai YY, Jim HS, Chen Z, Chen AY, Permuth-Wey J, Aben KKh, Anton-Culver H, Antonenkova N, Bruinsma F, Bandera EV, Bean YT, Beckmann MW, Bisogna M, Bjorge L, Bogdanova N, Brinton LA, Brooks-Wilson A, Bunker CH, Butzow R, Campbell IG, Carty K, Chang-Claude J, Cook LS, Cramer DW, Cunningham JM, Cybulski C, Dansonka-Mieszkowska A, du Bois A, Despierre E, Dicks E, Doherty JA, Dörk T, Dürst M, Easton DF, Eccles DM, Edwards RP, Ekici AB, Fasching PA, Fridley BL, Gao YT, Gentry-Maharaj A, Giles GG, Glasspool R, Goodman MT, Gronwald J, Harrington P, Harter P, Hein A, Heitz F, Hildebrandt MA, Hillemanns P, Hogdall CK, Hogdall E, Hosono S, Jakubowska A, Jensen A, Ji BT, Karlan BY, Kelemen LE, Kellar M, Kiemeney LA, Krakstad C, Kjaer SK, Kupryjanczyk J, Lambrechts D, Lambrechts S, Le ND, Lee AW, Lele S, Leminen A, Lester J, Levine DA, Liang D, Lim BK, Lissowska J, Lu K, Lubinski J, Lundvall L, Massuger LF, Matsuo K, McGuire V, McLaughlin JR, McNeish I, Menon U, Milne RL, Modugno F, Moysich KB, Ness RB, Nevanlinna H, Eilber U, Odunsi K, Olson SH, Orlow I, Orsulic S, Weber RP, Paul J, Pearce CL, Pejovic T, Pelttari LM, Pike MC, Poole EM, Risch HA, Rosen B, Rossing MA, Rothstein JH, Rudolph A, Runnebaum IB, Rzepecka IK, Salvesen HB, Schernhammer E, Schwaab I, Shu XO, Shvetsov YB, Siddiqui N, Sieh W, Song H, Southey MC, Spiewankiewicz B, Sucheston L, Teo SH, Terry KL, Thompson PJ, Thomsen L, Tangen IL, Tworoger SS, van Altena AM, Vierkant RA, Vergote I, Walsh CS, Wang-Gohrke S, Wentzensen N, Whittemore AS, Wicklund KG, Wilkens LR, Wu AH, Wu X, Woo YL, Yang H, Zheng W, Ziogas A, Hasmad HN, Berchuck A, Georgia Chenevix-Trench on behalf of the AOCS management group, Iversen ES, Schildkraut JM, Ramus SJ, Goode EL, Monteiro AN, Gayther SA, Narod SA, Pharoah PD, Sellers TA, Phelan CM

Common genetic variation in cellular transport genes and epithelial ovarian cancer (EOC) risk. PLoS One 10 (6) :e0128106, 2015. e-Pub 2015. PMID: 26091520

Sanchez-Espiridion B, Liang D, Ajani JA, Liang S, Ye Y, Hildebrandt MA, Gu J, Wu X

Identification of serum markers of esophageal adenocarcinoma by global and targeted metabolic profiling. Clin Gastroenterol Hepatol 13 (10) :1730-1737.e9, 2015. e-Pub 2015. PMID: 25998788

Pierzynski JA, Hildebrandt MA, Kamat AM, Lin J, Ye Y, Dinney CP, Wu X

Genetic variants within the Wnt/β-catenin signaling pathway as indicators of bladder cancer risk. J Urol 194 (6) :1771-6, 2015. e-Pub 2015. PMID: 26173102

Lu Y, Cuellar-Partida G, Painter JN, Nyholt DR, Australian Ovarian Cancer Study, International Endogene Consortium (IEC), Morris AP, Fasching PA, Hein A, Burghaus S, Beckmann MW, Lambrechts D, Van Nieuwenhuysen E, Vergote I, Vanderstichele A, Doherty JA, Rossing MA, Wicklund KG, Chang-Claude J, Eilber U, Rudolph A, Wang-Gohrke S, Goodman MT, Bogdanova N, Dörk T, Dürst M, Hillemanns P, Runnebaum IB, Antonenkova N, Butzow R, Leminen A, Nevanlinna H, Pelttari LM, Edwards RP, Kelley JL, Modugno F, Moysich KB, Ness RB, Cannioto R, Høgdall E, Jensen A, Giles GG, Bruinsma F, Kjaer SK, Hildebrandt MA, Liang D, Lu KH, Wu X, Bisogna M, Dao F, Levine DA, Cramer DW, Terry KL, Tworoger SS, Missmer S, Bjorge L, Salvesen HB, Kopperud RK, Bischof K, Aben KK, Kiemeney LA, Massuger LF, Brooks-Wilson A, Olson SH, McGuire V, Rothstein JH, Sieh W, Whittemore AS, Cook LS, Le ND, Gilks CB, Gronwald J, Jakubowska A, Lubinski J, Gawelko J, Song H, Tyrer JP, Wentzensen N, Brinton L, Trabert B, Lissowska J, Mclaughlin JR, Narod SA, Phelan C, Anton-Culver H, Ziogas A, Eccles D, Gayther SA, Gentry-Maharaj A, Menon U, Ramus SJ, Wu AH, Dansonka-Mieszkowska A, Kupryjanczyk J, Timorek A, Szafron L, Cunningham JM, Fridley BL, Winham SJ, Bandera EV, Poole EM, Morgan TK, Risch HA, Goode EL, Schildkraut JM, Webb PM, Pearce CL, Berchuck A, Pharoah PD, Montgomery GW, Zondervan KT, Chenevix-Trench G, MacGregor S

Shared genetics underlying epidemiological association between endometriosis and ovarian cancer. Hum Mol Genet 24 (20) :5955-64, 2015. e-Pub 2015. PMID: 26231222

Amankwah EK, Lin HY, Tyrer JP, Lawrenson K, Dennis J, Chornokur G, Aben KK, Anton-Culver H, Antonenkova N, Bruinsma F, Bandera EV, Bean YT, Beckmann MW, Bisogna M, Bjorge L, Bogdanova N, Brinton LA, Brooks-Wilson A, Bunker CH, Butzow R, Campbell IG, Carty K, Chen Z, Chen YA, Chang-Claude J, Cook LS, Cramer DW, Cunningham JM, Cybulski C, Dansonka-Mieszkowska A, du Bois A, Despierre E, Dicks E, Doherty JA, Dörk T, Dürst M, Easton DF, Eccles DM, Edwards RP, Ekici AB, Fasching PA, Fridley BL, Gao YT, Gentry-Maharaj A, Giles GG, Glasspool R, Goodman MT, Gronwald J, Harrington P, Harter P, Hasmad HN, Hein A, Heitz F, Hildebrandt MA, Hillemanns P, Hogdall CK, Hogdall E, Hosono S, Iversen ES, Jakubowska A, Jensen A, Ji BT, Karlan BY, Jim H, Kellar M, Kiemeney LA, Krakstad C, Kjaer SK, Kupryjanczyk J, Lambrechts D, Lambrechts S, Le ND, Lee AW, Lele S, Leminen A, Lester J, Levine DA, Liang D, Lim BK, Lissowska J, Lu K, Lubinski J, Lundvall L, Massuger LF, Matsuo K, McGuire V, McLaughlin JR, McNeish I, Menon U, Milne RL, Modugno F, Moysich KB, Ness RB, Nevanlinna H, Eilber U, Odunsi K, Olson SH, Orlow I, Orsulic S, Weber RP, Paul J, Pearce CL, Pejovic T, Pelttari LM, Permuth-Wey J, Pike MC, Poole EM, Risch HA, Rosen B, Rossing MA, Rothstein JH, Rudolph A, Runnebaum IB, Rzepecka IK, Salvesen HB, Schernhammer E, Schwaab I, Shu XO, Shvetsov YB, Siddiqui N, Sieh W, Song H, Southey MC, Spiewankiewicz B, Sucheston-Campbell L, Teo SH, Terry KL, Thompson PJ, Thomsen L, Tangen IL, Tworoger SS, van Altena AM, Vierkant RA, Vergote I, Walsh CS, Wang-Gohrke S, Wentzensen N, Whittemore AS, Wicklund KG, Wilkens LR, Wu AH, Wu X, Woo YL, Yang H, Zheng W, Ziogas A, Kelemen LE, Berchuck A, Georgia Chenevix-Trench on behalf of the AOCS management group, Schildkraut JM, Ramus SJ, Goode EL, Monteiro AN, Gayther SA, Narod SA, Pharoah PD, Sellers TA, Phelan CM

Epithelial-Mesenchymal Transition (EMT) gene variants and epithelial ovarian cancer (EOC) risk. Genet Epidemiol 39 (8) :689-97, 2015. e-Pub 2015. PMID: 26399219

Lawrenson K, Iversen ES, Tyrer J, Weber RP, Concannon P, Hazelett DJ, Li Q, Marks JR, Berchuck A, Lee JM, Aben KK, Anton-Culver H, Antonenkova N, Australian Cancer Study (Ovarian Cancer), Australian Ovarian Cancer Study Group, Bandera EV, Bean Y, Beckmann MW, Bisogna M, Bjorge L, Bogdanova N, Brinton LA, Brooks-Wilson A, Bruinsma F, Butzow R, Campbell IG, Carty K, Chang-Claude J, Chenevix-Trench G, Chen A, Chen Z, Cook LS, Cramer DW, Cunningham JM, Cybulski C, Plisiecka-Halasa J, Dennis J, Dicks E, Doherty JA, Dörk T, du Bois A, Eccles D, Easton DT, Edwards RP, Eilber U, Ekici AB, Fasching PA, Fridley BL, Gao YT, Gentry-Maharaj A, Giles GG, Glasspool R, Goode EL, Goodman MT, Gronwald J, Harter P, Hasmad HN, Hein A, Heitz F, Hildebrandt MA, Hillemanns P, Hogdall E, Hogdall C, Hosono S, Jakubowska A, Paul J, Jensen A, Karlan BY, Kjaer SK, Kelemen LE, Kellar M, Kelley JL, Kiemeney LA, Krakstad C, Lambrechts D, Lambrechts S, Le ND, Lee AW, Cannioto R, Leminen A, Lester J, Levine DA, Liang D, Lissowska J, Lu K, Lubinski J, Lundvall L, Massuger LF, Matsuo K, McGuire V, McLaughlin JR, Nevanlinna H, McNeish I, Menon U, Modugno F, Moysich KB, Narod SA, Nedergaard L, Ness RB, Noor Azmi MA, Odunsi K, Olson SH, Orlow I, Orsulic S, Pearce CL, Pejovic T, Pelttari LM, Permuth-Wey J, Phelan CM, Pike MC, Poole EM, Ramus SJ, Risch HA, Rosen B, Rossing MA, Rothstein JH, Rudolph A, Runnebaum IB, Rzepecka IK, Salvesen HB, Budzilowska A, Sellers TA, Shu XO, Shvetsov YB, Siddiqui N, Sieh W, Song H, Southey MC, Sucheston L, Tangen IL, Teo SH, Terry KL, Thompson PJ, Timorek A, Tworoger SS, Van Nieuwenhuysen E, Vergote I, Vierkant RA, Wang-Gohrke S, Walsh C, Wentzensen N, Whittemore AS, Wicklund KG, Wilkens LR, Woo YL, Wu X, Wu AH, Yang H, Zheng W, Ziogas A, Coetzee GA, Freedman ML, Monteiro AN, Moes-Sosnowska J, Kupryjanczyk J, Pharoah PD, Gayther SA, Schildkraut JM

Common variants at the CHEK2 gene locus and risk of epithelial ovarian cancer. Carcinogenesis 36 (11) :1341-53, 2015. e-Pub 2015. PMID: 26424751

Lawrenson K, Li Q, Kar S, Seo JH, Tyrer J, Spindler TJ, Lee J, Chen Y, Karst A, Drapkin R, Aben KK, Anton-Culver H, Antonenkova N, Australian Ovarian Cancer Study Group, Baker H, Bandera EV, Bean Y, Beckmann MW, Berchuck A, Bisogna M, Bjorge L, Bogdanova N, Brinton LA, Brooks-Wilson A, Bruinsma F, Butzow R, Campbell IG, Carty K, Chang-Claude J, Chenevix-Trench G, Chen A, Chen Z, Cook LS, Cramer DW, Cunningham JM, Cybulski C, Dansonka-Mieszkowska A, Dennis J, Dicks E, Doherty JA, Dörk T, du Bois A, Dürst M, Eccles D, Easton DT, Edwards RP, Eilber U, Ekici AB, Fasching PA, Fridley BL, Gao YT, Gentry-Maharaj A, Giles GG, Glasspool R, Goode EL, Goodman MT, Grownwald J, Harrington P, Harter P, Hasmad HN, Hein A, Heitz F, Hildebrandt MA, Hillemanns P, Hogdall E, Hogdall C, Hosono S, Iversen ES, Jakubowska A, James P, Jensen A, Ji BT, Karlan BY, Kruger Kjaer S, Kelemen LE, Kellar M, Kelley JL, Kiemeney LA, Krakstad C, Kupryjanczyk J, Lambrechts D, Lambrechts S, Le ND, Lee AW, Lele S, Leminen A, Lester J, Levine DA, Liang D, Lissowska J, Lu K, Lubinski J, Lundvall L, Massuger LF, Matsuo K, McGuire V, McLaughlin JR, Nevanlinna H, McNeish I, Menon U, Modugno F, Moysich KB, Narod SA, Nedergaard L, Ness RB, Azmi MA, Odunsi K, Olson SH, Orlow I, Orsulic S, Weber RP, Pearce CL, Pejovic T, Pelttari LM, Permuth-Wey J, Phelan CM, Pike MC, Poole EM, Ramus SJ, Risch HA, Rosen B, Rossing MA, Rothstein JH, Rudolph A, Runnebaum IB, Rzepecka IK, Salvesen HB, Schildkraut JM, Schwaab I, Sellers TA, Shu XO, Shvetsov YB, Siddiqui N, Sieh W, Song H, Southey MC, Sucheston L, Tangen IL, Teo SH, Terry KL, Thompson PJ, Timorek A, Tsai YY, Tworoger SS, van Altena AM, Van Nieuwenhuysen E, Vergote I, Vierkant RA, Wang-Gohrke S, Walsh C, Wentzensen N, Whittemore AS, Wicklund KG, Wilkens LR, Woo YL, Wu X, Wu AH, Yang H, Zheng W, Ziogas A, Monteiro A, Pharoah PD, Gayther SA, Freedman ML

Cis-eQTL analysis and functional validation of candidate susceptibility genes for high-grade serous ovarian cancer. Nat Commun 6:8234, 2015. e-Pub 2015. PMID: 26391404

Jim HS, Lin HY, Tyrer JP, Lawrenson K, Dennis J, Chornokur G, Chen Z, Chen AY, Permuth-Wey J, Aben KK, Anton-Culver H, Antonenkova N, Bruinsma F, Bandera EV, Bean YT, Beckmann MW, Bisogna M, Bjorge L, Bogdanova N, Brinton LA, Brooks-Wilson A, Bunker CH, Butzow R, Campbell IG, Carty K, Chang-Claude J, Cook LS, Cramer DW, Cunningham JM, Cybulski C, Dansonka-Mieszkowska A, du Bois A, Despierre E, Sieh W, Doherty JA, Dörk T, Dürst M, Easton DF, Eccles DM, Edwards RP, Ekici AB, Fasching PA, Fridley BL, Gao YT, Gentry-Maharaj A, Giles GG, Glasspool R, Goodman MT, Gronwald J, Harter P, Hasmad HN, Hein A, Heitz F, Hildebrandt MA, Hillemanns P, Hogdall CK, Hogdall E, Hosono S, Iversen ES, Jakubowska A, Jensen A, Ji BT, Karlan BY, Kellar M, Kiemeney LA, Krakstad C, Kjaer SK, Kupryjanczyk J, Vierkant RA, Lambrechts D, Lambrechts S, Le ND, Lee AW, Lele S, Leminen A, Lester J, Levine DA, Liang D, Lim BK, Lissowska J, Lu K, Lubinski J, Lundvall L, Massuger LF, Matsuo K, McGuire V, McLaughlin JR, McNeish I, Menon U, Milne RL, Modugno F, Thomsen L, Moysich KB, Ness RB, Nevanlinna H, Eilber U, Odunsi K, Olson SH, Orlow I, Orsulic S, Palmieri Weber R, Paul J, Pearce CL, Pejovic T, Pelttari LM, Pike MC, Poole EM, Schernhammer E, Risch HA, Rosen B, Rossing MA, Rothstein JH, Rudolph A, Runnebaum IB, Rzepecka IK, Salvesen HB, Schwaab I, Shu XO, Shvetsov YB, Siddiqui N, Song H, Southey MC, Spiewankiewicz B, Sucheston-Campbell L, Teo SH, Terry KL, Thompson PJ, Tangen IL, Tworoger SS, van Altena AM, Vergote I, Walsh CS, Wang-Gohrke S, Wentzensen N, Whittemore AS, Wicklund KG, Wilkens LR, Wu AH, Wu X, Woo YL, Yang H, Zheng W, Ziogas A, Amankwah E, Berchuck A, Georgia Chenevix-Trench on behalf of the AOCS management group 95,96, Schildkraut JM, Kelemen LE, Ramus SJ, Monteiro AN, Goode EL, Narod SA, Gayther SA, Pharoah PD, Sellers TA, Phelan CM

Common genetic variation in circadian rhythm genes and risk of epithelial ovarian cancer (EOC) J Genet Genome Res 2 (2) , 2015. e-Pub 2015. PMID: 26807442

Wei H, Ke HL, Lin J, Shete S, Wood CG, Hildebrandt MA

MicroRNA target site polymorphisms in the VHL-HIF1α pathway predict renal cell carcinoma risk Mol Carcinog 53 (1) :1-7, 2014. e-Pub 2012. PMID: 22517515

Meng QH, Xu E, Hildebrandt MA, Liang D, Lu K, Ye Y, Wagar EA, Wu X

Genetic variants in the fibroblast growth factor pathway as potential markers of ovarian cancer risk, therapeutic response, and clinical outcome. Clin Chem 60 (1) :222-32, 2014. e-Pub 2013. PMID: 24146310

Earp MA, Kelemen LE, Magliocco AM, Swenerton KD, Chenevix-Trench G, Australian Cancer Study, Australian Ovarian Cancer Study Group, Lu Y, Hein A, Ekici AB, Beckmann MW, Fasching PA, Lambrechts D, Despierre E, Vergote I, Lambrechts S, Doherty JA, Rossing MA, Chang-Claude J, Rudolph A, Friel G, Moysich KB, Odunsi K, Sucheston-Campbell L, Lurie G, Goodman MT, Carney ME, Thompson PJ, Runnebaum IB, Dürst M, Hillemanns P, Dörk T, Antonenkova N, Bogdanova N, Leminen A, Nevanlinna H, Pelttari LM, Butzow R, Bunker CH, Modugno F, Edwards RP, Ness RB, du Bois A, Heitz F, Schwaab I, Harter P, Karlan BY, Walsh C, Lester J, Jensen A, Kjær SK, Høgdall CK, Høgdall E, Lundvall L, Sellers TA, Fridley BL, Goode EL, Cunningham JM, Vierkant RA, Giles GG, Baglietto L, Severi G, Southey MC, Liang D, Wu X, Lu K, Hildebrandt MA, Levine DA, Bisogna M, Schildkraut JM, Iversen ES, Weber RP, Berchuck A, Cramer DW, Terry KL, Poole EM, Tworoger SS, Bandera EV, Chandran U, Orlow I, Olson SH, Wik E, Salvesen HB, Bjorge L, Halle MK, van Altena AM, Aben KK, Kiemeney LA, Massuger LF, Pejovic T, Bean YT, Cybulski C, Gronwald J, Lubinski J, Wentzensen N, Brinton LA, Lissowska J, Garcia-Closas M, Dicks E, Dennis J, Easton DF, Song H, Tyrer JP, Pharoah PD, Eccles D, Campbell IG, Whittemore AS, McGuire V, Sieh W, Rothstein JH, Flanagan JM, Paul J, Brown R, Phelan CM, Risch HA, McLaughlin JR, Narod SA, Ziogas A, Anton-Culver H, Gentry-Maharaj A, Menon U, Gayther SA, Ramus SJ, Wu AH, Pearce CL, Pike MC, Dansonka-Mieszkowska A, Rzepecka IK, Szafron LM, Kupryjanczyk J, Cook LS, Le ND, Brooks-Wilson A, Ovarian Cancer Association Consortium

Genome-wide association study of subtype-specific epithelial ovarian cancer risk alleles using pooled DNA. Hum Genet 133 (5) :481-97, 2014. e-Pub 2013. PMID: 24190013

Charbonneau B, Block MS, Bamlet WR, Vierkant RA, Kalli KR, Fogarty Z, Rider DN, Sellers TA, Tworoger SS, Poole E, Risch HA, Salvesen HB, Kiemeney LA, Baglietto L, Giles GG, Severi G, Trabert B, Wentzensen N, Chenevix-Trench G, for AOCS/ACS group, Whittemore AS, Sieh W, Chang-Claude J, Bandera EV, Orlow I, Terry K, Goodman MT, Thompson PJ, Cook LS, Rossing MA, Ness RB, Narod SA, Kupryjanczyk J, Lu K, Butzow R, Dörk T, Pejovic T, Campbell I, Le ND, Bunker CH, Bogdanova N, Runnebaum IB, Eccles D, Paul J, Wu AH, Gayther SA, Hogdall E, Heitz F, Kaye SB, Karlan BY, Anton-Culver H, Gronwald J, Hogdall CK, Lambrechts D, Fasching PA, Menon U, Schildkraut J, Pearce CL, Levine DA, Kjaer SK, Cramer D, Flanagan JM, Phelan CM, Brown R, Massuger LF, Song H, Doherty JA, Krakstad C, Liang D, Odunsi K, Berchuck A, Jensen A, Lubinski J, Nevanlinna H, Bean YT, Lurie G, Ziogas A, Walsh C, Despierre E, Brinton L, Hein A, Rudolph A, Dansonka-Mieszkowska A, Olson SH, Harter P, Tyrer J, Vitonis AF, Brooks-Wilson A, Aben KK, Pike MC, Ramus SJ, Wik E, Cybulski C, Lin J, Sucheston L, Edwards R, McGuire V, Lester J, du Bois A, Lundvall L, Wang-Gohrke S, Szafron LM, Lambrechts S, Yang H, Beckmann MW, Pelttari LM, Van Altena AM, van den Berg D, Halle MK, Gentry-Maharaj A, Schwaab I, Chandran U, Menkiszak J, Ekici AB, Wilkens LR, Leminen A, Modugno F, Friel G, Rothstein JH, Vergote I, Garcia-Closas M, Hildebrandt MA, Sobiczewski P, Kelemen LE, Pharoah PD, Moysich K, Knutson KL, Cunningham JM, Fridley BL, Goode EL

Risk of ovarian cancer and the NF-κB pathway: genetic association with IL1A and TNFSF10. Cancer Res 74 (3) :852-61, 2014. e-Pub 2013. PMID: 24272484

Pu X, Hildebrandt MA (co-first author), Lu C, Roth JA, Stewart DJ, Zhao Y, Heist RS, Ye Y, Chang DW, Su L, Minna JD, Lippman SM, Spitz MR, Christiani DC, Wu X

Inflammation-related genetic variations and survival in patients with advanced non-small cell lung cancer receiving first-line chemotherapy. Clin Pharmacol Ther 96 (3) :360-9, 2014. e-Pub 2014. PMID: 24755914

Melkonian SC, Daniel CR, Hildebrandt MA, Tannir NM, Ye Y, Chow WH, Wood CG, Wu X

Joint association of genome-wide association study-identified susceptibility loci and dietary patterns in risk of renal cell carcinoma among non-Hispanic whites. Am J Epidemiol 180 (5) :499-507, 2014. e-Pub 2014. PMID: 25053674

Pu X, Wang L, Chang JY, Hildebrandt MA, Ye Y, Lu C, Skinner HD, Niu N, Jenkins GD, Komaki R, Minna JD, Roth JA, Weinshilboum RM, Wu X

Inflammation-related genetic variants predict toxicity following definitive radiotherapy for lung cancer. Clin Pharmacol Ther 96 (5) :609-15, 2014. e-Pub 2014. PMID: 25054431

Kelemen LE, Terry KL, Goodman MT, Webb PM, Bandera EV, McGuire V, Rossing MA, Wang Q, Dicks E, Tyrer JP, Song H, Kupryjanczyk J, Dansonka-Mieszkowska A, Plisiecka-Halasa J, Timorek A, Menon U, Gentry-Maharaj A, Gayther SA, Ramus SJ, Narod SA, Risch HA, McLaughlin JR, Siddiqui N, Glasspool R, Paul J, Carty K, Gronwald J, Lubinski J, Jakubowska A, Cybulski C, Kiemeney LA, Massuger LF, van Altena AM, Aben KK, Olson SH, Orlow I, Cramer DW, Levine DA, Bisogna M, Giles GG, Southey MC, Bruinsma F, Kjaer SK, Høgdall E, Jensen A, Høgdall CK, Lundvall L, Engelholm SA, Heitz F, du Bois A, Harter P, Schwaab I, Butzow R, Nevanlinna H, Pelttari LM, Leminen A, Thompson PJ, Lurie G, Wilkens LR, Lambrechts D, Van Nieuwenhuysen E, Lambrechts S, Vergote I, Beesley J, AOCS Study Group/ACS Investigators, Fasching PA, Beckmann MW, Hein A, Ekici AB, Doherty JA, Wu AH, Pearce CL, Pike MC, Stram D, Chang-Claude J, Rudolph A, Dörk T, Dürst M, Hillemanns P, Runnebaum IB, Bogdanova N, Antonenkova N, Odunsi K, Edwards RP, Kelley JL, Modugno F, Ness RB, Karlan BY, Walsh C, Lester J, Orsulic S, Fridley BL, Vierkant RA, Cunningham JM, Wu X, Lu K, Liang D, Hildebrandt MA, Weber RP, Iversen ES, Tworoger SS, Poole EM, Salvesen HB, Krakstad C, Bjorge L, Tangen IL, Pejovic T, Bean Y, Kellar M, Wentzensen N, Brinton LA, Lissowska J, Garcia-Closas M, Campbell IG, Eccles D, Whittemore AS, Sieh W, Rothstein JH, Anton-Culver H, Ziogas A, Phelan CM, Moysich KB, Goode EL, Schildkraut JM, Berchuck A, Pharoah PD, Sellers TA, Brooks-Wilson A, Cook LS, Le ND

Consortium analysis of gene and gene-folate interactions in purine and pyrimidine metabolism pathways with ovarian carcinoma risk. Mol Nutr Food Res 58 (10) :2023-35, 2014. e-Pub 2014. PMID: 25066213

Wu X, Wang L, Ye Y, Aakre JA, Pu X, Chang GC, Yang PC, Roth JA, Marks RS, Lippman SM, Chang JY, Lu C, Deschamps C, Su WC, Wang WC, Huang MS, Chang DW, Li Y, Pankratz VS, Minna JD, Hong WK, Hildebrandt MA (co-last author), Hsiung CA, Yang P

Genome-wide association study of genetic predictors of overall survival for non-small cell lung cancer in never smokers Cancer Res 73 (13) :4028-4038, 2013. e-Pub 2013. PMID: 23704207

Wu X, Ajani JA, Gu J, Chang DW, Tan W, Hildebrandt MA, Huang M, Wang KK, Hawk E

MicroRNA expression signatures during malignant progression from Barrett's esophagus to esophageal adenocarcinoma Cancer Prev Res 6 (3) :196-205, 2013. PMID: 23466817

Pu X, Roth JA, Hildebrandt MA, Ye Y, Wei H, Minna JD, Lippman SM, Wu X

MicroRNA-related genetic variants associated with clinical outcomes in early stage non-small cell lung cancer patients. Cancer Res 73 (6) :1867-75, 2013. e-Pub 2013. PMID: 23378343

Ke HL, Chen M, Ye Y, Hildebrandt MA, Wu WJ, Wei H, Huang M, Chang DW, Dinney CP, Wu X

Genetic variations in micro-RNA biogenesis genes and clinical outcomes in non-muscle-invasive bladder cancer. Carcinogenesis 34 (5) :1006-11, 2013. e-Pub 2013. PMID: 23322153

Schumacher FR, Wang Z, Skotheim RI, Koster R, Chung CC, Hildebrandt MA (co-first author), Kratz CP, Bakken AC, Bishop DT, Cook MB, Erickson RL, Fosså SD, Greene MH, Jacobs KB, Kanetsky PA, Kolonel LN, Loud JT, Korde LA, Le Marchand L, Lewinger JP, Lothe RA, Pike MC, Rahman N, Rubertone MV, Schwartz SM, Siegmund KD, Skinner EC, Turnbull C, Van Den Berg DJ, Wu X, Yeager M, Nathanson KL, Chanock SJ, Cortessis VK, McGlynn KA

Testicular germ cell tumor susceptibility associated with the UCK2 locus on chromosome 1q23. Hum Mol Genet 22 (13) :2748-53, 2013. e-Pub 2013. PMID: 23462292

Shen H, Fridley BL, Song H, Lawrenson K, Cunningham JM, Ramus SJ, Cicek MS, Tyrer J, Stram D, Larson MC, Köbel M, PRACTICAL Consortium, Ziogas A, Zheng W, Yang HP, Wu AH, Wozniak EL, Woo YL, Winterhoff B, Wik E, Whittemore AS, Wentzensen N, Weber RP, Vitonis AF, Vincent D, Vierkant RA, Vergote I, Van Den Berg D, Van Altena AM, Tworoger SS, Thompson PJ, Tessier DC, Terry KL, Teo SH, Templeman C, Stram DO, Southey MC, Sieh W, Siddiqui N, Shvetsov YB, Shu XO, Shridhar V, Wang-Gohrke S, Severi G, Schwaab I, Salvesen HB, Rzepecka IK, Runnebaum IB, Rossing MA, Rodriguez-Rodriguez L, Risch HA, Renner SP, Poole EM, Pike MC, Phelan CM, Pelttari LM, Pejovic T, Paul J, Orlow I, Omar SZ, Olson SH, Odunsi K, Nickels S, Nevanlinna H, Ness RB, Narod SA, Nakanishi T, Moysich KB, Monteiro AN, Moes-Sosnowska J, Modugno F, Menon U, McLaughlin JR, McGuire V, Matsuo K, Adenan NA, Massuger LF, Lurie G, Lundvall L, Lubinski J, Lissowska J, Levine DA, Leminen A, Lee AW, Le ND, Lambrechts S, Lambrechts D, Kupryjanczyk J, Krakstad C, Konecny GE, Kjaer SK, Kiemeney LA, Kelemen LE, Keeney GL, Karlan BY, Karevan R, Kalli KR, Kajiyama H, Ji BT, Jensen A, Jakubowska A, Iversen E, Hosono S, Høgdall CK, Høgdall E, Hoatlin M, Hillemanns P, Heitz F, Hein R, Harter P, Halle MK, Hall P, Gronwald J, Gore M, Goodman MT, Giles GG, Gentry-Maharaj A, Garcia-Closas M, Flanagan JM, Fasching PA, Ekici AB, Edwards R, Eccles D, Easton DF, Dürst M, du Bois A, Dörk T, Doherty JA, Despierre E, Dansonka-Mieszkowska A, Cybulski C, Cramer DW, Cook LS, Chen X, Charbonneau B, Chang-Claude J, Campbell I, Butzow R, Bunker CH, Brueggmann D, Brown R, Brooks-Wilson A, Brinton LA, Bogdanova N, Block MS, Benjamin E, Beesley J, Beckmann MW, Bandera EV, Baglietto L, Bacot F, Armasu SM, Antonenkova N, Anton-Culver H, Aben KK, Liang D, Wu X, Lu K, Hildebrandt MA, Australian Cancer Study, Schildkraut JM, Sellers TA, Huntsman D, Berchuck A, Chenevix-Trench G, Gayther SA, Pharoah PD, Laird PW, G

Epigenetic analysis leads to identification of HNF1B as a subtype-specific susceptibility gene for ovarian cancer. Nat Commun 4:1628, 2013. PMID: 23535649

Chung CC, Kanetsky PA, Wang Z, Hildebrandt MA (co-first author), Koster R, Skotheim RI, Kratz CP, Turnbull C, Cortessis VK, Bakken AC, Bishop DT, Cook MB, Erickson RL, Fosså SD, Jacobs KB, Korde LA, Kraggerud SM, Lothe RA, Loud JT, Rahman N, Skinner EC, Thomas DC, Wu X, Yeager M, Schumacher FR, Greene MH, Schwartz SM, McGlynn KA, Chanock SJ, Nathanson KL

Meta-analysis identifies four new loci associated with testicular germ cell tumor. Nat Genet 45 (6) :680-5, 2013. e-Pub 2013. PMID: 23666239

Wang Y, Gu J, Roth JA, Hildebrandt MA, Lippman SM, Ye Y, Minna JD, Wu X

Pathway-based serum microRNA profiling and survival in patients with advanced non-small cell lung cancer. Cancer Res 73 (15) :4801-9, 2013. e-Pub 2013. PMID: 23774211

Xing J, Dinney CP, Shete S, Huang M, Hildebrandt MA, Chen Z, Gu J

Comprehensive pathway-based interrogation of genetic variations in the nucleotide excision DNA repair pathway and risk of bladder cancer Cancer 118 (1) :205-15, 2012. e-Pub 2011. PMID: 21692063

Hildebrandt MA, Lippman SM, Etzel CJ, Kim E, Lee JJ, Khuri FR, Spitz MR, Lotan R, Hong WK, Wu X

Genetic variants in the PI3K/PTEN/AKT/MTOR pathway predict head and neck cancer patient second primary tumor/recurrence risk and response to retinoid chemoprevention Clin Cancer Res 18 (13) :3705-13, 2012. e-Pub 2012. PMID: 22577058

Hildebrandt MA (corresponding author), Tan W, Tamboli P, Huang M, Ye Y, Lin J, Lee JS, Wood CG, Wu X

Kinome expression profiling identifies IKBKE as a predictor of overall survival in clear cell renal cell carcinoma patients Carcinogenesis 33 (4) :799-803, 2012. e-Pub 2012. PMID: 22266464

Lin M, Gu J, Eng C, Ellis LM, Hildebrandt MA, Lin J, Huang M, Calin GA, Wang D, Dubois RN, Hawk ET, Wu X

Genetic polymorphisms in microRNA-related genes as predictors of clinical outcomes in colorectal adenocarcinoma patients Clin Cancer Res 18 (14) :3982-91, 2012. e-Pub 2012. PMID: 22661538

Wu X, Scelo G, Purdue MP, Rothman N, Johansson M, Ye Y, Wang Z, Zelenika D, Moore LE, Wood CG, Prokhortchouk E, Gaborieau V, Jacobs KB, Chow WH, Toro JR, Zaridze D, Lin J, Lubinski J, Trubicka J, Szeszenia-Dabrowska N, Lissowska J, Rudnai P, Fabianova E, Mates D, Jinga V, Bencko V, Slamova A, Holcatova I, Navratilova M, Janout V, Boffetta P, Colt JS, Davis FG, Schwartz KL, Banks RE, Selby PJ, Harnden P, Berg CD, Hsing AW, Grubb RL, Boeing H, Vineis P, Clavel-Chapelon F, Palli D, Tumino R, Krogh V, Panico S, Duell EJ, Quirós JR, Sanchez MJ, Navarro C, Ardanaz E, Dorronsoro M, Khaw KT, Allen NE, Bueno-de-Mesquita HB, Peeters PH, Trichopoulos D, Linseisen J, Ljungberg B, Overvad K, Tjønneland A, Romieu I, Riboli E, Stevens VL, Thun MJ, Diver WR, Gapstur SM, Pharoah PD, Easton DF, Albanes D, Virtamo J, Vatten L, Hveem K, Fletcher T, Koppova K, Cussenot O, Cancel-Tassin G, Benhamou S, Hildebrandt MA, Pu X, Foglio M, Lechner D, Hutchinson A, Yeager M, Fraumeni JF, Lathrop M, Skryabin KG, McKay JD, Gu J, Brennan P, Chanock SJ

A genome-wide association study identifies a novel susceptibility locus for renal cell carcinoma on 12p11.23. Hum Mol Genet 21 (2) :456-62, 2012. e-Pub 2011. PMID: 22010048

Pu X, Ye Y, Spitz MR, Wang L, Gu J, Lippman SM, Hildebrandt MA, Hong WK, Minna JD, Roth JA, Yang P, Wu X

Predictors of survival in never-smokers with non-small cell lung cancer: a large-scale, two-phase genetic study Clin Cancer Res 18 (21) :5983-91, 2012. e-Pub 2012. PMID: 22977190

Kim JY, Hildebrandt MA (co-first author), Pu X, Ye Y, Correa AM, Vaporciyan AA, Wu X, Roth JA

Variations in the vascular endothelial growth factor pathway predict pulmonary complications Ann Thorac Surg 94 (4) :1079-85, 2012. e-Pub 2012. PMID: 22795057

Pilarski R, Patel DA, Weitzel J, McVeigh T, Dorairaj JJ, Heneghan HM, Miller N, Weidhaas JB, Kerin MJ, McKenna M, Wu X, Hildebrandt M, Zelterman D, Sand S, Shulman LP

The KRAS-variant is associated with risk of developing double primary breast and ovarian cancer. PLoS One 7 (5) :e37891, 2012. e-Pub 2012. PMID: 22662244

Pu X, Hildebrandt MA (co-first author), Lu C, Lin J, Stewart DJ, Ye Y, Gu J, Spitz MR, Wu X

PI3K/PTEN/AKT/mTOR pathway genetic variation predicts toxicity and distant progression in lung cancer patients receiving platinum-based chemotherapy Lung Cancer 71 (1) :82-8, 2011. e-Pub 2010. PMID: 20447721

Lee JJ, Wu X, Hildebrandt MA (second author), Yang H, Khuri FR, Kim E, Gu J, Ye Y, Lotan R, Spitz MR, Hong WK

Global assessment of genetic variation influencing response to retinoid chemoprevention in head and neck cancer patients Cancer Prev Res 4 (2) :185-93, 2011. PMID: 21292633

Gu J, Ye Y, Spitz MR, Lin J, Kiemeney LA, Xing J, Hildebrandt MA, Hong WK, Amos CI, Wu X

A genetic variant near the PMAIP1/Noxa gene is associated with increased bleomycin sensitivity Hum Mol Genet 20 (4) :820-6, 2011. e-Pub 2010. PMID: 21106707

Wu X, Ye Y, Rosell R, Amos CI, Stewart DJ, Hildebrandt MA, Roth JA, Minna JD, Gu J, Lin J, Buch SC, Nukui T, Ramirez Serrano JL, Taron M, Cassidy A, Lu C, Chang JY, Lippman SM, Hong WK, Spitz MR, Romkes M, Yang P

Genome-wide association study of survival in non-small cell lung cancer patients receiving platinum-based chemotherapy J Natl Cancer Inst 103 (10) :817-25, 2011. e-Pub 2011. PMID: 21483023

Tan W, Hildebrandt MA, Pu X, Huang M, Lin J, Matin SF, Tamboli P, Wood CG, Wu X

Role of inflammatory-related gene expression in clear cell renal cell carcinoma development and clinical outcomes J Urol 186 (5) :2071-7, 2011. e-Pub 2011. PMID: 21944129

Lin M, Stewart DJ, Spitz MR, Hildebrandt MA, Lu C, Lin J, Gu J, Huang M, Lippman SM, Wu X

Genetic variations in the transforming growth factor beta pathway as predictors of survival in advanced non-small cell lung cancer Carcinogenesis 32 (7) :1050-6, 2011. e-Pub 2011. PMID: 21515830

Yin J, Lu K, Lin J, Wu L, Hildebrandt MA, Chang DW, Meyer L, Wu X, Liang D

Genetic variants in TGF-ß pathway are associated with ovarian cancer risk. PLoS One 6 (9) :e25559, 2011. e-Pub 2011. PMID: 21984931

Yin J, Lu C, Gu J, Lippman SM, Hildebrandt MA, Lin J, Stewart D, Spitz MR, Wu X

Common genetic variants in cell cycle pathway are associated with survival in stage III-IV non-small-cell lung cancer. Carcinogenesis 32 (12) :1867-71, 2011. e-Pub 2011. PMID: 21965272

Clague J, Lippman SM, Yang H, Hildebrandt MA, Ye Y, Lee JJ, Wu X

Genetic variation in MicroRNA genes and risk of oral premalignant lesions. Mol Carcinog 49 (2) :183-9, 2010. PMID: 19851984

Chen M, Gu J, Delclos GL, Killary AM, Fan Z, Hildebrandt MA, Chamberlain RM, Grossman HB, Dinney CP, Wu X

Genetic variations of the PI3K-AKT-mTOR pathway and clinical outcome in muscle invasive and metastatic bladder cancer patients Carcinogenesis 31 (8) :1387-91, 2010. e-Pub 2010. PMID: 20530239

Hildebrandt MA, Gu J, Lin J, Ye Y, Tan W, Tamboli P, Wood CG, Wu X

Hsa-miR-9 methylation status is associated with cancer development and metastatic recurrence in patients with clear cell renal cell carcinoma. Oncogene 29 (42) :5724-8, 2010. e-Pub 2010. PMID: 20676129

Hildebrandt MA, Komaki R, Liao Z, Gu J, Chang JY, Ye Y, Lu C, Stewart DJ, Minna JD, Roth JA, Lippman SM, Cox JD, Hong WK, Spitz MR, Wu X

Genetic variants in inflammation-related genes are associated with radiation-induced toxicity following treatment for non-small cell lung cancer PLoS One 5 (8) :e12402, 2010. e-Pub 2010. PMID: 20811626

Rothman N, Garcia-Closas M, Chatterjee N, Malats N, Wu X, Figueroa JD, Real FX, Van Den Berg D, Matullo G, Baris D, Thun M, Kiemeney LA, Vineis P, De Vivo I, Albanes D, Purdue MP, Rafnar T, Hildebrandt MA (co-second author), Kiltie AE, Cussenot O, Golka K, Kumar R, Taylor JA, Mayordomo JI, Jacobs KB, Kogevinas M, Hutchinson A, Wang Z, Fu YP, Prokunina-Olsson L, Burdett L, Yeager M, Wheeler W, Tardón A, Serra C, Carrato A, García-Closas R, Lloreta J, Johnson A, Schwenn M, Karagas MR, Schned A, Andriole G, Grubb R, Black A, Jacobs EJ, Diver WR, Gapstur SM, Weinstein SJ, Virtamo J, Cortessis VK, Gago-Dominguez M, Pike MC, Stern MC, Yuan JM, Hunter DJ, McGrath M, Dinney CP, Czerniak B, Chen M, Yang H, Vermeulen SH, Aben KK, Witjes JA, Makkinje RR, Sulem P, Besenbacher S, Stefansson K, Riboli E, Brennan P, Panico S, Navarro C, Allen NE, Bueno-de-Mesquita HB, Trichopoulos D, Caporaso N, Landi MT, Canzian F, Ljungberg B, Tjonneland A, Clavel-Chapelon F, Bishop DT, Teo MT, Knowles MA, Guarrera S, Polidoro S, Ricceri F, Sacerdote C, Allione A, Cancel-Tassin G, Selinski S, Hengstler JG, Dietrich H, Fletcher T, Rudnai P, Gurzau E, Koppova K, Bolick SC, Godfrey A, Xu Z, Sanz-Velez JI, D García-Prats M, Sanchez M, Valdivia G, Porru S, Benhamou S, Hoover RN, Fraumeni JF, Silverman DT, Chanock SJ

A multi-stage genome-wide association study of bladder cancer identifies multiple susceptibility loci. Nat Genet 42 (11) :978-84, 2010. e-Pub 2010. PMID: 20972438

Chen M, Hildebrandt MA (co-first author), Clague J, Kamat AM, Picornell A, Chang J, Zhang X, Izzo J, Yang H, Lin J, Gu J, Chanock S, Kogevinas M, Rothman N, Silverman DT, Garcia-Closas M, Grossman HB, Dinney CP, Malats N, Wu X

Genetic variations in the Sonic hedgehog pathway affect clinical outcomes in non-muscle invasive bladder cancer. Cancer Prev Res 3 (10) :1235-45, 2010. e-Pub 2010. PMID: 20858759

Hildebrandt MA, Yang H, Hung MC, Izzo JG, Huang M, Lin J, Ajani JA, Wu X

Genetic variations in the PI3K/PTEN/AKT/mTOR pathway are associated with clinical outcomes in esophageal cancer patients treated with chemoradiotherapy. J Clin Oncol 27 (6) :857-71, 2009. e-Pub 2009. PMID: 19164214

Chen M, Cassidy A, Gu J, Delclos GL, Zhen F, Yang H, Hildebrandt MA, Lin J, Ye Y, Chamberlain RM, Dinney CP, Wu X

Genetic variations in PI3K-AKT-mTOR pathway and bladder cancer risk. Carcinogenesis 30 (12) :2047-52, 2009. PMID: 19875696

Wang L, Kumar S, Fridley BL, Kalari KR, Moon I, Pelleymounter LL, Hildebrandt MA, Batzler A, Eckloff BW, Wieben ED, Greipp PR

Proteasome beta subunit pharmacogenomics: gene resequencing and functional genomics. Clin Cancer Res 14 (11) :3503-13, 2008. PMID: 18519783

Moyer AM, Salavaggione OE, Wu TY, Moon I, Eckloff BW, Hildebrandt MA, Schaid DJ, Wieben ED, Weinshilboum RM

Glutathione s-transferase p1: gene sequence variation and functional genomic studies. Cancer Res 68 (12) :4791-801, 2008. PMID: 18559526

Yu Z, Wang L, Hildebrandt MA, Schaid DJ

Testing whether genetic variation explains correlation of quantitative measures of gene expression, and application to genetic network analysis. Stat Med 27 (19) :3847-67, 2008. PMID: 18444230

Ji Y, Olson J, Zhang J, Hildebrandt M, Wang L, Ingle J, Fredericksen Z, Sellers T, Miller W, Dixon JM, Brauch H, Eichelbaum M, Justenhoven C, Hamann U, Ko Y, Brüning T, Chang-Claude J, Wang-Gohrke S, Schaid D, Weinshilboum R

Breast cancer risk reduction and membrane-bound catechol O-methyltransferase genetic polymorphisms. Cancer Res 68 (14) :5997-6005, 2008. PMID: 18632656

Li L, Fridley B, Kalari K, Jenkins G, Batzler A, Safgren S, Hildebrandt M, Ames M, Schaid D, Wang L

Gemcitabine and cytosine arabinoside cytotoxicity: association with lymphoblastoid cell expression. Cancer Res 68 (17) :7050-8, 2008. PMID: 18757419

Hildebrandt MA, Carrington DP, Thomae BA, Eckloff BW, Schaid DJ, Yee VC, Weinshilboum RM, Wieben ED

Genetic diversity and function in the human cytosolic sulfotransferases. Pharmacogenomics J 7 (2) :133-43, 2007. e-Pub 2006. PMID: 16801938

Moyer AM, Salavaggione OE, Hebbring SJ, Moon I, Hildebrandt MA, Eckloff BW, Schaid DJ, Wieben ED, Weinshilboum RM

Glutathione S-transferase T1 and M1: gene sequence variation and functional genomics. Clin Cancer Res 13 (23) :7207-16, 2007. PMID: 18056202

Schaid DJ, Batzler AJ, Jenkins GD, Hildebrandt MA

Exact tests of Hardy-Weinberg equilibrium and homogeneity of disequilibrium across strata. Am J Hum Genet 79 (6) :1071-80, 2006. e-Pub 2006. PMID: 17186465

Hildebrandt MA, Salavaggione OE, Martin YN, Flynn HC, Jalal S, Wieben ED, Weinshilboum RM

Human SULT1A3 pharmacogenetics: gene duplication and functional genomic studies. Biochem Biophys Res Commun 321 (4) :870-8, 2004. PMID: 15358107

Thomae BA, Rifki OF, Theobald MA, Eckloff BW, Wieben ED, Weinshilboum RM

Human catecholamine sulfotransferase (SULT1A3) pharmacogenetics: functional genetic polymorphism. J Neurochem 87 (4) :809-19, 2003. PMID: 14622112

Hildebrandt MA (corresponding author), Reyes ME, Wu X, Pu X, Thompson KA, Ma J, Landstrom AP, Morrison AC, Ater JL

Hypertension Susceptibility Loci are Associated with Anthracycline-related Cardiotoxicity in Long-term Childhood Cancer Survivors Sci Rep

Pierzynski JA, Wu X, Ye Y, Lippman SA, Rodriguez MA, Hildebrandt MA

Socio-demographic, Clinical, and Genetic Determinants of Quality of Life in Lung Cancer Patients

Coetzee SG, Shen HC, Hazelett DJ, Lawrenson K, Kuchenbaecker K, Tyrer J, Rhie SK, Levanon K, Karst A, Drapkin R, Ramus SJ, Ovarian Cancer Association Consortium, The Consortium of Investigators of Modifiers of BRCA1/2, Couch FJ, Offit K, Chenevix-Trench G, Monteiro AN, Antoniou A, Freedman M, Coetzee GA, Pharoah PD, Noushmehr H, Gayther SA, Ovarian Cancer Association Consortium The Consortium of Investigators of Modifiers of BRCA1/2

Cell-type-specific enrichment of risk-associated regulatory elements at ovarian cancer susceptibility loci. Hum Mol Genet 24 (13) :3595-607. PMID: 25804953
Invited Articles
Hildebrandt MA, Gu J, Wu X, Pharmacogenomics of platinum-based chemotherapy in NSCLC., 5 (7) :745-55, 2009
Wu X, Hildebrandt MA, Chang DW, Genome-wide association studies of bladder cancer risk: a field synopsis of progress and potential applications., 28 (3-4) :269-80, 2009
Hildebrandt M, Adjei A, Weinshilboum R, Johnson JA, Berlin DS, Klein TE, Altman RB, Very important pharmacogene summary: sulfotransferase 1A1., 19 (6) :404-6, 2009
Hildebrandt MA, Ajani JA, Hofstetter W, Swisher S, Wu X, The role of PI3K/PTEN/AKT/mTOR Genetic Variation and Clinical Outcomes following Chemoradiotherapy for Esophageal Cancer, 2009
| | |
| --- | --- |
| Title: | Molecular pathways linking obesity and RCC tumorigenesis: PQ1 |
| Funding Source: | NIH/NCI |
| Role: | Co-Investigator |
| | |
| --- | --- |
| Title: | Post-GWA studies in TGCT |
| Funding Source: | NIH/NCI |
| Role: | Principal Investigator - MDACC (Subcontract) |
| | |
| --- | --- |
| Title: | Genetic Epidemiology of non-Hodgkin Lymphoma |
| Funding Source: | NIH/NCI |
| Role: | Co-Investigator |
| | |
| --- | --- |
| Title: | Discovery of Novel Rare Variants as Ovarian Cancer Susceptibility Factors |
| Funding Source: | NIH/NCI |
| Role: | Principal Investigator (MPI contact) |