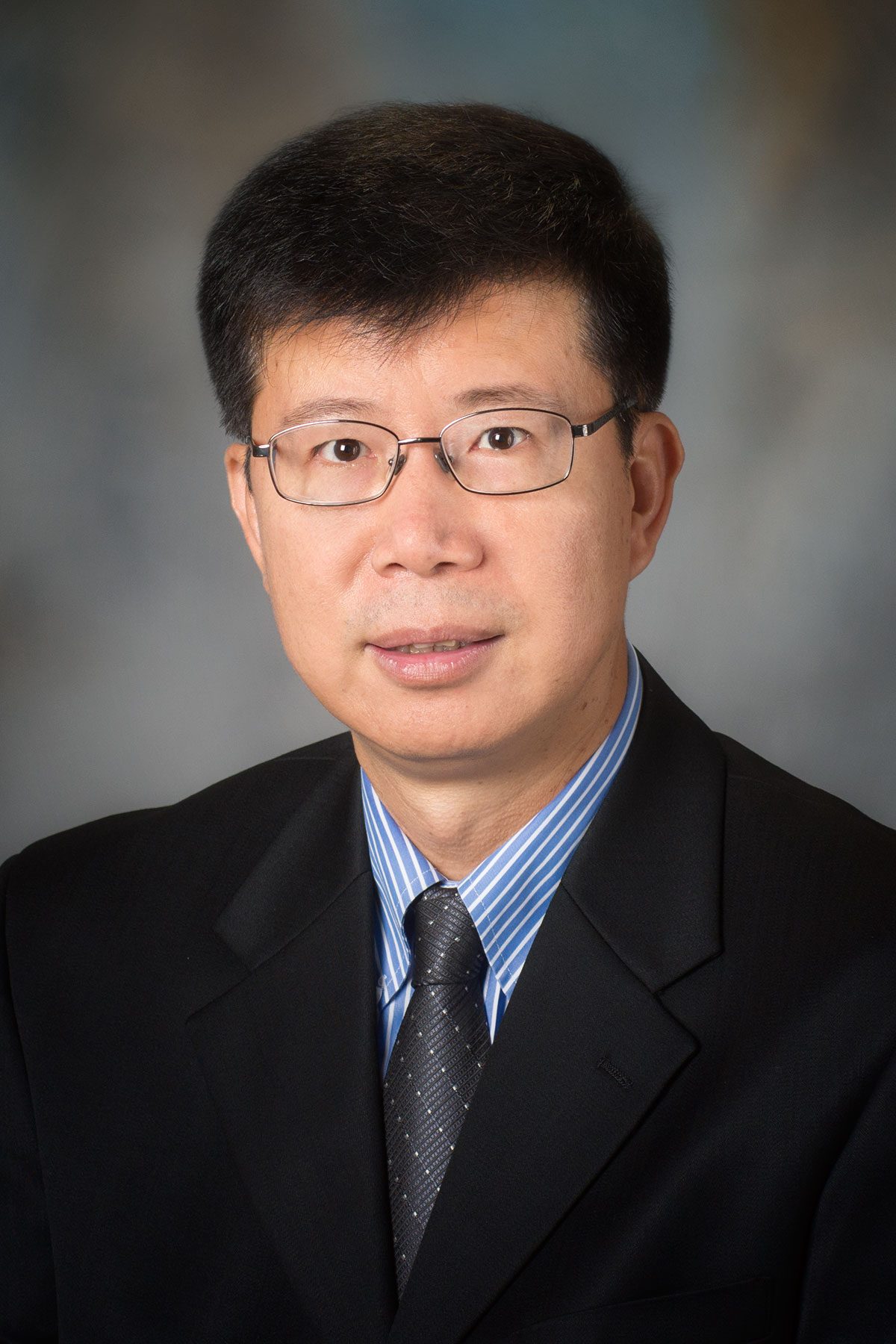 Ming Zhao, M.D., M.S
School of Health Professions, Division of Education & Training
Present Title & Affiliation
Primary Appointment
Associate Professor, Department of The School of Health Professions, Division of Academic Affairs, Sr VP Office, The University of Texas MD Anderson Cancer Center, Houston, TX
Associate Program Director, Department of Cytogenetic Technology Program, The School of Health Professions, Division of Academic Affairs, Sr VP Office, The University of Texas MD Anderson Cancer Center, Houston, TX
Degree-Granting Education
| | |
| --- | --- |
| 2008 | School of Health Professions, U.T. M.D. Anderson Cancer, Houston, TX, USA, BS, Cytogenetic Technology |
| 1998 | Peking Union Medical College, Beijing, CHN, MS, Biochemistry |
| 1991 | West China University of Medical Sciences (currently West China Medical Center of Sichuan University), Chengdu, CHN, MD (U.S equivalent), Preventive Medicine |
Institutional Committee Activities
Member, School of Health Professions Diagnostic Genetic Master Program Faculty Search Committee, 2019 - Present
Chair, School of Health Professions Diagnostic Genetic Master Program Admission Committee, 2019 - 2019
Member, School of Health Professions Classroom Schedule Committee, 2019 - Present
Member, School of Health Professions Diagnostic Genetic Master Program Faculty Search Committee, 2017 - Present
Member, School of Health Professions Molecular Genetic Program Faculty Search Committee, 2014 - Present
Member, School of Health Professions Diagnostic Genetic Master Program Admission Committee, 2014 - Present
Member, School of Health Professions Cytogenetic Technology Program Admission Committee, 2009 - Present
| | |
| --- | --- |
| 2016 | Performance Reward, School of Health Professions, University of Texas M.D. Anderson Cancer Center |
| 2015 | Performance Reward, School of Health Professions, University of Texas M.D. Anderson Cancer Center |
| 2012 | Outstanding Educator of the Year, School of Health Professions, University of Texas M.D. Anderson Cancer Center |
| 2011 | Outstanding Educator of the Year, School of Health Professions, University of Texas M.D. Anderson Cancer Center |
| 2011 | Staff Educator of the Month Award, University of Texas M.D. Anderson Cancer Center |
| 2008 | Honored Graduate, School of Health Sciences, University of Texas M.D. Anderson Cancer Center |
| 2008 | Jane and Phil Yeckel Scholarship, School of Health Sciences, University of Texas M.D. Anderson Cancer Center |
| 2008 | EXCEL Award, The Foundation For Genetic Technology |
| 2007 | XIXth Testis workshop & American Society of Andrology Oral Talk Award, American Society of Andrology |
| 2003 | XVIIth Testis workshop & American Society of Andrology Travel Award, American Society of Andrology |
| 1991 | Shi-Zhenxin Public Health Scholarship, China International Medical Foundation |
| 1991 | Outstanding Graduate, West China University of Medical Sciences |
American Society for Clinical Pathology Board of Certification Examination Committee
Member, 2020 - Present
Peer-Reviewed Articles
Cai T, Gouble A, Black KL, Naqvi AS, Taylor D, Zhao M, Yuan Q, Sugita M, Galetto R, Filipe S, Smith J, Cavazos A, Han L, Zhang Q, Kuruvilla V, Ma H, Konoplev S, Gu J, Tang G, Su XP, Neelapu SS, Lane AA, Kantarjian H, Guzman ML, Pemmaraju N, Smith J, Thomas-Tikhonenko A, Konopleva M

. Targeting CD123 in Blastic Plasmacytoid Dendritic Cell Neoplasm using Allogeneic Anti-CD123 CAR T Cells. Nature Communication 13(1):2228. e-Pub 2022.

Zhao M, Medeiros LJ, Wang W, Tang G, Jung HS, Sfamenos SM, Fang H, Touruner GA, Hu S, Yin C, Lin P, Gu J, Peng G, You MJ, Khoury JD, Wang SA, Tang Z

. Newly Designed Breakapart FISH Probe Identify Cases with True MECOM Rearrangement in Myeloid Malignancies. Cancer Genetics 262-263:23-29, 2022.

Baity M, Wang L, Correa AM, Zhang X, Zhang R, Pataer A, Wu S, Meng QH, Antonoff MB, Hofstetter WL, Mehran RJ, Rice DC, Roth JA, Sepesi B, Swisher SG, Vaporciyan AA, Walsh GL, Zhao M, Gu J, Fang B

. Glutathione reductase (GSR) gene deletion and chromosome 8 aneuploidy in primary lung cancers detected by fluorescence in situ hybridization. American Journal of Cancer Research 9(6):1201-1211, 2019.

Tang G, Hu S, Wang SA, Xie W, Lin P, Xu J, Toruner G, Zhao M, Gu J, Doty M, Li S, Medeiros LJ, Tang Z.

. t(3;8)(q26.2;q24) Often Leads to MECOM /MYC Rearrangement and is Commonly Associated with Therapy-Related Myeloid Neoplasms and/or Disease Progression. Journal of Molecular Diagnostics 21(2):343-351, 2019.

Naofal ME, Kim A, Yon HY, Baity M, Zhao M, Bui-Griffith J, Tang Z, Robinson M, Grubbs EG, Cote GJ, and Hu P

. Role of CDKN2C Fluorescence In Situ Hybridization in the Management of Medullary Thyroid Carcinoma. Annals of Clinical and Laboratory Science 47(5):523-528, 2017.

Jaso JM, Yin CC, Lu VW, Zhao M, Abruzzo LV, You MJ, Yang Y, Luthra R, Medeiros LJ, Lu G

. B acute lymphoblastic leukemia with t(14;19)(q32;p13.1) involving IGH/EPOR: a clinically aggressive subset of disease. Mod Pathol 27(3):382-9, 2014. e-Pub 2013. PMID: 24030742.

Li W, Wu J, Kim SY, Zhao M, Hearn SA, Zhang MQ, Meistrich ML, Mills AA

. Chd5 orchestrates chromatin remodelling during sperm development. Nat Commun 5:3812, 2014. e-Pub 2014. PMID: 24818823.

Qdaisat S, Zhao M, Qdaisat A, Harper AE, Gu J., Hopwood V

. Bone Marrow Cultures Stimulated with IL-2/CpG Oligonucleotide Benefits Chromosomal Aberration Detection of CLL Patients when Compared with Standard Culture. Journal of the Association of Genetic Technologists 40(4):219-222, 2014.

Lu G, Muddasani R, Orlowski RZ, Abruzzo LV, Qazilbash MH, You MJ, Wang Y, Zhao M, Chen S, Glitza IC, Medeiros LJ

. Plasma cell enrichment enhances detection of high-risk cytogenomic abnormalities by fluorescence in situ hybridization and improves risk stratification of patients with plasma cell neoplasms. Arch Pathol Lab Med 137(5):625-31, 2013. PMID: 23627452.

Iwamori N, Zhao M, Meistrich ML, Matzuk MM

. The testis-enriched histone demethylase, KDM4D, regulates methylation of histone H3 lysine 9 during spermatogenesis in the mouse but is dispensable for fertility. Biol Reprod 84(6):1225-34, 2011. e-Pub 2011. PMID: 21293030.

Yang L, Wang H, Kornblau SM, Graber DA, Zhang N, Matthews JA, Wang M, Weber DM, Thomas SK, Shah JJ, Zhang L, Lu G, Zhao M, Muddasani R, Yoo SY, Baggerly KA, Orlowski RZ

. Evidence of a role for the novel zinc-finger transcription factor ZKSCAN3 in modulating Cyclin D2 expression in multiple myeloma. Oncogene 30(11):1329-40, 2011. e-Pub 2010. PMID: 21057542.

Wang SA, Abruzzo LV, Hasserjian RP, Zhang L, Hu Y, Zhang Y, Zhao M, Galili N, Raza A, Medeiros LJ, Garcia-Manero G, Miranda RN

. Myelodysplastic syndromes with deletions of chromosome 11q lack cryptic MLL rearrangement and exhibit characteristic clinicopathologic features. Leuk Res 35(3):351-7, 2011. e-Pub 2010. PMID: 20691474.

Ishibashi T, Li A, Eirín-López JM, Zhao M, Missiaen K, Abbott DW, Meistrich M, Hendzel MJ, Ausió J

. H2A.Bbd: an X-chromosome-encoded histone involved in mammalian spermiogenesis. Nucleic Acids Res 38(6):1780-9, 2010. e-Pub 2009. PMID: 20008104.

Zhao M, Rohozinski J, Sharma M, Ju J, Braun RE, Bishop CE, Meistrich ML

. Utp14b: a unique retrogene within a gene that has acquired multiple promoters and a specific function in spermatogenesis. Dev Biol 304(2):848-59, 2007. e-Pub 2007. PMID: 17291484.

Bhattacharya C, Aggarwal S, Zhu R, Kumar M, Zhao M, Meistrich ML, Matin A

. The mouse dead-end gene isoform alpha is necessary for germ cell and embryonic viability. Biochem Biophys Res Commun 355(1):194-9, 2007. e-Pub 2007. PMID: 17291453.

Wang RA, Zhao M, Meistrich ML, Kumar R

. Stage-specific expression of dynein light chain-1 and its interacting kinase, p21-activated kinase-1, in rodent testes: implications in spermiogenesis. J Histochem Cytochem 53(10):1235-43, 2005. e-Pub 2005. PMID: 15983119.

Zhao M, Shirley CR, Mounsey S, Meistrich ML

. Nucleoprotein transitions during spermiogenesis in mice with transition nuclear protein Tnp1 and Tnp2 mutations. Biol Reprod 71(3):1016-25, 2004. e-Pub 2004. PMID: 15163613.

Zhao M, Shirley CR, Hayashi S, Marcon L, Mohapatra B, Suganuma R, Behringer RR, Boissonneault G, Yanagimachi R, Meistrich ML

. Transition nuclear proteins are required for normal chromatin condensation and functional sperm development. Genesis 38(4):200-13, 2004. PMID: 15083521.

Meistrich ML, Mohapatra B, Shirley CR, Zhao M

. Roles of transition nuclear proteins in spermiogenesis. Chromosoma 111(8):483-8, 2003. e-Pub 2003. PMID: 12743712.

Zhao M, Shirley CR, Yu YE, Mohapatra B, Zhang Y, Unni E, Deng JM, Arango NA, Terry NH, Weil MM, Russell LD, Behringer RR, Meistrich ML

. Targeted disruption of the transition protein 2 gene affects sperm chromatin structure and reduces fertility in mice. Mol Cell Biol 21(21):7243-55, 2001. PMID: 11585907.

Zhao, M., Liu, H.X., Liu, D.Y., Miao, S.Y., Wang, L.F.

. Preliminary study of stage-specific gene expression during rat spermatogenesis, using mRNA differential display. Basic Medical Sciences and Clinics(12):414-418, 1999.

Liu, H.X., Zhao, M., Miao,S.Y., Wang, L.F.

. Isolation and characterization of a novel, stage-specific full-length cDNA during spermatogenesis. Acta Academiae Medicinae Sinicae(21), 1999.

Wang,C.H., Wang, P.Y., Leng,X.G., Zhao, M., Liu, W.G., Shi,H.L.

. Influence of Polyvinylchloride Catheter on Blood Tissue Factor Activity. Chinese Journal of Biomedical Engineering(18):231-233, 1999.

Shi,H.L., Zhao, M., Wu,D., Wang, P.Y.

. Effect of the Long-Acting Degradable Delivery Drug Film on the Impaired Periodontium of Rats. Biomedical Engineering and Clinics(2):88-90, 1998.

Wang, P.Y., Zhao, M., Liu, W.G., Wang, C.H.

. Effect of biomedical polymers on tissue factor activity expressed on monocytes in vitro. Chinese Journal of Biomedical Engineering (English Edition)(2):85-89, 1997.

Zhao, M

. Role of Aggrecan in the Pathogenesis of Rheumatoid Arthritis. Basic Medical Sciences and Clinics(17):93-98, 1997.

Zhao, M

. Tissue factor pathway inhibitor (TFPI). Chinese Journal of Hematology(16):495-497, 1995.