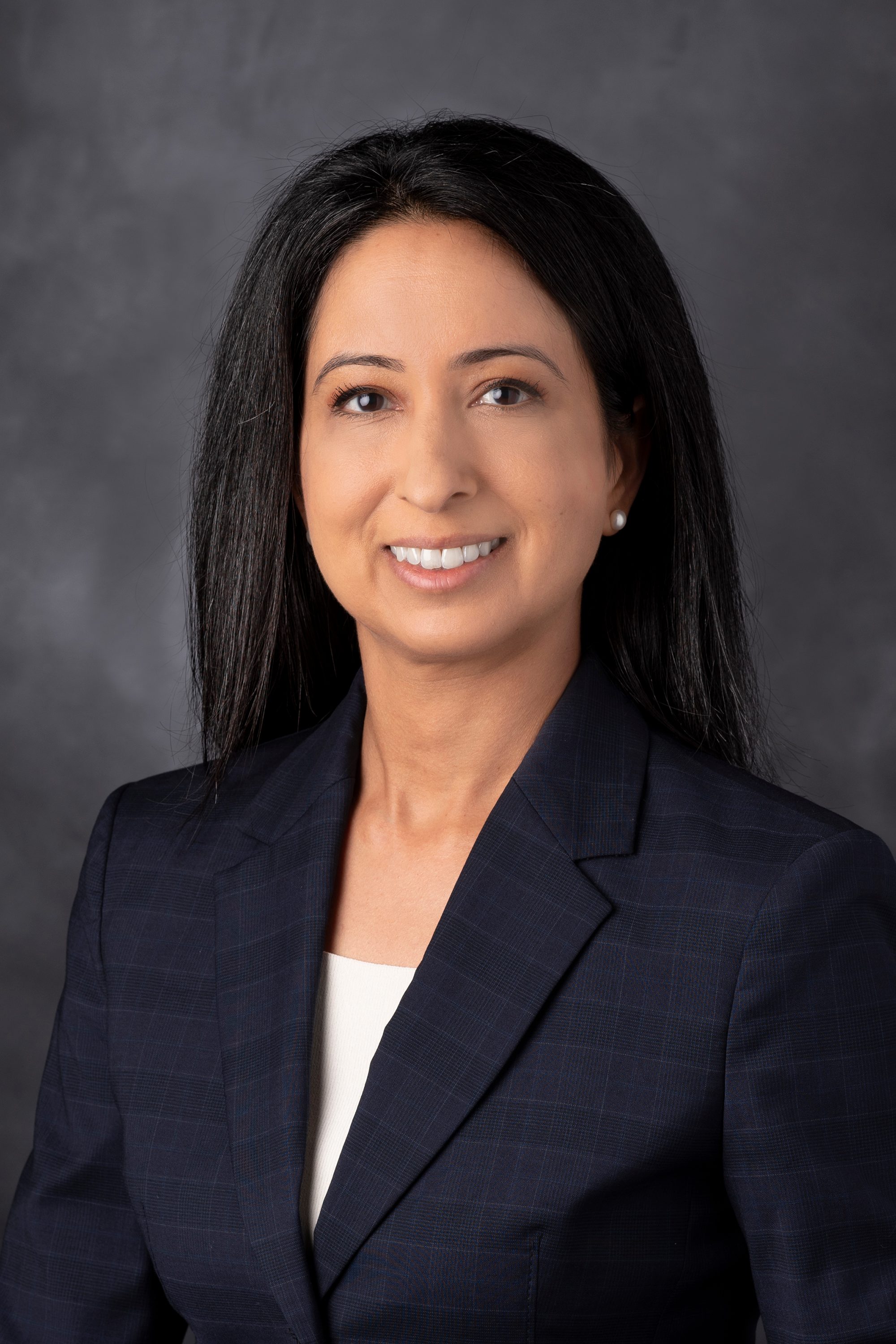 Monica Desai
Department of Genitourinary Medical Oncology, Division of Cancer Medicine
Present Title & Affiliation
Primary Appointment
Assistant Professor, Department of Genitourinary Medical Oncology, Division of Cancer Medicine, The University of Texas MD Anderson Cancer Center, Houston, TX
Degree-Granting Education
| | |
| --- | --- |
| 2008 | Baylor College of Medicine, Houston, TX, USA, MD, Internal Medicine |
| 2004 | Rice University, Houston, TX, USA, BA, Biology |
Postgraduate Training
| | |
| --- | --- |
| 2012-2014 | Clinical Fellowship, Hematology/Oncology (C0-Chief Fellow 2012-2014), Washington University/Barnes-Jewish Hospital, St. Louis, MO |
| 2011-2012 | Clinical Fellowship, Hematology/Oncology, The University of Texas-Southwestern, Dallas, TX |
| 2009-2011 | Clinical Residency, Internal Medicine, Washington University/Barnes-Jewish Hospital, St. Louis, MO |
| 2008-2009 | Clinical Internship, Internal Medicine, Washington University/Barnes-Jewish Hospital, St. Louis, MO |
| | |
| --- | --- |
| 2014 | American Board of Internal Medicine in Oncology |
| 2014 | American Board of Internal Medicine in Hematology |
| 2011 | American Board in Internal Medicine in Internal Medicine |
Other Appointments/Responsibilities
Physician Leader for Houston Methodist West Pharmacy & Therapeutics Committee, Methodist West (HMW) Hospital, Houston, TX, 2021 - 2023
Oncologist and Hematologist, Houston Methodist Hospital, Houston, TX, 2019 - 2023
Medical Director of Oncology Program Development & Outreach, Methodist West (HMW) Hospital, Houston, 2019 - 2023
Medical Oncology NAPBC Accreditation for HMW Hospital, Methodist West (HMW) Hospital, Houston, TX, 2019 - 2023
Medical Oncology Cancer Committee for Methodist West Hospital, Methodist West Hospital (MWH), Houston, TX, 2019 - 2023
Medical Oncology Leader for Rectal Cancer Center of Excellence, Houston Methodist Hospital, Houston, TX, 2017 - 2019
Moderator of Bimonthly Rectal Cancer Tumor Board, Houston Methodist Hospital, Houston, TX, 2017 - 2019
Medical Executive Committee Member, St. Luke's Hospital, St. Louis, MO, 2016 - 2017
Chair of Universal Lynch Cancer Screening Policy, St. Luke's Hospital, St. Louis, MO, 2015 - 2017
Blood Utilization Review Committee Member, St. Luke's Hospital, St. Louis, MO, 2015 - 2017
Oncology Steering Committee Member, St. Luke's Hospital, St. Louis, MO, 2015 - 2017
Head of Internal Medicine Residency Board Review Series, St. Lukes Hospital, St. Louis, MO, 2015 - 2017
| | |
| --- | --- |
| 2014 | Missouri Oncology Society Outstanding Fellow Award, Missouri Oncology Society |
| 2012 | Young Investigator Award for Research, American Pancreatic Association and Japan Pancreas Society |
| 2008 | Baylor College of Medicine Matthew Carter Award for Community Service and Outreach, Baylor College of Medicine |
| 2007 | Baylor College of Medicine Competitive Award for Academic Excellence, Baylor College of Medicine |
| 2003 | Phi Beta Kappa Rice University Chapter for Academic Excellence, Rice University |
American Society of Clinical Oncology, Houston, TX
Member, 2019 - Present
Texas Medical Association, Houston, TX
Member, 2019 - Present
American Society of Hematology, Houston, TX
Member, 2012 - Present
American Medical Association, Houston, TX
Member, 2011 - Present
Peer-Reviewed Articles
Clement Chung, Alison Rome, Monica Desai, Fred Abanonu, Cesar De la Casas

. Optimizing Multidisciplinary Toxicity Detection and Management in Patients Undergoing Active Cancer Treatments in Ambulatory Infusion Centers. JCO Oncol Practice 18(9):1553, 2022.

Ademuyiwa FO, Salyer P, Tao Y, Luo J, Hensing WL, Afolalu A, Peterson LL, Weilbaecher K, Housten AJ, Baumann AA, Desai M, Jones S, Linnenbringer E, Plichta J, Bierut L

. Genetic Counseling and Testing in African American Patients with Breast Cancer: A Nationwide Survey of US Breast Oncologists. J Clin Oncol 39(36):4020, 2021. e-Pub 2021. PMID: 34662201.

Minas.Economides, Amishi.Shah, CamiloJimenez, Mouhammed.Habra, Monica Desai, MatthewT.Campbell

. A Durable Response With the Combination of Nivolumab and Cabozantinib in a Patient with Metastatic Paraganglioma: A Case Report and Review of the Current Literature 11, 2020.

Amin M, Desai M, Trinkaus K, Brown A, Wang-Gillam A, Tan B, Picus J, Sorscher S, Highkin M, Lears K, Lockhart AC

. Phase II trial of levocetirizine with capecitabine and bevacizumab to overcome the resistance of antiangiogenic therapies in refractory metastatic colorectal cancer. J Gastrointest Oncol 10(3):412-420, 2019. PMID: 31183190.

Desai MD, Saroya BS, Lockhart AC

. Investigational therapies targeting the ErbB (EGFR, HER2, HER3, HER4) family in GI cancers. Expert Opin Investig Drugs 22(3):341-56, 2013. e-Pub 2013. PMID: 23316969.

Dandona M, Linehan D, Hawkins W, Strasberg S, Gao F, Wang-Gillam A

. Influence of obesity and other risk factors on survival outcomes in patients undergoing pancreaticoduodenectomy for pancreatic cancer. Pancreas 40(6):931-7, 2011. PMID: 21747317.

Subramanian J, Madadi AR, Dandona M, Williams K, Morgensztern D, Govindan R

. Review of ongoing clinical trials in non-small cell lung cancer: a status report for 2009 from the ClinicalTrials.gov website. J Thorac Oncol 5(8):1116-9, 2010. PMID: 20592626.

Dandona M, Gao F, Linehan DC, Wang-Gillam A

. Re: ABO blood group and the risk of pancreatic cancer. J Natl Cancer Inst 102(2):135-7; author reply 137, 2010. e-Pub 2009. PMID: 20019335.

Dandona MA, Morgensztern D, Auethevekiat V, Adkins D, Thorstad W, Nussenbaum B, Zhang Q, Kuperman DI

. Survival for Nasopharyngeal Cancer Presenting With Metastatic Disease 27(15), 2009.