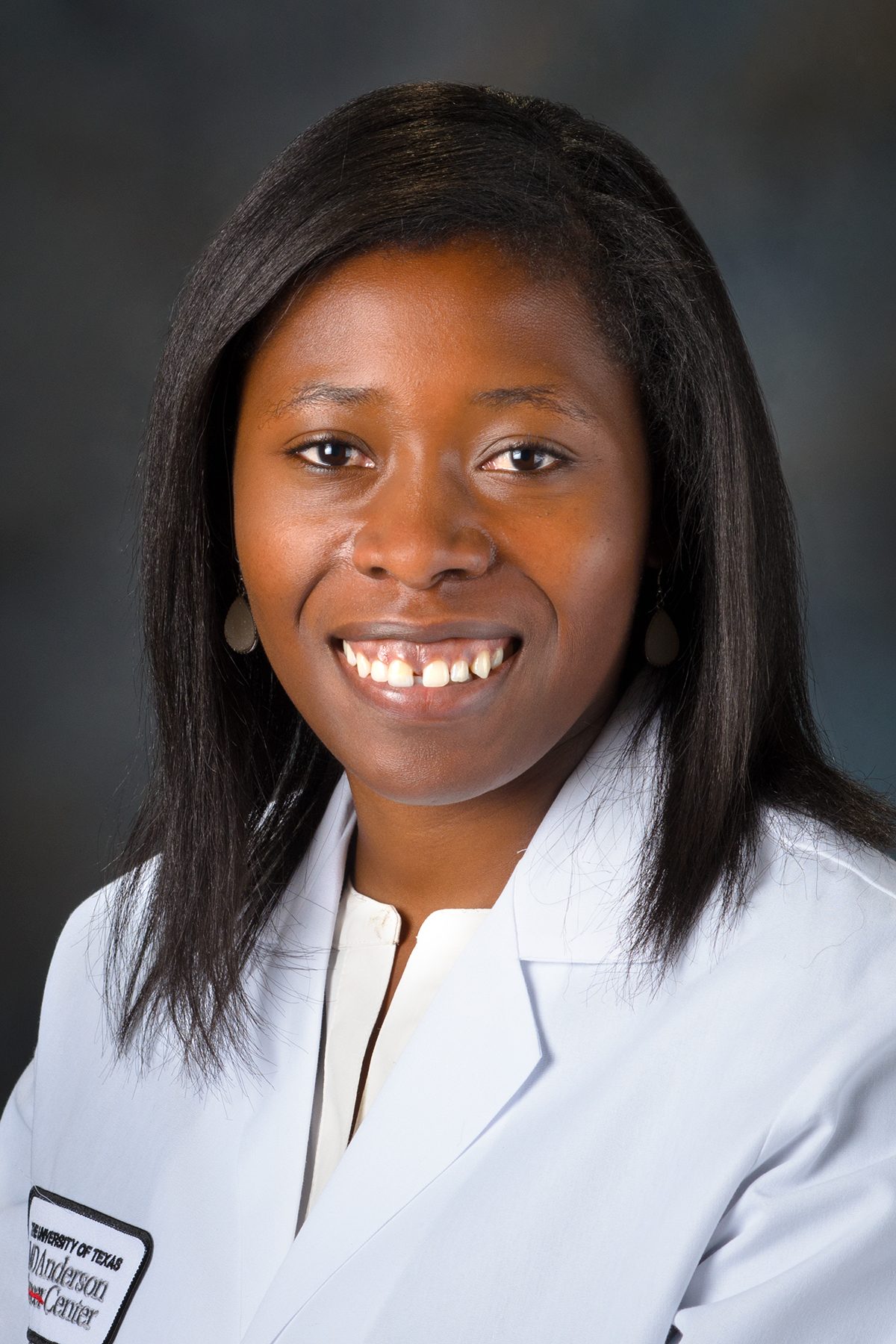 Oluchi C. Oke, MD
Department of General Oncology, Division of Cancer Medicine
Present Title & Affiliation
Primary Appointment
Assistant Professor, Department of General Oncology, Division of Cancer Medicine, University of Texas MD Anderson Cancer Center, The Woodlands, TX
Dual/Joint/Adjunct Appointment
Assistant Professor, Department of Breast Medical Oncology, Division of Cancer Medicine, University of Texas MD Anderson Cancer Center, The Woodlands, TX
Degree-Granting Education
| | |
| --- | --- |
| 2013 | University of Illinois College of Medicine, Peoria, IL, USA, MD, Doctor of Medicine |
| 2008 | Northwestern University, Evanston, IL, USA, BS, Communication Sciences & Disorders (Mj), African History (Mn) |
Postgraduate Training
| | |
| --- | --- |
| 2016-2019 | Hematology/Oncology Fellow, Hematology, University of Texas MD Anderson Cancer Center, Houston |
| 2013-2016 | Internal Medicine Residency, Vanderbilt University, Nashville, TN |
| | |
| --- | --- |
| 2019 | Hematology |
| 2019 | Oncology |
| 2016 | Internal Medicine |
Academic Appointments
Nocturnist, University of Texas MD Anderson Cancer Center, Houston, TX, 2018 - Present
| | |
| --- | --- |
| 2015 | Resident Travel Award, Conquer Cancer Foundation of American Society of Clinical Oncology |
| 2012 | The Doctor's Doctor, Merk Manual Award |
Houston Medical Forum, Houston, TX
Member, 2019 - Present
American Society of Hematology
Member, 2015 - Present
American Society of Clinical Oncology
Member, 2015 - Present
Peer-Reviewed Articles
Abstracts
Jambunathan S, Lang J, Mays M, Oke O

. Sociodemographic Trends in COVID-19 Mortality in Patients with Cancer: A Nationwide Analysis. Journal of Clinical Oncology, 2022.

Oke O, Niu J, Chavez-MacGregor M, Zhao H, Giordano SH

. Adjuvant Tamoxifen Adherence in Men with Early Breast Cancer. Journal of Clinical Oncology 36(15):550-550, 2018.

Oke O, Tang C, Chapin B, Aparicio A

. Impact of Definitive Local Therapy (LT) in Men with Primary Small Cell (or poorly differentiated neuroendocrine) Prostate Carcinomas (pSCPC). Journal of Clinical Oncology, 2018.

Oke O, Warneke CL, Chavez-Mac Gregor M, Milbourne A, Litton JK

. Outcomes Related to Delayed Initiation of Anti-HER 2 Therapy in Pregnant HER2 Positive Breast Cancer Patients. Journal of Clinical Oncology 35(15), 2017.

Shanavas M, Popat U, Michaelis LC, Fauble V, McLornan D, Klisovic R, Mascarenhas J, Tamari R, Arcasoy MO, Davies J, Gergis U, Ukaegbu OC, Kamble RT, Storring J M, Majhail NS, Romee R, Verstovsek S, Pagliuca A, Vasu S, Ernst B, Atenafu EG,Hanif A, Champlin R, Hari P, Gupta V

. Autologous Hematopoietic Cell Transplant Offers Prolonged Progression Free and Overall Survival in Patients with Light Chain Amyloidosis Compared with Chemotherapy Alone. Biol Blood Marrow Transplant 22(3):S233-S234, 2016.

Decker I, Ukaegbu OC, Goodman SA, Lenihan DJ, Hung RR, Kassim AA, Harrell SL, McDonagh K, Phillips SE, Rawling KT, Rubinstein SM, Sethi TK, Cornell RF

. Six-Minute Walk Test as a Measure of Functional Change after Chemotherapy in Cardiac AL Amyloidosis. American Society of Hematology 126(23):1841, 2015.

Hill L, Ukaegbu OC, Savani BN, Sengsayadeth S, Goodman S, Brandt SJ, Chinratanalab W

. Impact of Different Mobilization Methods on Graft Composition and Outcome after Autologous Stem Cell Transplantation: Implications for Upfront Use of Plerixafor. American Society of Hematology 124(21):1125, 2014.