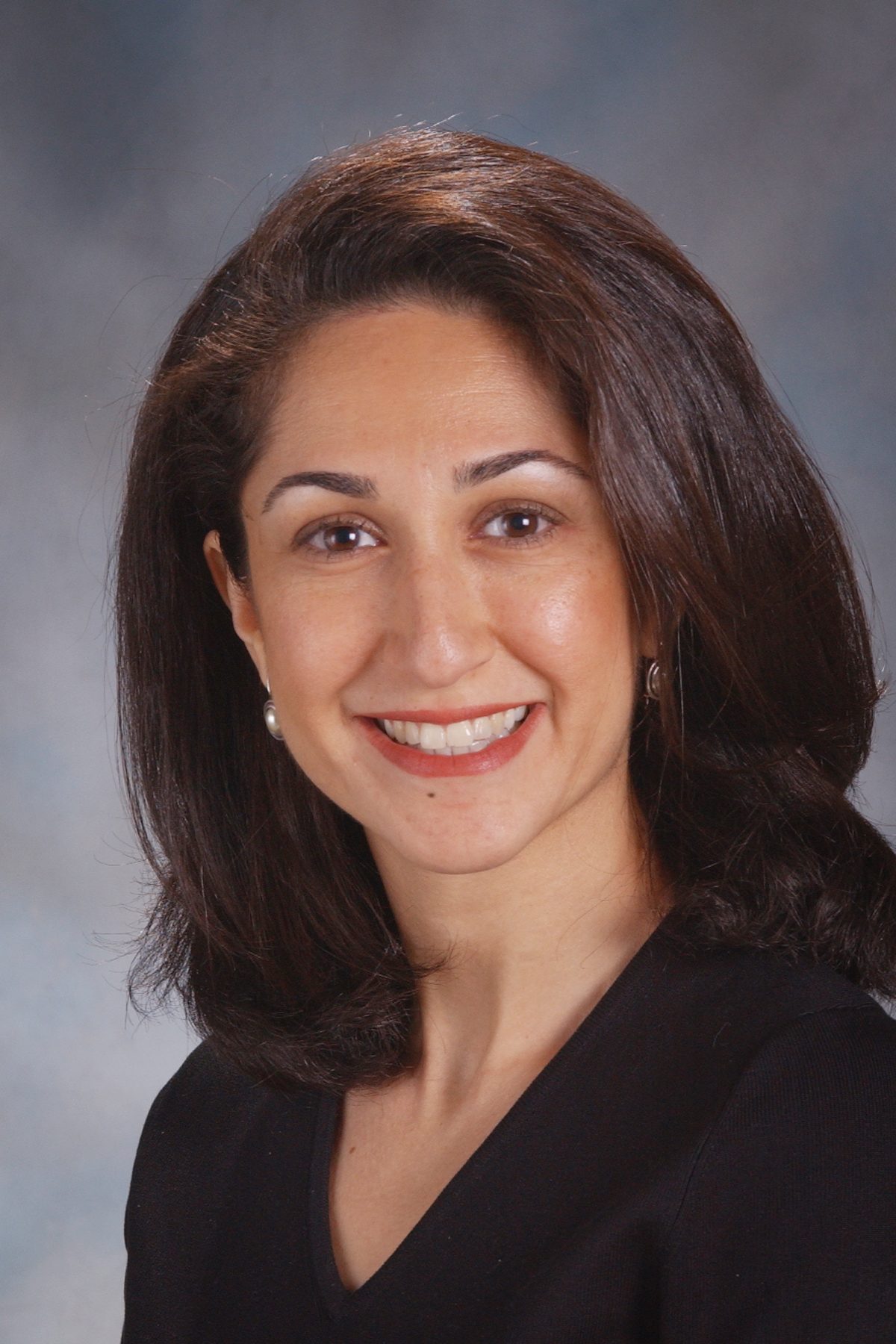 Partow Kebriaei, M.D.
Department of Stem Cell Transplantation and Cellular Therapy, Division of Cancer Medicine
About Dr. Kebriaei
Dr. Partow Kebriaei is a Professor in the Department of Stem Cell Transplant and Cellular Therapy at the MD Anderson Cancer Center in Houston, Texas. She completed her Hematology and Oncology fellowship training at the University of Chicago, and began her tenure at MD Anderson in 2003. Dr. Kebriaei's research interests include therapy of leukemias, in particular acute lymphoblastic leukemia, as well as autologous and allogeneic stem cell transplantation for lymphoma and leukemia. She is interested in the development of novel transplant preparative regimens that may have less regimen-related toxicity, and increased disease efficacy. More specifically, she is interested in investigating the use of traditional chemotherapeutic agents in combination with cellular therapies and adoptive immunotherapy to develop more effective treatment regimens. Work toward this aim includes investigating the use CD19-directed T cell therapy for lymphoid malignancies, using umbilical cord blood in combination with a standard allogeneic peripheral blood stem cell transplant to augment the graft versus leukemia effect, and investigating the use of mesenchymal stem cells for the therapy of graft versus host disease. Dr. Kebriaei has authored numerous reviews, book chapters, and papers, and serves as a reviewer for major hematology and oncology publications. She is an active member of hematology and oncology professional societies including American Association for Cancer Research, American Society of Hematology, American Society of Clinical Oncology, and American Society for Blood and Marrow Transplantation.
Read More
Primary Appointment
Professor, Department of Stem Cell Transplantation, Division of Cancer Medicine, The University of Texas MD Anderson Cancer Center, Houston, TX
Degree-Granting Education
| | |
| --- | --- |
| 1997 | The University of Texas Health Science Center, Houston, TX, USA, MD, Medicine |
| 1993 | Yale University, New Haven, CT, USA, BS, Biology |
Postgraduate Training
| | |
| --- | --- |
| 2000-2003 | Hematology/Oncology Fellowship, Everett Vokes, M.D., University of Chicago Medical Center, Chicago, IL |
| 1998-2000 | Internal Medicine Residency, Daniel W. Foster, M.D., University of Texas Southwestern Medical Center, Dallas, TX |
| 1997-1998 | Internal Medicine Internship, Daniel W. Foster, M.D., University of Texas Southwestern Medical Center, Dallas, TX |
| | |
| --- | --- |
| 2004 | Hematology |
| 2003 | Medical Oncology |
| 2001 | Internal Medicine |
Institutional Committee Activities
Member, Institutional Pre-Recombinant Advisory Committee, 2016 - Present
Chairperson, Acute & Critical Care Subcommittee, 2012 - Present
Chairperson, Intensive Care Unit Committee, 2010 - 2012
Member, Medical Practice Committee, 2010 - Present
Chairperson, Clinical Research Committee I, 2008 - 2011
Member, Medical Records Committee, 2008 - Present
Associate Member, Institutional Review Board 5, 2008 - 2012
Member, Council of Committee Chairs, 2007 - Present
Member, Clinical Research Committee 3, 2006 - 2007
| | |
| --- | --- |
| 2011 | Mid-Career Women Faculty Professional Development, Women Faculty Programs, University of Texas MD Anderson Cancer Center |
| 2003 | Merit Award, American Society of Clinical Oncology |
| 2002 | Molecular Biology Workshop, American Association for Cancer Research |
Peer-Reviewed Articles
Brammer JE, Khouri I, Marin D, Ledesma C, Rondon G, Ciurea SO, Nieto Y, Champlin RE, Hosing C, Kebriaei P

Stem cell transplantation outcomes in lymphoblastic lymphoma. Leuk Lymphoma 58 (2) :1-6, 2017. e-Pub 2016. PMID: 27348707

Oran B, Jorgensen JL, Marin D, Wang S, Ahmed S, Alousi AM, Andersson BS, Bashir Q, Bassett R, Lyons G, Chen J, Rezvani K, Popat U, Kebriaei P, Patel K, Rondon G, Shpall EJ, Champlin RE

Pretransplantion minimal residual disease with cytogenetic and molecular diagnostic features improves risk stratification in acute myeloid leukemia. Haematologica 102 (1) :110-117, 2017. e-Pub 2016. PMID: 27540139

Jabbour E, Short NJ, Jorgensen JL, Yilmaz M, Ravandi F, Wang SA, Thomas DA, Khoury J, Champlin RE, Khouri I, Kebriaei P, O'Brien SM, Garcia-Manero G, Cortes JE, Sasaki K, Dinardo CD, Kadia TM, Jain N, Konopleva M, Garris R, Kantarjian HM

Differential impact of minimal residual disease negativity according to the salvage status in patients with relapsed/refractory B-cell acute lymphoblastic leukemia. Cancer 123 (2) :294-302, 2017. e-Pub 2016. PMID: 27602508

Brammer JE, Saliba RM, Jorgensen JL, Ledesma C, Gaballa S, Poon M, Maziarz RT, Champlin RE, Hosing C, Kebriaei P

Multi-center analysis of the effect of T-cell acute lymphoblastic leukemia subtype and minimal residual disease on allogeneic stem cell transplantation outcomes. Bone Marrow Transplant 52 (1) :20-27, 2017. e-Pub 2016. PMID: 27618682

Issa GC, Kantarjian HM, Yin CC, Qiao W, Ravandi F, Thomas D, Short NJ, Sasaki K, Garcia-Manero G, Kadia TM, Cortes JE, Daver N, Borthakur G, Jain N, Konopleva M, Khouri I, Kebriaei P, Champlin RE, Pierce S, O'Brien SM, Jabbour E

Prognostic impact of pretreatment cytogenetics in adult Philadelphia chromosome-negative acute lymphoblastic leukemia in the era of minimal residual disease. Cancer 123 (3) :459-467, 2017. e-Pub 2016. PMID: 27696391

Kebriaei P, Bassett R, Lyons G, Valdez B, Ledesma C, Rondon G, Oran B, Ciurea S, Alousi A, Popat U, Patel K, Ahmed S, Olson A, Bashir Q, Shah N, Jones R, Marin D, Rezvani K, Nieto Y, Khouri I, Qazilbash M, Hosing C, Shpall E, Champlin RE, Andersson BS

Clofarabine Plus Busulfan is an Effective Conditioning Regimen for Allogeneic Hematopoietic Stem Cell Transplantation in Patients with Acute Lymphoblastic Leukemia: Long-Term Study Results. Biol Blood Marrow Transplant 23 (2) :285-292, 2017. e-Pub 2016. PMID: 27816651

Srour SA, Milton DR, Bashey A, Karduss-Urueta A, Al Malki MM, Romee R, Solomon S, Nademanee A, Brown S, Slade M, Perez R, Rondon G, Forman SJ, Champlin RE, Kebriaei P, Ciurea SO

Haploidentical Transplantation with Post-Transplantation Cyclophosphamide for High-Risk Acute Lymphoblastic Leukemia. Biol Blood Marrow Transplant 23 (2) :318-324, 2017. e-Pub 2016. PMID: 27856368

Andersson BS, Thall PF, Valdez BC, Milton DR, Al-Atrash G, Chen J, Gulbis A, Chu D, Martinez C, Parmar S, Popat U, Nieto Y, Kebriaei P, Alousi A, de Lima M, Rondon G, Meng QH, Myers A, Kawedia J, Worth LL, Fernandez-Vina M, Madden T, Shpall EJ, Jones RB, Champlin RE

Fludarabine with pharmacokinetically guided IV busulfan is superior to fixed-dose delivery in pretransplant conditioning of AML/MDS patients. Bone Marrow Transplant 52 (4) :580-587, 2017. e-Pub 2016. PMID: 27991894

Gaballa S, Saliba R, Oran B, Brammer JE, Chen J, Rondon G, Alousi AM, Kebriaei P, Marin D, Popat UR, Andersson BS, Shpall EJ, Jabbour E, Daver N, Andreeff M, Ravandi F, Cortes J, Patel K, Champlin RE, Ciurea SO

Relapse risk and survival in patients with FLT3 mutated acute myeloid leukemia undergoing stem cell transplantation. Am J Hematol 92 (4) :331-337, 2017. e-Pub 2017. PMID: 28052408

Thompson PA, Stingo F, Keating MJ, Wierda WG, O'Brien SM, Estrov Z, Ledesma C, Rezvani K, Qazilbash M, Shah N, Parmar S, Popat U, Anderlini P, Yago N, Ciurea SO, Kebriaei P, Champlin R, Shpall EJ, Hosing CM

Long-term follow-up of patients receiving allogeneic stem cell transplant for chronic lymphocytic leukaemia: mixed T-cell chimerism is associated with high relapse risk and inferior survival. Br J Haematol 177 (4) :567-577, 2017. e-Pub 2017. PMID: 28295181

Thompson PA, Perera T, Marin D, Oran B, Popat U, Qazilbash M, Shah N, Parmar S, Rezvani K, Olson A, Kebriaei P, Anderlini P, Rondon G, Alousi A, Ciurea S, Champlin RE, Bajel A, Szer J, Shpall EJ, Ritchie D, Hosing CM

Double Umbilical Cord Blood Transplantation (dUCB) is effective therapy for relapsed or refractory Hodgkin Lymphoma. Leuk Lymphoma 57 (7) :1-23, 2016. e-Pub 2015. PMID: 26472485

Ravandi F, Jorgensen JL, O'Brien SM, Jabbour E, Thomas DA, Borthakur G, Garris R, Huang X, Garcia-Manero G, Burger JA, Ferrajoli A, Wierda W, Kadia T, Jain N, Wang SA, Konoplev S, Kebriaei P, Champlin RE, McCue D, Estrov Z, Cortes JE, Kantarjian HM

Minimal residual disease assessed by multi-parameter flow cytometry is highly prognostic in adult patients with acute lymphoblastic leukaemia. Br J Haematol 172 (3) :392-400, 2016. e-Pub 2015. PMID: 26492205

Aung FM, Lichtiger B, Rondon G, Yin CC, Alousi A, Ahmed S, Andersson BS, Bashir Q, Ciurea SO, Hosing C, Jones R, Kebriaei P, Khouri I, Nieto Y, Oran B, Parmar S, Qazilbash M, Shah N, Shpall EJ, Champlin RE, Popat U

Pure Red Cell Aplasia in Major ABO-Mismatched Allogeneic Hematopoietic Stem Cell Transplantation Is Associated with Severe Pancytopenia. Biol Blood Marrow Transplant 22 (5) :961-5, 2016. e-Pub 2016. PMID: 26921820

Varma A, Saliba RM, Torres HA, Afrough A, Hosing C, Khouri IF, Nieto Y, Shah ND, Parmar S, Bashir Q, Ahmed S, Jones RB, Kebriaei P, Olson AL, Shpall EJ, Alousi AM, Qazilbash MH, Champlin RE, Popat U

Outcomes in hepatitis C virus seropositive lymphoma and myeloma patients after autologous stem cell transplantation. Bone Marrow Transplant 51 (7) :999-1001, 2016. e-Pub 2016. PMID: 26950376

Oliver N, Luong T, Tchakarov A, Abdelrahim M, Mulanovich VE, Kontoyiannis DP, Jones R, Kebriaei P, Samuels J, Glass W, Abudayyeh A

Disseminated cryptococcal infection in allogeneic stem cell transplant patients: a rare cause of acute kidney injury. Bone Marrow Transplant 51 (10) :1301-1304, 2016. e-Pub 2016. PMID: 27159179

Gutierrez C, Kebriaei P, Turner KA, Yemelyanova A, Ariza-Heredia EJ, Foo WC

A unique presentation of acute liver failure from herpes simplex virus hepatitis. Transpl Infect Dis 18 (4) :592-4, 2016. e-Pub 2016. PMID: 27222930

Sekine T, Marin D, Cao K, Li L, Mehta P, Shaim H, Sobieski C, Jones R, Oran B, Hosing C, Rondon G, Alsuliman A, Paust S, Andersson B, Popat U, Kebriaei P, Muftuoglu M, Basar R, Kondo K, Nieto Y, Shah N, Olson A, Alousi A, Liu E, Sarvaria A, Parmar S, Armstrong-James D, Imahashi N, Molldrem J, Champlin R, Shpall EJ, Rezvani K

Specific combinations of donor and recipient KIR-HLA genotypes predict for large differences in outcome after cord blood transplantation. Blood 128 (2) :297-312, 2016. e-Pub 2016. PMID: 27247137

Alatrash G, Thall PF, Valdez BC, Fox PS, Ning J, Garber HR, Janbey S, Worth LL, Popat U, Hosing C, Alousi AM, Kebriaei P, Shpall EJ, Jones RB, de Lima M, Rondon G, Chen J, Champlin RE, Andersson BS

Long-Term Outcomes after Treatment with Clofarabine ± Fludarabine with Once-Daily Intravenous Busulfan as Pretransplant Conditioning Therapy for Advanced Myeloid Leukemia and Myelodysplastic Syndrome. Biol Blood Marrow Transplant 22 (10) :1792-800, 2016. e-Pub 2016. PMID: 27377901

Gaballa S, Ge I, El Fakih R, Brammer JE, Kongtim P, Tomuleasa C, Wang SA, Lee D, Petropoulos D, Cao K, Rondon G, Chen J, Hammerstrom A, Lombardi L, Alatrash G, Korbling M, Oran B, Kebriaei P, Ahmed S, Shah N, Rezvani K, Marin D, Bashir Q, Alousi A, Nieto Y, Qazilbash M, Hosing C, Popat U, Shpall EJ, Khouri I, Champlin RE, Ciurea SO

Results of a 2-arm, phase 2 clinical trial using post-transplantation cyclophosphamide for the prevention of graft-versus-host disease in haploidentical donor and mismatched unrelated donor hematopoietic stem cell transplantation. Cancer 122 (21) :3316-3326, 2016. e-Pub 2016. PMID: 27404668

Milgrom SA, Nieto Y, Pinnix CC, Smith GL, Wogan CF, Rondon G, Medeiros LJ, Kebriaei P, Dabaja BS

Graft-versus-host disease after radiation therapy in patients who have undergone allogeneic stem cell transplantation: two case reports. J Med Case Rep 10:209, 2016. e-Pub 2016. PMID: 27465468

Kebriaei P, Singh H, Huls MH, Figliola MJ, Bassett R, Olivares S, Jena B, Dawson MJ, Kumaresan PR, Su S, Maiti S, Dai J, Moriarity B, Forget MA, Senyukov V, Orozco A, Liu T, McCarty J, Jackson RN, Moyes JS, Rondon G, Qazilbash M, Ciurea S, Alousi A, Nieto Y, Rezvani K, Marin D, Popat U, Hosing C, Shpall EJ, Kantarjian H, Keating M, Wierda W, Do KA, Largaespada DA, Lee DA, Hackett PB, Champlin RE, Cooper LJ

Phase I trials using Sleeping Beauty to generate CD19-specific CAR T cells. J Clin Invest 126 (9) :3363-76, 2016. e-Pub 2016. PMID: 27482888

Short NJ, Kantarjian HM, Sasaki K, Cortes JE, Ravandi F, Thomas DA, Garcia-Manero G, Khouri I, Kebriaei P, Champlin RE, Pierce S, Issa GC, Konopleva M, Kadia TM, Bueso-Ramos C, Khoury JD, Jain N, O'Brien SM, Jabbour E

Prognostic significance of day 14 bone marrow evaluation in adults with Philadelphia chromosome-negative acute lymphoblastic leukemia. Cancer 122 (24) :3812-3820, 2016. e-Pub 2016. PMID: 27508525

Hurton LV, Singh H, Najjar AM, Switzer KC, Mi T, Maiti S, Olivares S, Rabinovich B, Huls H, Forget MA, Datar V, Kebriaei P, Lee DA, Champlin RE, Cooper LJ

Tethered IL-15 augments antitumor activity and promotes a stem-cell memory subset in tumor-specific T cells. Proc Natl Acad Sci U S A 113 (48) :E7788-E7797, 2016. e-Pub 2016. PMID: 27849617

Mian I, Milton DR, Shah N, Nieto Y, Popat UR, Kebriaei P, Parmar S, Oran B, Shah JJ, Manasanch EE, Orlowski RZ, Shpall EJ, Champlin RE, Qazilbash MH, Bashir Q

Prolonged survival with a longer duration of maintenance lenalidomide after autologous hematopoietic stem cell transplantation for multiple myeloma. Cancer 122 (24) :3831-3837, 2016. e-Pub 2016. PMID: 27680710

Gul Z, Bashir Q, Cremer M, Yusuf SW, Gunaydin H, Arora S, Slone S, Nieto Y, Sherwani N, Parmar S, Shah N, Dinh YT, Hosing CM, Popat UR, Kebriaei P, Shpall EJ, Giralt SA, Champlin RE, Qazilbash MH

Short-term Cardiac Toxicity of Autologous Hematopoietic Stem Cell Transplantation for Multiple Myeloma. Leuk Lymphoma 56 (2) :1-8, 2015. e-Pub 2014. PMID: 24882259

Kongtim P, Di Stasi A, Rondon G, Chen J, Adekola K, Popat U, Oran B, Kebriaei P, Andersson BS, Champlin RE, Ciurea SO

Can a Female Donor for a Male Recipient Decrease the Relapse Rate for Patients With Acute Myeloid Leukemia Treated With Allogeneic Hematopoietic Stem Cell Transplantation? Biol Blood Marrow Transplant 21 (4) :713-9, 2015. e-Pub 2014. PMID: 25540936

Hobbs GS, Hamdi A, Hilden PD, Goldberg JD, Poon ML, Ledesma C, Devlin SM, Rondon G, Papadopoulos EB, Jakubowski AA, O'Reilly RJ, Champlin RE, Giralt S, Perales MA, Kebriaei P

Comparison of outcomes at two institutions of patients with ALL receiving ex vivo T-cell-depleted or unmodified allografts. Bone Marrow Transplant 50 (4) :493-8, 2015. e-Pub 2015. PMID: 25621808

Alousi AM, Brammer JE, Saliba RM, Andersson B, Popat U, Hosing C, Jones R, Shpall EJ, Khouri I, Qazilbash M, Nieto Y, Shah N, Ahmed S, Oran B, Al Atrash G, Ciurea S, Kebriaei P, Chen J, Rondon G, Champlin RE

Phase Ii Trial Of Gvhd Prophylaxis with Post-Transplantation Cyclophosphamide Following Reduced-Intensity Busulfan/Fludarabine (Bu/Flu) Conditioning for Hematological Malignancies. Biol Blood Marrow Transplant 21 (5) :906-12, 2015. e-Pub 2015. PMID: 25667989

Liadi I, Singh H, Romain G, Rey-Villamizar N, Merouane A, Adolacion JR, Kebriaei P, Huls H, Qiu P, Roysam B, Cooper LJ, Varadarajan N

Individual Motile CD4+ T Cells Can Participate in Efficient Multikilling through Conjugation to Multiple Tumor Cells. Cancer Immunol Res 3 (5) :473-82, 2015. e-Pub 2015. PMID: 25711538

Shah N, Thall PF, Fox PS, Bashir Q, Shah JJ, Parmar S, Lin P, Kebriaei P, Nieto Y, Popat UR, Hosing CM, Cornelison A, Shpall EJ, Orlowski RZ, Champlin RE, Qazilbash MH

Phase I/II trial of lenalidomide and high-dose melphalan with autologous stem cell transplantation for relapsed myeloma. Leukemia 29 (9) :1945-8, 2015. e-Pub 2015. PMID: 25721897

Popat U, Mehta RS, Rezvani K, Fox P, Kondo K, Marin D, McNiece I, Oran B, Hosing C, Olson A, Parmar S, Shah N, Andreeff M, Kebriaei P, Kaur I, Yvon E, de Lima M, Cooper LJ, Tewari P, Champlin RE, Nieto Y, Andersson BS, Alousi A, Jones RB, Qazilbash MH, Bashir Q, Ciurea S, Ahmed S, Anderlini P, Bosque D, Bollard C, Molldrem JJ, Chen J, Rondon G, Thomas M, Miller L, Wolpe S, Simmons P, Robinson S, Zweidler-McKay PA, Shpall EJ

Enforced fucosylation of cord blood hematopoietic cells accelerates neutrophil and platelet engraftment after transplantation. Blood 125 (19) :2885-92, 2015. e-Pub 2015. PMID: 25778529

Kebriaei P

Allo-transplant for older patients with acute lymphoblastic leukemia: does it work? Leuk Lymphoma 56 (10) :1-2, 2015. e-Pub 2015. PMID: 25721757

Oran B, Jimenez AM, De Lima M, Popat UR, Bassett R, Andersson BS, Borthakur G, Bashir Q, Chen J, Ciurea SO, Jabbour E, Cortes J, Kebriaei P, Khouri IF, Qazilbash MH, Ravandi F, Rondon G, Lu X, Shpall EJ, Champlin RE

Age and Modified European LeukemiaNet Classification to Predict Transplant Outcomes: An Integrated Approach for Acute Myelogenous Leukemia Patients Undergoing Allogeneic Stem Cell Transplantation. Biol Blood Marrow Transplant 21 (8) :1405-12, 2015. e-Pub 2015. PMID: 25840338

Konopleva M, Benton CB, Thall PF, Zeng Z, Shpall E, Ciurea S, Kebriaei P, Alousi A, Popat U, Anderlini P, Nieto Y, Parmar S, Qiao W, Chen J, Rondon G, McMullin B, Wang RY, Lu H, Schober W, Woodworth G, Gulbis A, Cool R, Andreeff M, Champlin R

Leukemia cell mobilization with G-CSF plus plerixafor during busulfan-fludarabine conditioning for allogeneic stem cell transplantation. Bone Marrow Transplant 50 (7) :939-46, 2015. e-Pub 2015. PMID: 25867648

Kebriaei P, Poon ML

Future of Therapy in Acute Lymphoblastic Leukemia (ALL)-Potential Role of Immune-Based Therapies. Curr Hematol Malig Rep 10 (2) :76-85, 2015. PMID: 25899862

Thompson PA, Rezvani K, Hosing CM, Oran B, Olson AL, Popat UR, Alousi AM, Shah ND, Parmar S, Bollard C, Hanley P, Kebriaei P, Cooper L, Kellner J, McNiece IK, Shpall EJ

Umbilical cord blood graft engineering: challenges and opportunities. Bone Marrow Transplant 50 Suppl 2:S55-62, 2015. PMID: 26039209

Kongtim P, Lee DA, Cooper LJ, Kebriaei P, Champlin RE, Ciurea SO

Haploidentical Hematopoietic Stem Cell Transplantation as Platform for Post-transplant Cellular Therapy. Biol Blood Marrow Transplant 21 (10) :1714-20, 2015. e-Pub 2015. PMID: 26172479

Lee HC, Saliba RM, Rondon G, Chen J, Charafeddine Y, Medeiros LJ, Alatrash G, Andersson BS, Popat U, Kebriaei P, Ciurea S, Oran B, Shpall E, Champlin R

Mixed T-lymphocyte chimerism after allogeneic hematopoietic transplantation is predictive for relapse of AML/MDS. Biol Blood Marrow Transplant 21 (11) :1948-54, 2015. e-Pub 2015. PMID: 26183077

El Fakih R, Fox P, Popat U, Nieto Y, Shah N, Parmar S, Oran B, Ciurea S, Kebriaei P, Hosing C, Ahmed S, Shah J, Orlowski R, Champlin R, Qazilbash M, Bashir Q

Autologous Hematopoietic Stem Cell Transplantation in Dialysis-Dependent Myeloma Patients. Clin Lymphoma Myeloma Leuk 15 (8) :472-6, 2015. e-Pub 2015. PMID: 25963284

Kazmi SM, Nusrat M, Gunaydin H, Cornelison AM, Shah N, Kebriaei P, Nieto Y, Parmar S, Popat UR, Oran B, Shah JJ, Orlowski RZ, Champlin RE, Qazilbash MH, Bashir Q

Outcomes Among High-Risk and Standard-Risk Multiple Myeloma Patients Treated With High-Dose Chemotherapy and Autologous Hematopoietic Stem-Cell Transplantation. Clin Lymphoma Myeloma Leuk 15 (11) :687-93, 2015. e-Pub 2015. PMID: 26361647

Oran B, Cao K, Saliba RM, Rezvani K, de Lima M, Ahmed S, Hosing CM, Popat UR, Carmazzi Y, Kebriaei P, Nieto Y, Rondon G, Willis D, Shah N, Parmar S, Olson A, Moore B, Marin D, Mehta R, Fernández-Viña M, Champlin RE, Shpall EJ

BETTER ALLELE-LEVEL MATCHING IMPROVES TRANSPLANT RELATED MORTALITY AFTER DOUBLE CORD BLOOD TRANSPLANTATION. Haematologica 100 (10) :1361-70, 2015. e-Pub 2015. PMID: 26250579

Ravandi F, O'Brien SM, Cortes JE, Thomas DM, Garris R, Faderl S, Burger JA, Rytting ME, Ferrajoli A, Wierda WG, Verstovsek S, Champlin R, Kebriaei P, McCue DA, Huang X, Jabbour E, Garcia-Manero G, Estrov Z, Kantarjian HM

Long-term follow-up of a phase 2 study of chemotherapy plus dasatinib for the initial treatment of patients with Philadelphia chromosome-positive acute lymphoblastic leukemia. Cancer 121 (23) :4158-64, 2015. e-Pub 2015. PMID: 26308885

Bachanova V, Marks DI, Zhang MJ, Wang H, de Lima M, Aljurf MD, Arellano M, Artz AS, Bacher U, Cahn JY, Chen YB, Copelan EA, Drobyski WR, Gale RP, Greer JP, Gupta V, Hale GA, Kebriaei P, Lazarus HM, Lewis ID, Lewis VA, Liesveld JL, Litzow MR, Loren AW, Miller AM, Norkin M, Oran B, Pidala J, Rowe JM, Savani BN, Saber W, Vij R, Waller EK, Wiernik PH, Weisdorf DJ

Ph+ ALL patients in first complete remission have similar survival after reduced intensity and myeloablative allogeneic transplantation: Impact of tyrosine kinase inhibitor and minimal residual disease. Leukemia 28 (3) :658-65, 2014. e-Pub 2013. PMID: 23989431

Marks DI, Woo KA, Zhong X, Appelbaum FR, Bachanova V, Barker JN, Brunstein CG, Gibson J, Kebriaei P, Lazarus HM, Olsson R, Perales MA, Pidala J, Savani B, Rocha V, Eapen M

Unrelated umbilical cord blood transplant for adult acute lymphoblastic leukemia in first and second complete remission: a comparison with allografts from adult unrelated donors. Haematologica 99 (2) :322-8, 2014. e-Pub 2013. PMID: 24056817

Mehta RS, Di Stasi A, Andersson BS, Nieto Y, Jones R, de Lima M, Hosing C, Popat U, Kebriaei P, Oran B, Alousi A, Rezvani K, Qazilbash M, Bashir Q, Bollard C, Cooper L, Worth L, Tewari P, McNiece I, Willhelm K, Champlin R, Shpall EJ

The Development of a Myeloablative, Reduced-Toxicity, Conditioning Regimen for Cord Blood Transplantation. Clin Lymphoma Myeloma Leuk 14 (1) :e1-5, 2014. e-Pub 2013. PMID: 24169268

Singh H, Huls H, Kebriaei P, Cooper LJ

A new approach to gene therapy using Sleeping Beauty to genetically modify clinical-grade T cells to target CD19. Immunol Rev 257 (1) :181-90, 2014. PMID: 24329797

Zhou Y, Slack R, Jorgensen JL, Wang SA, Rondon G, de Lima M, Shpall E, Popat U, Ciurea S, Alousi A, Qazilbash M, Hosing C, O'Brien S, Thomas D, Kantarjian H, Medeiros LJ, Champlin RE, Kebriaei P

The Effect of Peritransplant Minimal Residual Disease in Adults With Acute Lymphoblastic Leukemia Undergoing Allogeneic Hematopoietic Stem Cell Transplantation. Clin Lymphoma Myeloma Leuk 14 (4) :319-26, 2014. e-Pub 2014. PMID: 24548609

Bear AS, Hanley PJ, Bosque DM, Cruz CR, Kaur I, Liu H, Kebriaei P, Hosing C, Rezvani K, Oran B, De Lima MJ, Bollard CM, Shpall EJ

Low rate of infusional toxicity after expanded cord blood transplantation. Cytotherapy 16 (8) :1153-7, 2014. e-Pub 2014. PMID: 24582458

Nadeem S, Hymes S, Kebriaei P, Abruzzo L, Curry JL, Duvic M

Alopecia areata after HLA-identical BMT from an affected, sibling donor. Bone Marrow Transplant 49 (4) :592-4, 2014. e-Pub 2014. PMID: 24442249

Parmar S, de Lima M, Worth L, Petropoulos D, Lee D, Cooper L, Kongtim P, Alousi A, Hosing C, Popat U, Kebriaei P, McNiece I, Shpall E, Rondon G, Champlin R

Is there an expiration date for a cord blood unit in storage? Bone Marrow Transplant 49 (8) :1109-12, 2014. e-Pub 2014. PMID: 24797184

Benjamini O, Dumlao TL, Kantarjian H, O'Brien S, Garcia-Manero G, Faderl S, Jorgensen J, Luthra R, Garris R, Thomas D, Kebriaei P, Champlin R, Jabbour E, Burger J, Cortes J, Ravandi F

Phase II trial of hyper CVAD and dasatinib in patients with relapsed Philadelphia chromosome positive acute lymphoblastic leukemia or blast phase chronic myeloid leukemia. Am J Hematol 89 (3) :282-7, 2014. PMID: 24779033

Törlén J, Ringdén O, Le Rademacher J, Batiwalla M, Chen J, Erkers T, Ho V, Kebriaei P, Keever-Taylor C, Kindwall-Keller T, Lazarus HM, Laughlin MJ, Lill M, O'Brien T, Perales MA, Rocha V, Savani BN, Szwajcer D, Valcarcel D, Eapen M

Low CD34 Dose Is Associated with Poor Survival after Reduced-Intensity Conditioning Allogeneic Transplantation for Acute Myeloid Leukemia and Myelodysplastic Syndrome. Biol Blood Marrow Transplant 20 (9) :1418-25, 2014. e-Pub 2014. PMID: 24892261

Hamdi A, Mawad R, Bassett R, di Stasi A, Ferro R, Afrough A, Ram R, Dabaja B, Rondon G, Champlin R, Sandmaier BM, Doney K, Bar M, Kebriaei P

Central Nervous System Relapse in Adults with Acute Lymphoblastic Leukemia after Allogeneic Hematopoietic Stem Cell Transplantation. Biol Blood Marrow Transplant 20 (11) :1767-71, 2014. e-Pub 2014. PMID: 25017763

Ariza-Heredia EJ, Gulbis AM, Stolar KR, Kebriaei P, Shah DP, McConn KK, Champlin RE, Chemaly RF

Vaccination guidelines after hematopoietic stem cell transplantation: practitioners' knowledge, attitudes, and gap between guidelines and clinical practice. Transpl Infect Dis 16 (6) :878-86, 2014. e-Pub 2014. PMID: 25405922

Tewari P, Franklin AR, Tarek N, Askins MA, Mofield S, Kebriaei P

Hematopoietic stem cell transplantation in adolescents and young adults. Acta Haematol 132 (3-4) :313-25, 2014. e-Pub 2014. PMID: 25228557

Oran B, Popat U, Rondon G, Ravandi F, Garcia-Manero G, Abruzzo L, Andersson BS, Bashir Q, Chen J, Kebriaei P, Khouri IF, Koca E, Qazilbash MH, Champlin R, de Lima M

Significance of Persistent Cytogenetic Abnormalities on Myeloablative Allogeneic Stem Cell Transplantation in First Complete Remission. Biol Blood Marrow Transplant 19 (2) :214-20, 2013. e-Pub 2012. PMID: 22982533

Poon LM, Bassett R, Rondon G, Hamdi A, Qazilbash M, Hosing C, Jones RB, Shpall EJ, Popat UR, Nieto Y, Worth LL, Cooper L, De Lima M, Champlin RE, Kebriaei P

Outcomes of second allogeneic hematopoietic stem cell transplantation for patients with acute lymphoblastic leukemia. Bone Marrow Transplant 48 (5) :666-70, 2013. e-Pub 2012. PMID: 23085830

Nieto Y, Popat U, Anderlini P, Valdez B, Andersson B, Liu P, Hosing C, Shpall EJ, Alousi A, Kebriaei P, Qazilbash M, Parmar S, Bashir Q, Shah N, Khouri I, Rondon G, Champlin R, Jones RB

Autologous Stem-Cell Transplantation for Refractory or Poor-Risk Relapsed Hodgkin's Lymphoma: Effect of the Specific High-Dose Chemotherapy Regimen on Outcome. Biol Blood Marrow Transplant 19 (3) :410-7, 2013. e-Pub 2012. PMID: 23128322

Chen Y, Kantarjian H, Pierce S, Faderl S, O'Brien S, Qiao W, Abruzzo L, de Lima M, Kebriaei P, Jabbour E, Daver N, Kadia T, Estrov Z, Garcia-Manero G, Cortes J, Ravandi F

Prognostic significance of 11q23 aberrations in adult acute myeloid leukemia and the role of allogeneic stem cell transplantation. Leukemia 27 (4) :836-42, 2013. e-Pub 2012. PMID: 23135353

Parmar S, Rondon G, de Lima M, Thall P, Bassett R, Anderlini P, Kebriaei P, Khouri I, Ganesan P, Champlin R, Giralt S

Dose Intensification of Busulfan in the Preparative Regimen is Associated with Improved Survival: A Phase I/II Controlled, Randomized Study. Biol Blood Marrow Transplant 19 (3) :474-80, 2013. e-Pub 2012. PMID: 23220013

Hosing C, Kebriaei P, Wierda W, Jena B, Cooper LJ, Shpall E

CARs in Chronic Lymphocytic Leukemia - Ready to Drive. Curr Hematol Malig Rep 8 (1) :60-70, 2013. e-Pub 2012. PMID: 23225251

Kebriaei P, Wilhelm K, Ravandi F, Brandt M, de Lima M, Ciurea S, Worth L, O'Brien S, Thomas D, Champlin RE, Kantarjian H

Feasibility of Allografting in Patients with Advanced Acute Lymphoblastic Leukemia After Salvage Therapy With Inotuzumab Ozogamicin. Clin Lymphoma Myeloma Leuk 13 (3) :296-301, 2013. e-Pub 2013. PMID: 23313065

Aung FM, Lichtiger B, Bassett R, Liu P, Alousi A, Bashier Q, Ciurea SO, de Lima MJ, Hosing C, Kebriaei P, Nieto Y, Oran B, Parmar S, Qazilbash M, Shah N, Khouri I, Champlin RE, Popat U

Incidence and natural history of pure red cell aplasia in major ABO-mismatched haematopoietic cell transplantation. Br J Haematol 160 (6) :798-805, 2013. e-Pub 2013. PMID: 23330820

Maiti SN, Huls H, Singh H, Dawson M, Figliola M, Olivares S, Rao P, Zhao YJ, Multani A, Yang G, Zhang L, Crossland D, Ang S, Torikai H, Rabinovich B, Lee DA, Kebriaei P, Hackett P, Champlin RE, Cooper LJ

Sleeping beauty system to redirect T-cell specificity for human applications. J Immunother 36 (2) :112-23, 2013. PMID: 23377665

Huls MH, Figliola MJ, Dawson MJ, Olivares S, Kebriaei P, Shpall EJ, Champlin RE, Singh H, Cooper LJ

Clinical application of Sleeping Beauty and artificial antigen presenting cells to genetically modify T cells from peripheral and umbilical cord blood. J Vis Exp (72) :e50070, 2013. e-Pub 2013. PMID: 23407473

Karuturi M, Hosing C, Fanale M, Medeiros LJ, Alousi AM, de Lima MJ, Qazilbash MH, Kebriaei P, Younes A, Khouri I, Andersson BS, Champlin R, Anderlini P, Popat U

High-dose Chemotherapy and Autologous Stem Cell Transplantation for Nodular Lymphocyte-Predominant Hodgkin Lymphoma. Biol Blood Marrow Transplant 19 (6) :991-4, 2013. e-Pub 2013. PMID: 23507470

Leen AM, Bollard CM, Mendizabal AM, Shpall EJ, Szabolcs P, Antin JH, Kapoor N, Pai SY, Rowley SD, Kebriaei P, Dey BR, Grilley BJ, Gee AP, Brenner MK, Rooney CM, Heslop HE

Multicenter study of banked third party virus-specific T-cells to treat severe viral infections after hematopoietic stem cell transplantation. Blood 121 (26) :5113-23, 2013. e-Pub 2013. PMID: 23610374

Kantarjian H, Thomas D, Jorgensen J, Kebriaei P, Jabbour E, Rytting M, York S, Ravandi F, Garris R, Kwari M, Faderl S, Cortes J, Champlin R, O'Brien S

Results of inotuzumab ozogamicin, a CD22 monoclonal antibody, in refractory and relapsed acute lymphocytic leukemia. Cancer 119 (15) :2728-36, 2013. e-Pub 2013. PMID: 23633004

Poon LM, Hamdi A, Saliba R, Rondon G, Ledesma C, Kendrick M, Qazilbash M, Hosing C, Jones RB, Popat UR, Nieto Y, Alousi A, Ciurea S, Shpall EJ, Champlin RE, Kebriaei P

Outcomes of adults with acute lymphoblastic leukemia (ALL) following relapse post allogeneic hematopoietic stem cell transplantation (HSCT). Biol Blood Marrow Transplant 19 (7) :1059-64, 2013. e-Pub 2013. PMID: 23644077

Singh H, Figliola MJ, Dawson MJ, Olivares S, Zhang L, Yang G, Maiti S, Manuri P, Senyukov V, Jena B, Kebriaei P, Champlin RE, Huls H, Cooper LJ

Manufacture of Clinical-Grade CD19-Specific T Cells Stably Expressing Chimeric Antigen Receptor Using Sleeping Beauty System and Artificial Antigen Presenting Cells. PLoS One 8 (5) :e64138, 2013. e-Pub 2013. PMID: 23741305

Sasaki K, Lu G, Saliba RM, Bashir Q, Hosing C, Popat U, Shah N, Parmar S, Dinh Y, Ahmed S, Shpall EJ, Kebriaei P, Shah JJ, Orlowski RZ, Champlin R, Qazilbash MH

Impact of t(11;14)(q13;q32) on the Outcome of Autologous Hematopoietic Cell Transplantation in Multiple Myeloma. Biol Blood Marrow Transplant 19 (8) :1227-32, 2013. e-Pub 2013. PMID: 23733001

Torikai H, Reik A, Soldner F, Warren EH, Yuen C, Zhou Y, Crossland DL, Huls H, Littman N, Zhang Z, Tykodi SS, Kebriaei P, Lee DA, Miller JC, Rebar EJ, Holmes MC, Jaenisch R, Champlin RE, Gregory PD, Cooper LJ

Towards eliminating HLA class I expression to generate universal cells from allogeneic donors. Blood 122 (8) :1341-9, 2013. e-Pub 2013. PMID: 23741009

Smith VR, Popat U, Ciurea S, Nieto Y, Anderlini P, Rondon G, Alousi A, Qazilbash M, Kebriaei P, Khouri I, de Lima M, Champlin R, Hosing C

Just-in-time rescue plerixafor in combination with chemotherapy and granulocyte-colony stimulating factor for peripheral blood progenitor cell mobilization. Am J Hematol 88 (9) :754-7, 2013. e-Pub 2013. PMID: 23749720

Ravandi F, Jorgensen JL, Thomas DA, O'Brien S, Garris R, Faderl S, Huang X, Wen S, Burger JA, Ferrajoli A, Kebriaei P, Champlin RE, Estrov Z, Challagundla P, Wang SA, Luthra R, Cortes JE, Kantarjian HM

Detection of MRD may predict the outcome of patients with Philadelphia chromosome-positive ALL treated with tyrosine kinase inhibitors plus chemotherapy. Blood 122 (7) :1214-21, 2013. e-Pub 2013. PMID: 23836561

Bashir Q, Khan H, Thall PF, Liu P, Shah N, Kebriaei P, Parmar S, Oran B, Ciurea S, Nieto Y, Jones R, Hosing CM, Popat UR, Dinh YT, Rondon G, Orlowski RZ, Shah JJ, De Lima M, Shpall E, Champlin R, Giralt S, Qazilbash MH

A Randomized Phase II Trial of Fludarabine/Melphalan 100 versus Fludarabine/Melphalan 140 Followed by Allogeneic Hematopoietic Stem Cell Transplantation for Patients with Multiple Myeloma. Biol Blood Marrow Transplant 19 (10) :1453-8, 2013. e-Pub 2013. PMID: 23872222

Popat U, de Lima MJ, Saliba RM, Anderlini P, Andersson BS, Alousi AM, Hosing C, Nieto Y, Parmar S, Khouri IF, Kebriaei P, Qazilbash M, Champlin RE, Giralt SA

Long-term outcome of reduced-intensity allogeneic hematopoietic SCT in patients with AML in CR. Bone Marrow Transplant 47 (2) :212-6, 2012. e-Pub 2011. PMID: 21423123

Ciurea SO, Saliba RM, Hamerschlak N, Karduss Aurueta AJ, Bassett R, Fernandez-Vina M, Petropoulos D, Worth LL, Chan KW, Couriel DR, Rondon G, Sharma M, Qazilbash M, Jones RB, Kebriaei P, McMannis J, Hosing CM, Nieto Y, Champlin RE, Shpall EJ, de Lima M

Fludarabine, Melphalan, Thiotepa and ATG Conditioning for Unrelated Cord Blood Transplantation. Leuk Lymphoma 53 (5) :901-6, 2012. e-Pub 2012. PMID: 21988645

Khouri IF, Saliba RM, Erwin WD, Samuels BI, Korbling M, Medeiros LJ, Valverde R, Alousi AM, Anderlini P, Bashir Q, Ciurea S, Gulbis AM, de Lima M, Hosing C, Kebriaei P, Popat UR, Fowler N, Neelapu SS, Samaniego F, Champlin RE, Macapinlac HA

Nonmyeloablative allogeneic transplantation with or without 90yttrium ibritumomab tiuxetan is potentially curative for relapsed follicular lymphoma: 12-year results. Blood 119 (26) :6373-8, 2012. e-Pub 2012. PMID: 22586182

Nieto Y, Thall P, Valdez B, Andersson B, Popat U, Anderlini P, Shpall EJ, Bassett R, Alousi A, Hosing C, Kebriaei P, Qazilbash M, Frazier E, Gulbis A, Chancoco C, Bashir Q, Ciurea S, Khouri I, Parmar S, Shah N, Worth L, Rondon G, Champlin R, Jones RB

High-Dose Infusional Gemcitabine Combined with Busulfan and Melphalan with Autologous Stem-Cell Transplant in Patients with Refractory Lymphoid Malignancies. Biol Blood Marrow Transplant 18 (11) :1677-86, 2012. e-Pub 2012. PMID: 22643322

Ciurea SO, Mulanovich V, Saliba RM, Bayraktar UD, Jiang Y, Bassett R, Wang SA, Konopleva M, Fernandez-Vina M, Montes N, Bosque D, Chen J, Rondon G, Alatrash G, Alousi A, Bashir Q, Korbling M, Qazilbash M, Parmar S, Shpall E, Nieto Y, Hosing C, Kebriaei P, Khouri I, Popat U, de Lima M, Champlin RE

Improved Early Outcomes Using a T Cell Replete Graft Compared with T Cell Depleted Haploidentical Hematopoietic Stem Cell Transplantation. Biol Blood Marrow Transplant 18 (12) :1835-44, 2012. e-Pub 2012. PMID: 22796535

de Lima M, McNiece I, Robinson SN, Munsell M, Eapen M, Horowitz M, Alousi A, Saliba R, McMannis JD, Kaur I, Kebriaei P, Parmar S, Popat U, Hosing C, Champlin R, Bollard C, Molldrem JJ, Jones RB, Nieto Y, Andersson BS, Shah N, Oran B, Cooper LJ, Worth L, Qazilbash MH, Korbling M, Rondon G, Ciurea S, Bosque D, Maewal I, Simmons PJ, Shpall EJ

Cord-blood engraftment with ex vivo mesenchymal-cell coculture. N Engl J Med 367 (24) :2305-15, 2012. PMID: 23234514

Ji Y, Feng L, Liu P, Shpall EJ, Kebriaei P, Champlin R, Berry D, Cooper LJ

Bayesian continual reassessment method for dose-finding trials infusing T cells with limited sample size. J Biopharm Stat 22 (6) :1206-19, 2012. PMID: 23075018

Kebriaei P, Madden T, Kazerooni R, Wang X, Thall PF, Ledesma C, Nieto Y, Shpall EJ, Hosing C, Qazilbash M, Popat U, Khouri I, Champlin RE, Jones RB, Andersson BS

Intravenous Busulfan Plus Melphalan Is a Highly Effective, Well-Tolerated Preparative Regimen for Autologous Stem Cell Transplantation in Patients with Advanced Lymphoid Malignancies. Biol Blood Marrow Transplant 17 (3) :412-20, 2011. e-Pub 2010. PMID: 20674757

Ciurea SO, Saliba RM, Rondon G, Patah PA, Aung F, Cano P, Andersson BS, Kebriaei P, Popat U, Fernandez-Vina M, Champlin RE, de Lima M

Outcomes of patients with myeloid malignancies treated with allogeneic hematopoietic stem cell transplantation from matched unrelated donors compared with one-human leukocyte antigen mismatched related donors using HLA typing at 10 loci, Biol Blood Marrow Transplant 17 (6) :923-9, 2011. e-Pub 2010. PMID: 20969970

Andersson BS, Valdez BC, de Lima M, Wang X, Thall PF, Worth LL, Popat U, Madden T, Hosing C, Alousi A, Rondon G, Kebriaei P, Shpall EJ, Jones RB, Champlin RE

Clofarabine±Fludarabine with Once Daily IV Busulfan as Pretransplant Conditioning Therapy for Advanced Myeloid Leukemia and MDS Biol Blood Marrow Transplant 17 (6) :893-900, 2011. e-Pub 2010. PMID: 20946966

Jabbour E, Cortes J, Santos FP, Jones D, O'Brien S, Rondon G, Popat U, Giralt S, Kebriaei P, Jones RB, Kantarjian H, Champlin R, de Lima M

Results of allogeneic hematopoietic stem cell transplantation for chronic myelogenous leukemia patients who failed tyrosine kinase inhibitors after developing BCR-ABL1 kinase domain mutations. Blood 117 (13) :3641-7, 2011. e-Pub 2010. PMID: 21156844

Alatrash G, de Lima M, Hamerschlak N, Pelosini M, Wang X, Xiao L, Kerbauy F, Chiattone A, Rondon G, Qazilbash MH, Giralt SA, de Padua Silva L, Hosing C, Kebriaei P, Zhang W, Nieto Y, Saliba RM, Champlin RE, Andersson BS

Myeloablative Reduced-Toxicity i.v. Busulfan-Fludarabine and Allogeneic Hematopoietic Stem Cell Transplant for Patients with Acute Myeloid Leukemia or Myelodysplastic Syndrome in the Sixth through Eighth Decades of Life. Biol Blood Marrow Transplant 17 (10) :1490-6, 2011. e-Pub 2011. PMID: 21338705

Kebriaei P, Robinson S

Treatment of graft-versus-host-disease with mesenchymal stromal cells. Cytotherapy 13 (3) :262-8, 2011. e-Pub 2011. PMID: 21231805

Singh H, Figliola MJ, Dawson MJ, Huls H, Olivares S, Switzer K, Mi T, Maiti S, Kebriaei P, Lee DA, Champlin RE, Cooper LJ

Reprogramming CD19-specific T cells with IL-21 signaling can improve adoptive immunotherapy of B-lineage malignancies. Cancer Res 71 (10) :3516-27, 2011. e-Pub 2011. PMID: 21558388

Alatrash G, Pelosini M, Saliba RM, Koca E, Rondon G, Andersson BS, Chiattone A, Zhang W, Giralt SA, Cernosek AM, Kebriaei P, Alousi AM, Popat UR, Hosing C, Khouri IF, Champlin RE, de Lima MJ

Platelet Recovery Prior to Allogeneic Stem Cell Transplant Predicts Posttransplant Outcomes in Patients with Acute Myelogenous Leukemia and Myelodysplastic Syndrome. Biol Blood Marrow Transplant 17 (12) :1841-5, 2011. e-Pub 2011. PMID: 21684343

Chen Y, Cortes J, Estrov Z, Faderl S, Qiao W, Abruzzo L, Garcia-Manero G, Pierce S, Huang X, Kebriaei P, Kadia T, De Lima M, Kantarjian H, Ravandi F

Persistence of cytogenetic abnormalities at complete remission after induction in patients with acute myeloid leukemia: prognostic significance and the potential role of allogeneic stem-cell transplantation. J Clin Oncol 29 (18) :2507-13, 2011. e-Pub 2011. PMID: 21555694

Kebriaei P, Simon R

Mesenchymal Stem Cell Therapy in the Treatment of Acute and Chronic Graft versus Host Disease Frontiers in Hematology Oncology 1:1-8, 2011

Raval M, Gulbis A, Bollard C, Leen A, Chemaly R, Shpall E, Lahoti A, Kebriaei P

Evaluation and Management of BK Virus-Associated Nephropathy following Allogeneic Hematopoietic Cell Transplantation. Biol Blood Marrow Transplant 17 (11) :1589-93, 2011. e-Pub 2011. PMID: 21767514

Sharma M, Ravandi F, Bayraktar UD, Chiattone A, Bashir Q, Giralt S, Chen J, Qazilbash M, Kebriaei P, Konopleva M, Andreeff M, Cortes J, McCue D, Kantarjian H, Champlin RE, de Lima M

Treatment of FLT3-ITD-Positive Acute Myeloid Leukemia Relapsing after Allogeneic Stem Cell Transplantation with Sorafenib. Biol Blood Marrow Transplant 17 (12) :1874-7, 2011. e-Pub 2011. PMID: 21767516

Joseph RW, Alousi A, Konda B, Komanduri K, Neumann J, Trevino C, Stolar K, Qazilbash M, Hosing C, Kebriaei P, Couriel DR, Champlin RE, Saliba R, Popat U

High incidence of vitamin D deficiency in patients undergoing allogeneic stem cell transplantation. Am J Hematol 86 (11) :954-6, 2011. e-Pub 2011. PMID: 21948087

Champlin R, Jabbour E, Kebriaei P, Anderlini P, Andersson B, de Lima M

Allogeneic stem cell transplantation for chronic myeloid leukemia resistant to tyrosine kinase inhibitors. Clin Lymphoma Myeloma Leuk 11 Suppl 1:S96-100, 2011. e-Pub 2011. PMID: 22035758

Ciurea SO, Saliba R, Rondon G, Pesoa S, Cano P, Fernandez-Vina M, Qureshi S, Worth LL, McMannis J, Kebriaei P, Jones RB, Korbling M, Qazilbash M, Shpall EJ, Giralt S, de Lima M, Champlin RE, Gajewski J

Reduced-intensity conditioning using fludarabine, melphalan and thiotepa for adult patients undergoing haploidentical SCT. Bone Marrow Transplant 45 (3) :429-36, 2010. e-Pub 2009. PMID: 19668237

Efebera YA, Qureshi SR, Cole SM, Saliba R, Pelosini M, Patel RM, Koca E, Mendoza FL, Wang M, Shah J, Alousi A, Hosing C, Popat U, Kebriaei P, Anderlini P, Khouri IF, Champlin R, Giralt S, Qazilbash MH

Reduced Intensity Allogeneic Hematopoietic Stem Cell Transplantation for Relapsed Multiple Myeloma. Biol Blood Marrow Transplant 16 (8) :1122-9, 2010. e-Pub 2010. PMID: 20178853

Davies JK, Singh H, Huls H, Yuk D, Lee DA, Kebriaei P, Champlin RE, Nadler LM, Guinan EC, Cooper LJ

Combining CD19 redirection and alloanergization to generate tumor-specific human T cells for allogeneic cell therapy of B-cell malignancies. Cancer Res 70 (10) :3915-24, 2010. e-Pub 2010. PMID: 20424114

Ravandi F, O'Brien S, Thomas D, Faderl S, Jones D, Garris R, Dara S, Jorgensen J, Kebriaei P, Champlin R, Borthakur G, Burger J, Ferrajoli A, Garcia-Manero G, Wierda W, Cortes J, Kantarjian H

First report of phase 2 study of dasatinib with hyper-CVAD for the frontline treatment of patients with Philadelphia chromosome-positive (Ph+) acute lymphoblastic leukemia. Blood 116 (12) :2070-7, 2010. e-Pub 2010. PMID: 20466853

Choi Y, Yuen C, Maiti SN, Olivares S, Gibbons H, Huls H, Raphael R, Killian TC, Stark DJ, Lee DA, Torikai H, Monticello D, Kelly SS, Kebriaei P, Champlin RE, Biswal SL, Cooper LJ

A high throughput microelectroporation device to introduce a chimeric antigen receptor to redirect the specificity of human T cells. Biomed Microdevices 12 (5) :855-63, 2010. PMID: 20574820

Verma D, O'Brien S, Thomas D, Faderl S, Koller C, Pierce S, Kebriaei P, Garcia-Manero G, Cortes J, Kantarjian H, Ravandi F

Therapy-related acute myelogenous leukemia and myelodysplastic syndrome in patients with acute lymphoblastic leukemia treated with the hyperfractionated cyclophosphamide, vincristine, doxorubicin, and dexamethasone regimens. Cancer 115 (1) :101-6, 2009. PMID: 19090005

Jabbour E, Giralt S, Kantarjian H, Garcia-Manero G, Jagasia M, Kebriaei P, de Padua L, Shpall EJ, Champlin R, de Lima M

Low-dose azacitidine after allogeneic stem cell transplantation for acute leukemia. Cancer 115 (9) :1899-905, 2009. PMID: 19235255

De Padua Silva L, de Lima M, Kantarjian H, Faderl S, Kebriaei P, Giralt S, Davisson J, Garcia-Manero G, Champlin R, Issa JP, Ravandi F

Feasibility of allo-SCT after hypomethylating therapy with decitabine for myelodysplastic syndrome. Bone Marrow Transplant 43 (11) :839-43, 2009. e-Pub 2009. PMID: 19151791

Hosing C, Saliba RM, Ahlawat S, Körbling M, Kebriaei P, Alousi A, De Lima M, Okoroji JG, McMannis J, Qazilbash M, Anderlini P, Giralt S, Champlin RE, Khouri I, Popat U

Poor hematopoietic stem cell mobilizers: a single institution study of incidence and risk factors in patients with recurrent or relapsed lymphoma. Am J Hematol 84 (6) :335-7, 2009. PMID: 19384931

Popat U, Saliba R, Thandi R, Hosing C, Qazilbash M, Anderlini P, Shpall E, McMannis J, Körbling M, Alousi A, Andersson B, Nieto Y, Kebriaei P, Khouri I, de Lima M, Weber D, Thomas S, Wang M, Jones R, Champlin R, Giralt S

Impairment of filgrastim-induced stem cell mobilization after prior lenalidomide in patients with multiple myeloma. Biol Blood Marrow Transplant 15 (6) :718-23, 2009. e-Pub 2009. PMID: 19450756

Martin PJ, Bachier CR, Klingemann HG, McCarthy PL, Szabolcs P, Uberti JP, Schuster MW, Weisdorf D, Chao NJ, Kebriaei P, Shpall EJ, Macmillan ML, Soiffer RJ

Endpoints for Clinical Trials Testing Treatment of Acute Graft-versus-Host Disease: A Joint Statement. Biol Blood Marrow Transplant 15 (7) :777-84, 2009. e-Pub 2009. PMID: 19539208

Kebriaei P, Isola L, Bahceci E, Holland K, Rowley S, McGuirk J, Devetten M, Jansen J, Herzig R, Schuster M, Monroy R, Uberti J

Adult Human Mesenchymal Stem Cells Added to Corticosteroid Therapy for the Treatment of Acute Graft-versus-Host Disease. Biol Blood Marrow Transplant 15 (7) :804-11, 2009. PMID: 19539211

Parmar S, Del Lima M, Zou Y, Patah PA, Liu P, Cano P, Rondon G, Pesoa S, de Padua Silva L, Qazilbash MH, Hosing C, Popat U, Kebriaei P, Shpall EJ, Giralt S, Champlin RE, Stastny P, Fernandez-Vina M

Donor-recipient mismatches in MHC class I chain-related gene A in unrelated donor transplantation lead to increased incidence of acute graft-versus-host disease. Blood 114 (14) :2884-7, 2009. e-Pub 2009. PMID: 19654407

Champlin R, de Lima M, Kebriaei P, Rondon G, Fisher T, Jabbour E, Cortés JE, Kantarjian H, Anderlini P, Alousi A, Hosing C, Shpall E, Popat U, Qazilbash M, Andersson B, Giralt S

Nonmyeloablative allogeneic stem cell transplantation for chronic myelogenous leukemia in the imatinib era. Clin Lymphoma Myeloma 9 Suppl 3:S261-5, 2009. PMID: 19778850

de Lima M, Champlin RE, Thall PF, Wang X, Martin TG, Cook JD, McCormick G, Qazilbash M, Kebriaei P, Couriel D, Shpall EJ, Khouri I, Anderlini P, Hosing C, Chan KW, Andersson BS, Patah PA, Caldera Z, Jabbour E, Giralt S

Phase I/II study of gemtuzumab ozogamicin added to fludarabine, melphalan and allogeneic hematopoietic stem cell transplantation for high-risk CD33 positive myeloid leukemias and myelodysplastic syndrome. Leukemia 22 (2) :258-64, 2008. e-Pub 2007. PMID: 17989720

Gordon MK, Sher D, Karrison T, Kebriaei P, Chuang K, Zhang Y, McDonnell D, Artz A, Godley L, Odenike O, Rich E, Michaelis L, Thirman MJ, Wickrema A, van Besien K, Larson RA, Stock W

Successful autologous stem cell collection in patients with chronic myeloid leukemia in complete cytogenetic response, with quantitative measurement of BCR-ABL expression in blood, marrow, and apheresis products. Leuk Lymphoma 49 (3) :531-7, 2008. PMID: 18297531

Hosing C, Saliba RM, Okoroji GJ, Popat U, Couriel D, Ali T, De Padua Silva L, Kebriaei P, Alousi A, De Lima M, Qazilbash M, Anderlini P, Giralt S, Champlin RE, Khouri I

High-dose chemotherapy and autologous hematopoietic progenitor cell transplantation for non-Hodgkin's lymphoma in patients >65 years of age. Ann Oncol 19 (6) :1166-71, 2008. e-Pub 2008. PMID: 18272911

Alousi AM, Saliba RM, Okoroji GJ, Macapinlac HA, Hosing C, Korbling M, Samuels BI, Popat U, Kebriaei P, Anderlini P, Qazilbash MH, de Lima M, Giralt SA, Champlin RE, Khouri IF

Disease staging with positron emission tomography or gallium scanning and use of rituximab predict outcome for patients with diffuse large B-cell lymphoma treated with autologous stem cell transplantation. Br J Haematol 142 (5) :786-92, 2008. e-Pub 2008. PMID: 18564354

Vega-Ruiz A, O'Brien S, Cortes J, Kebriaei P, Thomas D, Kantarjian H, Ravandi F

Secondary myelodysplastic syndrome in a patient with Philadelphia-positive acute lymphoblastic leukemia after achieving a major molecular response with hyperCVAD plus imatinib mesylate. Leuk Res 32 (9) :1468-71, 2008. e-Pub 2008. PMID: 18355919

Oran B, Giralt S, Saliba R, Hosing C, Popat U, Khouri I, Couriel D, Qazilbash M, Anderlini P, Kebriaei P, Ghosh S, Carrasco-Yalan A, de Meis E, Anagnostopoulos A, Donato M, Champlin RE, de Lima M

Allogeneic hematopoietic stem cell transplantation for the treatment of high-risk acute myelogenous leukemia and myelodysplastic syndrome using reduced-intensity conditioning with fludarabine and melphalan. Biol Blood Marrow Transplant 13 (4) :454-462, 2007. e-Pub 2007. PMID: 17382251

Aribi A, Bueso-Ramos C, Estey E, Estrov Z, O'Brien S, Giles F, Faderl S, Thomas D, Kebriaei P, Garcia-Manero G, Pierce S, Cortes J, Kantarjian H, Ravandi F

Biphenotypic acute leukaemia: a case series Br J Haematol 138 (2) :213-216, 2007. PMID: 17593028

Jabbour E, Cortes J, Kantarjian H, Giralt S, Andersson BS, Giles F, Shpall E, Kebriaei P, Champlin R, de Lima M

Novel tyrosine kinase inhibitor therapy before allogeneic stem cell transplantation in patients with chronic myeloid leukemia: no evidence for increased transplant-related toxicity. Cancer 110 (2) :340-344, 2007. PMID: 17559140

Kebriaei P, Detry MA, Giralt S, Carrasco-Yalan A, Anagnostopoulos A, Couriel D, Khouri IF, Anderlini P, Hosing C, Alousi A, Champlin RE, de Lima M

Long-term follow-up of allogeneic hematopoietic stem cell transplantation with reduced intensity conditioning for patients with chronic myeloid leukemia. Blood 110 (9) :3456-62, 2007. e-Pub 2007. PMID: 17652620

Qazilbash MH, Saliba RM, Ahmed B, Parikh G, Mendoza F, Ashraf N, Hosing C, Flosser T, Weber DM, Wang M, Couriel DR, Popat U, Kebriaei P, Alousi AM, Anderlini P, Naeem RC, Champlin RE, Giralt SA

Deletion of the short arm of chromosome 1 (del 1p) is a strong predictor of poor outcome in myeloma patients undergoing an autotransplant. Biol Blood Marrow Transplant 13 (9) :1066-72, 2007. e-Pub 2007. PMID: 17697969

Oran B, Giralt S, Couriel D, Hosing C, Shpall EJ, de Meis E, Khouri IF, Qazilbash M, Anderlini P, Kebriaei P, Popat U, Carrasco-Yalan A, Champlin RE, de Lima M

Treatment of AML and MDS relapsing after reduced-intensity conditioning and allogeneic hematopoietic stem cell transplantation. Leukemia 21 (12) :2540-4, 2007. e-Pub 2007. PMID: 17611563

Qazilbash MH, Saliba RM, Hosing C, Mendoza F, Qureshi SR, Weber DM, Wang M, Flosser T, Couriel DR, De Lima M, Kebriaei P, Popat U, Alousi AM, Champlin RE, Giralt SA

Autologous stem cell transplantation is safe and feasible in elderly patients with multiple myeloma. Bone Marrow Transplant 39 (5) :279-83, 2007. e-Pub 2007. PMID: 17262062

Ravandi F, Faderl S, Kebriaei P, Kantarjian H

Modern treatment programs for adults with acute lymphoblastic leukemia. Curr Hematol Malig Rep 2 (3) :169-75, 2007. PMID: 20425366

Hosing C, Qazilbash MH, Kebriaei P, Giralt S, Davis MS, Popat U, Anderlini P, Shpall EJ, McMannis J, Körbling M, Champlin RE

Fixed-dose single agent pegfilgrastim for peripheral blood progenitor cell mobilisation in patients with multiple myeloma Br J Haematol 133 (5) :533-7, 2006. PMID: 16681642

Kebriaei P, Saliba RM, Ma C, Ippoliti C, Couriel DR, de Lima M, Giralt S, Qazilbash MH, Gajewski JL, Ha CS, Champlin RE, Khouri IF

Allogeneic hematopoietic stem cell transplantation after rituximab-containing myeloablative preparative regimen for acute lymphoblastic leukemia Bone Marrow Transplant 38 (3) :203-9, 2006. e-Pub 2006. PMID: 16799614

Kebriaei P, Kline J, Stock W, Kasza K, Le Beau MM, Larson RA, van Besien K

Impact of disease burden at time of allogeneic stem cell transplantation in adults with acute myeloid leukemia and myelodysplastic syndromes. Bone Marrow Transplant 35 (10) :965-70, 2005. PMID: 15806131

Kebriaei P, Winter JN, Laport GG, Le Beau MM, Dewald G, Larson RA

Multiple unrelated clonal abnormalities in host bone marrow cells after allogeneic stem cell transplantation. Leuk Res 28 (5) :537-40, 2004. PMID: 15068908

Rimm DL, Koslov ER, Kebriaei P, Cianci CD, Morrow JS

Alpha 1(E)-catenin is an actin-binding and -bundling protein mediating the attachment of F-actin to the membrane adhesion complex. Proc Natl Acad Sci U S A 92 (19) :8813-7, 1995. PMID: 7568023

Rimm DL, Kebriaei P, Morrow JS

Molecular cloning reveals alternative splice forms of human alpha(E)-catenin. Biochem Biophys Res Commun 203 (3) :1691-9, 1994. PMID: 7945318

Manuri PV, Wilson MH, Maiti SN, Mi T, Singh H, Olivares S, Dawson MJ, Huls H, Lee DA, Rao PH, Kaminski JM, Nakazawa Y, Gottschalk S, Kebriaei P, Shpall EJ, Champlin RE, Cooper LJ

<i>piggyBac</i> transposon/transposase system to generate CD19-specific T cells for treatment of B-lineage malignancies. Hum Gene Ther. e-Pub 2010. PMID: 19905893

Holmes HM, Des Bordes JK, Kebriaei P, Yennu S, Champlin RE, Giralt S, Mohile SG

Optimal screening for geriatric assessment in older allogeneic hematopoietic cell transplantation candidates. J Geriatr Oncol. e-Pub 2014. PMID: 24835889

Wilhelm K, Chemaly R, Saliba R, Gulbis A, Saunders I, Cool R, Ferguson J, Westmoreland M, Rondon G, Kebriaei P

The impact of pre-transplant valganciclovir on early cytomegalovirus reactivation after allogeneic hematopoietic stem cell transplantation. J Oncol Pharm Pract. e-Pub 2013. PMID: 24022408

Oran B, Kongtim P, Popat U, de Lima M, Jabbour E, Lu X, Chen J, Rondon G, Kebriaei P, Ahmed S, Andersson B, Alousi A, Ciurea S, Shpall E, Champlin RE

Cytogenetics, Donor Type and use of Hypomethylating Agents in Myelodysplastic Syndrome with Allogeneic Stem Cell Transplantation. Biol Blood Marrow Transplant. e-Pub 2014. PMID: 24953017

Kongtim P, Popat U, Jimenez A, Gaballa S, El Fakih R, Rondon G, Chen J, Bueso-Ramos C, Borthakur G, Pemmaraju N, Garcia-Manero G, Kantarjian H, Alousi A, Hosing C, Anderlini P, Khouri IF, Kebriaei P, Andersson BS, Oran B, Rezvani K, Marin D, Shpall EJ, Champlin RE, Ciurea SO

Treatment with Hypomethylating Agents before Allogeneic Stem Cell Transplant Improves Progression Free Survival for Patients with Chronic Myelomonocytic Leukemia. Biol Blood Marrow Transplant. e-Pub 2015. PMID: 26343946

Veltri LW, Milton DR, Delgado R, Shah N, Patel K, Nieto Y, Kebriaei P, Popat UR, Parmar S, Oran B, Ciurea S, Hosing C, Lee HC, Manasanch E, Orlowski RZ, Shpall EJ, Champlin RE, Qazilbash MH, Bashir Q

Outcome of autologous hematopoietic stem cell transplantation in refractory multiple myeloma. Cancer. e-Pub 2017. PMID: 28513828

Mehta RS, Saliba RM, Cao K, Kaur I, Rezvani K, Chen J, Olson A, Parmar S, Shah N, Marin D, Alousi A, Hosing C, Popat U, Kebriaei P, Champlin R, de Lima M, Skerrett D, Burke E, Shpall EJ, Oran B

Ex Vivo Mesenchymal Precursor Cell-Expanded Cord Blood Transplantation Following Reduced Intensity Conditioning Regimens Improves Time to Neutrophil Recovery. Biol Blood Marrow Transplant. e-Pub 2017. PMID: 28506845

Srour SA, Li S, Popat UR, Qazilbash MH, Lozano-Cerrada S, Maadani F, Alousi A, Kebriaei P, Anderlini P, Nieto Y, Jones R, Shpall E, Champlin RE, Hosing C

A randomized phase II study of standard-dose versus high-dose rituximab with BEAM in autologous stem cell transplantation for relapsed aggressive B-cell non-hodgkin lymphomas: long term results. Br J Haematol. e-Pub 2017. PMID: 28485023

Kongtim P, Adekola K, Milton DR, Ramlal R, Jimenez A, Chen J, Rondon G, Ahmed S, Kebriaei P, Betul O, Hosing CM, Popat U, Khouri I, Jabbour E, Cortes JE, Kantarjian HM, Champlin RE, Ciurea SO

Donor type, in addition to transplantation in chronic phase and myeloablative conditioning, influence transplant survival for patients with advanced chronic myeloid leukemia in the era of tyrosine kinase inhibitors. Leukemia. e-Pub 2017. PMID: 28400618

Bachegowda LS, Saliba RM, Ramlal R, Kongtim P, Chen J, Rondon G, Wallis W, Alousi A, Ahmed S, Hosing CM, Parmar S, Qazilbash M, Khouri IF, Bashir Q, Oran B, Popat U, Shpall EJ, Marin D, Rezvani K, Kebriaei P, Champlin RE, Ciurea SO

Predictive model for survival in patients with AML/MDS receiving haploidentical stem cell transplantation. Blood. e-Pub 2017. PMID: 28351938

Yucel OK, Saliba RM, Rondon G, Ahmed S, Alousi A, Bashir Q, Ciurea SO, Popat U, Khouri I, Marin D, Rezvani K, Kebriaei P, Shpall EJ, Champlin RE, Oran B

Cytogenetics and comorbidity predict outcomes in older myelodysplastic syndrome patients after allogenic stem cell transplantation using reduced intensity conditioning. Cancer. e-Pub 2017. PMID: 28324640

Michelis FV, Gupta V, Zhang MJ, Wang HL, Aljurf M, Bacher U, Beitinjaneh A, Chen YB, DeFilipp Z, Gale RP, Kebriaei P, Kharfan-Dabaja M, Lazarus HM, Nishihori T, Olsson RF, Oran B, Rashidi A, Rizzieri DA, Tallman MS, de Lima M, Khoury HJ, Sandmaier BM, Weisdorf D, Saber W, Acute Leukemia Working Committee of the Center for International Blood and Marrow Transplant Research, aresearch collaboration between the National Marrow Donor Program/Be the Match Registry and theMedicalCollegeofWisconsin

Cytogenetic risk determines outcomes after allogeneic transplantation in older patients with acute myeloid leukemia in their second complete remission: A Center for International Blood and Marrow Transplant Research cohort analysis. Cancer. e-Pub 2017. PMID: 28117898
Invited Articles
Ravandi F, Kebriaei P, Philadelphia chromosome-positive acute lymphoblastic leukemia., 23 (5) :1043-63, vi, 2009
Ravandi F, Kebriaei P, Cytokines in the treatment of acute leukemias, 126:313-31, 2005
Kebriaei P, Larson RA, Progress and challenges in the therapy of adult acute lymphoblastic leukemia., 10 (4) :284-9, 2003
Kebriaei P, Anastasi J, Larson RA, Acute lymphoblastic leukaemia: diagnosis and classification., 15 (4) :597-621, 2002
Book Chapters
Kebriaei P, Champlin R, Estey E, de Lima M, Management of Acute Leukemias in Cancer, In: Principles and Practice of Oncology, 9th, De Vita, Hellman, Rosenberg, 2010
Champlin R, Estey E, Kebriaei P, and de Lima M, Management of Acute Leukemias in Cancer, In: Principles and Practice of Oncology, 8th, 2008
Kebriaei P, Champlin R, The role of allogeneic stem cell transplantation in the therapy of adult acute lymphoblastic leukemia (ALL). in press., In: Springer, Springer Publications, 2007
Kebriaei P., Giralt S, The role of autologous stem cell transplantation in the management of acute lymphoblastic leukemia in adults., In: Springer, Springer Publications, 2007
Kebriaei P, Ravandi F, Cytokines in the treatment of acute leukemias. in press. ., In: Cytokines and Cancer, Kluwer Academic Publishers, 2005
Kebriaei P, The Role of Hematopoietic Stem Cell Transplantation in the Therapy of Adult Acute Lymphoblastic Leukemia, In: Leukemia Principles and Practice of Therapy, Blackwell Publishing
| | |
| --- | --- |
| Title: | Imaging T Cells by Positron Emission Tomography |
| Funding Source: | NIH/NCI |
| Role: | Co-Investigator |
| | |
| --- | --- |
| Title: | CD19+ Chimeric Antigen Receptor T Cells for Patients with Advanced Lymphoid Malignancies |
| Funding Source: | Ziopharm Inc. |
| Role: | Principal Investigator |