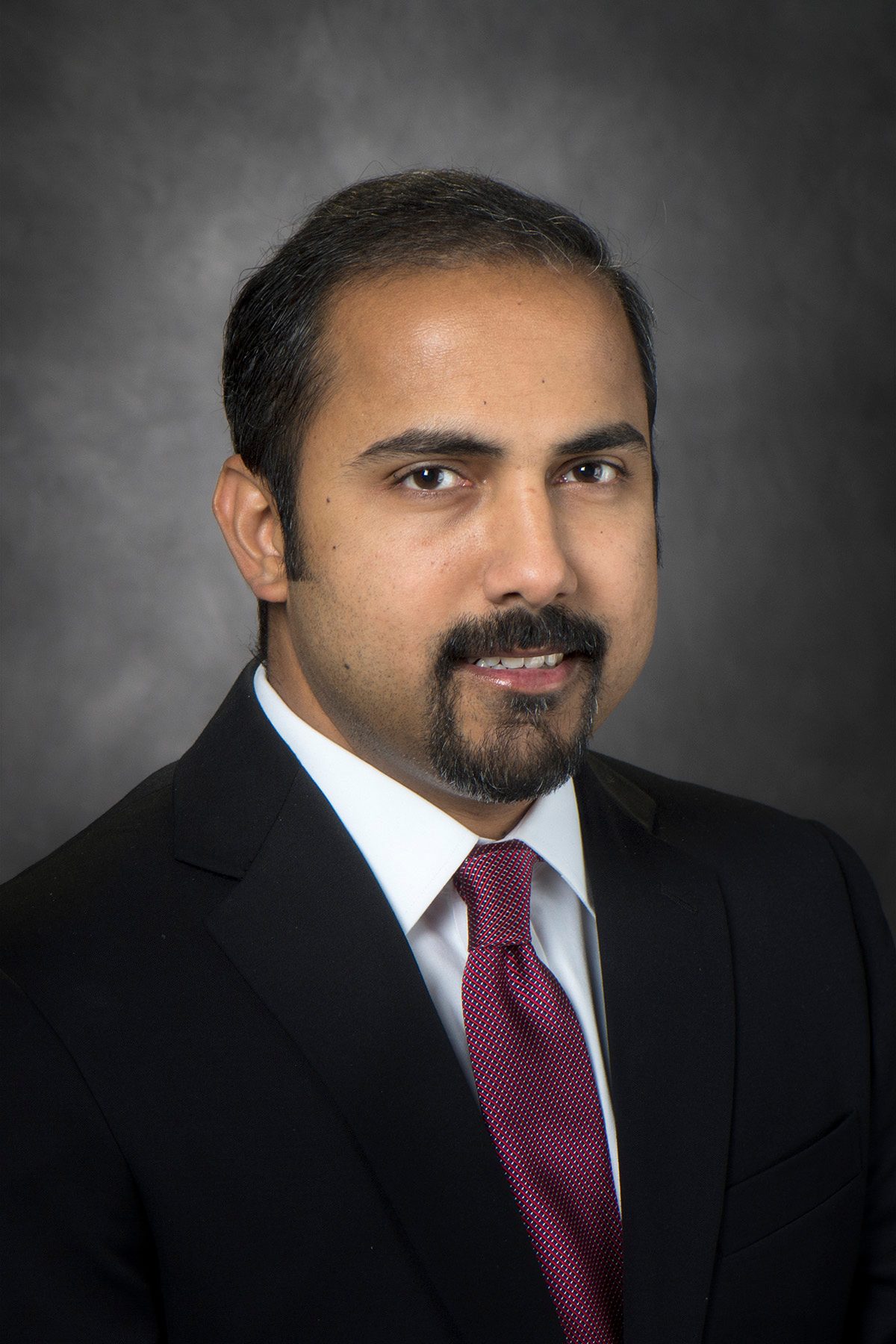 Ranjit Nair, MD
Department of Lymphoma and Myeloma, Division of Cancer Medicine
Primary Appointment
Assistant Professor, Department of Lymphoma/Myeloma, Division of Cancer Medicine, The University of Texas MD Anderson Cancer Center, Houston, TX
Degree-Granting Education
| | |
| --- | --- |
| 2008 | University of Kerala, Government Medical College, Thiruvananthapuram, IND, MD, Internal Medicine |
Postgraduate Training
| | |
| --- | --- |
| 2017-2018 | Clinical Fellowship, Lymphoma/Myeloma, Univeristy of Texas MD Anderson Cancer Center, Houston, TX |
| 2014-2017 | Clinical Fellowship, Hematology and Oncology, Lehigh Valley Health Network John and Dorothy Morgan Cancer Center, Allentown, PA |
| 2011-2014 | Internal Medicine Residency, Lehigh Valley Health Network, Allentown, PA |
| 2008-2009 | Medical Internship, University of Kerala, Government Medical College, Thiruvananthapuram |
| 2002-2008 | Medical School, University of Kerala, Government Medical College, Thiruvananthapuram |
Other Appointments/Responsibilities
Medical Externship, Mary Breckenridge Hospital, Hyden, KY, 2010 - 2011
Research Volunteer, The University of Texas MD Anderson Cancer Center, Houston, TX, 2010 - 2010
| | |
| --- | --- |
| 2016 | Chief Fellow, Lehigh Valley Cancer Institute |
| 2014 | Young Achiever's Award, National American College of Physicians |
| 2014 | Best Resident Poster Presentation, Lehigh Valley Health Network |
| 2012 | Medical Journey Competition, Lehigh Valley Hospital |
American Society of Clinical Oncology
Member, 2014 - Present
American Society of Hematology
Member, 2014 - Present
Peer-Reviewed Articles
Tolay S, Nair R, McIntosh AF, Sopka DM, Nair SG

. Dramatic Response to Concurrent Anti-PD-1 Therapy and Radiation in Resistant Tumors with Sarcomatoid Differentiation. Oncologist 24(1):e49-e52, 2019. e-Pub 2018. PMID: 30104290.

Nair R, Neelapu SS

. The promise of CAR T-cell therapy in aggressive B-cell lymphoma. Best Pract Res Clin Haematol 31(3):293-298, 2018. e-Pub 2018. PMID: 30213399.

Sreedhar A, Nair R, Scialla W

. Paraneoplastic Auto-immune Hemolytic Anemia: An Unusual Sequela of Enteric Duplication Cyst. Anticancer Res 38(1):509-512, 2018. PMID: 29277816.

Nair R, Tabchi S, Hagemeister F

. Obinutuzumab Treatment of Follicular Lymphoma. N Engl J Med 377(26):2605, 2017. PMID: 29281573.

Nair R, Shah U

. Lactic Acidosis: A Rare Oncological Emergency in Solid Tumors at Presentation. Am J Med Sci 353(4):402-406, 2017. e-Pub 2016. PMID: 28317631.

Nair R, Gheith S

. Flame cell in IgA monoclonal gammopathy of undetermined significance. Blood 129(10):1402, 2017. PMID: 28280047.

Sreedhar A, Sheikh HA, Scagliotti CJ, Nair R

. Advanced-stage calciphylaxis: Think before you punch. Cleve Clin J Med 83(8):562-4, 2016. PMID: 27505874.

Nair R, Gheith S, Nair SG

. Immunotherapy-Associated Hemolytic Anemia with Pure Red-Cell Aplasia. N Engl J Med 374(11):1096-7, 2016. PMID: 26981948.

Nair R, Gheith S, Lamparella N

. Rituximab-Induced Splenic Rupture and Cytokine Release. Am J Case Rep 17:165-9, 2016. e-Pub 2016. PMID: 26972227.

Sreedhar A, Feden D, Perilli G, Nair R, Magaji V.

. 48, XXYY Genotype: Case Report of a Rare Clinical Syndrome. Journal of Endocrinology and Diabetes 2:1-3, 2016.

Nair R, Mishriki YY

. Miss the ear, and you may miss the diagnosis. Cleveland Clinic Journal of Medicine 81(11):656-7, 2014. PMID: 25368214.

Nair R, Gheith S, Popescu D, Agostino NM

. A rare case of acute lymphoblastic leukemia in a patient with light chain (AL) amyloidosis treated with lenalidomide. International Journal of Clinical Experimental Pathology 7(5):2683-9, 2014. e-Pub 2014. PMID: 24966987.

Nair R, Mishriki Y.Y.

. Giant Hiatal Hernia Mimicking Cardiac Tamponade. A Focus on Cardiology 53(9), 2013.
Invited Articles
R Nair, K Patel. Emerging role of CAR T cell therapy in Multiple Myeloma. Advances in Cell and Gene Therapy, 2018.
Abstracts
S Tabchi, R Nair, KK Patel, HC Lee, SK Thomas, B Amini, S Ahmed, Rohtesh S Mehta, Qaiser Bashir, Muzaffar H Qazilbash, Donna M Weber, Robert Z Orlowski, Raymond Alexanian, Lei Feng, Elisabet Esteve Manasanch

. The MD Anderson modified cyclophosphamide, bortezomib, doxorubicin, and dexamethasone (mCBAD) for the treatment of newly diagnosed (NDMM) and relapsed/refractory multiple myeloma (RRMM). Clinical Oncology 36(15), 2018.

Ranjit Nair, Usman Shah, Hope Kincaid, Jennifer Macfarlen, Eliot Friedman.

. Retrospective analysis of neoadjuvant chemoradiotherapy with carboplatin/ paclitaxel versus FOLFOX in newly diagnosed esophageal or junctional cancers: A single institution experience. Clinical Oncology 35(4), 2017.