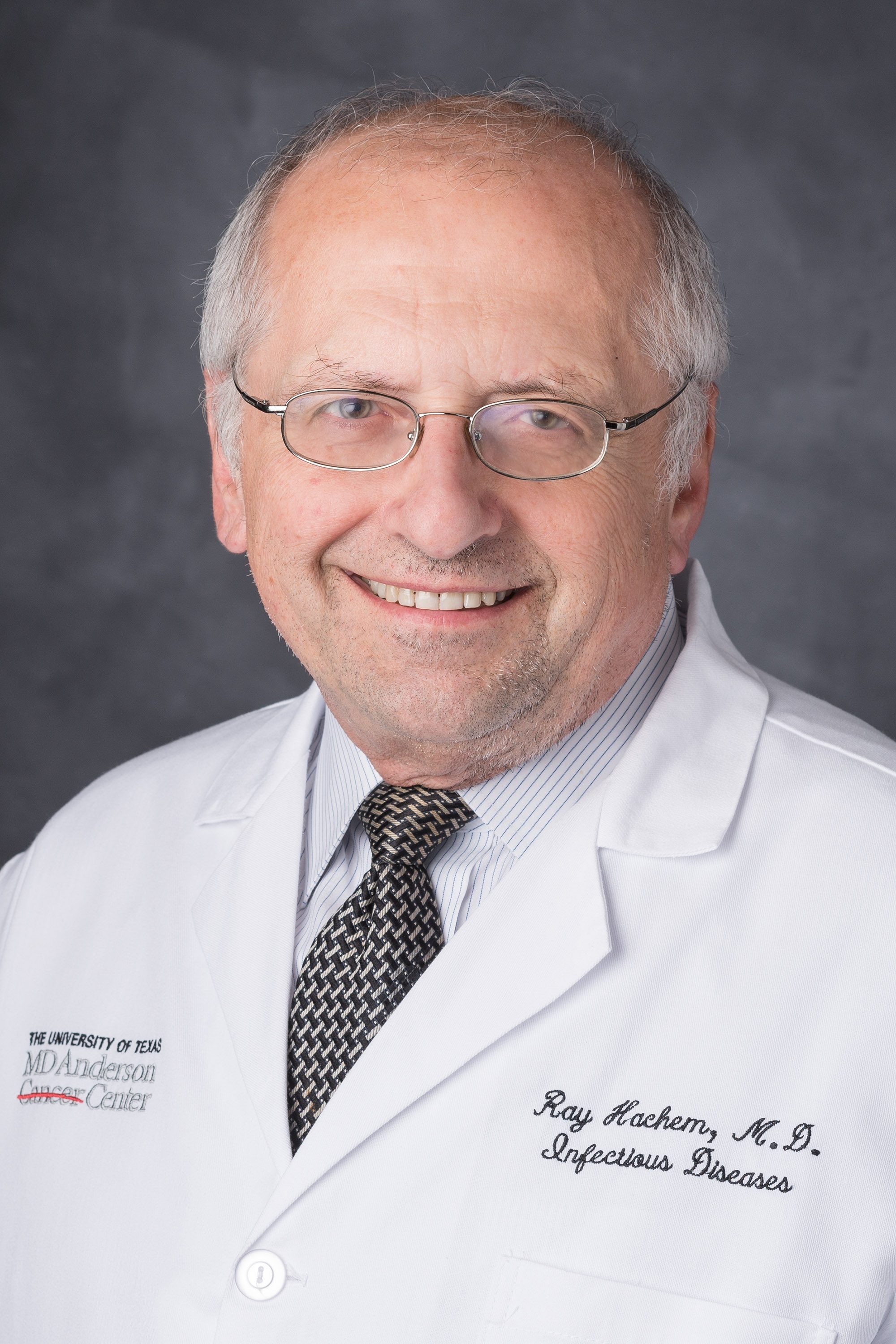 Ray Y. Hachem, MD
Department of Infectious Diseases, Infection Control, and Employee Health, Division of Internal Medicine
Primary Appointment
Professor, Department of Infectious Diseases, Infection Control and Employee Health, Division of Internal Medicine, The University of Texas MD Anderson Cancer Center, Houston, TX
Degree-Granting Education
| | |
| --- | --- |
| 1986 | University of Santiago, Santo Domingo, DOM, MD, Medicine |
Academic Appointments
Associate Professor, Division of Internal Medicine, The University of Texas MD Anderson Cancer Center, Houston, TX, 2008 - 2014
Assistant Professor, Department of Infectious Diseases, Infection Control and Employee Health, Division of Internal Medicine, The University of Texas M. D. Anderson Cancer Center, Houston, TX, 2001 - 2008
Research Investigator, Department of Infectious Diseases, Division of Infectious Diseases, The University of Texas M. D. Anderson Cancer Center, Houston, TX, 1998 - 2001
Postdoctoral Fellow, Department of Department of Medical Specialties, Division of Infectious Diseases, The University of Texas M. D. Anderson Cancer Center, Houston, TX, 1988 - 1998
Peer-Reviewed Articles
Abu-Sheih H, Ali FS, Chen E, Mallepally N, Luo W, Lu Y, Foo WC, Qiao W, Okhuysen PC, Adachi J, Hachem RY, Altan M, Jenq RR, Wang Y

. Neutropenic Enterocolitis:Clinical Features and Outcomes. Dis Colon Rectum 63(3):381-388, 2020. PMID: 31842164.

Sarkis R, Hassan H, Lichaa A, Hachem R

. COVID-19 Pandemic in the midst of Lebanon worst financial crisis capital control or captain control?, 2020.

Wilson Dib R, Hachem R, Chaftari AM, Ghaly F, Jiang Y, Raad I

. Treating Invasive Aspergillosis in patients with Hematologic Malignancy: Diagnostic -Driven Approach versus Empiric Therapies. BMC Infect Dis 18(1):656, 2018. PMID: 3054320.

Jamal MA, Hachem RY, Rosenblatt J, McArthur MJ, Felix E, Jiang Y, Tailor RC, Raad I

. In vivo biocompatibility and in vitro efficacy of antimicrobial gendine-coated central catheters. Antimicrob Agents Chemother 59(9):5611-8, 2015. e-Pub 2015. PMID: 26124171.

Hachem R, Reitzel R, Borne A, Jiang Y, Tinkey P, Uthamanthil R, Chandra J, Ghannoum M, Raad I

. Novel antiseptic urinary catheters for prevention of urinary tract infections: correlation of in vivo and in vitro test results. Antimicrob Agents Chemother 53(12):5145-9, 2009. e-Pub 2009. PMID: 19805562.
| | |
| --- | --- |
| Title: | A Phase 3b Multi-Center, Double-blind, Randomized, Placebo Controlled Study to Demonstrate the Safety and Efficacy of Fidaxomincin for Prophylaxis against Clostridium Difficile-Associated Diarrhea in Adults Undergoing Hematopoietic Stem Cell Transplantation |
| Funding Source: | Optimer Pharmaceuticals, Inc |
| Role: | Co-Investigator |