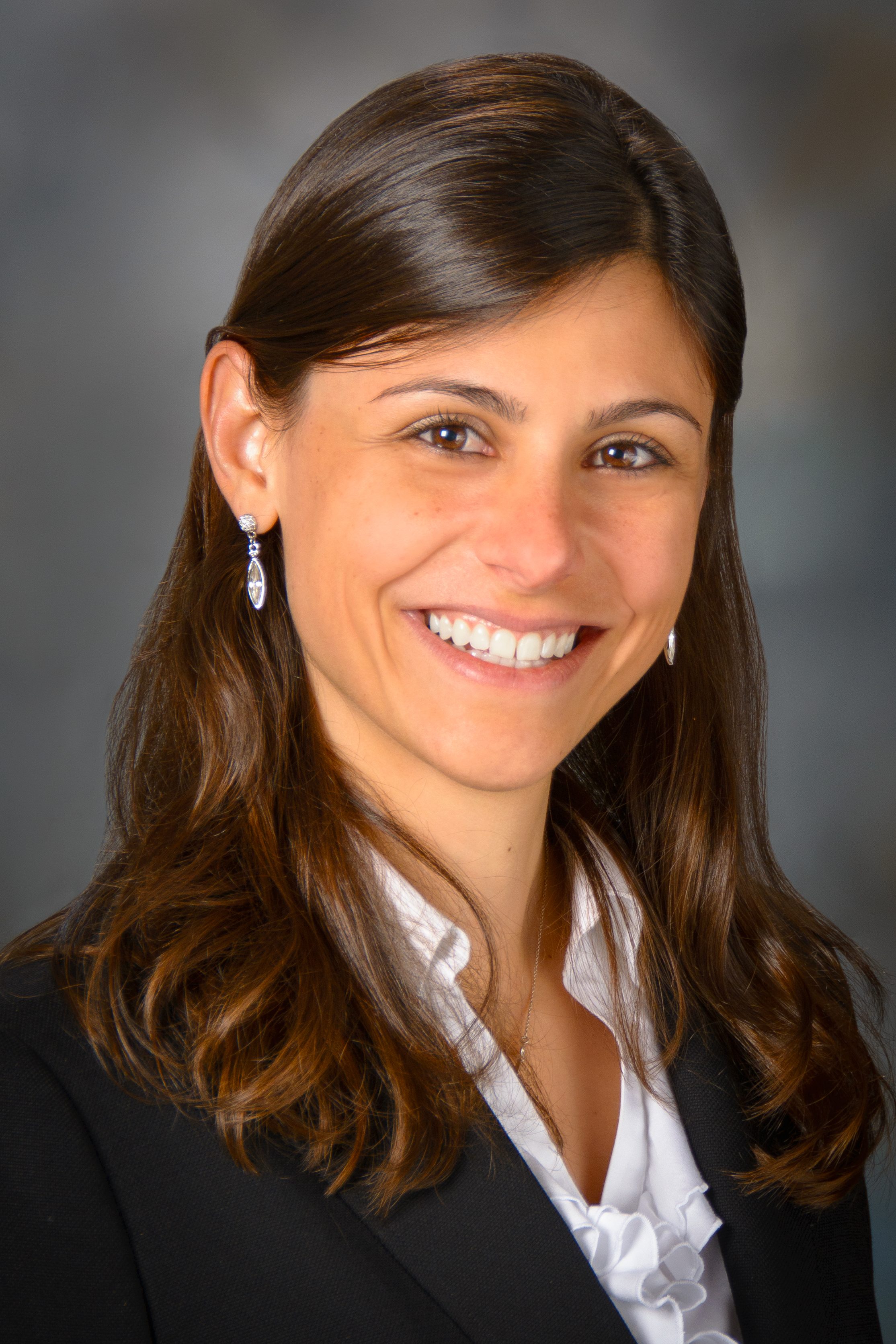 Renata Ferrarotto, MD
Department of Thoracic Head and Neck Medical Oncology, Division of Cancer Medicine
About Dr. Ferrarotto
Dr. Ferrarotto received her MD degree and completed her Clinical Residency and Fellowship in São Paulo (Brazil). During her Fellowship at MD Anderson Cancer Center (2012-2014), Dr. Ferrarotto led a translational research project investigating biomarkers that predict sensitivity to Polo-like kinase 1 (PLK1) inhibitors in non-small cell lung cancers. Her work demonstrated that aggressive mesenchymal cell line and mouse models of non-small cell lung cancers with KRAS mutations were sensitive to PLK1 inhibitors. Currently, Dr. Ferrarotto is an Assistant Professor focused on translational and clinical research in the Department of Thoracic/Head and Neck Medical Oncology, with a particular focus on the rarer tumor subtypes. Dr. Ferrarotto was a recipient of the MD Anderson Jeffrey Lee Cousins Fellowship in Lung Cancer in 2013 and the ASCO Career Development Award in 2016.
Read More
Primary Appointment
Assistant Professor, Department of Thoracic/Head and Neck Medical Oncology, Division of Cancer Medicine, The University of Texas MD Anderson Cancer Center, Houston, TX
Dr. Ferrarotto's work focuses on examining gene and protein profiles of lung and head and neck tumor samples in order to identify alterations that can be targeted with suitable therapy regimens. To accomplish this, alterations of genes and proteins found in tumor samples are correlated with the patient's individual tumor characteristics and clinical outcomes (disease progression and survival), then the effects of different drugs targeting the gene or protein of interest are examined in cell line and mouse models, and finally the results obtained in the lab are used to develop and design clinical trials with new therapeutic regimens for patients. Currently, Dr. Ferrarotto is leading a project to investigate the importance of Notch1 mutations in patients diagnosed with adenoid cystic carcinoma (ACC), a rare salivary gland tumor. Her work demonstrated that Notch1 mutations in ACC define a subgroup of patients with an aggressive disease and propensity to liver and bone metastasis.
Dr. Ferrarotto is a medical oncologist dedicated to improve the quality and length of life of patients suffering from thoracic and head and neck malignancies. She dedicates time to patient care as well as to clinical and translational research. Dr. Ferrarotto's work focuses on identifying predictive biomarkers that can be used to select the patients that will benefit the most from targeted therapy and immunotherapy, particularly in the area of rare cancers (salivary gland cancer, small cell lung cancer, skin cancers, sinonasal cancers, anaplastic thyroid cancer ) that represent a major unmet need. Currently, she directs three clinical trials with targeted therapy and four clinical trials with immunotherapy. In addition, Dr. Ferrarotto is also actively involved in the treatment of oropharyngeal cancers associated with human papillomavirus (HPV) using targeted therapy, immunotherapy, treatment de-intensification and pre-operative systemic therapy.
Degree-Granting Education
| | |
| --- | --- |
| 2006 | Universidade Estadual de Campinas (UNICAMP), Campinas, BRA, MD, Medicine |
Postgraduate Training
| | |
| --- | --- |
| 2012-2014 | Clinical and Research, Thoracic/Head and Neck Medical Oncology, University of Texas MD Anderson Cancer Center, Houston, TX, Houston, TX |
| 2009-2012 | Clinical Fellowship, Medical Oncology, Hospital Sirio Libanes, Sao Paulo, Brazil, Sao Paulo |
| 2007-2009 | Clinical Residency, Internal Medicine, Universidade de Sao Paulo (USP), Sao Paulo |
| | |
| --- | --- |
| 2014 | Texas Medical Board |
| 2009 | Internal Medicine Board (Brazil) |
Peer-Reviewed Articles
Ferrarotto R, Mitani Y, Diao L, Guijarro I, Wang J, Zweidler-McKay P, Bell D, William WN, Glisson BS, Wick MJ, Kapoun AM, Patnaik A, Eckhardt G, Munster P, Faoro L, Dupont J, Lee JJ, Futreal A, El-Naggar AK, Heymach JV

. Activating NOTCH1 Mutations Define a Distinct Subgroup of Patients With Adenoid Cystic Carcinoma Who Have Poor Prognosis, Propensity to Bone and Liver Metastasis, and Potential Responsiveness to Notch1 Inhibitors. J Clin Oncol 35(3):JCO2016675264, 2017. e-Pub 2016. PMID: 27870570.

Mauzo SH, Ferrarotto R, Bell D, Torres-Cabala CA, Tetzlaff MT, Prieto VG, Aung PP

. Molecular characteristics and potential therapeutic targets in Merkel cell carcinoma. J Clin Pathol 69(5):382-90, 2016. e-Pub 2016. PMID: 26818033.

Ferrarotto R, Goonatilake R, Young Yoo S, Tong P, Giri U, Peng S, Minna J, Girard L, Wang Y, Wang L, Li L, Diao L, Peng DH, Gibbons DL, Glisson BS, Heymach JV, Wang J, Byers LA, Johnson FM

. Epithelial-Mesenchymal Transition Predicts Polo-Like Kinase 1 Inhibitor-Mediated Apoptosis in Non-Small Cell Lung Cancer. Clin Cancer Res 22(7):1674-86, 2016. e-Pub 2015. PMID: 26597303.

Massarelli E, Ferrarotto R, Glisson BS

. New Strategies in Human Papillomavirus-Related Oropharynx Cancer: Effecting Advances in Treatment for a Growing Epidemic. Clin Cancer Res 21(17):3821-8, 2015. PMID: 26330505.

Ferrarotto R, Redman MW, Gandara DR, Herbst RS, Papadimitrakopoulou VA

. Lung-MAP-framework, overview, and design principles. Chin Clin Oncol 4(3):36, 2015. PMID: 26408303.

Pereira AA, Rego JF, Morris V, Overman MJ, Eng C, Garrett CR, Boutin AT, Ferrarotto R, Lee M, Jiang ZQ, Hoff PM, Vauthey JN, Vilar E, Maru D, Kopetz S

. Association between KRAS mutation and lung metastasis in advanced colorectal cancer. Br J Cancer 112(3):424-8, 2015. e-Pub 2014. PMID: 25535726.

Bell D, Ferrarotto R, Fox MD, Roberts D, Hanna EY, Weber RS, El-Naggar AK

. Analysis and significance of c-MET expression in adenoid cystic carcinoma of the salivary gland. Cancer Biol Ther 16(6):834-8, 2015. e-Pub 2015. PMID: 25923130.

Mitani Y, Rao PH, Maity SN, Lee YC, Ferrarotto R, Post JC, Licitra L, Lippman SM, Kies MS, Weber RS, Caulin C, Lin SH, El-Naggar AK

. Alterations associated with androgen receptor gene activation in salivary duct carcinoma of both sexes: potential therapeutic ramifications. Clin Cancer Res 20(24):6570-81, 2014. e-Pub 2014. PMID: 25316813.

Ferrarotto R, Gold KA

. Afatinib in the treatment of head and neck squamous cell carcinoma. Expert Opin Investig Drugs 23(1):135-43, 2014. e-Pub 2013. PMID: 24266694.

Ferrarotto R, Schetino G, Freitas D, Capelozzi V, Hoff PM

. Paclitaxel induced chronic fibrosing interstitial pneumonitis: a case report and review of the literature. Oncol Rev 4(2):101-06, 2010.