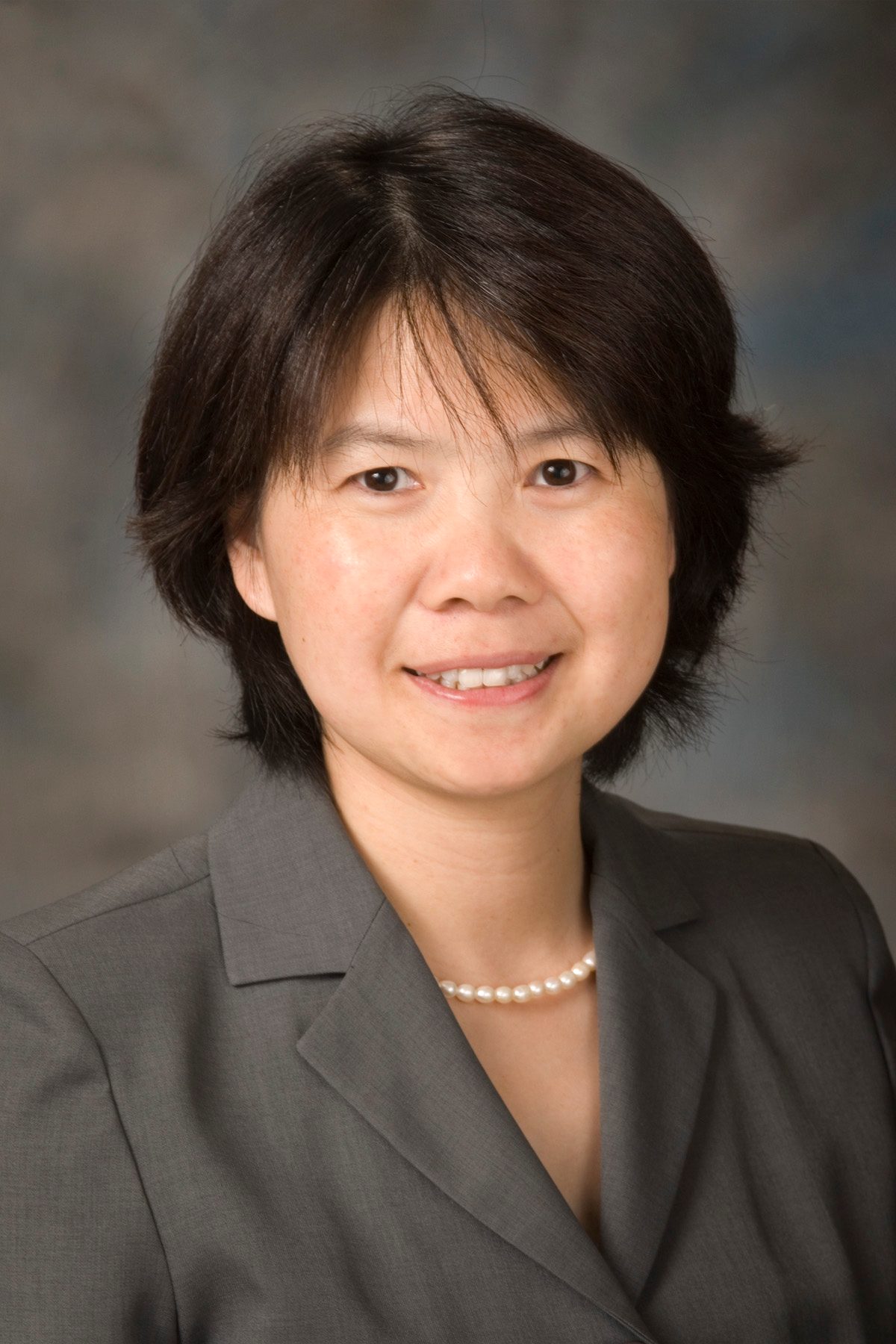 Rong Chen, BS, MS, Ph.D,
Department of Experimental Therapeutics, Division of Cancer Medicine
About Dr. Chen
I majored in Biochemistry in Wuhan University in Wuhan, China where I got my Bachelor in Sciences degree. During my undergraduate study I was awarded a grant to conduct a study of producing single cell protein from corn wastes through mixed micro-organisms culturing. This study was published in 1994. After college, I went to Institute of Genetics of Chinese Academy of Sciences in Beijing for a Master degree in molecular biology. My study focused on molecular cloning and expression of proteinase inhibitors that protect plants from insect damage. Transgenic crops that express the peoteinase inhibitors will become resistant to insects. In 1996, I came to University of Texas Graduate school of Biomedical Sciences. My Ph.D. study was directed by Dr. Arly Nelson. My work focused on organic cation transporters in the secretion of nucleoside analogs. Using frog oocyte as an in vitro expression system, I found certain nucleosides are transported by specific organic cation transporters. Further, chimeric transporters were regenerated to identify the domains that contribute to its specificity. After graduation, I came to Dr. William Plunkett's lab as a postdoctoral fellow and graduate rise to assistant professor. My work focuses on developing transcription/ translation inhibitors in cancer therapy and overcoming drug resistance.
Read More
Primary Appointment
Assistant Professor, Department of Experimental Therapeutics, Division of Cancer Medicine, The University of Texas MD Anderson Cancer Center, Houston, TX
Degree-Granting Education
| | |
| --- | --- |
| 2002 | University of Texas Health Science Center, Graduate School of Biomedical Sciences, Houston, TX, USA, PHD, Cancer Biology |
| 1995 | Chinese Academy of Sciences, Institute of Genetics, Beijing, USA, MS, Molecular Biology |
| 1992 | Wuhan University, Wuhan, USA, BS, Biochemistry |
Postgraduate Training
| | |
| --- | --- |
| 2002-2007 | Postdoctoral Fellowship, molecular pharmacology, The University of Texas MD Anderson Cancer Center, Houston, TX |
Academic Appointments
Instructor, Department of Experimental Therapeutics, Division of Cancer Medicine, The University of Texas MD Anderson Cancer Center, Houston, TX, 2007 - 2010
| | |
| --- | --- |
| 2013 | Leukemia SPORE Career Development Award, MDACC Leukemia SPORE |
| 2009 | Best poster award, Gordon Research Conferences, Nucleosides, Nucleotides & Oligonucleotides |
| 2006 | The Kimberly Patterson Fellowship in Leukemia Research |
| 2003 | Aventis Translational Research Fellowship Award |
Peer-Reviewed Articles
Koay EJ, Truty MJ, Cristini V, Thomas RM, Chen R, Chatterjee D, Kang Y, Bhosale PR, Tamm EP, Crane CH, Javle M, Katz MH, Gottumukkala VN, Rozner MA, Shen H, Lee JE, Wang H, Chen Y, Plunkett W, Abbruzzese JL, Wolff RA, Varadhachary GR, Ferrari M, Fleming JB

Transport properties of pancreatic cancer describe gemcitabine delivery and response J Clin Invest 124 (4) :1525-36, 2014. e-Pub 2014. PMID: 24614108

Carter BZ, Mak DH, Shi Y, Fidler JM, Chen R, Ling X, Plunkett W, Andreeff M

MRx102, a triptolide derivative, has potent antileukemic activity in vitro and in a murine model of AML Leukemia 26 (3) :443-50, 2012. e-Pub 2011. PMID: 21904380

Liu H, Zhang T, Chen R, McConkey DJ, Ward JF, Curley SA

Multiple kinase pathways involved in the different de novo sensitivity of pancreatic cancer cell lines to 17-AAG. J Surg Res 176 (1) :147-53, 2012. e-Pub 2011. PMID: 22099584

Chen R, Guo L, Chen Y, Jiang Y, Wierda WG, Plunkett W

Homoharringtonine reduced Mcl-1 expression and induced apoptosis in chronic lymphocytic leukemia Blood 117 (1) :156-64, 2011. e-Pub 2010. PMID: 20971952

Tong WG, Chen R, Plunkett W, Siegel D, Sinha R, Harvey RD, Badros AZ, Popplewell L, Coutre S, Fox JA, Mahadocon K, Chen T, Kegley P, Hoch U, Wierda WG

Phase I and pharmacologic study of SNS-032, a potent and selective Cdk2, 7, and 9 inhibitor, in patients with advanced chronic lymphocytic leukemia and multiple myeloma J Clin Oncol 28 (18) :3015-22, 2010. e-Pub 2010. PMID: 20479412

Chen R, Wierda WG, Chubb S, Hawtin RE, Fox JA, Keating MJ, Gandhi V, Plunkett W

Mechanism of action of SNS-032, a novel cyclin-dependent kinase inhibitor, in chronic lymphocytic leukemia Blood 113 (19) :4637-45, 2009. e-Pub 2009. PMID: 19234140

Kurtova AV, Balakrishnan K, Chen R, Ding W, Schnabl S, Quiroga MP, Sivina M, Wierda WG, Estrov Z, Keating MJ, Shehata M, Jäger U, Gandhi V, Kay NE, Plunkett W, Burger JA

Diverse marrow stromal cells protect CLL cells from spontaneous and drug-induced apoptosis: development of a reliable and reproducible system to assess stromal cell adhesion-mediated drug resistance Blood 114 (20) :4441-50, 2009. e-Pub 2009. PMID: 19762485

Qin T, Youssef EM, Jelinek J, Chen R, Yang AS, Garcia-Manero G, Issa JP.

Effect of cytarabine and decitabine in combination in human leukemic cell lines Clin Cancer Res 13 (14) :4225-4232, 2007. PMID: 17634552

Chen R, Gandhi V, Plunkett W

A sequential blockade strategy for the design of combination therapies to overcome oncogene addiction in chronic myelogenous leukemia Cancer Res 66 (22) :10959-10966, 2006. PMID: 17108134

Chen R, Jonker JW, Nelson JA

Renal organic cation and nucleoside transport Biochem Pharmacol 64 (2) :185-190, 2002. PMID: 12123738

Chen R, Nelson JA

Role of organic cation transporters in the renal secretion of nucleosides Biochem Pharmacol 60 (2) :215-219, 2000. PMID: 10825466

Chen R, Pan BF, Sakurai M, Nelson JA

A nucleoside-sensitive organic cation transporter in opossum kidney cells Am J Physiol 276 (2 Pt 2) :F323-328, 1999. PMID: 9950964

Pan BF, Sweet DH, Pritchard JB, Chen R, Nelson JA

A transfected cell model for the renal toxin transporter, rOCT2 Toxicol Sci 47 (2) :181-186, 1999. PMID: 10220855

Zhou ZL, Zhu Z, Liu CM, Chen R, Xiao GF, Li XH

Molecular cloning of thiol-proteinase inhibitor gene High Technology Letters 2 (2) :89-94, 1996. e-Pub 1996

Zhou Z, Zhu Z, Chen R, Liu C, Li X

High level expression of oryzacystatin in Escherichia coli. Chin J Biotechnol 12 (1) :17-24, 1996. PMID: 8877110

Xie Z, Chen R

Producing single cell protein from corn wastes through mixed micro-organisms culturing. Cereal & Food Industry 7:28-31, 1994

Chen R, Keating MJ, Gandhi V, Plunkett W

Transcription inhibition by flavopiridol: mechanism of chronic lymphocytic leukemia cell death Blood 106 (7) :2513-2519. PMID: 15972445

Jouanneau M, McClary B, Reyes JC, Chen R, Chen Y, Plunkett W, Cheng X, Milinichik AZ, Albone EF, Liu JO, Romo D

Derivatization of Agelastatin A Leading to Bioactive Analogs and a Trifunctional Probe Bioorg Med Chem Lett 26 (8) :2092-7. PMID: 26951751

Yeh YY, Chen R, Hessler J, Mahoney E, Lehman AM, Heerema NA, Grever MR, Plunkett W, Byrd JC, Johnson AJ

Up-regulation of CDK9 kinase activity and Mcl-1 stability contributes to the acquired resistance to cyclin-dependent kinase inhibitors in leukemia Oncotarget 6 (5) :2667-79. PMID: 25596730

Zecevic A, Sampath D, Ewald B, Chen R, Wierda W, Plunkett W

Killing of chronic lymphocytic leukemia by the combination of fludarabine and oxaliplatin is dependent on the activity of XPF endonuclease Clin Cancer Res 17 (14) :4731-41. PMID: 21632856

Chen R, Chubb S, Cheng T, Hawtin RE, Gandhi V, Plunkett W

Responses in mantle cell lymphoma cells to SNS-032 depend on the biological context of each cell line Cancer Res 70 (16) :6587-97. PMID: 20663900
Invited Articles
Chen R, Plunkett W, Strategy to induce apoptosis and circumvent resistance in chronic lymphocytic leukaemia., 23 (1) :155-66, 2010
Chen R, Plunkett W, Sequential Blockade of Oncogenic Kinases:344-348, 2005
Abstracts
Rong Chen, Yuling Chen, Emanuela Ghia, Laura Rassenti, Tom Kipps, Michael Keating, William Wierda and William Plunkett

Targeting SF3B1 mediated splicing control of Mcl-1 in chronic lymphocytic leukemia Proceedings of America Association for Cancer Research 55, 2014

Rong Chen, Bonnie Leung, Yuling Chen and William Plunkett

Activities and Mechanism Based Combinations of Omacetaxine in Acute Myeloid Leukemia Blood 122 (21) :ABs# 1288, 2013

Chen R, Tsai J, Chen Y, Burrows F, Wierda W and Plunkett W

Mechanism of action of the multikinase inhibitor TG02 in chronic lymphocytic leukemia Proceedings of America Association for Cancer Research 53, 2012

Chen R, Chen Y, Green SR, Wierda WG, Plunkett W

A novel derivative of the Cdk inhibitor roscovitine that induces apoptosis in CLL and overcomes stromal cell-mediated protection Proceedings of America Association for Cancer Research 51, 2010

Chen R, Guo L, Chen Y, Jiang Y, Wierda W, Plunkett W

Reducing Mcl-1 by Homoharringtonine Induces Apoptosis in Chronic Lymphocytic Leukemia Cells Blood 112, 2010

Chen R,Chubb S, Cheng T, Hawtin RE, Fox JA, Gandhi V, Plunkett W

SNS-032 reduced the expression of cyclin D1 and Mcl-1 and inhibited survival in mantle cell lymphoma cell lines Proceedings of America Association for Cancer Research 50, 2009

Guo L, Chen R, Wierda WG, Plunkett W

Homoharringtonine downregulates Mcl-1 and induces apoptosis in Chronic Lymphocytic Leukemia cells Proceedings of American Association for Cancer Research 50, 2009

Chen R, Chubb S, Hoch U, Hawtin RE, Fox JA, Gandhi V, Plunkett W.

SNS-032, a novel inhibitor of cyclin-dependent kinases 2, 7 and 9, blocks transcription of cyclin D1 and Mcl-1, causing cell death in mantle cell lymphoma cell lines Proceedings of American Association for Cancer Research 49, 2008

Wierda WG, Chen R, Plunkett W, Coutre S, Badros A, Popplewell L, Fox JA, Hoch U, Goldberg Z.

A phase 1 trial of SNS-032, a potent and specific cdk 2, 7 and 9 inhibitor, in chronic lymphocytic leukemia and multiple myeloma Blood 110, 2008

Chen R, Tsai CY, Plunkett W

Transcription inhibition by Actinomycin D as a mechanism-based approach to treatment of Bcr-Abl-positive chronic myelogenous leukemia Proceedings of American Association for Cancer Research 48:764 #3211, 2007

Chen R, Wierda WG, Chubb S, Hoch U, Hawtin RE, Fox JA, Keating MJ, Gandhi V, Plunkett W

Mechanism of action of SNS-032, a novel cyclin dependent kinase inhibitor, in Chronic Lymphocytic Leukemia: comparison with flavopiridol Blood 109, 2007

Chen R, Plunkett W

Sequential blockade of Bcr-Abl production overcomes resistance to imatinib Proceedings of the American Association for Cancer Research 47:709, 2006

Chen R, Cortes J, Gandhi V, Plunkett W

Sequential blockade of Bcr-Abl expression overcomes resistance to imatinib National Spore Meeting, 2006

Quintás-Cardama A, Kantarjian H, Wierda W, Ferrajoli A, Chen R, Ravandi F, Plunkett W, Cortes J

A phase II study of intravenous (iv) homoharringtonine (HHT) and imatinib (IM) in patients (pts) with chronic myeloid leukemia (CML) Blood 108 (11) :261, 2006

Chen R, Keating MJ, Gandhi V, Plunkett W

Flavopiridol-induced apoptosis in chronic lymphocytic leukemia (CLL) cells through the transcriptional down-regulation of anti-apoptotic proteins Proceedings of the American Association for Cancer Research 46:769, 2005

Chen R, Cortes J, Gandhi V, Plunkett W

A sequential blockade strategy to target the Bcr-Abl oncoprotein in chronic myelogenous leukemia with the combination of flavopiridol, homoharringtonine and Imatinib National Spore Meeting, 2005

Chen R, Plunkett W

A sequential blockade strategy to target the Bcr-Abl oncoprotein in chronic myelogenous leukemia by the combination of flavopiridol, homoharringtonine and STI571 Proceedings of the American Association for Cancer Research 45:124, 2004

Pan JX, Chen R, Plunkett W

Claspin, a Chk1 interacting protein, is involved in gemcitabine-induced S phase checkpoint activation Proceedings of the American Association for Cancer Research 45:538, 2004

Chen R, Benaissa S, Plunkett W

A sequential blockade strategy to target the BCR/ABL oncoprotein in chronic myelogenous leukemia with STI571 and the protein synthesis inhibitor homoharringtonine Proceedings of the American Association for Cancer Research 44:867, 2003

Chen R, Keating MJ, Plunkett W

Transcriptional down-regulation of oncogene expression in CML and CLL by actinomycin D and flavopiridol AACR-NCI-EORTC International Conference: Molecular Targets and Cancer Therapeutics:146 #B114, 2003

Pan BF, Chen R, Farquhar D, Nelson JA

Multidrug resistance and collateral sensitivity in human renal carcinoma Proceedings of the American Association for Cancer Research 43:951, 2002
| | |
| --- | --- |
| Title: | Chronic Lymphocytic Leukemia Research Consortium |
| Funding Source: | NIH/NCI |
| Role: | Co-Investigator |
| | |
| --- | --- |
| Title: | CLL Moon Shot: Drug Development Project |
| Funding Source: | CLL Moon Shot |
| Role: | Co-Investigator |
| | |
| --- | --- |
| Title: | Strategies to target the pathophysiology of CLL |
| Funding Source: | CLL Global Research Foundation |
| Role: | Co-Investigator |