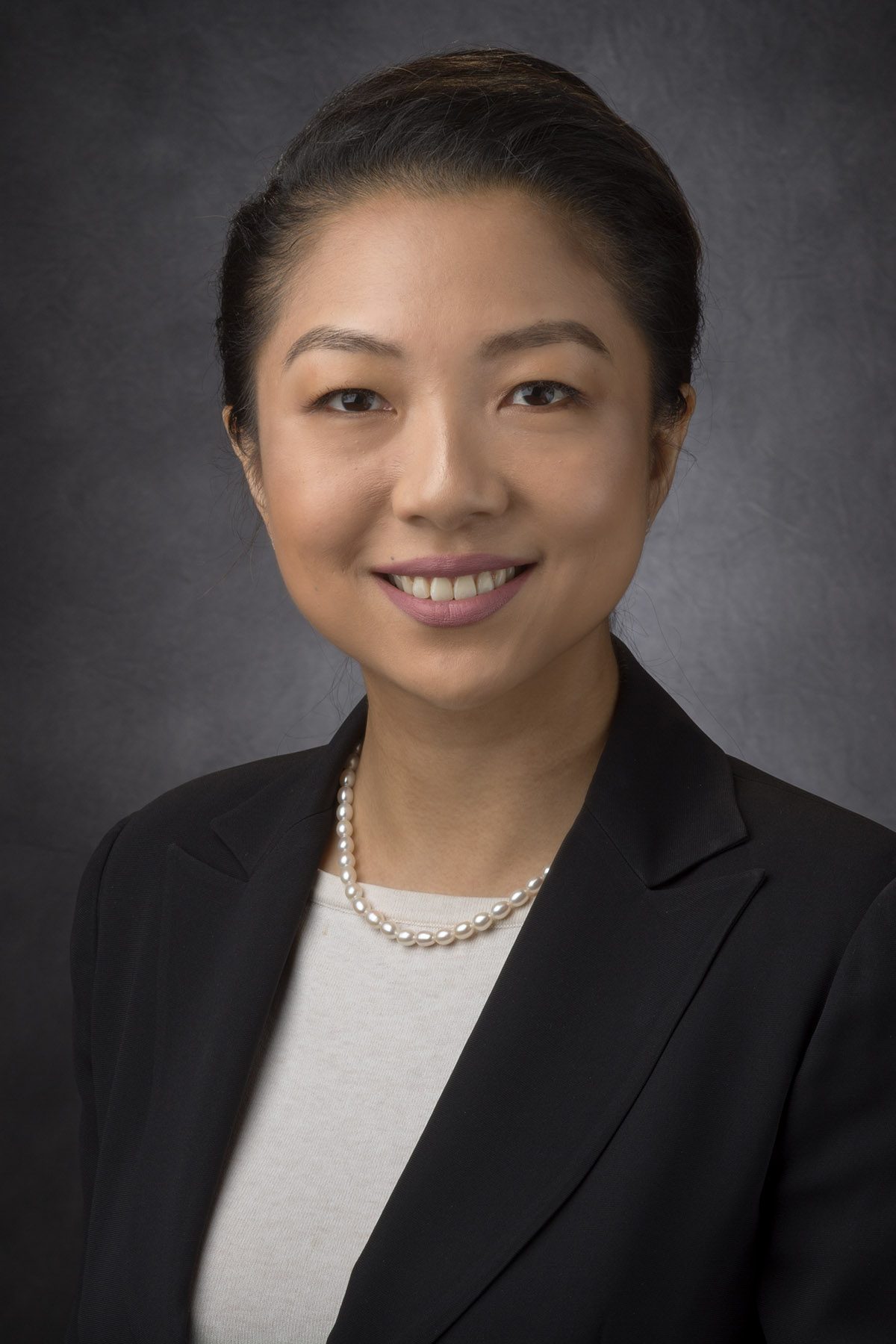 Jennifer R. Wang, M.D., ScM, FRCSC
Department of Head and Neck Surgery, Division of Surgery
Primary Appointment
Assistant Professor, Department of Head and Neck Surgery, Division of Surgery, The University of Texas MD Anderson Cancer Center, Houston, TX
Degree-Granting Education
| | |
| --- | --- |
| 2015 | Johns Hopkins University, Baltimore, MD, USA, ScM, Master of Science, Genetic Epidemiology |
| 2010 | University of Toronto, Toronto, CAN, MD, Doctor of Medicine |
| 2006 | McMaster University, Hamilton, CAN, BHSc, Bachelor of Health Sciences |
Postgraduate Training
| | |
| --- | --- |
| 2017-2018 | Clinical Fellowship, Advanced Head and Neck Surgical Oncology, The University of Texas MD Anderson Cancer Center, Houston, TX |
| 2013-2015 | Research Residency, Clinician Investigator Program, University of Toronto, Toronto |
| 2010-2017 | Clinical Residency, Otolaryngology-Head and Neck Surgery, University of Toronto, Toronto |
| | |
| --- | --- |
| 2017 | Royal College of Physicians and Surgeons of Canada |
Institutional Committee Activities
Member, Physician Advisory Board, 2019 - Present
Voting Member, MD Anderson Data and Biospecimen Access Committee (DBAC), 2019 - Present
Member, MD Anderson Endocrine Center Steering Committee, 2019 - Present
Member, MD Anderson Department of Head and Neck Surgery Clinical Operations Team (HNS COLT), 2019 - Present
| | |
| --- | --- |
| 2018 | Conquer Cancer Foundation Merit Award, American Society of Clinical Oncology |
| 2018 | Fellow, ECCO-AACR-EORTC-ESMO Methods in Clinical Cancer Research |
| 2015 | Chapnik, Freeman & Friedberg Clinician-Scientist Award, University of Toronto |
| 2014 | William S. Fenwick Research Fellowship Award, University of Toronto |
| 2014 | Alando J. Ballantyne Resident Research Award, American Head and Neck Society |
| 2010 | Hugh Barber Scholarship in Otolaryngology, University of Toronto |
American Head and Neck Society
Member, Basic & Translational Science Service Committee, 2019 - 2022
American Head and Neck Society
Member, Grants Service Committee, 2019 - 2022
Royal College of Physicians and Surgeons
Fellow, 2018 - Present
American Thyroid Association
Member, 2017 - Present
American Head and Neck Society
Member, 2017 - Present
American Association of Cancer Research
Member, 2017 - Present
American Academy of Otolaryngology - Head and Neck Surgery
Member, 2017 - Present
Peer-Reviewed Articles
Wang JR, Nurgalieva Z, Fu S, Tam S, Zhao H, Giordano SH, Hutcheson KA, Lewis CM

. Utilization of rehabilitation services in patients with head and neck cancer in the United States: A SEER-Medicare analysis. Head Neck 41(9):3299-3308, 2019. e-Pub 2019. PMID: 31240808.

Wang JR, Zafereo ME, Dadu R, Ferrarotto R, Busaidy NL, Lu C, Ahmed S, Gule-Monroe MK, Williams MD, Sturgis EM, Goepfert RP, Gross ND, Lai SY, Gunn GB, Phan J, Rosenthal DI, Fuller CD, Morrison WH, Iyer P, Cabanillas ME

. Complete Surgical Resection Following Neoadjuvant Dabrafenib Plus Trametinib in BRAFV600E-Mutated Anaplastic Thyroid Carcinoma. Thyroid 29(8):1036-1043, 2019. PMID: 31319771.

Ren S, Gaykalova D, Wang JR, Guo T, Danilova L, Favorov A, Fertig E, Bishop J, Khan Z, Flam E, Wysocki PT, DeJong P, Ando M, Liu C, Sakai A, Fukusumi T, Haft S, Sadat S, Califano JA

. Discovery and development of differentially methylated regions in human papillomavirus-related oropharyngeal squamous cell carcinoma. Int J Cancer 143(10):2425-2436, 2018. e-Pub 2018. PMID: 30070359.

Tao Y, Sturgis EM, Huang Z, Wang Y, Wei P, Wang JR, Wei Q, Li G

. TGFβ1 Genetic Variants Predict Clinical Outcomes of HPV-Positive Oropharyngeal Cancer Patients after Definitive Radiotherapy. Clin Cancer Res 24(9):2225-2233, 2018. e-Pub 2018. PMID: 29463556.

Gama RR, Song Y, Zhang Q, Brown MC, Wang JR, Habbous S, Tong L, Huang SH, O'Sullivan B, Waldron J, Xu W, Goldstein D, Liu G

. Body mass index and prognosis in patients with head and neck cancer. Head & Neck 39(6):1226-1233, 2017.

Wang JR, Habbous S, Espin-Garcia O, Chen D, Huang SH, Simpson C, Xu W, Liu FF, Brown DH, Gilbert RW, Gullane PJ, Irish JC, Goldstein DP, Liu G

. Comorbidity and performance status as independent prognostic factors in patients with head and neck squamous cell carcinoma. Head Neck 38(5):736-42, 2016. e-Pub 2015. PMID: 25521753.

Wang JR, Gramling SJ, Goldstein DP, Cheng D, Chen D, Azad AK, Tse A, Hon H, Chen Z, Mirshams M, Simpson C, Huang SH, Marquez S, O'Sullivan B, Liu FF, Roberts H, Xu W, Brown DH, Gilbert RW, Gullane PJ, Irish JC, Reisman DN, Liu G

. Association of two BRM promoter polymorphisms with head and neck squamous cell carcinoma risk. Carcinogenesis 34(5):1012-7, 2013. e-Pub 2013. PMID: 23322154.

Wang JR , Yuen HW, Shipp DB, Lin VYW, Chen JM, Nedzelski JM

. Cochlear Implantation in Patients with Autoimmune Inner Ear Disease (Including Cogan's Syndrome): A Comparison with Age and Sex Matched Controls. The Laryngoscope 120(12):2478-2483, 2010.

Higgins KM, Wang JR

. State of head and neck surgical oncology research--a review and critical appraisal of landmark studies. Head Neck 30(12):1636-42, 2008. PMID: 18642286.
Book Chapters
Wang JR, Bell D, Ferrarotto R, Weber RS, Su S. Malignant Salivary Tumors. Surgery of the Salivary Glands. In: Health Sciences. Elsevier, 2018.
Fernandez V, Oyewumi M, Wang JR. The Head & Neck Exam. In: Essentials of Clinical Examination Handbook. 6, 2010.
Wang JR. Benign Salivary Neoplasms. In: Cummings Otolaryngology ­Head and Neck Surgery. 7. Elsevier.
| | |
| --- | --- |
| Title: | "Defining the Role of SWI/SNF Mutations in Anaplastic Thyroid Carcinoma" |
| Funding Source: | American Thyroid Association and ThyCA:Thyroid Cancer Survivors' Association (ThyCa) |
| Role: | Principal Investigator |
| | |
| --- | --- |
| Title: | "Chromatin Remodeling and Head and Neck Squamous Cell Carcinoma" |
| Funding Source: | American Head and Neck Society Alando J. Ballantyne Resident Research Pilot Grant |
| Role: | Principal Investigator |
| | |
| --- | --- |
| Title: | Expression of chromatin proteins in primary oral squamous cell carcinoma tumors" |
| Funding Source: | Harry Barberian Research Grant, University of Toronto |
| Role: | Principal Investigator |
| | |
| --- | --- |
| Title: | Intratumor Heterogeneity in Anaplastic Thyroid Carcinoma: Implications for Treatment Resistance |
| Funding Source: | The Mark Foundation for Cancer Research, ASPIRE Grant |
| Role: | Principal Investigator |