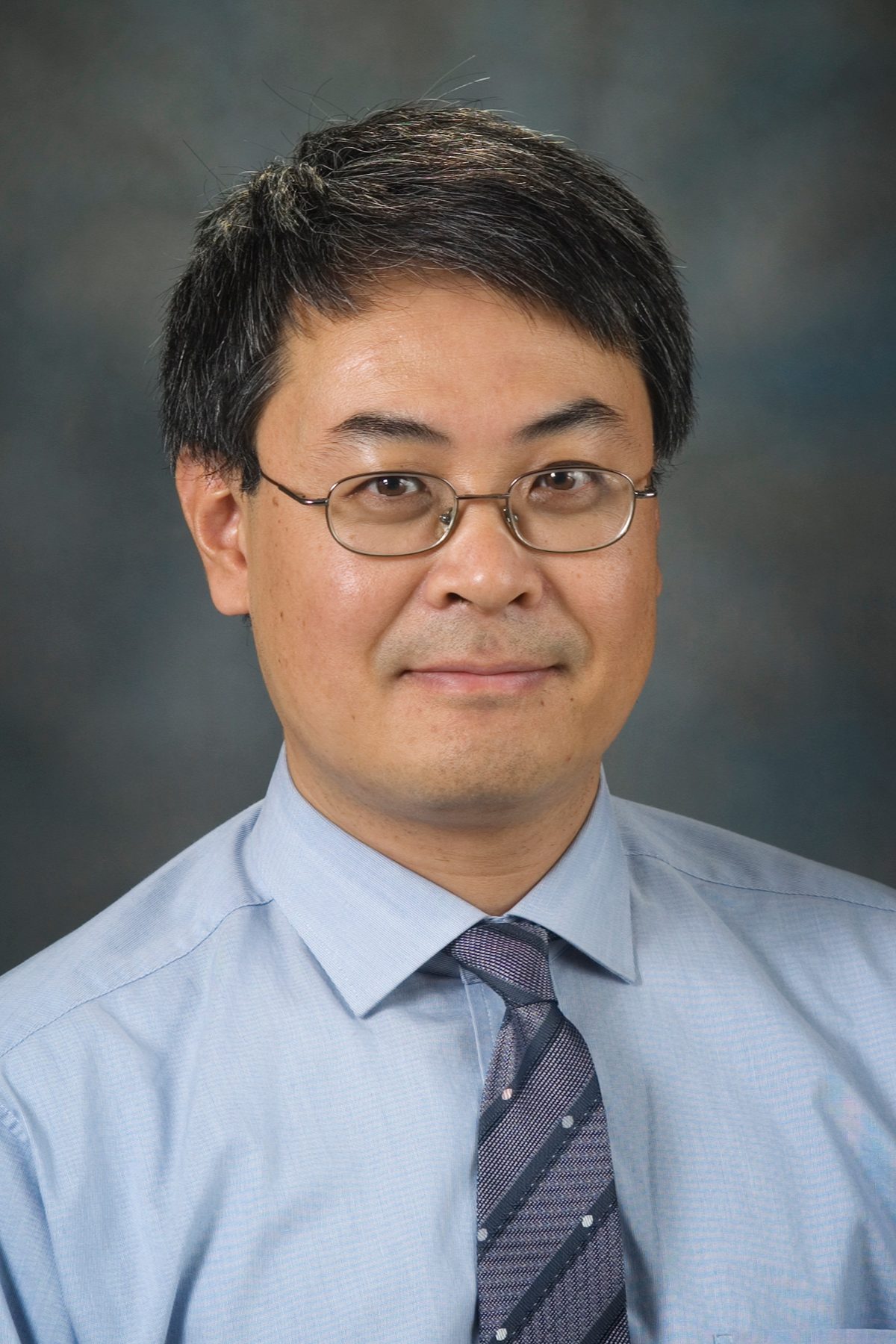 Sijie Lu, B.S., Ph.D.
Department of Hematopoietic Biology&Malignan, Division of Cancer Medicine
About Dr. Lu
I received my Ph.D. from Michigan State University in 1994. I continued my research career as an NIH postdoctoral fellow at Baylor College of Medicine from 1994 to 2000 in the lab of Dr. Adam Kuspa, who specialized in molecular genetics I joined the faculty at The University of Texas M. D. Anderson Cancer Center in December of 2000 as an Instructor in the Stem Cell Transplantation and Cellular Therapy Department and promoted to Assistant Professor in September of 2004. Since joining MDACC, I have been a member of the Transplantation Immunology Section.
Read More
One of our interests in the lab is discovering leukemia-associated antigens (LAA), which is the first step towards separating beneficial graft versus leukemia (GvL) effect from the detrimental graft versus host disease (GvHD). We have focused on Myeloperoxidase (MPO), which is overexpressed in 50% of AML, 75% of CML, and 30% of MDS patients. We have identified two novel, HLA-A2-restricted peptides, MY4 and MY8, as leukemia-associated antigens. We have been able to elicit MY4- and MY8-specific cytotoxic T cells (CTL) from healthy donor's peripheral blood mononuclear cells (PBMC). These CTLs have shown the capability to kill leukemic cells but not normal bone marrow in vitro. In addition, these CTLs can drastically reduce tumor burden (50-70%) in vivo when co-injected with leukemic cells in an immune-compromised mouse. These data suggest that both MY4 and MY8 could be used as immunotherapy reagents, such as vaccines, for treating leukemia.
Degree-Granting Education
| | |
| --- | --- |
| 1994 | Michigan State University, East Lansing, MI, USA, PHD, Biochemistry |
| 1988 | Peking University, Beijing, CHN, BS, Biochemistry |
Academic Appointments
Assistant Professor, Department of Stem Cell Transplantation - Research, Division of Cancer Medicine, UT M. D. Anderson Cancer Center, Houston, TX, 2004 - 2020
Other Appointments/Responsibilities
Lab Coordinator, Section of Transplantation Immunology, Department of Stem Cell Transplantation and Cellular Therapy, UT M. D. Anderson Cancer Center, Houston, TX, 2000 - 2020
| | |
| --- | --- |
| 2004 | Fujisawa New Investigator Award, American Society for Blood and Marrow Transplantation (ASBMT) |
| 1995 | NIH National Research Service Award, Baylor College of Medicine |
| 1992 | College of Natural Science Graduate Fellowship for Excellence in Research, Michigan State University |
| 1985 | Award for Excellence in Academic Achievement for Undergraduate Students, Peking University |
Peer-Reviewed Articles
Sergeeva A, Alatrash G, He H, Ruisaard K, Lu S, Wygant J, McIntyre BW, Ma Q, Li D, St John L, Clise-Dwyer K, Molldrem JJ

. An anti-PR1/HLA-A2 T-cell receptor-like antibody mediates complement-dependent cytotoxicity against acute myeloid leukemia progenitor cells. Blood 117(16):4262-72, 2011. e-Pub 2011. PMID: 21296998.

Armistead PM, Liang S, Li H, Lu S, Van Bergen CA, Alatrash G, St John L, Hunsucker SA, Sarantopoulos S, Falkenburg JH, Molldrem JJ

. Common Minor Histocompatibility Antigen Discovery Based upon Patient Clinical Outcomes and Genomic Data. PLoS One 6(8):e23217, 2011. e-Pub 2011. PMID: 21858034.

Ma Q, Wang C, Jones D, Quintanilla KE, Li D, Wang Y, Wieder ED, Clise-Dwyer K, Alatrash G, Mj Y, Munsell MF, Lu S, Qazilbash MH, Molldrem JJ

. Adoptive transfer of PR1 cytotoxic T lymphocytes associated with reduced leukemia burden in a mouse acute myeloid leukemia xenograft model. Cytotherapy 12(8):1056-62, 2010. e-Pub 2010. PMID: 20735170.

Kanodia S, Wieder E, Lu S, Talpaz M, Alatrash G, Clise-Dwyer K, Molldrem JJ

. PR1-specific T cells are associated with unmaintained cytogenetic remission of chronic myelogenous leukemia after interferon withdrawal. PLoS One 5(7):e11770, 2010. e-Pub 2010. PMID: 20668669.

Martin-Orozco N, Muranski P, Chung Y, Yang XO, Yamazaki T, Lu S, Hwu P, Restifo NP, Overwijk WW, Dong C

. T helper 17 cells promote cytotoxic T cell activation in tumor immunity. Immunity 31(5):787-98, 2009. e-Pub 2009. PMID: 19879162.

Wang Y, Li D, Nurieva R, Yang J, Sen M, Carreño R, Lu S, McIntyre BW, Molldrem JJ, Legge GB, Ma Q

. LFA-1 affinity regulation is necessary for the activation and proliferation of naive T cells. J Biol Chem 284(19):12645-53, 2009. e-Pub 2009. PMID: 19297325.

Liu X, Alexiou M, Martin-Orozco N, Chung Y, Nurieva RI, Ma L, Tian Q, Kollias G, Lu S, Graf D, Dong C

. Cutting edge: A critical role of B and T lymphocyte attenuator in periperal T cell tolerance induction. J Immunol 182(8):4516-20, 2009. PMID: 19342624.

Knuth M, Khaire N, Kuspa A, Lu S, Schleicher M, Noegel A

. A novel partner for dictyostelium filamin is an a-helical developmentally regulated protein. Journal of Science 117:5013-5022, 2004. PMID: 15383615.

Maeda M, Lu S, Shaulsky G, Miyazaki Y, Kuwayama H, Tanaka Y, Kuspa A, Loomis WF

. Periodic signaling controlled by an oscillatory circuit that includes protein kinases ERK2 and PKA. Science 304(5672):875-8, 2004. PMID: 15131307.

Molldrem JJ, Lee PP, Kant S, Wieder E, Jiang W, Lu S, Wang C, Davis MM

. Chronic myelogenous leukemia shapes host immunity by selective deletion of high-avidity leukemia-specific T cells. J Clin Invest 111(5):639-47, 2003. PMID: 12618518.

Molldrem JJ, Kant S, Jiang W, Lu S

. The basis of T-cell-mediated immunity to chronic myelogenous leukemia. Oncogene 21(56):8668-73, 2002. PMID: 12476312.
Invited Articles
Lu S, Wieder E, Komanduri K, Ma Q, Molldrem JJ. Vaccines in leukemia. Adv Pharmacol 51:255-70, 2004. PMID: 15464913.
| | |
| --- | --- |
| Title: | Selective Expansion of Anti-Leukemic CTL for Donor Lymphocyte Infusion |
| Funding Source: | American Society for Blood and Marrow Transplantation (ASBMT) |
| Role: | Principal Investigator |
| | |
| --- | --- |
| Title: | The Therapy of CML, GMP & Immune Assessment Core |
| Funding Source: | NIH/NCI |
| Role: | Faculty Collaborator |
| | |
| --- | --- |
| Title: | Cyclin E-Derived Peptides as Targest of CTL-Mediated Immunity Against Leukemia |
| Funding Source: | Gillson-Longenbaugh Foundation |
| Role: | Co-Investigator |