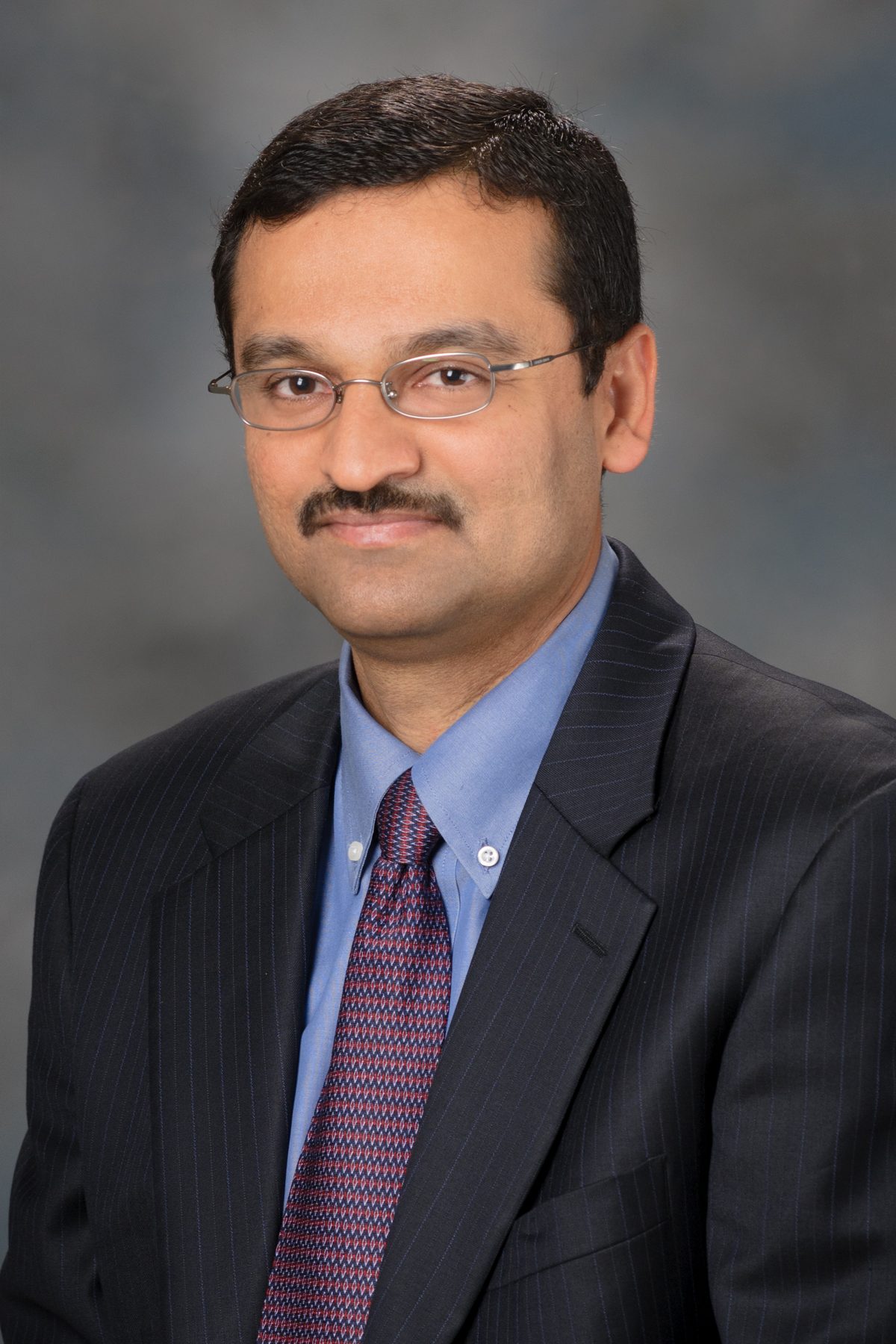 Srinivasa R Prasad, M.D.
Department of Abdominal Imaging, Division of Diagnostic Imaging
About Dr. Prasad
Dr. Srinivasa Prasad is a Professor of Radiology and a board-certified radiologist in the Department of Diagnostic Radiology at MD Anderson Cancer Center. He joined MDACC in 2011 after serving as the Section Chief of Abdominal Imaging at The University of Texas Health Science Center, San Antonio. He currently serves as the Co-Director of the Division's Quality Improvement Conferences and as a member of the Division's Promotion and Tenure Committee.
Dr. Prasad graduated with a medical degree from Bangalore Medical College in 1995. He then successfully completed a radiology residency from King Edward Memorial Hospital. He subsequently completed a 2-year research fellowship at Massachusetts General Hospital and a 2-year abdominal imaging fellowship at Mallinckrodt Institute of Radiology before joining as a faculty in San Antonio. Dr. Prasad's research and clinical interests include application of state-of-the-art CT and MRI for accurate diagnosis and staging of a wide spectrum of human cancers, with special emphasis on genito-urinary tract malignancies. In recent years, Dr. Prasad's focus in oncological imaging has included exploring the role of genetics in the pathogenesis of cancers. He has published more than 135 peer-reviewed, 9 book chapters, and more than 150 abstracts. Dr. Prasad serves as a journal reviewer for 10 scientific journals including Radiology, AJR and Abdominal Imaging. He has been very active and has served in various leadership positions and several national subspecialty radiology societies including RSNA, Society of Abdominal Imaging and SCBT-MR. In addition, Dr. Prasad is a dedicated teacher and mentor, having supervised many medical students, resident and fellows in clinical imaging research.
Read More
Primary Appointment
Professor, Department of Abdominal Imaging, Division of Diagnostic Imaging, The University of Texas MD Anderson Cancer Center, Houston, TX
Professor, Department of Diagnostic Radiology, Division of Diagnostic Imaging, The University of Texas MD Anderson Cancer Center, Houston, TX
Genetics and Imaging of Human Cancers
CT/MR Imaging of Genitourinary Tract Cancers
Hepatocellular Adenomas
Degree-Granting Education
| | |
| --- | --- |
| 1995 | Bangalore Medical College, Bangalore University, Bangalore, IND, MD, Medicine |
| | |
| --- | --- |
| 2010 | American Board Radiology |
Other Appointments/Responsibilities
Abdominal Imaging Fellow, Mallinckrodt Institute of Radiology Washington University, St. Louis, MO, 2001 - 2003
Radiology Research Fellow, Massachusetts General Hospital Harvard University, Boston, MA, 1999 - 2001
Diagnostic-Radiology Residency, King Edward Memorial Hospital University of Mumbai, Mumbai, 1995 - 1998
| | |
| --- | --- |
| 2020 | Magna Cum Laude Pancreas in Hereditary Syndromes: Cross-Sectional Imaging Spectrum, Radiological Society of North America |
| 2020 | Magna Cum Laude Mucin-producing Cystic Hepatobiliary Neoplasms: Nomenclature, Pathogenesis, and Imaging Features, Radiological Society of North America |
| 2020 | RSNA Honored Educator Award, Radiological Society of North America |
| 2019 | Magna Cum Laude, Pancreas in hereditary syndromes: Cross-sectional imaging spectrum, Radiological Society of North America |
| 2017 | Certificate of Merit, Education exhibit "Metabolism gone awry: a comprehensive review of oncometabolities-induced malignancies", Radiological Society of North America |
| 2017 | Identified for RadioGraphics, Poster "Can we blame our genes for all cancers? a radiologist's primer on common hereditary cancer syndromes, Radiological Society of North America |
| 2017 | Magna Cum Laude, Digital education exhibit "American College of Gastroenterology (ACG) guidelines for diagnosis and management of hereditary gastrointestinal cancer syndromes: an update for radiologists", Radiological Society of North America |
| 2017 | The Cancer Genome Atlas (TCGA) molecular classification of gastric adenocarcinoma: an update for radiologists, Radiological Society of North America |
| 2017 | Identified for RadioGraphics, Digital education exhibit "Exploring uncharted territory: the mesentery - a newly-classified organ in the human body", Radiological Society of North America |
| 2017 | Cum Laude, Digital education exhibit "Exploring uncharted territory: the mesentery - a newly-classified organ in the human body", Radiological Society of North America |
| 2017 | Cum Laude, Digital education exhibit "A tale of two tumors: current update in genetics and imaging of pheochromocytomas and paragangliomas", Radiological Society of North America |
| 2017 | RSNA Honored Educator Award, Radiological Society of North America |
| 2016 | Certificate of Merit, Education Exhibit, All in the family: current update on genetics and imaging of hereditary renal cell carcinomas, Radiological Society of North America |
| 2016 | Magna Cum Laude, The new 2014 world health organization (WHO) classification of ovarian cancer: a primer for radiologists, Radiological Society of North American |
| 2014 | Magna Cum Laude, Biliary diseases with pancreatic counterparts: evolving concepts in pathogenesis and cross-sectional imaging findings, Radiological Society of North America |
| 2014 | Certificate of Merit, Current update on extrauterine pelvic serous carcinomas: implications for diagnosis and management, Radiological Society of North America |
| 2012 | Best Scientific Poster, Measuring response to targeted therapies in metastatic renal cell carcinoma: current concepts & future directions, Society of Uroradiology; Abdominal Radiology Course |
| 2012 | Best Educational Poster Award, MDCT spectrum of congenital urological anomalies diagnosed in adulthood, Society of Uroradiology; Abdominal Radiology Course |
| 2012 | Certificate of Merit, Uncommon and rare testicular lesions: clinical and imaging review, American Roentgen Ray Society |
| 2012 | RSNA Honored Educator Award, Radiological Society of North America |
| 2012 | Visiting Faculty; SAR International Education Conference, Society of Abdominal Radiology |
| 2011 | Cum Laude Medal, Renal cell cancer: what the radiologist needs to know about its molecular pathways and newer biological therapies, Radiological Society of North America |
| 2011 | Certificate of Merit, Topographical localization of solid renal masses in adults: a systematic review, Radiological Society of North America |
| 2011 | Certificate of Merit, Management and follow-up guidelines of pancreatic cystic lesions: current update for radiologist, Radiological Society of North America |
| 2010 | Julio C Palmaz Endowment for Excellence in Radiology Research |
| 2010 | Certificate of Merit, Benign scrotal tumors and pseudo tumors: imaging diagnosis and pathological correlation, Radiological Society of North America |
| 2010 | Certificate of Merit, MR anatomy and pathology of mesorecturm. Essentials for the radiologist in staging rectal carcinoma, Radiological Society of North America |
| 2010 | Certificate of Merit, Lymph node imaging: current concepts and future perspectives, Radiological Society of North America |
| 2010 | Certificate of Merit, Typical manifestations of rare causes of acute small bowel obstruction in adults: role of imaging and implications on management, Radiological Society of North America |
| 2010 | Certificate of Merit, Rare (<1%) histological subtypes of renal cell carcinoma: a comprehensive review, Radiological Society of North America |
| 2010 | Certificate of Merit, Cocaine-induced abdominal catastrophes: imaging spectrum, Radiological Society of North America |
| 2010 | Certificate of Merit, Follow up guidelines: how and when – a quick review for abdominal imagers, Radiological Society of North America |
| 2009 | Certificate of Merit, Adult bile duct strictures: inside out: role of MRI/MRCP in characterization, Radiological Society of North America |
| 2009 | Certificate of Merit, Mesenchymal neoplasms of the kidney in adults: imaging spectrum with radiologic-pathologic correlation, Radiological Society of North America |
| 2008 | Best Poster Award, Benign and malignant proliferations of the secondary mullerian system: recent concepts and cross-sectional imaging findings, Society of Uroradiology; Abdominal Radiology Course |
| 2007 | Certificate of Merit, CT of acute esophageal emergencies: a pictorial review, Radiological Society of North America |
| 2007 | Certificate of Merit, Recent advances in the cytogenetics and the molecular biology of thyroid carcinomas: implications on imaging and management, American Roentgen Ray Society |
| 2007 | Best Poster Award, Benign adult renal neoplasms: imaging spectrum with radiologic-pathologic correlation, Society of Uroradiology; Abdominal Radiology Course |
| 2006 | Cum Laude, Recent advances in the cytogenetics and the molecular biology of the phakomatoses: implications on diagnosis & management, Radiological Society of North America |
| 2006 | Travel Award for Young Investigators in Molecular Imaging, Out of breath and out of control: an update on the central role of hypoxia in oncogenesis and implications on diagnosis and management, Radiological Society of North America |
| 2006 | Best Poster Award, Recent advances in cytogenetics and molecular biology of pancreatic neoplasms: implications on imaging and management, Society of Gastrointestinal Radiologists/European Society of Gastrointestinal Radiology and Abdominal Radiology Course |
| 2006 | Bronze Medal, Imaging in gastric bariatric surgery: a practical guide to post surgical anatomy & common complications, American Roentgen Ray Society |
| 2006 | Melvin Morgan Figley Fellowship "Radiology journalism", American Roentgen Ray Society |
| 2006 | Certificate of Merit, Out of breath and out of control: an update on the central role of hypoxia in oncogenesis and implications on diagnosis and management, Radiological Society of North America |
| 2006 | Certificate of Merit, A pattern based algorithmic approach to characterize pancreatic neoplasms on CT and MRI, Radiological Society of North America |
| 2005 | Silver Medal, Segmental disorders of the nephron: histopathological and imaging perspective, American Roentgen Ray Society |
| 2004 | Magna Cum Laude, Common and uncommon histologic subtypes of renal cell carcinoma: imaging spectrum with pathologic correlation, Radiological Society of North America |
| 2004 | Certificate of Merit, The impact of technical and patient-related variables on radiation dose in multidetector CT, Radiological Society of North America |
| 2004 | Certificate of Merit, A lexicon for the language of three-dimensional imaging, Radiological Society of North America |
| 2003 | Certificate of Merit, Endovaginal MR imaging of the female urethra, Radiological Society of North America |
| 2003 | Cum Laude, Characterization of adrenal masses using histogram analysis method in contrast enhanced CT, Society of Computed Body Tomography & Magnetic Resonance |
| 2003 | Cum Laude, CO2-enhanced CT imaging for the detection of pulmonary emboli: feasibility study in a porcine model, Society of Computed Body Tomography & Magnetic Resonance |
| 2003 | Certificate of Merit, Multi-modality evaluation of the female urethra: indications, techniques, and imaging spectrum, American Roentgen Ray Society |
| 2003 | Certificate of Merit, Fat-containing liver lesions: radiologic-pathologic correlation, American Roentgen Ray Society |
| 2002 | Cum Laude, CT evaluation of acute gynecologic conditions: a pictorial review, Radiological Society of North America |
| 2002 | Certificate of Merit and Excellence in Design, Multi-modality evaluation of the female urethra: indications, techniques, and imaging spectrum, Radiological Society of North America |
| 2002 | Certificate of Merit, Cystic pancreatic neoplasms: radiologic-pathologic correlation, Radiological Society of North America |
| 2001 | Research Trainee Prize for Original Research Work, Comparison between standard dose and 50%-reduced dose abdominal CT: effect on image quality, Radiological Society of North America |
| 2001 | Certificate of Merit, Dual contrast liver MR imaging for lesion detection and characterization, Radiological Society of North America |
| 2000 | Research Trainee Prize for Original Research Work, Comparison between uni-dimensional (RECIST Criteria) and bi-dimensional (WHO Criteria) tumor measurement in image-based clinical trials in oncology, Radiological Society of North America |
| 2000 | Certificate of Merit, Characterizing hypervascular liver lesions with multi-slice helical CT: radiologic-pathologic correlation, Radiological Society of North America |
| 2000 | Certificate of Merit, imaging findings in fungal infections of the craniospinal axis: a comprehensive review of sixty cases, American Roentgen Ray Society |
| 1998 | Certificate of Merit, Cerebral malaria: correlation of CT abnormalities with clinical outcome and postmortem findings, Radiological Society of North America |
American Roentgen Ray Society
Member, 8888 - 2013
Society of Abdominal Radiology
Member, 2013 - Present
American Roentgen Ray Society
Member, Genitourinary Radiology Subcommittee, 2008 - 2010
Society of Computed Body Tomography & Magnetic Resonance
Fellow Member, 2008 - Present
Radiological Society of North America
Presiding Officer, 2007 - 2012
American College of Radiology
Member, Expert panel on Urologic Imaging (ACR Appropriateness Committee), 2007 - 2011
Radiological Society of North America
Member, Gastrointestinal Radiology Subcommittee, 2006 - 2012
Radiological Society of North America
Presiding Officer, 2005 - Present
Radiological Society of North America
Member, Radiographics Review Panel, 2005 - 2012
Society of Computed Body Tomography & Magnetic Resonance
Officer (Rules & By-laws), 2005 - 2007
Peer-Reviewed Articles
Invited Articles