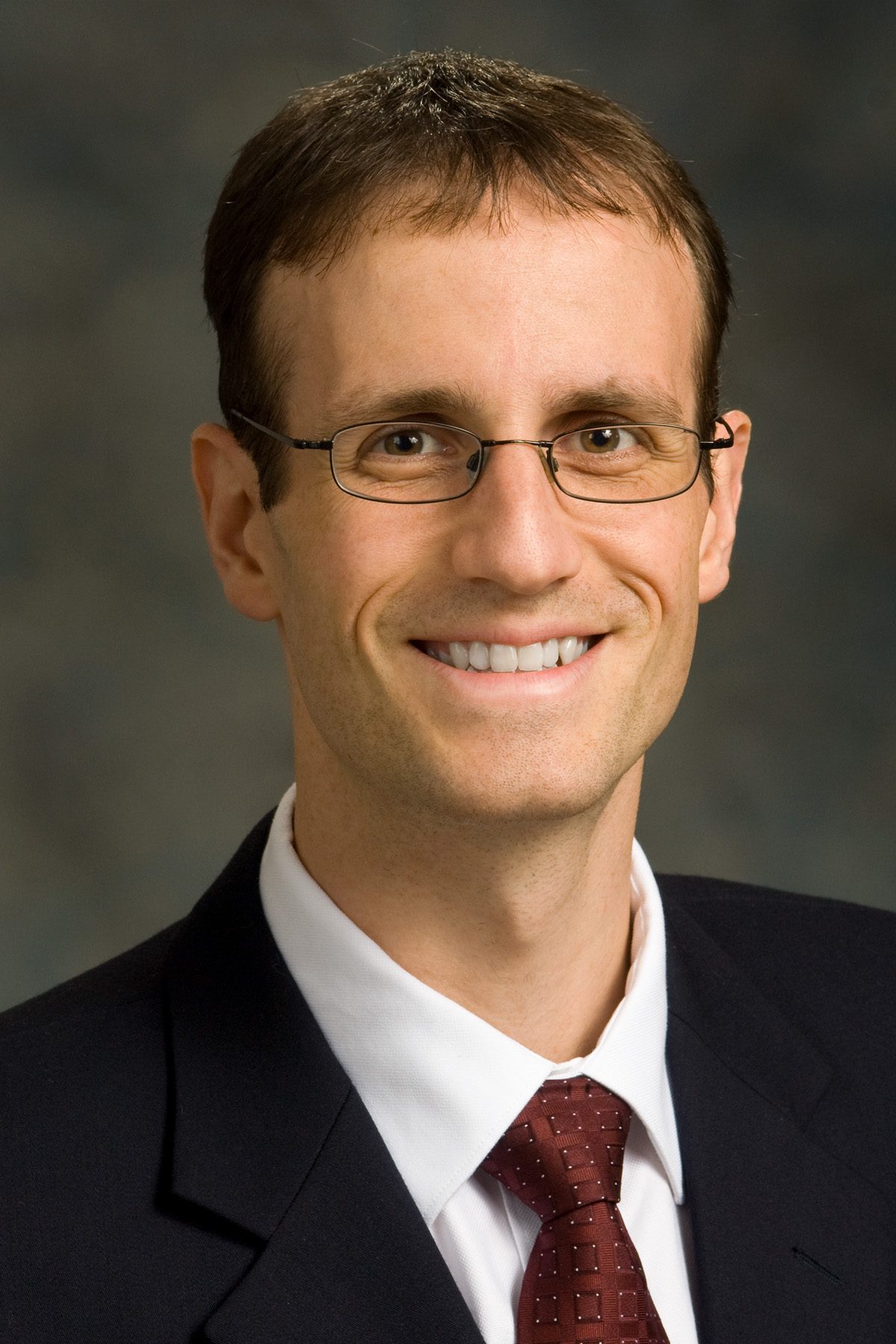 Stephen F. Kry, Ph.D.
Department of Radiation Physics, Division of Radiation Oncology
About Dr. Kry
My long-term professional goal is to improve the safety and efficacy of radiotherapy treatment for cancer patients by improving the quality and consistency of such treatments. The proposed project works directly towards this goal by ensuring consistent and quality radiotherapy is delivered to patients enrolled in clinical trials. This will have immediate benefit to those specific patients on clinical trial, and will benefit all patients in the long-term by ensuring that clinical trials generate the optimal results. I am well suited to be a co-investigator on this grant because I have substantial experience in evaluating doses delivered in a radiotherapy setting. This includes clinical experience, working with a wide range of radiotherapy patients undergoing contemporary radiotherapy. It also includes research in patient dosimetry, patient setup, and institution credentialing for clinical trials. Through these experiences I have a solid understanding of radiotherapy as it is currently practiced, the limitations of current practice, and what is necessary to ensure consistent, quality, treatments.
Read More
Primary Appointment
Associate Director, Department of Imaging and Radiation Oncology Core Houston Quality Assurance Office Department of Radiation Physics, Division of Division of Radiation Oncology, The University of Texas MD Anderson Cancer Center, Houston, TX
Assistant Professor, Department of Radiation Physics, Division of Radiation Oncology, The University of Texas MD Anderson Cancer Center, Houston, TX
Instructor, Department of Radiation Physics, Division of Radiation Oncology, The University of Texas MD Anderson Cancer Center, Houston, TX
Dual/Joint/Adjunct Appointment
Member, Division of Graduate School of Biomedical Sciences, The University of Texas Health Science Center at Houston, Houston, TX
Degree-Granting Education
| | |
| --- | --- |
| 2007 | The University of Texas MD Anderson Cancer Center, Houston, TX, USA, PHD, Medical Physics |
| 2003 | The University of Texas MD Anderson Cancer Center, Houston, TX, USA, MS, Medical Physics |
| 1999 | University of British Columbia, Vancouver, CAN, BS, Honors Physics |
| | |
| --- | --- |
| 2016 | American Board of Medical Quality |
| 2010 | American Board of Radiology, Therapeutic Radiological Physics |
Academic Appointments
Associate Member, Division of Graduate School of Biomedical Sciences, The University of Texas Health Science Center at Houston, Houston, TX, 2007 - 2010
Graduate Research Assistant, Department of Radiation Physics, Division of Radiation Oncology, The University of Texas MD Anderson Cancer Center, Houston, TX, 2000 - 2007
Teaching Assistant, University of British Columbia, Vancouver, 1999 - Present
Administrative Appointments/Responsibilities
Co-Chair, Faculty Senate Clinical Affairs Committee, The University of Texas MD Anderson Cancer Center, Houston, TX, 2016 - Present
Faculty Senator, The University of Texas MD Anderson Cancer Center, Houston, TX, 2013 - 2016
Other Appointments/Responsibilities
Examiner, Therapeutic Radological Physics, American Board of Radiology, College Park, MD, 2016 - Present
Member, Radiation Therapy Working Group of NCORP, American Association of Physicists in Medicine, College Park, MD, 2016 - Present
Chair, White paper task group, Absolute dose calibration: dose to water or dose to muscle, American Association of Physicists in Medicine, College Park, MD, 2015 - Present
Chair, Global Harmonization Group for Quality Assurance, Therapeutic Radiological Physics, College Park, MD, 2015 - Present
Question Writer, Therapeutic Radiological Physics, American Board of Radiology, College Park, 2014 - Present
Chair, Work group on Radiation Dosimetry, American Association of Physicists in Medicine, College Park, MD, 2012 - Present
Member, TG-244: Minimum practice guideline, Commissioning and QA of TPS in external beam radiotherapy, American Association of Physicists in Medicine, College Park, MD, 2012 - Present
Chair, TG-158: Measurements and Calculations of out of field doses from external beam radiotherapy, American Association of Physicists in Medicine, College Park, MD, 2011 - Present
Member, Radiation Safety Subcommittee, American Associations of Physicists in Medicine, College Park, MD, 2011 - Present
Member, TG-219: Independent dose and MU verification for IMRT patient specific quality assurance, American Association of Physicists in Medicine, College Park, MD, 2011 - Present
Member, Work Group on Radiation Dosimetry, American Association of Physicists in Medicine, College Park, MD, 2010 - Present
Member, TG-203: Management of radiotherapy patients with implanted cardiac pacemakers and defibrillators, American Association of Physicists in Medicine, College Park, MD, 2010 - Present
Chair, TG-191: Recommendations on the use of luminescent dosimeters, American Association of Physicists in Medicine, College Park, MD, 2009 - Present
Member, Radiation Detection & Treatment Planning subcommittee, American Association of Physicists in Medicine, College Park, MD, 2009 - Present
Member, TG-159: Ethics Curriculum for Medical Physics Graduate Education, American Association of Physicists in Medicine, College Park, MD, 2007 - 2010
Member, Education and Training of Medical Physicists Committee, American Association of Physicists in Medicine, College Park, MD, 2006 - 2009
Member, Student Physicist Subcommittee, American Association of Physicists in Medicine, College Park, MD, 2006 - 2008
Chair, Student Physicist Subcommittee, American Association of Physicists in Medicine, College Park, MD, 2006 - 2007
Institutional Committee Activities
Member, Medical Physics Candidacy Exam Committee, 2016 - Present
Member, MD Anderson Faculty Academic Review Committee (FARC), 2015 - Present
Chair, Graduate School of Biomedical Sciences, Curriculum Committee, 2014 - 2015
Member, Graduate School of Biomedical Sciences, Executive Committee, 2014 - Present
Member, Medical Physics Ad Hoc Curriculum review committee, 2014 - 2015
Member, Graduate School of Biomedical Sciences, Curriculum Committee, 2012 - 2015
Member, Medical Physics Program Steering Committee, 2007 - Present
Consultantships
Consultant for "Dosimetry audit methodology for advanced radiotherapy" project, International Atomic Energy Agency, United Nations, Vienna Austria, 2016 - Present
Consultant for "Development of a training package for medical physics audits in radiotherapy", International Atomic Energy Agency, United Natoins, Vienna, Austria, 2015 - Present
Consultant for "Database of IAEA quality audit results" project, International Atomic Energy Agency, United Nations, Vienna, Austria, 2014 - Present
"Dosimetry audit methodology for advanced radiotherapy, International Atomic Energy Agency, United Nations, Vienna, Austria, 2014 - Present
Consultant for "Dosimetry audit methodology for advanced radiotherapy" project, International Atomic Energy Agency, United Nations, Vienna, Austria, 2013 - Present
Consultant for "DIRAC: Directory of Radiotherapy Centres" project, International Atomic Energy Agency, United Nations, Vienna, Austria, 2012 - Present
| | |
| --- | --- |
| 2016 | Highest Commendation, Graduate School of Biomedical Sciences |
| 2014 | "Institutional patient-specific IMRT QA does not predict unacceptable plan delivery" featured in the ESTRO Newsletter as an article of interest and "very high quality" |
| 2009 | Highlights collection in Physics in Medicine and Biology: Treatment vault shielding for a flattening filter free Medical Linear Accelerator |
| 2008 | Best Paper Award for "Vault Shielding for a Flattening-Filter Free Clinic", Medical Applications Session at 11th ICRS-11/RPSD |
| 2005 | First Place, Interdisciplinary Health Care Team Competition |
| 2005 | National Finalist, American Association of Physicists in Medicine Young Investigators' Symposium: A Monte Carlo Simulation of Dose Out-of-Field |
| 2002 | Thomas F. Burke Award for Outstanding Leadership and Service, University of Texas Health Science Center at Houston |
| 2002 | National Finalist, American Association of Physicists in Medicine Young Investigators' Symposium: Risk Assessment of Secondary Malignancies From IMRT Treatments |
| 2000 | American Association of Physics in Medicine Fellowship for Graduate Studies in Medical Physics in Medicine |
| 1999 | Golden Key National Honor Society Inductee |
| 1999 | UBC Deans Honor List Inductee |
Global Harmonisation Group for Clinical Trial Radiotherapy QA
Chair, 2015 - Present
American Nuclear Society
Member, 2008 - 2011
Peer-Reviewed Articles
Kerns JR, Followill DS, Lowenstein J, Molineu A, Alvarez P, Taylor PA, Stingo FC, Kry SF

Technical Report: Reference photon dosimetry data for Varian accelerators based on IROC-Houston site visit data. Med Phys 43 (5) :2374, 2016. PMID: 27147349

Kerns JR, Followill DS, Lowenstein J, Molineu A, Alvarez P, Taylor PA, Kry SF

Agreement Between Institutional Measurements and Treatment Planning System Calculations for Basic Dosimetric Parameters as Measured by the Imaging and Radiation Oncology Core-Houston. Int J Radiat Oncol Biol Phys, 2016. PMID: 27315667

Davidson SE, Cui J, Kry S, Deasy JO, Ibbott GS, Vicic M, White RA, Followill DS

Modification and validation of an analytical source model for external beam radiotherapy Monte Carlo dose calculations. Med Phys 43 (8) :4842, 2016. PMID: 27487902

Huang JY, Followill DS, Howell RM, Liu X, Mirkovic D, Stingo FC, Kry SF

Approaches to reducing photon dose calculation errors near metal implants. Med Phys 43 (9) :5117, 2016. PMID: 27587042

Cardenas CE, Nitsch PL, Kudchadker RJ, Howell RM, Kry SF

Out-of-field doses and neutron dose equivalents for electron beams from modern Varian and Elekta linear accelerators. J Appl Clin Med Phys 17 (4) :6216, 2016. PMID: 27455499

Taylor PA, Kry SF, Alvarez P, Keith T, Lujano C, Hernandez N, Followill DS

Results From the Imaging and Radiation Oncology Core Houston's Anthropomorphic Phantoms Used for Proton Therapy Clinical Trial Credentialing Int J Radiat Oncol Biol Phys 95 (1) :242-248, 2016

Hunter LA, Chen YP, Zhang L, Matney JE, Choi H, Kry SF, Martel MK, Stingo F, Lioa Z, Gomez D, Yang J, Court LE

NSCLC tumor shrinkage prediction using quantitative image features. Computerized Medical Imaging and Graphics 49:29-36, 2016

Carson ME, Molineu A, Taylor PA, Followill DS, Stingo FC, Kry SF

Examining credentialing criteria and poor performance indicators for IROC Houston's anthropomorphic head and neck phantom. Med Phys 43 (12) :6491, 2016. PMID: 27908168

Scarboro SB, Cody D, Alvarez P, Followill D, Court L, Stingo FC, Zhang D, McNitt-Gray M, Kry SF

Characterization of the nanoDot OSLD dosimeter in CT. Med Phys 42 (4) :1797-807, 2015. PMID: 25832070

McKenzie EM, Balter PA, Stingo FC, Jones J, Followill DS, Kry SF

*Reproducibility in patient-specific IMRT QA. J Appl Clin Med Phys 15 (3) :4741, 2014. e-Pub 2014. PMID: 24892350

Kerns JR, Childress NL, Kry SF

A multi-institution evaluation of MLC performance Radiation Oncology 9:176, 2014. e-Pub 2014

Pulliam KB, Followill D, Court L, Dong L, Gillin M, Prado K, Kry SF

A six-year review of more than 13,000 patient-specific IMRT QA results from 13 different treatment sites. J Appl Clin Med Phys 15 (5) :196-206, 2014. e-Pub 2014. PMID: 25207581

Huang JY, Pulliam KB, McKenzie EM, Followill DS, Kry SF

Effects of spatial resolution and noise on gamma analysis for IMRT QA. J Appl Clin Med Phys 15 (4) :4690, 2014. e-Pub 2014. PMID: 25207399

McKenzie EM, Balter PA, Stingo FC, Jones J, Followill DS, Kry SF

Toward optimizing patient-specific IMRT QA techniques in the accurate detection of dosimetrically acceptable and unacceptable patient plans. Med Phys 41 (12) :121702, 2014. PMID: 25471949

Huang JY, Eklund D, Childress NL, Howell RM, Mirkovic D, Followill DS, Kry SF

Investigation of various energy deposition kernel refinements for the convolution superposition method. Med Phys 40 (12) :121721, 2013. PMID: 24320507

Followill DS, Kry SF, Qin L, Lowenstein J, Molineu A, Alvarez P, Aguirre JF, Ibbott GS

The Radiological Physics Center's standard dataset for small field size output factors. J Appl Clin Med Phys 13 (5) :3962, 2012. PMID: 22955664

Kry SF, Jones J, Childress NL

Implementation and evaluation of an end-to-end IGRT test. J Appl Clin Med Phys 13 (5) :3939, 2012. e-Pub 2012. PMID: 22955659

Kry SF, Popple R, Molineu A, Followill DS

Ion recombination correction factors (Pion) for Varian TrueBeam high-dose-rate therapy beams. J Appl Clin Med Phys 13 (6) :3803, 2012. e-Pub 2012. PMID: 23149774

Kry SF, Johnson JL, White RA, Howell RM, Kudchadker RJ, Gillin MT

Neutron-induced electronic failures around a high-energy linear accelerator. Med Phys 38 (1) :34-9, 2011. PMID: 21361172

Berrington de Gonzalez A, Curtis RE, Kry SF, Gilbert E, Lamart S, Berg CD, Stovall M, Ron E

Proportion of second cancers attributable to radiotherapy treatment in adults: a cohort study in the US SEER cancer registries. Lancet Oncol 12 (4) :353-60, 2011. PMID: 21454129

Scarboro SB, Followill DS, Howell RM, Kry SF

Variations in photon energy spectra of a 6 MV beam and their impact on TLD response. Med Phys 38 (5) :2619-2628, 2011. PMID: 21776799

Beyer GP, Kry SF, Espenhahn E, Rini C, Boyles E, Mann G

Evaluation of an implantable MOSFET dosimeter designed for use with hypo-fractionated external beam treatments and its applications for breast and prostate treatments Med Phys 38 (8) :4881-4887, 2011. PMID: 21928659

Kerns JR, Kry SF, Sahoo N, Followill DS, Ibbott GS

Angular dependence of the nanoDot OSL dosimeter. Med Phys 38 (7) :3955-62, 2011. PMID: 21858992

Wang Z, Howell RM, Burgett EA, Kry SF, Hertel NE, Salehpour M

Calibration of indium response functions in an Au-In-BSE system up to 800 MeV Radiat Prot Dosimetry 139 (4) :565-573, 2010. PMID: 20008907

Serago CF, Burmeister JW, Dunscombe PB, Gale AA, Hendee WR, Kry SF, Wuu CS

Recommended ethics curriculum for medical physics graduate and residency programs. Report of Task Group 159 Med Phys 37 (8) :4495-4500, 2010. PMID: 20879608

Price MJ, Kry SF, Eifel PJ, Salehpour M, Mourtada F

Dose perturbation due to the polysulfone cap surrounding a Fletcher-Williamson colpostat. J Appl Clin Med Phys 11 (1) :3146, 2010. PMID: 20160700

Kry SF, Price M, Wang Z, Mourtada F, Salehpour M

Investigation into the Use of a MOSFET Dosimeter as an Implantable Fiducial Marker J Appl Clin Med Phys 10 (1) :22-32, 2009. PMID: 19223838

Howell RM, Burgett E, Hertel NE, Kry SF, Wang Z, Salehpour M

Measurement of high-energy neutron spectra with Bonner Extension (BSE) system Nuclear Technology 168:333-339, 2009

Kry SF, Howell RM, Salehpour M, Followill DS

Neutron spectra and dose equivalents calculated in tissue for high-energy radiation therapy Med Phys 36 (4) :1244-1250, 2009. PMID: 19472632

Howell RM, Kry SF, Burgett E, Hertel NE, Followill DS

Secondary neutron spectra from modern Varian, Siemens, and Elekta linacs with multileaf collimators Med Phys 36 (9) :4027-4038, 2009. PMID: 19810475

Howell RM, Kry SF, Burgett E, Followill D, Hertel NE

Effects of tertiary MLC configuration on secondary neutron spectra from 18-MV x-ray beams for the Varian 21 EX linear accelerator Med Phys 36 (9) :4039-4046, 2009. PMID: 19810476

Wang Z, Kry SF, Howell RM, Salehpour M

Comparison of unfolding methods for determining neutron spectrum and ambient dose equivalent Nuclear Technology 168:610-614, 2009

Wang Z, Howell RM, Kry SF, Burgett EA, Hertel NE, Salehpour MN

Characterization of a gold-and-indium dual-activation-foil-based bonner sphere system Nuclear Technology 168:603-609, 2009

Vassiliev ON, Kry SF, Chang JY, Balter PA, Titt U, Mohan R

Stereotactic radiotherapy for lung cancer using a flattening filter free Clinac. J Appl Clin Med Phys 10 (1) :2880, 2009. PMID: 19223837

Kry SF, Salehpour M, Titt U, White RA, Stovall M, Followill D

Monte Carlo study shows no significant difference in second cancer risk between 6- and 18-MV intensity-modulated radiation therapy. Radiother Oncol 91 (1) :132-7, 2009. PMID: 19147246

Johnson J, Nelson R, Hickman V, Kry SF

The cover up: skin dose increase during external beam therapy Radiation Therapist 18:9-12, 2009

Kry SF, Howell RM, Titt U, Salehpour M, Mohan R, Vassiliev ON

Energy Spectra, Sources, and Shielding Considerations for Neutrons Generated by a Flattening Filter-Free Clinac Med Phys 35 (5) :1906-1911, 2008. PMID: 18561666

Kry SF, Starkschall G, Antolak JA, Salehpour M

Evaluation of the Accuracy of Fetal Dose Estimates Using TG-36 Data Med Phys 34 (4) :1193-1197, 2007. PMID: 17500450

Kry SF, Titt U, Poenisch F, Vassiliev ON, Salehpour M, Gillin M, Mohan R

Reduced Neutron Production Through Use of a Flattening Filter Free Accelerator Int J Radiat Oncol Biol Phys 68 (4) :1260-1264, 2007. PMID: 17637397

Kry SF, Price MJ, Followill D, Mourtada F, Salehpour M

The Use of LiF (TLD-100) as an Out-of Field Dosimeter J Appl Clin Med Phys 8 (4) :169-175, 2007. PMID: 18449155

Vassiliev ON, Titt U, Kry SF, Mohan R, Gillin MT

Radiation safety survey on a flattening filter-free medical accelerator. Radiat Prot Dosimetry 124 (2) :187-90, 2007. PMID: 17681966

Kry SF, Followill D, White RA, Stovall M, Kuban DA, Salehpour M

Uncertainty of calculated risk estimates for secondary malignancies after radiotherapy. Int J Radiat Oncol Biol Phys 68 (4) :1265-71, 2007. PMID: 17637398

Vassiliev ON, Kry SF, Kuban DA, Salehpour M, Mohan R, Titt U

Treatment-planning study of prostate cancer intensity-modulated radiotherapy with a Varian Clinac operated without a flattening filter. Int J Radiat Oncol Biol Phys 68 (5) :1567-71, 2007. e-Pub 2007. PMID: 17544596

Kry SF, Titt U, Followill D, Pönisch F, Vassiliev ON, White RA, Stovall M, Salehpour M

A Monte Carlo model for out-of-field dose calculation from high-energy photon therapy. Med Phys 34 (9) :3489-99, 2007. PMID: 17926952

Kry SF, Titt U, Poenisch F, Followill D, Vassiliev ON, White RA, Mohan R, Salehpour M

A Monte Carlo Model for Calculating Out-of-Field Dose from a Varian 6-MV Beam Med Phys 33 (11) :4405-4413, 2006. PMID: 17153419

Titt U, Vassiliev ON, Ponisch F, Kry SF, Mohan R

Monte Carlo Study of Backscatter in a Flattening Filter Free Clinical Accelerator Med Phys 33 (9) :3270-3273, 2006. PMID: 17022221

Vassiliev ON, Titt U, Poenisch F, Kry SF, Mohan R, Gillin MT

Dosimetric Properties of Photon Beams From a Flattening Filter Free Clinical Accelerator Phys Med Biol 51 (7) :1907-1917, 2006. e-Pub 2006. PMID: 16552113

Vassiliev ON, Titt U, Kry SF, Ponisch F, Gillin MT, Mohan R

Monte Carlo Study of Photon Fields from a Flattening Filter Free Clinical Accelerator Med Phys 33 (4) :820-827, 2006. PMID: 16696457

Ponisch F, Titt U, Kry SF, Vassiliev ON

MCNPX Simulation of a Multileaf Collimator Med Phys 33 (2) :402-404, 2006. PMID: 16532947

Ponisch F, Titt U, Vassiliev ON, Kry SF, Mohan R

Properties of Unflattened Photon Beams Shaped by a Multi Leaf Collimator Med Phys 33 (6) :1738-1746, 2006. PMID: 16872081

Kry SF, Salehpour M, Followill D, Stovall M, Kuban D, White RA, Rose I

Out of Field Photon and Neutron Dose Equivalents from Step and Shoot Intensity Modulated Radiation Therapy Int J Radiat Oncol Biol Phys 62(4) (4) :1204-1216, 2005. PMID: 15990026

Kry SF, Salehpour M, Followill DS, Stovall M, Kuban DA, White RA, Rosen II

The calculated risk of fatal secondary malignancies from intensity-modulated radiation therapy. Int J Radiat Oncol Biol Phys 62 (4) :1195-203, 2005. PMID: 15990025

Followill D, Stovall M, Kry SF, Ibbott G

Neutron Source Strength Measurements for Varian, Siemens, Elekta, and General Electric Linear Accelerators J Appl Clin Med Phys 4 (3) :189-194, 2003. PMID: 12841788

Suprunowicz R, Butler RM, Ford COK, Kry SF

An Experimental Investigation of Convergent Flow to Horizontal Wells Jour of Canadian Petroleum Technology 37(10):51-57, 1998

Kry SF, Howell RM, Polf J, Mohan R, Vassiliev ON

Treatment vault shielding for a flattening filter free medical linear accelerator Phys Med Biol 54 (5) :1265-1273. PMID: 19190359

Hunter L, Kraft S, Choi H, Kry SF, Stingo F, Martel M, Court LE.

High quality machine-robust image features: identification in non-small cell lung cancer computed tomography images. Med Phys 40 (121) :916. e-Pub 2013

Kry SF, Alvarez P, Molineu A, Amador C, Galvin J, Followill DS

Algorithms used in heterogeneous dose calculations show systematic differences as measured in the Radiological Physics Centers' anthropomorphic thorax phantom used for RTOG credentialing. Int J Radiat Ocol Biol Phys 85 (1) :e95-e100. e-Pub 2013

Howell RM, Scarboro SB, Taddei PJ, Krishnan S, Kry SF, Newhauser WD

Methodology for determining doses to in-field, out-of-field and partially in-field organs for late effects studies in photon radiotherapy. Phys Med Biol 55 (23) :7009-7023. PMID: 21076193

Howell RM, Scarboro SB, Kry SF, Yaldo DZ

Accuracy of out-of-field dose calculations by a commercial treatment planning system. Phys Med Biol 55 (23) :6999-7008. PMID: 21076191

Scarboro SB, Stovall M, White A, Smith SA, Yaldo D, Kry SF, Howell RM

Effect of organ size and position on out-of-field dose distributions during radiation therapy. Phys Med Biol 55 (23) :7025-7036. PMID: 21076195

Kry SF, Vassiliev ON, Mohan R

Out-of-field photon dose following removal of the flattening filter from a medical accelerator Phys Med Biol 55 (8) :2155-2166. PMID: 20305334

Xiao Y, Kry SF, Popple R, Yorke E, Papanikolaou N, Stathakis S, Xia P, Huq S, Bayouth J, Galvin J, Yin FF

Flattening filter-free accelerators: a report from the AAPM Therapy Emerging Technology Assessment Work Group J Appl Clin Med Phys 16 (3) :12-29. e-Pub 2015. PMID: 26103482

Kry SF, Molineu A, Kerns JR, Faught AM, Huang JY, Pulliam KB, Tonigan J, Alvarez P, Stingo F, Followill DS

Institutional Patient-specific IMRT QA Does Not Predict Unacceptable Plan Delivery. Int J Radiat Oncol Biol Phys 90 (5) :1195-1201. e-Pub 2014. PMID: 25442044

Huang JY, Kerns JR, Nute JL, Liu X, Balter PA, Stingo FC, Followill DS, Mirkovic D, Howell RM, Kry SF

An evaluation of three commercially available metal artifact reduction methods for CT imaging. Phys Med Biol 60 (3) :1047-1067. PMID: 25585685

Mell LK, Sirak I, Wei L, Tarnawski R, Mahantshetty U, Yashar CM, McHale MT, Xo R, Honerkamp-Smith G, Camona R, Wright M, Williamson CW, Kasaova L, Li N, Kry SF, Michalski J, Bosch W, Straube W, Schwarz J, Lwenstein J, Jiang SB, Saenz CC, Plaxe S, Einck J, Khorprasert C, Koonings P, Harrison T, Shi M, Numdt AJ

Bone Marrow-sparing intensity modulated radiation therapy with concurrent cisplatin for stage Ib-IVa cervical cancer: an international multi-center phase II clinical trial (INTERTECC-2) Int J Radiat Oncol Biol Phys

Smilowitz JB, Das IJ, Feygelman V, Fraass BA, Geurts M, Kry SF, Marshall IR, Mihailidis DN, Ouhib Z, Ritter T, Snyder MG, Fairobent L, Staff A

AAPM Medical Physics Practice Guideline 5.a.: Commissioning and QA of Treatment planning dose calculations, megavoltage photon and electron beams. J Appl Clin Med Phys 15 (5) :14-34. e-Pub 2015. PMID: 26894369
Other Articles
Gladstone DF, Kry SF, Xiao Y, Chetty IJ

Dose specification for NRT radiation therapy trials. Int J Radiat Oncol Biol Phys 95 (5) :1344-1345, 2016

Yu J, Straube W, Mayo C, Giaddui T, Bosch W, Ulin K, Kry SF, Galvin J, Xiao Y

Radiation therapy digital submission process for national clinical trials network.. Int J Radiat Oncol Biol Phys 90 (2) :466-467
Editorials
Howell RM, Kry SF, Stovall M, Int J Radiat Oncol Biol Phys, 73:1489-1492, 2009
Kry SF, Howell RM, Cancer, 115:4055-4063, 2009
Howell RM, Kry SF, J Clin Oncol, 27:3901-3907, 2009
Kry SF, Howell RM, Br J Cancer, 102:220-226, 2009
Abstracts
Mell LK, Sirak I, Wei L, Tarnawski R, Mahantshetty U, Yashar CM, McHale MT, Xu R, Honerkamp-Smith G, Carmona R, Wright M, Williamson W, Kasaova L, Li N, Kry S, Michalski, Bosch W, Straube W, Schwarz J, Lowenstein J, Jiang SB, Saenz CC, Plaxe S, Einck J, Khorprasert C, Koonings P, Harrison T, Shi M, Mundt AJ

BONE MARROW-SPARING INTENSITY MODULATED RADIATION THERAPY WITH International Journal of Radiation Oncology*Biology*Physics, 2016

Followill DS, Kry S, Molineu A, Lowenstein J, Alvarez P, Taylor P, Nguyen H, Hernandez N, Lujano C, Nguyen T, Keith T, Roll J, Tailor A

The Imaging and Radiation Oncology Core Houston (IROC Houston) QA Center International Activities Outside North America Med Phys, 2015

Huang J, Followill DS, Howell R, Liu X, Mirkovic D, Stingo F, Kry S

Dosimetric Impact of Implementing Metal Artifact Reduction Methods and Metal Energy Deposition Kernels for Photon Dose Calculations Med Phys, 2015

Kry S, Dromgoole L, Alvarez P, Lowenstein J, Molineu A, Taylor P, Followill DS

IROC Houston On-Site Audits and Parameters That Affect Performance Med Phys, 2015

Ger R, Burgett E, Price R, Craft D, Kry S, Howell R

In Vivo patient dosimetry using a 3D printed patient-specific phantom Med Phys, 2015

Kry SF

A Report On Flattening Filter Free C-Arm Linear Accelerators From the Therapy Emerging Technology Assessment Work Group Med Phys 40:516, 2013

McKenzie E, Balter P, Jones J, Followill DS, Stingo F, Pulliam K, Kry SF.

Evaluation of the sensitivities of patient specific IMRT QA dosimeters Med Phys 40:240, 2013

Tonigan J, Kry SF, Balter P, Faught A, Followill DS.

IMRT severity scoring for TG-100: do you really know? 40:418, 2013

Kry SF, Molineu A, Alvarez P, Faught A, Huang J, Kerns J, Pulliam K, Tonigan J, Followill DS.

In-house IMRT QA versus external phantom audit results Med Phys 40:444, 2013

Hunter L, Stingo F, Kry SF, Martel M, Choi H, Court LE

Identification of High Quality Machine-Robust CT Image Features Med Phys 40:424, 2013

Howell RM, Kry SF, Titt U.

Project-based learning – expanding course content with a broad-scope project Med Phys 40:413, 2013

Kerns J, Childress NL, Kry SF

A multi-institutional evaluation of multileaf collimator performance Med Phys 40:445, 2013

Lowenstein J, Kry SF, Molineu A, Alvarez P, Aguirre J, Summers P, Followill DS

High-energy photon standard dosimetry data: a quality assurance tool. Med Phys 39:3754, 2012

Repchak R, Molineu A, Popple R, Kry S, Howell R, Followill DS

Evaluation of the Anisotropic Analytical Algorithm heterogeneity correction dose calculation in flattened and flattening filter free beams for high energy x-ray beams using the radiological physics center Lung phantom Med Phys 39:3807, 2012

Scarboro S, Cody D, Followill DS, Alvarez A, McNitt-Gray M, Zhang D, Kry S

Investigation of a commercial OSLD system for CT dosimetry Med Phys 39:3807, 2012

Huang J, Childress N, Kry SF

Calculation of high resolution and material specific photon energy deposition kernels Med Phys 39:3822, 2012

Pulliam K, Followill D, Dong L, Gilling M, Prado K, Kry S

An analysis of 13000 patient specific IMRT QA results from 13 different clinical treatment services Med Phys 39:3866, 2012

Huang J, Pulliam K, Followill DS, Kry S

The effects of image resolution and noise on the gamma dose distribution comparison method for IMRT QA Med Phys 39:3712, 2012

Followill DS, Lowenstein J, Molineu A, Alvarez P, Aguirre J, Kry SF, Ibbott G

The Radiological Physics Center's quality audit program: where can we improve? Med Phys 39:3866, 2012

Kry S, Howell R

Second Cancers from radiation therapy procedures Med Phys 39:3746, 2012

Faught A, Kry SF, Luo D, Molineu A, Bellezza D, Gerber R, Davidson S, Followill DS

Design, development and evaluation of a modified anthropomorphic head quality assurance phantom for use in stereotactic radiosurgery Med Phys 39:3746, 2012

Bergene J, Kry S, Molineu A, Bellezza D, Alvarez P, Johnson V, Followill DS

Development and implementation of the use of optimcally stimulated luminescent detectors in the radiological physics center anthropomorphic quality assurance phantoms Med Phys 39:3722, 2012

Vredevoogd K, Ibbott G, Gillin M, Sahoo N, Kry S, Gifford K, Maryanski M

Three dimensional measurements of dose and LET from a proton beam via polymer gel dosimetry Med Phys 39:3726, 2012

Tonigan J, Kry S, Summers P, Balter P, Diel T, Followill DS

The magnitude of H&N IMRT dose delivery errors from three possible failure modes: beam quality, symmetry, and MLC position Med Phys 39:3999, 2012

Jones J, Childress N, Kry S

Development of a modified Winston-lutz test for evaluating errors in IGRT based setups Med Phys 38:3505, 2011

Niedzielski J, Kry SF

Development and testing of a single exposure film calibration procedure Med Phys 38:3525, 2011

Neubauer E, Dong L, Followill D, Garden A, White RA, Kry SF

The Effect of should variation on IMRT and SmartArc plans for head and neck cancer Med Phys 38:3474, 2011

Faught A, Kry SF, Luo D, Molineu A, Galvin J, Drzymala R, Timmerman R

Design, development, and evaluation of a modified anthropomorphic head and neck quality assurance phantom for use in stereotactic radiosurgery Med Phys 38:3526, 2011

Tucker S, Gomez D, Liao Z, Zhang L, Kry S, Martel M, Dong L

A novel technique to use CT images for in vivo detection and quantification of the spatial distribution of radiation-induced damage to the esophagus Med Phys 38:3742, 2011

Kerns J, Kry SF, Sahoo N, Followill D, Ibbott G

Angular dependence of the nanodot dosimeter Med Phys 38:3517, 2011

Pulliam K, Howell RM, Followill D, Luo D, White R, Kry SF

Clinical impact of couch top and couch rails on treatment dose for IMRT and Arc therapy Med Phys 38:3592, 2011

Scarboro S, Followill D, Kerns J, Kry SF

The impact of 6MV non-reference photon energy spectra on OSLD response Med Phys 38:3726, 2011

Tonigan J, Kry SF, Dong L, Purdie T, White R, Ibbott G, Followill DS

Does IMRT treatment plan complexity or mismatched dosimetry data contribute to dose delivery errors detected using an IMRT H&N quality assurance phantom? Med Phys 38:3804, 2011

Joy S, Balter P, Starkschall G, Kry S, Salehpour M

Assessment of collimator jaw optimization in reducing normal tissue irradiation with intensity modulated radiation therapy Med Phys 38:3689, 2011

Randeniya S, Mirkovic D, Kry S, Titt U, Newhauser W, Howell R

Patient specific out of field dose calculation tool for 6MV and 18MV: development and validation Med Phys 38:3736, 2011

Kerns J, Kry S, Sahoo N

Proton characteristiscs of the nanodot dosimeter Med Phys 38:3507, 2011

Davidson S, Kry S, Cui J, Deasy J, Ibbott G Vicic M White R, Followill DS

A Custom-Developed Method for Accurate Dose Recalculation of Patient Plans Entered into Clinical Trials Med Phys 37 (7) :2372, 2010

Kerns J, Ibbott G, Johnson V, Kry S, Sahoo N, Followill DS

Characterization of Optically-Stimulated Luminescent Detectors (OSLDs) in Photon and Proton Beams Med Phys 37 (7) :3452, 2010

Kisling K, Yaldo D, Followill DS, Kry S, Scarboro S, Frank S, Howell R

Evaluation of RapidArc Dose Delivery Using Radiological Physics Center Phantoms Med Phys 37 (7) :2338, 2010

Yaldo D, Tailor R, Scarboro S, Sahoo N, Kry S, Kisling K, Followill DS, Howell R

Evaluation of the Sensitivity of the Anisotropic Analytical Algorithm (AAA) to the Commissioning Dataset Med Phys 37 (7) :3255, 2010

Scarboro S, Kry S, Howell R, Followill DS

Variations in 6MV Photon Energy Spectra Impact the Response of TLD Med Phys 37 (7) :3330, 2010
Book Chapters
Xiao Y, Kry SF, Followill DS, Quality assurance and safety requirements for clinical trials, In: Quality and safety in Radiation Oncology, Spring Publishing: New York, USA, 2017
Benedict SH, Goetsch S, Perks J, Wijesooriya K, Mifton M, Vinogradskiy Y, Medin P, Desovich Y, Lovelock MD, Low DA, Kry SF, Stereotactic Radiation Therapy, In: Radiation Therapy Physics, Elsevier Ltd.: Oxford, UK, 2014
Howell RM, Kry SF, Modulated Arc Therapy Planning, In: Radiation Therapy Physics, Elsevier Ltd.: Oxford, UK, 2014
Biggs P, Kry SF., Monte Carlo for shielding of radiotherapy facilities., In: Monte Carlo Techniques in Radiation Therapy. Taylor & Francis, 2013
Letters to the Editor
Kry SF, Salehpour M,, In response to Dr. Schneider, Int J Radiat Oncol Biol Phys, 64: 1290-1291, 2006
Kry SF, Olch A, Mohan R, Comment on "Monte Carlo evaluations of the absorbed dose and quality dependence of Al2O3 in radiotherapy photon beams", Med Phys, 42: 2648-2649
Followill DS, Kry SF, Response to Thomsen et al: comments on "The Radiological Physics Center's standard dataset for small field size output factors", J Appl Clin Med Phys, 15: 4841
| | |
| --- | --- |
| Title: | A Randomized Phase III Clinical Trial of Weekly versus Tri-weekly Cisplatin based Chemoradiation in Locally Advanced Cervical Cancer. Korean Gynecological Oncology Group |
| Funding Source: | Radiotherapy quality assurance for the TACO trial |
| Role: | Principal Investigator |
| | |
| --- | --- |
| Title: | Dose calculation tools for epidemiology studies following modern radiotherapy |
| Funding Source: | NIH/NCI |
| Role: | Principal Investigator |
| | |
| --- | --- |
| Title: | A calculation method for patient specific dosimetry for epidemiological studies of radiation induced second cancers |
| Funding Source: | NIH/NCI |
| Role: | Co-Principal Investigator |
| | |
| --- | --- |
| Title: | Radiological Physics Center |
| Funding Source: | NIH/NCI |
| Role: | Co-Investigator |
| | |
| --- | --- |
| Title: | Late Effects Following Radiotherapy |
| Funding Source: | UT MD Anderson Cancer Center Start Up Funds |
| Role: | Principal Investigator |
| | |
| --- | --- |
| Title: | Imaging and Radiation Oncology Core (IROC) Group |
| Funding Source: | American College of Radiology |
| Role: | Co-Investigator |
| | |
| --- | --- |
| Title: | CT dosimetry with nanoDot OSLD |
| Funding Source: | Laundauer Inc. |
| Role: | Principal Investigator |
| | |
| --- | --- |
| Title: | Metal Artifact Reduction in Radiation Oncology |
| Funding Source: | Mobius Medical Systems LLP |
| Role: | Principal Investigator |
| | |
| --- | --- |
| Title: | Medical Physics Peer-Review |
| Funding Source: | US Oncology |
| Role: | Principal Investigator |
| | |
| --- | --- |
| Title: | Phantom Measurements and Validation of High-Dose DVS |
| Funding Source: | Sicel Technology |
| Role: | Principal Investigator |
| | |
| --- | --- |
| Title: | Improving tumor coverage in lung SBRT through the use of FFF beams |
| Funding Source: | Varian Medical Systems |
| Role: | Co-Investigator |
| | |
| --- | --- |
| Title: | Improving target coverage in radiotherapy of spinal tumors through the use of FFF beams |
| Funding Source: | Center for Radiation Oncology Research |
| Role: | Co-Investigator |
| | |
| --- | --- |
| Title: | Improving dose coverage of tumor periphery in radiotherapy of lung cancer through the use of flattening filter free beams |
| Funding Source: | NIH/NCI |
| Role: | Co-Investigator |
| | |
| --- | --- |
| Title: | 25% Impact of Contemporary Radiation Therapy on Second Breast Cancers in Pediatric Patients, PA-11-260 |
| Funding Source: | NIH/NCI |
| Role: | Co-Principal Investigator |
| | |
| --- | --- |
| Title: | MD Anderson Sister Institutions for clinical trials using proton therapy |
| Funding Source: | University of Texas MD Anderson Sister Institution Network Foundation |
| Role: | Principal Investigator |
| | |
| --- | --- |
| Title: | Correcting Dose Calculation Errors in Radiation Oncology |
| Funding Source: | NIH/NCI |
| Role: | Principal Investigator |
| | |
| --- | --- |
| Title: | Improving radiation therapy outcomes through personalized optimization of radiation beam properties |
| Funding Source: | NCI |
| Role: | Co-Principal Investigator |