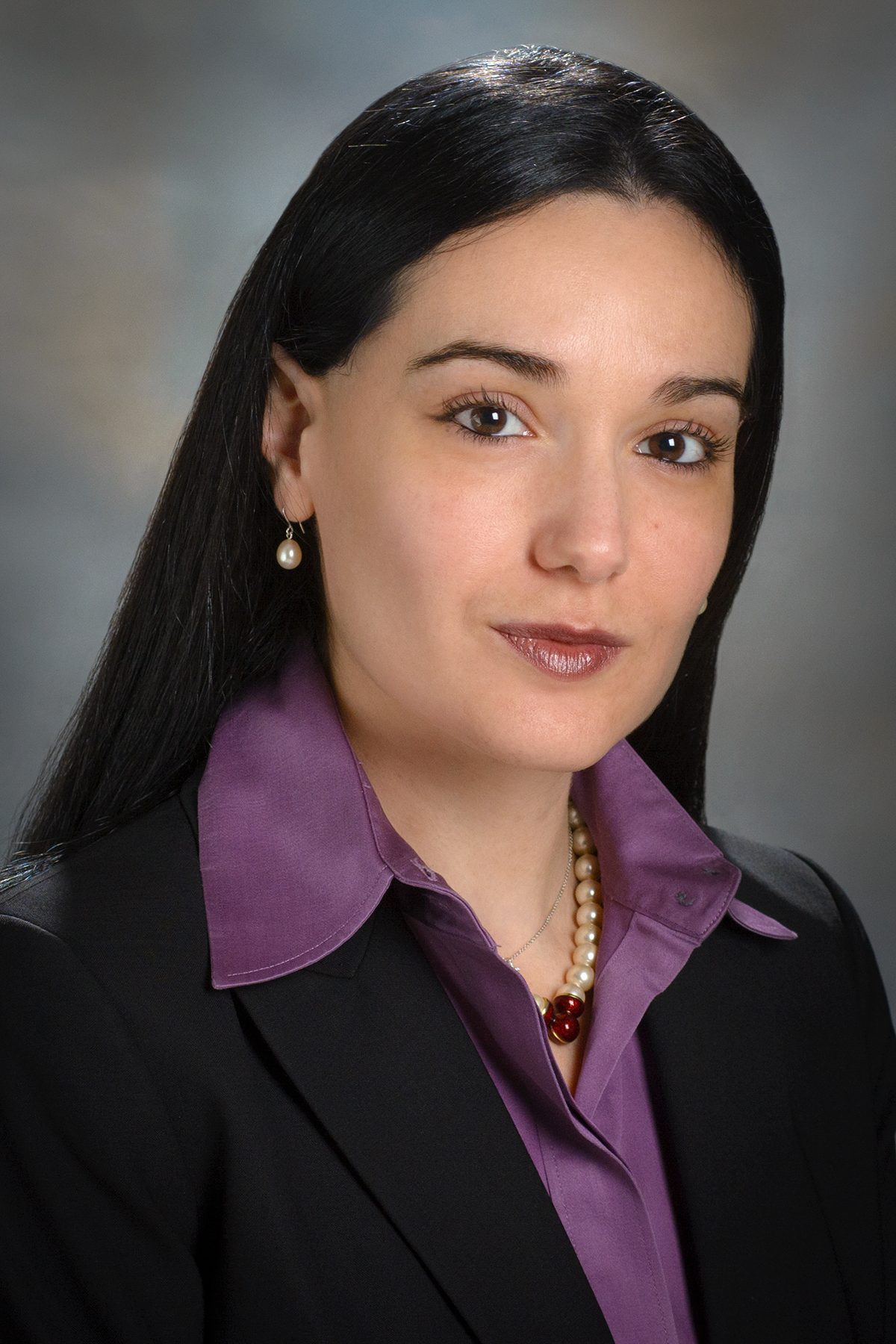 Tina Cascone, M.D., Ph.D.
Department of Thoracic-Head & Neck Med Onc, Division of Cancer Medicine
Primary Appointment
Assistant Professor, Department of Thoracic/Head and Neck Medical Oncology, Division of Cancer Medicine, The University of Texas MD Anderson Cancer Center, Houston, TX
Determine the mechanisms of tumor resistance to immunotherapies, identify predicative biomarkers of therapeutic response in primary and metastatic NSCLCs, and discover novel therapeutic targets to prevent tumor recurrence and augment the efficacy of immunotherapies. Development of novel immunotherapy-based strategies for resectable NSCLC; tumor metabolism role on T cell-mediated antitumor immunity; nonsense-mediated mRNA decay (NMD) as therapeutic target to augment antitumor immunity.
Using both human samples and mouse models of NSCLC, our research focuses on understanding how perioperative therapies, including immune checkpoint inhibitors, modulate the immune microenvironment in primary and metastatic NSCLCs. We aim to determine the evolutionary transcriptomic and immune repertoire changes following perioperative therapies for biomarker discovery and identification of novel targets to be tested in clinical trials. Using murine models of spontaneously metastatic NSCLC, we have identified the superior efficacy of neoadjuvant immunotherapy as compared to adjuvant therapy in prolonging survival and reducing metastases via an increased and sustained immune response. We have identified tumor glycolysis as a pathway associated with poor T cell infiltration of early-stage NSCLC and melanomas, and with resistance to adoptive T cell therapy. We are investigating how radiographic tumor glucose uptake may predict therapeutic response in different stages of NSCLC. Using shRNA gene silencing and novel pharmacological inhibitors, we have demonstrated that NMD is a natural immune suppressive mechanism in NSCLC and a target to increase the antitumor immune response.
Degree-Granting Education
| | |
| --- | --- |
| 2012 | School of Medicine and Surgery, University of Campania Luigi Vanvitelli (former Second University of Naples), Naples, ITA, PHD, Medical and Surgical Oncology and Clinical Immunology |
| 2004 | School of Medicine and Surgery, University of Campania Luigi Vanvitelli (former Second University of Naples), Naples, ITA, MD, Medicine |
Postgraduate Training
| | |
| --- | --- |
| 2014-2017 | Clinical Fellowship, Medical Oncology, Division of Cancer Medicine, The University of Texas MD Anderson Cancer Center, Houston, TX |
| 2013-2014 | Clinical Residency, Internal Medicine, Barnes-Jewish Hospital, Washington University School of Medicine, St. Louis, MO |
| 2012-2013 | Clinical Internship, Internal Medicine, Barens-Jewish Hospital, Washington University School of Medicine, St. Louis, MO |
| 2007-2012 | Research Fellowship, Thoracic/ Head and Neck Medical Oncology, The University of Texas MD Anderson Cancer Center, Houston, TX |
| 2004-2008 | Clinical Fellowship, Oncology, School of Medicine and Surgery, University of Campania Luigi Vanvitelli, Naples |
| | |
| --- | --- |
| 2017 | American Board Internal Medicine, Medical Oncology |
| 2015 | American Board Internal Medicine, Internal Medicine |
| 2011 | Educational Commission for Foreigner Medical Graduates (ECFMG) Certification |
| 2005 | Italian Board of Medicine |
Academic Appointments
Faculty Member, Department of Immunology, Division of Graduate School of Biomedical Sciences, The University of Texas MD Anderson Cancer Center, Houston, TX, 2019 - Present
Faculty Member, Department of Cancer Biology, The University of Texas MD Anderson Cancer Center, Houston, TX, 2019 - Present
Instructor, Department of Thoracic/Head and Neck Medical Oncology, Division of Cancer Medicine, The University of Texas MD Anderson Cancer Center, Houston, TX, 2017 - 2018
Administrative Appointments/Responsibilities
Member, Break Through Cancer Committee on Credit and Incentives, Houston, TX, 2021 - Present
Member, Department of Systems Biology, System Biology Chair Search Committee, Houston, 2021 - Present
Committee Co-Chair, Leading Edge of Cancer Research Symposium, Houston, 2021 - Present
Member, Lung Cancer SPORE workshop organizing committee, Atlanta, GA, 2021 - Present
Member, International Association for the Study of Lung Cancer (IASLC) Communications Committee, Houston, 2021 - 2023
Member, GSBS Alfred G. Knudsen Jr. Award Selection Panel Committee, Houston, 2021 - Present
Co-Chair, Neoadjuvant Immunotherapy Symposium, SITC 36th Annual Conference, Washington D.C, 2021 - Present
Organizing Committee Member, Lung Cancer SPORE Workshop, N/A, 2021 - Present
Member, IS Governance RAI committee - The University of Texas MD Anderson Cancer Center, Houston, TX, 2020 - Present
Member, TMC3 Project committee - The University of Texas MD Anderson Cancer Center, Houston, TX, 2020 - Present
Faculty Member, Postdoctoral Fellow Recruitment Committee - The University of Texas MD Anderson Cancer Center, Houston, TX, 2020 - Present
| | |
| --- | --- |
| 2021 | Young Physician Scientist Award, American Society of Clinical Investigation (ASCI) |
| 2020 | Moon Shots Lung Cancer Program, The University of Texas MD Anderson Cancer Center. Co-Leader "Development of Integrated Bio-Imaging Markers of Response & Targets for Immunotherapy in NSCLC", MD Anderson Cancer Center |
| 2020 | Hope Award, Rexanna's Foundation for Fighting Lung Cancer |
| 2019 | Moon Shots Lung Cancer Program, GEMINI, The University of Texas MD Anderson Cancer Center |
| 2018 | Conquer Cancer Foundation of ASCO Career Development Award |
| 2018 | The University of Texas MD Anderson Cancer Center, Physician Scientist Program |
| 2018 | Cancer Center Support Grant (CCSG) New Faculty Award, NIH |
| 2018 | Lung SPORE Workshop - Dallas TX |
| 2018 | Southwest Oncology Group (SWOG) Integrated Transnational Science Center Workshop, Bar Harbor, MN |
| 2018 | Khalifa Scholars Award, Khalifa Bin Zayed Al Nahyan Foundation |
| 2018 | UT System Rising STARs Award, The University of Texas System |
| 2017 | The Jeffrey Le Cousins Fellowship for Lung Cancer Research. Clinical Fellow Award, The University of Texas, MD Anderson Cancer Center |
| 2017 | Trainee Research Day, First Place Winner Oral Competition, Clinical Research, The University of Texas, MD Anderson Cancer Center |
| 2017 | The Waun Ki Hong Award for Achievement in Basic Science Research, Division of Cancer Medicine, Hematology/Oncology Program, The University of Texas, MD Anderson Cancer Center |
| 2017 | The University of Texas MD Anderson Cancer Center Advanced Scholar Program |
| 2016 | Immuno-Oncology Young Investigators' Forum-First Place Award Winner in the Category of Clinical Fellow Presentations |
| 2016 | Lindon B. Johnson Hospital, 2nd Year Fellow of the Year Award. Hematology/ Oncology Fellowship, The University of Texas, MD Anderson Cancer Center |
| 2016 | ASCO Merit Award, American Society of Clinical Oncology |
| 2016 | Conquer Cancer Foundation of ASCO Young Investigator Award |
| 2016 | AAAS/Science Program for Excellence in Science, Oncology Fellow-Sponsored Membership |
| 2016 | AACR Molecular Biology in Clinical Oncology Workshop - Aspen CO, American Association of Cancer Research |
| 2015 | Clifton Dr. Howe for Clinical Excellence. Hematology/Oncology Fellowship, The University of Texas, MD Anderson Cancer Center |
| 2015 | T32 NIH Training Grant Fellow, The University of Texas, MD Anderson Cancer Center |
| 2014 | Outpatient Resident Award, PGY2. Internal Medicine, Barnes-Jewish Hospital, Washington University School of Medicine, in St Louis MO |
| 2012 | Travel and Merit Award, Oral and Poster presentation, The 14th Symposium on Anti-Angiogenic Therapy |
| 2012 | Postdoctoral Fellow Award, The A. Lavoy Moore Endowment Fund, The University of Texas, MD Anderson Cancer Center |
| 2010 | Bristol-Myers Squibb Oncology Scholar in Training Award, Poster Presentation 101st AACR Annual Meeting, American Association for Cancer Research |
| 2009 | Aflac-Incorporated Scholar in Training Award, Oral Presentation 100th AACR Annual Meeting, American Association for Cancer Research |
| 2003 | Merit Award, University of Campania Luigi Vanvitelli (former Second University of Naples) |
| 2003 | Travel Award. Fifth Year Medical Student, International Federation of Medical Students Association. Exchange Program. Onkologiska Kliniken Norrlands Univerersitetssjukhus, Umea, Sweden |
| 2000 | Merit Award, University of Campania Luigi Vanvitelli (former Second University of Naples) |
| | |
| --- | --- |
| Title: | Neoadjuvant immune checkpoint blockade to enhance immune responses and improve clinical efficacy for the treatment of resectable NSCLC |
| Funding Source: | Conquer Cancer Foundation of ASCO Career Development Award |
| Role: | Principal Investigator |
| | |
| --- | --- |
| Title: | Nonsense-mediated mRNA decay (NMD) blockade to enhance the immunogenicity of non-small cell lung cancer (NSCLC) and augment the efficacy of immunotherapy |
| Funding Source: | Conquer Cancer Foundation of ASCO Young Investigator Award |
| Role: | Principal Investigator |
| | |
| --- | --- |
| Title: | Neoadjuvant immunotherapy as a therapeutic strategy to prevent recurrence in resectable NSCLC |
| Funding Source: | Lung Spore Investigator Career Enhancement Program Award For Lung Cancer Translational Research |
| Role: | Principal Investigator |
| | |
| --- | --- |
| Title: | Neoadjuvant immunotherapy to prevent recurrence in preclinical murine models of resectable KRAS mutant lung adenocarcinoma |
| Funding Source: | Petrin Funding for KRAS Mutant Non-Small Cell Lung Cancer Research Projects |
| Role: | Co-Investigator |
| | |
| --- | --- |
| Title: | Immunogenomic profiling of non-small cell lung cancers treated with neoadjuvant immune-based therapies for biomarker discovery and identification of novel therapeutic targets |
| Funding Source: | The Khalifa Scholars Award |
| Role: | Principal Investigator |
| | |
| --- | --- |
| Title: | SPORE: Targeting Lung Cancer Vulnerabilities |
| Funding Source: | NIH/NCI |
| Role: | Collaborator |
| | |
| --- | --- |
| Title: | Cancer Center Support Grant/ MDACC New Faculty Award |
| Funding Source: | NIH/NCI |
| Role: | Principal Investigator |
| | |
| --- | --- |
| Title: | Identification of T cell signatures of response and resistance to neoadjuvant immunotherapy in resected non-small cell lung cancers, including tumors harboring EGFR mutations, using single cell RNA sequencing |
| Funding Source: | Rexanna's Foundation for Fighting Lung Cancer |
| Role: | Principal Investigator |
| | |
| --- | --- |
| Title: | R01 Radioimmunogenomic Habitat Phenotypes to Predict Efficacy of Neoadjuvant Immunotherapies in Non-Small Cell Lung Cancer |
| Funding Source: | NIH/NCI |
| Role: | Co-Principal Investigator |