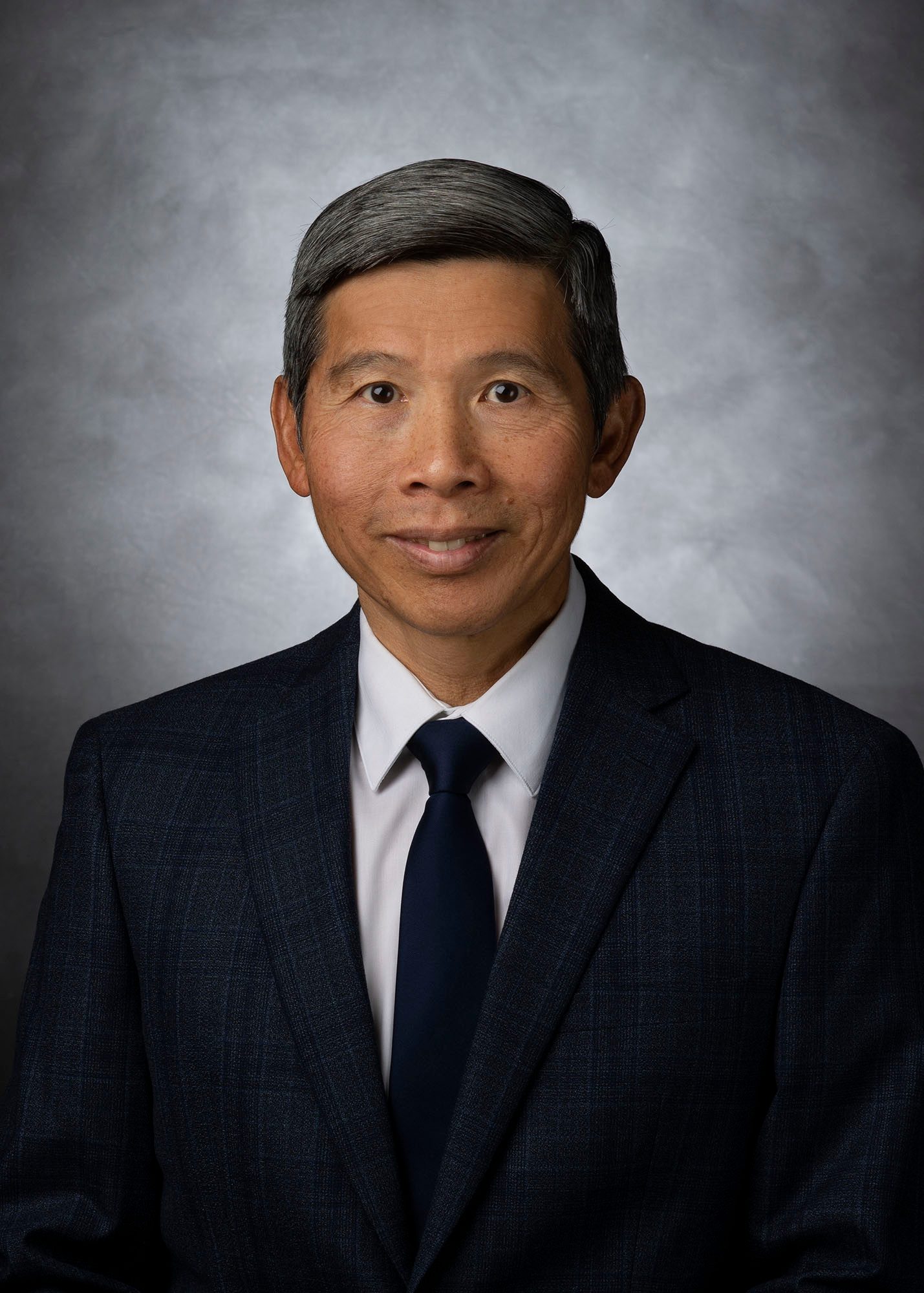 Tong Joo (TJ) Gan, M.D., M.B.A., M.H.S., F.R.C.A.
Department of Anesthesiology and Perioperative Medicine, Division of Anesthesiology, Critical Care Medicine, and Pain Medicine
About Tong Joo Gan
Tong Joo (TJ) Gan, M.D., is the Division Head of Anesthesiology, Critical Care and Pain Medicine. Gan has published over 300 peer-reviewed manuscripts focused on enhanced recovery after surgery (ERAS) and perioperative outcomes, investigating topics related to postoperative nausea and vomiting, pain, fluid and hemodynamic management, and anesthetic pharmacology. He is internationally known for his clinical research in perioperative outcomes and anesthetic pharmacology. He is also the primary author of the four international consensus guidelines on the management of postoperative nausea and vomiting, including the one published in 2020.
Gan earned his medical degree from The London Hospital Medical College, University of London while also earning a Master of Health Sciences degree from Duke University. He completed his anesthesiology training at The University College Hospital in London, England, as well as specialty training in Intensive Care at The Middlesex Hospital in London. He earned his Master of Business Administration from the University of Massachusetts, Amherst.
His first faculty appointment was at Duke University, where he rose through the academic ranks. Gan served as Vice-Chair of Clinical Research and Faculty Development for Duke University Medical Center. In addition, he was faculty at Duke Clinical Research Institute and a Senior Research Fellow at the Duke Center for Integrative Medicine.
In 2014, Gan moved to Renaissance School of Medicine, Stony Brook University as Chair and Professor in the Department of Anesthesiology. In that role, he led a large team of faculty, residents and nurses, and supervised Long Island's largest anesthesiology training program. He also established a formal faculty mentoring program, a wellness program and a gender and under-represented minorities (URM) committee that helped to increase these populations among faculty and staff.
Gan is a fellow of both the Royal College of Anaesthetists of England and the Faculty of Anaesthetists of the Royal College of Surgeons of Ireland. He is the Founding President of the American Society for Enhanced Recovery (ASER), President of the Perioperative Quality Initiative (POQI), President Elect of the Association of Academic Anesthesiology Chairs (AAAC), a Past President of the Society for Ambulatory Anesthesia (SAMBA) and the International Society for Anesthetic Pharmacology (ISAP).
Read More
Present Title & Affiliation
Primary Appointment
Professor, Division of Anesthesiology, Critical Care Medicine and Pain Medicine, The University of Texas MD Anderson Cancer Center, Houston, TX
Division Head, Division of Anesthesiology, Critical Care Medicine and Pain Medicine, The University of Texas MD Anderson Cancer Center, Houston, TX
Helen Shafer Fly Distinguished Professor, The University of Texas MD Anderson Cancer Center, Houston, TX
Degree-Granting Education
| | |
| --- | --- |
| 2017 | University of Massachusetts Amherst, Amherst, MA, USA, MBA, Master of Business Administration |
| 2009 | University of London (Postgraduate), London, GBR, MD, Medicine |
| 2009 | Duke University, Durham, NC, USA, MHS, Master of Health Science |
| 1993 | British College of Acupuncture, London, GBR, Licentiate, Acupuncture |
| 1987 | The London Hospital Medical College University of London, London, GBR, MBBS, Medicine |
Postgraduate Training
| | |
| --- | --- |
| 2022-2022 | Certified Physician Executive (CPE), American Association for Physician Leadership, Tampa, FL |
| 1998-1999 | Senior House Officer, The Middlesex Hospital, London |
| 1993-1994 | Fellowship, Duke University Medical Center, Durham, NC |
| 1993-1993 | Senior Registrar, Royal Brompton Heart and Lung Hospital, London |
| 1992-1993 | Registrar, Royal National Orthopaedic Hospital, Middlesex |
| 1992-1992 | Registrar, University College Hospital, London |
| 1991-1992 | Registrar, The Middlesex Hospital, London |
| 1990-1991 | Registrar, The Whittington and The Royal Northern Hospital, London |
| 1988-1989 | Senior House Officer, The London Hospital, London |
| 1988-1988 | Senior House Officer, Accident and Emergency Department, The London Hospital, London |
| 1987-1988 | House Officer, Internal Medicine, Old Church Hospital, Romford |
| 1987-1987 | House Officer, Cardiothoracic and Vascular Surgery, The London Hospital, London |
| | |
| --- | --- |
| 2022 | Certified Physician Executive (CPE), Certifying Commission in Medical Management (CCMM) |
| 2017 | Fellow of the American Society of Anesthesiologists |
| 2009 | Recertification, American Board of Anesthesiology |
| 1997 | Diplomate, American Board of Anesthesiology |
| 1994 | Diplomate, USMLE |
| 1992 | Fellow of the Faculty of Anaesthetists, Royal College of Surgeon of Ireland |
| 1992 | Fellow of the Royal College of Anaesthetists of England |
Academic Appointments
Professor, Stony Brook University Renaissance School of Medicine, Stony Brook, NY, 2014 - 2022
Professor, Duke University Medical Center, Durham, NC, 2004 - 2014
Senior Research Fellow, Duke Center for Integrative Medicine, Durham, NC, 2001 - 2014
Associate Professor, Duke University Medical Center, Durham, NC, 1999 - 2003
Assistant Professor, Duke University Medical Center, Durham, NC, 1994 - 1999
Associate, Division of Anesthesiology, Duke University Medical Center, Durham, NC, 1993 - 1994
Administrative Appointments/Responsibilities
Vice-Chairman, Duke University Medical Center, Durham, NC, 2007 - 2014
Institutional Committee Activities
Chair, Stony Brook University Renaissance School of Medicine Dean Search Committee, 2022 - 2022
Member, SUNY Stony Brook Pathology Department Review Committee, 2022 - 2022
Member, Stony Brook University Renaissance School of Medicine Search Committee Senior Vice President, 2021 - 2021
Member, Stony Brook University Renaissance School of Medicine Budget and Finance Committee, Stony Brook Clinical Practice Management, 2020 - 2022
Member, Stony Brook University Renaissance School of Medicine Executive Committee, 2020 - 2022
Member, Stony Brook University Renaissance School of Medicine, Dean's Strategic Planning Committee, 2020 - 2022
Member, Stony Brook University Hospital Medical Executive Committee, 2020 - 2022
Vice President, Stony Brook University Renaissance School of Medicine, Clinical Practice Management Plan, 2019 - Present
Chair, Stony Brook University Renaissance School of Medicine Pension Committee, 2015 - Present
Chairman, Duke University Medical Center Department Appointment, Promotion and Tenure Committee, 2010 - 2014
Vice-Chairman, Duke University Medical Center Faculty Development, 2009 - 2014
Vice-Chairman, Duke University Medical Center Clinical Research, 2007 - 2014
Founding Medical Director, Duke University Medical Center Clinical Anesthesia Research Endeavor, 2006 - 2008
Director, Duke University Medical Center Clinical Research Committee, 2000 - 2008
Medical Director, Duke University Medical Center Perianesthetic Care Unit, 1999 - 2007
Representative, Duke University Medical Center Department IRB Committee, 1996 - 2016
Endowed Positions
Distinguished Endowed Chair, Stony Brook School of Medicine, Stony Brook, NY, 2014 - 2022
| | |
| --- | --- |
| 2023 | Distinguished Service Award, Society for Ambulatory Anesthesia |
| 2021 | President-Elect, Society of Academic Associations of Anesthesiology and Perioperative Medicine |
| 2008 | President, Society for Ambulatory Anesthesia |
| 2007 | President, International Society for Anesthetic Pharmacology |
| 2005 | Founding President, American Society for Enhanced Recovery |
| 2002 | Society for Technology for Anesthesia Annual Innovative Award |
| 1998 | International Anesthesia Research Society (IARS) Clinical Scholar Research Award |
| 1995 | Young Investigator Award |
American Society of Anesthesiologists
Adjunct, Committee on Academic Anesthesiology, 2022 - 2024
American Society of Anesthesiologists
Alt Director, Academic Anesthesiology Component, 2022 - Present
American Society of Anesthesiologists
Member, Educational Track Subcommittee on Perioperative Medicine, 2021 - 2022
American Society of Anesthesiologists
Chair, Committee on Perioperative Medicine, 2021 - Present
American Society of Anesthesiologists
Subcommittee Chair, Perioperative Medicine Fellowship Curriculum, 2021 - Present
American Society for Enhanced Recovery
Member, Scientific Program Committee, 2021 - 2022
Association of Academic Anesthesia
President Elect, 2021 - Present
American Society of Anesthesiologists
Member, Committee on Academic Anesthesiology, 2020 - 2021
American Society of Anesthesiologists
Member, Taskforce on ACGME Common and Specialty-Specific Program Requirements, 2020 - Present
New York State Society of Anesthesiologists
Member, Committee on Academic Anesthesiology, 2019 - 2019
American Society of Anesthesiologists
Member, Committee on Performance and Outcomes, 2017 - 2018
American Society of Anesthesiologists
Member, Committee on Academic Anesthesiology, 2017 - 2018
Perioperative Quality Initiative
Founder, President and Board of Directors, 2017 - Present
American Society of Anesthesiologists
Member, Educational Track Subcommittee on Ambulatory Anesthesia, 2016 - 2017
American Society of Anesthesiologists
Member, Committee on Performance and Outcomes Measurement, 2016 - 2017
American Society of Anesthesiologists
Member, Abstract Review Subcommittee on Outcomes and Database Research, 2015 - 2016
American Society of Anesthesiologists
Member, Abstract Review Subcommittee on Standards and Practice Parameters, 2015 - 2016
American Society of Anesthesiologists
Member, Abstract Review Subcommittee on Performance and Outcomes, 2015 - 2016
American Society of Anesthesiologists
Member, Educational Track Subcommittee on Ambulatory Anesthesia, 2015 - 2016
American Society for Enhanced Recovery
Founder, Past President and Board of Directors, 2015 - 2017
American Society for Enhanced Recovery
Member, 2015 - Present
American Society of Anesthesiologists
Member, Standards and Practice Parameters, 2014 - 2015
American Society of Anesthesiologists
Member, Committee on Performance and Outcomes Management, 2014 - 2015
Association of Academic Anesthesiology Chairs
Member, 2014 - Present
American Society of Anesthesiologists
Member, Abstract Review Subcommittee on Outcomes and Database Research, 2013 - 2014
American Society of Anesthesiologists
Adjunct member, Committee on Quality Management and Developmental Administration, 2011 - Present
American Society of Anesthesiologists
Member, Committee on Droperidol, 2010 - Present
American Society of Anesthesiologists
Member, Committee on Anesthesia Subspecialties, 2008 - 2009
American Society of Anesthesiologists
Member, Committee on Quality Management and Departmental Administration, 2008 - 2012
American Society of Anesthesiologists
Member, Committee on Ambulatory Surgical Care, 2008 - 2010
American Society of Anesthesiologists
Member, Educational Track Subcommittee on Ambulatory Anesthesia, 2008 - 2014
International Society of Anesthetic Pharmacology
Immediate Past President, 2008 - 2009
American Society of Anesthesiologists
Ex-Officio Member, Scientific Content Subcommittee on Ambulatory Anesthesia, 2007 - 2008
International Society of Anesthetic Pharmacology
President, 2007 - 2008
American Society of Anesthesiologists
Member, Scientific Advisory Committee, 2006 - 2007
American Society of Anesthesiologists
Member, Committee on Practice Management, 2006 - 2007
American Society of Anesthesiologists
Member, Committee on Scientific Papers, 2005 - Present
American Society of Anesthesiologists
Secretary, Society of Ambulatory Anesthesia, 2005 - 2006
American Society of Anesthesiologists
Member, Committee on Standards and Practice Parameters, 2003 - Present
American Society of Anesthesiologists
Member, Committee on Refresher Courses, 2003 - Present
International Society of Anesthetic Pharmacology
Treasurer, 2003 - Present
Society for Ambulatory Anesthesia
Member, Committee on Electronic Newsletter, 2003 - 2006
American Society of Anesthesiologists, NC
North Carolina Alternate Delegate, 2003 - 2003
International Society of Anesthetic Pharmacology
Member, Board of Directors, 2002 - 2009
Society for Ambulatory Anesthesia
Member, Board of Directors, 2002 - 2010
Society for Ambulatory Anesthesia
Chair, Committee for Research, 2001 - 2007
Society for Ambulatory Anesthesia
Member, Committee for International Relations, 2000 - 2006
American University of Anesthesiologists
Member, 2000 - Present
Divers Alert Network
Member, 1994 - 1998
Advanced Cardiac Life Support
Instructor, 1994 - 2002
American Society of Anesthesiologists
Member, 1993 - Present
International Anesthesia Research Society
Member, 1993 - Present
Anesthetic Research Society, United Kingdom
Member, 1989 - 1993