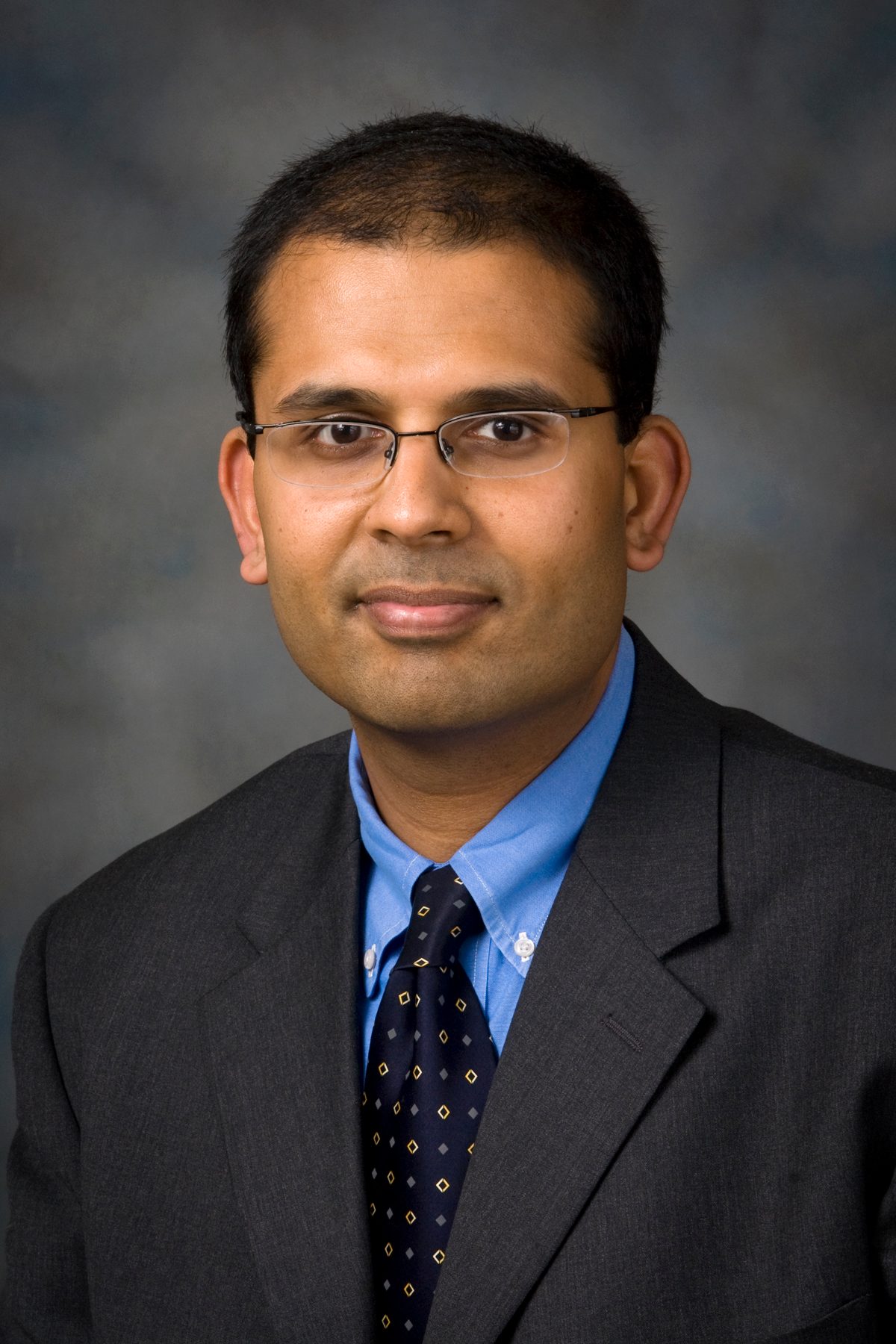 Vinod Ravi, M.D., MBA
Department of Sarcoma Medical Oncology, Division of Cancer Medicine
Primary Appointment
Associate Professor, Department of Sarcoma Medical Oncology, Division of Cancer Medicine, The University of Texas MD Anderson Cancer Center, Houston, TX
Clinical Medical Director, Translational Research Accelerator, Department of Genomic Medicine, Division of Cancer Medicine, The University of Texas MD Anderson Cancer Center, Houston, TX
Dual/Joint/Adjunct Appointment
Associate Professor, Department of Genomic Medicine, Division of Cancer Medicine, The University of Texas MD Anderson Cancer Center, Houston, TX
Degree-Granting Education
| | |
| --- | --- |
| 2019 | Jones Graduate School of Business at Rice University, Houston, TX, USA, MBA, Healthcare Administration |
| 2001 | School of Medicine and Biomedical Sciences, State University of New York at Buffalo, Buffalo, NY, USA, MS, Epidemiology - Clinical Epidemiology |
| 1998 | Medical College Trivandrum, University of Kerala, Kerala, IND, MD, Medicine and Surgery |
Postgraduate Training
| | |
| --- | --- |
| 2004-2007 | Clinical Fellowship, Medical Oncology, Roswell Park Cancer Institute, Buffalo, NY |
| 2002-2004 | Clinical Residency, Internal Medicine, St. Vincent's Medical Center - Columbia University College of Physicians and Surgeons, Bridgeport, CT |
| 2001-2002 | Clinical Internship, Internal Medicine, St. Vincent's Medical Center - Columbia University College of Physicians and Surgeons, Bridgeport, CT |
| | |
| --- | --- |
| 2007 | American Board of Internal Medicine - Medical Oncology |
| 2004 | American Board of Internal Medicine - General |
Academic Appointments
Assistant Professor, Department of Department of Medicine, Roswell Park Cancer Institute, Buffalo, NY, 2007 - 2008
Adjunct Faculty, Translational Genomics Research Institute, Phoenix, AZ, 2006 - 2007
Administrative Appointments/Responsibilities
Steering Committee Member, University of Texas System Clinical Data Network, Houston, TX, 2016 - Present
Other Appointments/Responsibilities
Medical Oncology Fellow, Roswell Park Cancer Institute, Buffalo, NY, 2004 - 2007
Institutional Committee Activities
Member, Faculty Senate, 2009 - 2015
| | |
| --- | --- |
| 2016 | Commitment to Care, Amschwand Sarcoma Cancer Foundation |
| 2007 | 2007 Best Basic Science Research, Roswell Park Cancer Institute |
| 2004 | 2004 Critical Care House Officer Award, St. Vincent's Medical Center |
| 2003 | Humanitarian Award, St. Vincent's Medical Center |
| 1999 | Gold Medal in Pharmacology, Medical College Trivandrum |
| 1998 | Outstanding Academic Achievement Award, Medical College Trivandrum |
Peer-Reviewed Articles
Subbiah V, Anderson PM, Kairemo K, Hess K, Huh WW, Ravi V, Daw NC, Somaiah N, Ludwig JA, Benjamin RS, Chawla S, Hong DS, Meric-Bernstam F, Ravizzini G, Kleinerman E, Macapinlac H, Rohren E

. Alpha particle Radium 223 dichloride in high-risk osteosarcoma: a phase I dose escalation trial. Clin Cancer Res 25(13):3802-3810, 2019. e-Pub 2019. PMID: 30733229.

Gounder MM, Mahoney MR, Van Tine BA, Ravi V, Attia S, Deshpande HA, Gupta AA, Milhem MM, Conry RM, Movva S, Pishvaian MJ, Riedel RF, Sabagh T, Tap WD, Horvat N, Basch E, Schwartz LH, Maki RG, Agaram NP, Lefkowitz RA, Mazaheri Y, Yamashita R, Wright JJ, Dueck AC, Schwartz GK

. Sorafenib for Advanced and Refractory Desmoid Tumors. N Engl J Med 379(25):2417-2428, 2018. PMID: 30575484.

Khan JA, Maki RG, Ravi V

. Pathologic Angiogenesis of Malignant Vascular Sarcomas: Implications for Treatment. J Clin Oncol 36(2):JCO2017749812, 2018. e-Pub 2017. PMID: 29220293.

Bui N, Kamat N, Ravi V, Chawla S, Lohman M, Ganjoo KN

. A multicenter phase II study of Q3 week or weekly paclitaxel in combination with bevacizumab for the treatment of metastatic or unresectable angiosarcoma. Rare Tumors 10:2036361318771771, 2018. e-Pub 2018. PMID: 29760870.

Yanagawa B, Mazine A, Chan EY, Barker CM, Gritti M, Reul RM, Ravi V, Ibarra S, Shapira OM, Cusimano RJ, Reardon MJ

. Surgery for Tumors of the Heart. Semin Thorac Cardiovasc Surg 30(4):385-397, 2018. e-Pub 2018. PMID: 30205144.

Satcher RL, Ravi V, Wang WL, Oates S

. Postpartum Treatment of Metastatic Recurrent Giant Cell Tumor of Capitate Bone of Wrist. Am J Orthop (Belle Mead NJ) 46(4):E269-E275, 2017. PMID: 28856360.

Nathenson MJ, Conley AP, Lin H, Fleming N, Ravi V

. Treatment of Recurrent or Metastatic Uterine Adenosarcoma. Sarcoma 2017:4680273, 2017. e-Pub 2017. PMID: 29445312.

Raj SD, Zhou X, Bueso-Ramos CE, Ravi V, Patel S, Benjamin RS, Vadhan-Raj S

. Prognostic Significance of Elevated D-Dimer for Survival in Patients with Sarcoma. Am J Clin Oncol 35(5):462-7, 2012. e-Pub 2011. PMID: 21654313.

Ravi V, Patel S

. Adjuvant chemotherapy for soft tissue sarcomas. Surg Oncol Clin N Am 21(2):243-53, 2012. e-Pub 2012. PMID: 22365517.

Katz D, Boonsirikamchai P, Choi H, Lazar AJ, Wang WL, Xiao L, Park MS, Ravi V, Benjamin RS, Araujo DM

. Efficacy of first-line doxorubicin and ifosfamide in myxoid liposarcoma. Clin Sarcoma Res 2(2):2, 2012. e-Pub 2012. PMID: 22587772.

Ravi V, Wang WL, Lewis VO

. Treatment of tenosynovial giant cell tumor and pigmented villonodular synovitis. Curr Opin Oncol 23(4):361-366, 2011. PMID: 21577109.

Guadagnolo BA, Zagars GK, Araujo D, Ravi V, Shellenberger TD, Sturgis EM

. Outcomes after definitive treatment for cutaneous angiosarcoma of the face and scalp. Head Neck 33(5):661-7, 2011. e-Pub 2010. PMID: 20960566.

Ravi V, Benjamin RS

. Systemic therapy for cardiac sarcomas. Methodist Debakey Cardiovasc J 6(3):57-60, 2010. PMID: 20834213.

Park MS, Ravi V, Araujo DM

. Inhibiting the VEGF-VEGFR pathway in angiosarcoma, epithelioid hemangioendothelioma, and hemangiopericytoma/solitary fibrous tumor. Curr Opin Oncol 22(4):351-5, 2010. PMID: 20485168.

Lahat G, Dhuka AR, Lahat S, Smith KD, Pollock RE, Hunt KK, Ravi V, Lazar AJ, Lev D

. Outcome of Locally Recurrent and Metastatic Angiosarcoma. Ann Surg Oncol 16(9):2502-9, 2009. e-Pub 2009. PMID: 19551444.

Ravi V, Wong MK

. Strategies and Methodologies for Identifying Molecular Targets in Sarcomas and Other Tumors. Current Treatment Options in Oncology 6(6):487-97, 2005.

Ravi V, Hyland A, Cummings KM, Mahoney M.

. Associations Between Cancer Rates and Risk Factors by Region in New York State 1991-1994. Journal of Cancer Education Suppl to Vol 15(3):39, 2000.

Aslam MI, Dumont SN, Rubin JB, Yang D, Nolden LK, Ludwig JA, Araujo DS, Ravi V, Patel S, Benjamin RS, Trent JC

. CXCR4-CXCL 12 Axis: Pivotal Role as a Metastatic Mediator in Small Cell Sarcoma. Molecular Cancer Therapeutics.
Invited Articles
Ravi V, Patel S. Vascular Sarcomas. Curr Oncol Rep 15(4):347-55, 2013. PMID: 23852636.
Abstracts
Chavez AL, Singh P, Aleman A, Anderson J, Jernigan C, Ravi V

. Improvement of time to develop treatment plan at a specialized sarcoma center. Journal of Clinical Oncology (Meeting Abstracts) 30(suppl 34), 2012.
Book Chapters
Ravi V, Patel S.. Desmoid Tumors: Systemic Therapy. In: UPTODATE: Waltham, MA, 2010.
Ravi V, Patel S. Medical Management of Chondrosarcoma. In: Bone Sarcoma, part of the MD Anderson Cancer Series. Springer: New York.
| | |
| --- | --- |
| Title: | A Multi-Center single agent Phase II study of the efficacy of nilotinib in patients with relapsed or metastatic pigmented villondular synovitis/tenosynovial giant cell tumor/diffuse-type giant cell tumor |
| Funding Source: | Dana-Farber Cancer Institute |
| Role: | Co-Investigator |
| | |
| --- | --- |
| Title: | Paclitaxel in Combination with Bevacizumab (Avastin) for the Treatment of Metastatic or Unresectable Angiosarcoma |
| Funding Source: | Genentech, Inc |
| Role: | Co-Investigator |
| | |
| --- | --- |
| Title: | Cardiac Sarcoma Program |
| Funding Source: | Maynard Family Foundation |
| Role: | Principal Investigator |