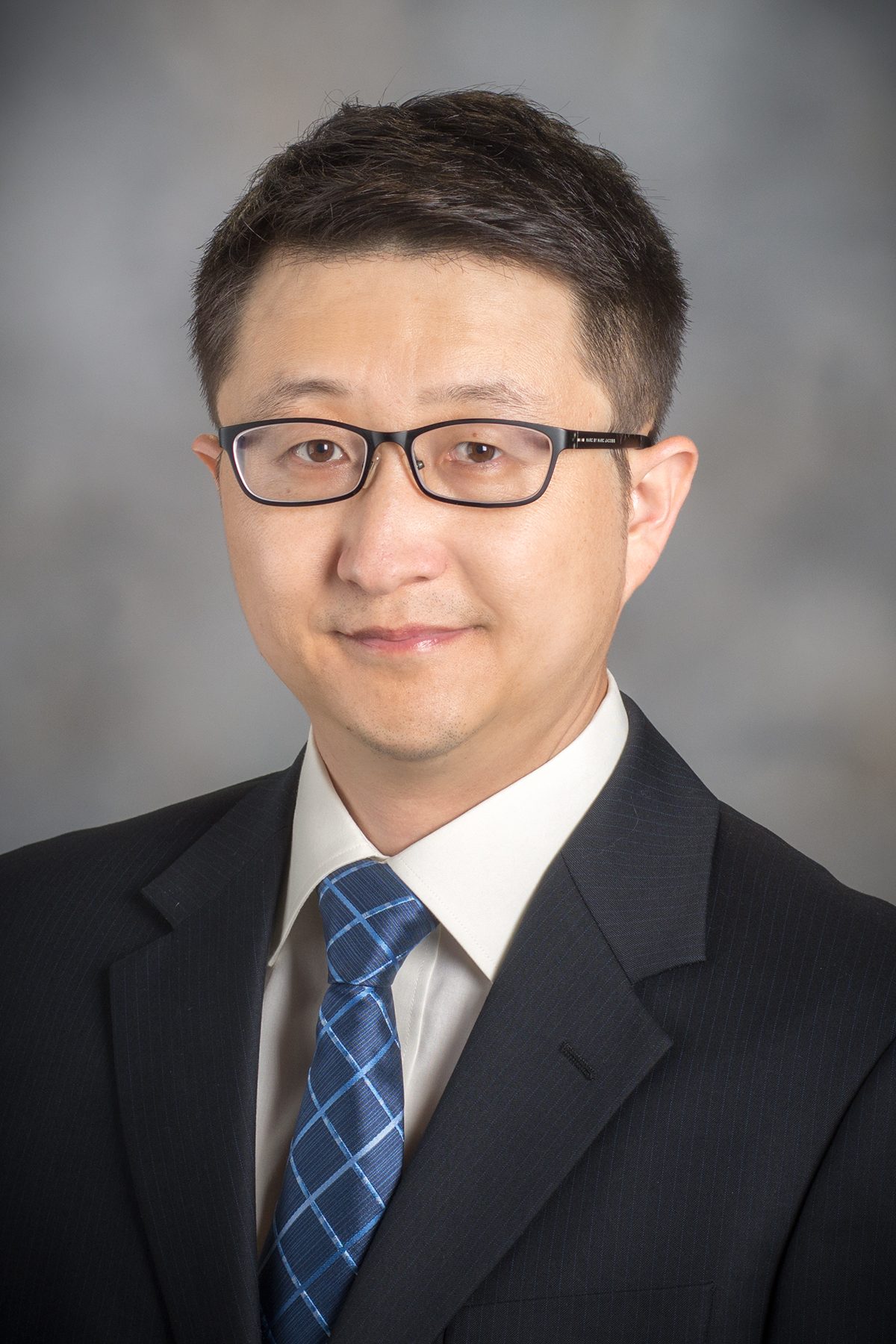 Wenhua Cao
Department of Radiation Physics, Division of Radiation Oncology
About Wenhua Cao
My current research focus is on mathematical optimization and its application to radiation therapy (RT) treatment planning. Particularly, my research includes development, application and implementation of advanced optimization techniques and high performance computation systems for solving RT planning problems, especially for proton therapy. I have developed an in-house intensity modulated proton therapy (IMPT) treatment planning system that incorporates robust optimization and optimization of treatment parameters (e.g., beam angle, proton energy, spot position, monitor unit constraint, etc.). For example, my work on robust beam angle optimization made possible the improvement of plan quality by utilizing unconventional beam angles while minimizing the impact of uncertainties. I also lead a study to include the number of proton energies as a constraint in optimization, which showed clear benefits in delivery efficiency when treating large tumor sites with protons without degrading plan quality. Details of my works can be found in my publications mostly in Medical Physics and Physics in Medicine and Biology. I have been closely collaborating with physicists and oncologists at MD Anderson throughout designing methodologies, implementing computational tools, conducting in silico studies, and translating new methods in the clinic.
Recently, my main effort is to consider the biological effect in particle therapy planning. The proof of principle study led by me has shown impressive advantages of variable relative biological effectiveness (RBE) and linear energy transfer (LET) optimization compared to the conventional fixed RBE approach used in current clinical practice. The optimizer can exploit the increased RBE/LET of protons close to the Bragg peak region in order to elevate target dose and/or reduce normal tissue biologically effective dose. Under the rapid development of proton therapy domestically and internationally, and arguable comparative superiority between proton therapy and the state of the art photon therapy, there is a dire need to better understand the biological and immunological effects of proton therapy in patients and include them into treatment planning. I have been a Principal Investigator or Co-Investigator in a number of externally funded grants, including NIH/NCI R03, R01, U19, P01 and CPRIT, to investigate these important questions. I am responsible for IMPT optimization related aims to test models, generate feasibility studies, and facilitate clinical trials in these projects. In addition, my recent work on LET-based optimization has fostered two clinical trials at MD Anderson for treating ependymoma and anal canal cancer patients with LET-enhanced IMPT treatments.
Read More
Primary Appointment
Assistant Professor, Department of Radiation Physics, Division of Radiation Oncology, The University of Texas MD Anderson Cancer Center, Houston, TX
Degree-Granting Education
| | |
| --- | --- |
| 2011 | University of Houston, Houston, TX, USA, PHD, Industrial Engineering |
| 2003 | South China University of Technology, Guangzhou, CHN, BS, Transportation Engineering |
Peer-Reviewed Articles
Cao W, Khabazian A, Yepes PP, Lim G, Poenisch F, Grosshans DR, Mohan R

. Linear energy transfer incorporated intensity modulated proton therapy optimization. Phys Med Biol 63(1):015013, 2017. e-Pub 2017. PMID: 29131808.

Ulrich S, Wieser HP, Cao W, Mohan R, Bangert M

. Impact of respiratory motion on variable relative biological effectiveness in 4D-dose distributions of proton therapy. Acta Oncol 56(11):1-8, 2017. e-Pub 2017. PMID: 28828913.

Zaghian M, Cao W, Liu W, Kardar L, Randeniya S, Mohan R, Lim G

. Comparison of linear and nonlinear programming approaches for "worst case dose" and "minmax" robust optimization of intensity-modulated proton therapy dose distributions. J Appl Clin Med Phys 18(2):15-25, 2017. e-Pub 2017. PMID: 28300378.

Cao W, Lim GJ, Li Y, Zhu XR, Zhang X

. Improved beam angle arrangement in intensity modulated proton therapy treatment planning for localized prostate cancer. Cancers (Basel) 7(2):574-84, 2015. e-Pub 2015. PMID: 25831258.

Kardar L, Li Y, Li X, Li H, Cao W, Chang JY, Liao L, Zhu RX, Sahoo N, Gillin M, Liao Z, Komaki R, Cox JD, Lim G, Zhang X

. Evaluation and mitigation of the interplay effects of intensity modulated proton therapy for lung cancer in a clinical setting. Pract Radiat Oncol 4(6):e259-68, 2014. e-Pub 2014. PMID: 25407877.

Cao W, Lim G, Liao L, Li Y, Jiang S, Li X, Li H, Suzuki K, Zhu XR, Gomez D, Zhang X

. Proton energy optimization and reduction for intensity-modulated proton therapy. Phys Med Biol 59(21):6341-54, 2014. e-Pub 2014. PMID: 25295881.

Li Y, Kardar L, Li X, Li H, Cao W, Chang JY, Liao L, Zhu RX, Sahoo N, Gillin M, Liao Z, Komaki R, Cox JD, Lim G, Zhang X

. On the interplay effects with proton scanning beams in stage III lung cancer. Med Phys 41(2):021721, 2014. PMID: 24506612.

Lim G, Kardar L, Cao W

. A hybrid framework for optimizing beam angles in radiation therapy planning. Ann Oper Res 217(1):357-383, 2014.

Cao W, Lim G, Li X, Li Y, Zhu XR, Zhang X

. Incorporating deliverable monitor unit constraints into spot intensity optimization in intensity-modulated proton therapy treatment planning. Phys Med Biol 58(15):5113-25, 2013. e-Pub 2013. PMID: 23835656.

Cao W, Lim GJ, Lee A, Li Y, Liu W, Ronald Zhu X, Zhang X

. Uncertainty incorporated beam angle optimization for IMPT treatment planning. Med Phys 39(8):5248-56, 2012. PMID: 22894449.

Liu W, Li Y, Li X, Cao W, Zhang X

. Influence of robust optimization in intensity-modulated proton therapy with different dose delivery techniques. Med Phys 39(6):3089-101, 2012. PMID: 22755694.

Lim G, Cao W

. A two-phase method for selecting IMRT treatment beam angles: branch-and-prune and local neighborhood search. Eur J Oper Res 217(3):609-618, 2012.
Book Chapters
Cao W, Lim G. Optimization models for cancer treatment planning. In: Wiley Encyclopedia of Operations Research and Management Science. John Wiley and Sons, 2011.
Cao W, Lim G. An introduction to optimization models and applications in healthcare delivery systems. In: Handbook of Health Care Delivery Systems. CRC Press, 2010.
| | |
| --- | --- |
| Title: | Understanding Biological and Physical Factors Affecting Response to Proton Therapy to Improve its Clinical Effectiveness |
| Funding Source: | Cancer Prevention & Research Institute of Texas (CPRIT) |
| Role: | Co-Investigator |
| | |
| --- | --- |
| Title: | Improving the Clinical Effectiveness and Understanding of the Biophysical Basis of Proton Therapy |
| Funding Source: | NIH/NCI |
| Role: | Co-Investigator |
| | |
| --- | --- |
| Title: | Optimizing the Biological Effectiveness of Intensity-Modulated Proton Therapy |
| Funding Source: | NIH/NCI |
| Role: | Principal Investigator |
| | |
| --- | --- |
| Title: | Integrating patient-specific clinical and biological factors towards individualizing utilization of proton and photon radiation therapy: Project 1: Understanding normal tissue toxicity to identify patients most likely to benefit from proton therapy |
| Funding Source: | NIH/NCI |
| Role: | Co-Investigator |
| | |
| --- | --- |
| Title: | Integrating patient-specific clinical and biological factors towards individualizing utilization of proton and photon radiation therapy: Project 2: Radiation-Induced Lymphopenia: Understanding, Predictive Modeling and Developing Photon and Proton-Based Mitigation Strategies |
| Funding Source: | NIH/NCI |
| Role: | Co-Investigator |
| | |
| --- | --- |
| Title: | Automatic Treatment Planning for Proton Therapy: Investigations of Robustly Optimized Intensity Modulated Proton Therapy Incorporating LET/RBE Criteria and Physical and Biological Uncertainties |
| Funding Source: | UT Austin - Portugal |
| Role: | Project Leader |