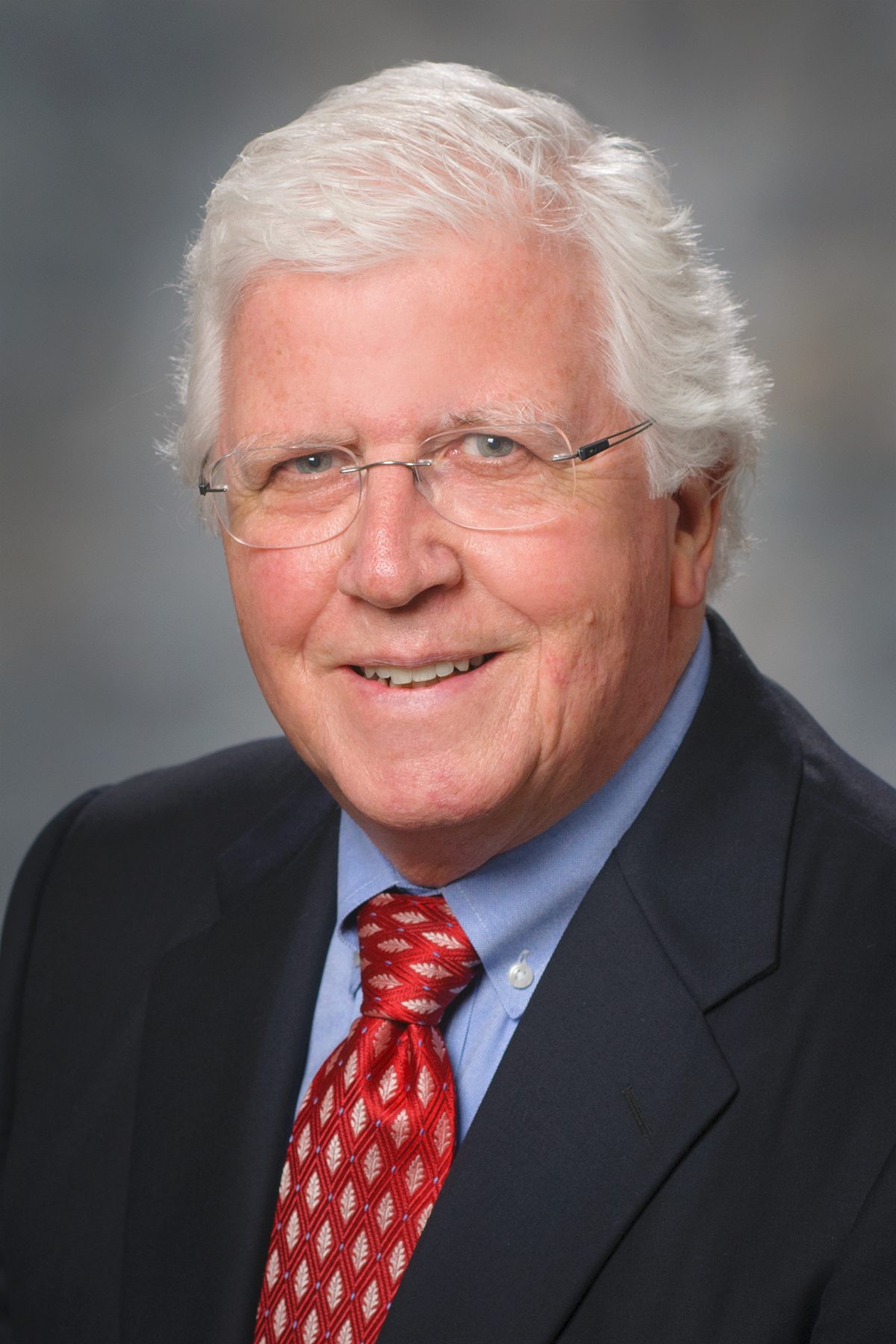 William Plunkett, Ph.D.
Department of Experimental Therapeutics, Division of Cancer Medicine
About Dr. Plunkett
William Plunkett, Ph.D., Professor at The University of Texas MD Anderson Cancer Center, holds the Barnts Family Distinguished Chair for Cancer Research. His administrative appointment is Deputy Chairman, Department of Experimental Therapeutics. My major research pursuits are related to development of novel therapeutics based on knowledge of cellular responses to DNA damage, and elucidating the mechanisms of drug action, particularly of nucleoside analogs. Investigations by my group demonstrated multiple mechanism of action for both fludarabine and gemcitabine, as well as the mechanisms of other nucleosides. I have enjoyed sustained and dedicated collaborations with his colleagues involved with clinical research, interactions that have resulted in advances in clinical treatments that induce remissions more effectively and are maintained them longer than previously possible in leukemias. I was the recipient of the Service to Mankind Award from the Leukemia Society of America in 1989, the Faculty Achievement Award in Clinical Research in 1996, and the 1 st Potu N. Rao award for Excellence in Basic Research in 2006, and the Waun Ki Hong Achievement Award for Team Research - CLL in 2011. I was elected a Fellow of the American Association for the Advancement of Science in 2012. I was the 2013 recipient of the Charles A. LeMaistre, M.D. Outstanding Acheivement Award in Cancer and received the John Mendelsohn Lifetime Scientific Achievement Award in 2016. Under the title of Associate Vice President, Research Integrity, I have assumed the responsibilities of the Institutional Research Integrity Officer since 2007. I am particularly interested in education of the next generation of scientists. He has been a member of the University of Texas Graduate School of Biomedical Sciences at Houston since 1976. His activities in graduate education have been recognized by his election to President of the Faculty of The Graduate School of Biomedical Sciences, and the award of the 1 st Sowell-Huggins Professorship in Cancer Research in that school. I was the recipient of the Distinguished Research Faculty Mentor Award in 2013.
Read More
Primary Appointment
Director, Therapeutics and Pharmacology Program, Division of Graduate School of Biomedical Sciences, The University of Texas MD Anderson Cancer Center, Houston, TX
Professor, Department of Experimental Therapeutics, Division of Cancer Medicine, The University of Texas MD Anderson Cancer Center, Houston, TX
Dual/Joint/Adjunct Appointment
Professor, Department of Leukemia, Division of Cancer Medicine, The University of Texas MD Anderson Cancer Center, Houston, TX
Degree-Granting Education
| | |
| --- | --- |
| 1970 | University of Massachusetts, Amherst, MA, USA, PHD, Biochemistry |
| 1965 | Springfield College, Springfield, MA, USA, BS, Biology, Chemistry |
Postgraduate Training
| | |
| --- | --- |
| 1972-1975 | Research Associate, Microbiology, University of Colorado Medical Center, Denver, CO |
| 1970-1971 | Postdoctoral Fellow, Therapeutic Research, University of Pennsylvania, Philadelphia, PA |
Administrative Appointments/Responsibilities
Deputy Department Chair, Department of Experimental Therapeutics, The University of Texas MD Anderson Cancer Center, Houston, TX, 2008 - Present
Associate Vice President, Research Integrity, The University of Texas MD Anderson Cancer Center, Houston, TX, 2008 - Present
Institutional Research Integrity Officer, The University of Texas MD Anderson Cancer Center, Houston, TX, 2007 - Present
Other Appointments/Responsibilities
Chairman, Scientific Advisory Board, Chronic Lymphocytic Leukemia Global Research Foundation, Houston, 2004 - Present
Endowed Positions
Barnts Family Distinguished Chair for Cancer Research, The University of Texas MD Anderson Cancer Center, Houston, TX, 1999 - Present
Hubert L. and Olive Stringer Professorship in Medical Oncology, The University of Texas M. D. Anderson Cancer Center, Houston, TX, 1989 - 1999
| | |
| --- | --- |
| 2016 | John Mendelsohn Lifetime Scientific Achievement Award, DIvision of Cancer Medicine |
| 2013 | Distinguished Research Faculty Mentor Award, M.D. Anderson Cancer Center |
| 2013 | Charles A. LeMaistre M.D. Outstanding Achievement Award in Cancer, M.D. Anderson Cancer Center |
| 2012 | Co-Leader of CLL Moon Shot Program, M.D.Anderson Cancer Center Moon Shot Program |
| 2012 | Fellow, American Association for the Advancement of Science, American Association for the Advancement of Science |
| 2011 | Waun Ki Hong Achievement Award for Team Science - CLL, Division of Cancer Medicine |
| 2006 | 1st Potu N. Rao Award for Outstanding Achievement in Basic Science, The University of Texas M. D. Anderson Cancer Center, Division of Cancer Medicine |
| 2001 | 1st Sowell-Huggins Professorship in Cancer Research, University of Texas Graduate School of Biomedical Sciences, Houston |
| 1999 | Barnts Family Distinguished Chair for Cancer Research, The University of Texas M. D. Anderson Cancer Center |
| 1996 | Faculty Achievement Award, Clinical Research, The University of Texas M. D. Anderson Cancer Center |
| 1993 | Chairman, Gordon Research Conference on Purines, Pyrimidines & Related Substances |
| 1991 | Outstanding Faculty Award, University of Texas Graduate School of Biomedical Sciences at Houston |
| 1989 | Service to Mankind Award, Leukemia Society of America, Gulf Coast Chapter |
| 1989 | Hubert L. and Olive Stringer Professorship in Medical Oncology, The University of Texas M. D. Anderson Cancer Center |
| 1988 | President of the Graduate Faculty, University of Texas Graduate School of Biomedical Sciences |
American Association for Cancer Research
Member, Program Committee, Experimental and Molecular Therapeutics, 2004 - 2005
American Association for Cancer Research
Chair, Program Committee, Mechanisms of Drug Action, 2004 - 2005
American Association for Cancer Research
Chairman, Exhibits Committee, 2002 - 2005
American Association for Cancer Research
Member, Education Committee, 2002 - Present
American Association for Cancer Research
Chairman, Research Fellowship Committee, 2002 - Present
American Association for Cancer Research
Member, Program Committee, Experimental Therapeutics-2, 2001 - 2002
American Association for Cancer Research
Chairman, 2002 Research Fellowships Committee, 2001 - 2002
American Association for Cancer Research
Chairman, Exhibits Committee, 2000 - Present
American Association for Cancer Research
Member, Gertrude B. Elion Award Committee, 1999 - Present
American Association for Cancer Research
Member, C. P. Rhodes Memorial Award Committee, 1999 - Present
American Association for Cancer Research
Member, 1976 - Present
Peer-Reviewed Articles
Thompson PA, Tam CS, O'Brien SM, Wierda WG, Stingo F, Plunkett W, Smith SC, Kantarjian HM, Freireich EJ, Keating MJ

Fludarabine, cyclophosphamide and rituximab achieves long-term disease-free survival in IGHV-mutated chronic lymphocytic leukemia. Blood 127 (3) :303-9, 2016. e-Pub 2015. PMID: 26492934

Lai TH, Ewald B, Zecevic A, Liu C, Sulda M, Papaioannou D, Garzon R, Blachly JS, Plunkett W, Sampath D

HDAC inhibition induces microRNA-182 which targets Rad51 and impairs HR repair to sensitize cells to sapacitabine in acute myelogenous leukemia. Clin Cancer Res 22 (14) :3537-49, 2016. e-Pub 2016. PMID: 26858310

Jouanneau M, McClary B, Reyes JC, Chen R, Chen Y, Plunkett W, Cheng X, Milinichik AZ, Albone EF, Liu JO, Romo D

Derivatization of agelastatin A leading to bioactive analogs and a trifunctional probe. Bioorg Med Chem Lett 26 (8) :2092-7, 2016. e-Pub 2016. PMID: 26951751

Jiang Y, Chen HC, Su X, Thompson PA, Liu X, Do KA, Wierda W, Keating MJ, Plunkett W

ATM function and its relationship with ATM gene mutations in chronic lymphocytic leukemia with the recurrent deletion (11q22.3-23.2). Blood Cancer J 6 (9) :e465, 2016. e-Pub 2016. PMID: 27588518

Liu X, Jiang Y, Nowak B, Hargis S, Plunkett W

Mechanism-Based Drug Combinations with the DNA Strand-Breaking Nucleoside Analog CNDAC. Mol Cancer Ther 15 (10) :2302-2313, 2016. e-Pub 2016. PMID: 27474148

Bottoni A, Rizzotto L, Lai TH, Liu C, Smith LL, Mantel R, Reiff S, El-Gamal D, Larkin K, Johnson AJ, Lapalombella R, Lehman A, Plunkett W, Byrd JC, Blachly JS, Woyach JA, Sampath D

Targeting BTK through microRNA in chronic lymphocytic leukemia. Blood 128 (26) :3101-3112, 2016. e-Pub 2016. PMID: 27756747

Yeh YY, Chen R, Hessler J, Mahoney E, Lehman AM, Heerema NA, Grever MR, Plunkett W, Byrd JC, Johnson AJ

Up-regulation of CDK9 kinase activity and Mcl-1 stability contributes to the acquired resistance to cyclin-dependent kinase inhibitors in leukemia. Oncotarget 6 (5) :2667-79, 2015. PMID: 25596730

Plunkett W

Arginine addiction in AML. Blood 125 (26) :3971-2, 2015. PMID: 26113532

Faderl S, Balakrishnan K, Thomas DA, Ravandi F, Borthakur G, Burger J, Ferrajoli A, Cortes J, O'Brien S, Kadia T, Feliu J, Plunkett W, Gandhi V, Kantarjian HM

Phase I and Extension Study of Clofarabine Plus Cyclophosphamide in Patients With Relapsed/Refractory Acute Lymphoblastic Leukemia. Clin Lymphoma Myeloma Leuk 14 (3) :231-8, 2014. e-Pub 2013. PMID: 24440659

Tsimberidou AM, Keating MJ, Jabbour EJ, Ravandi-Kashani F, O'Brien S, Estey E, Bekele N, Plunkett W, Kantarjian H, Borthakur G

A Phase I Study of Fludarabine, Cytarabine, and Oxaliplatin Therapy in Patients With Relapsed or Refractory Acute Myeloid Leukemia. Clin Lymphoma Myeloma Leuk 14 (5) :395-400.e1, 2014. e-Pub 2014. PMID: 24637132

Tam C, O'Brien S, Plunkett W, Wierda W, Ferrajoli A, Wang X, Do K-A, Cortes J, Khouri I, Kantarjian H Lerner S, Keating M

Life after FCR: outcomes of patients with chonic lymphocytic leukemia who progress after frontline treatment with fludarabine, cyclophosphamide and rituximab Blood 124 (20) :3059-3064, 2014

Tam CS, O'Brien S, Plunkett W, Wierda W, Ferrajoli A, Wang X, Do KA, Cortes J, Khouri I, Kantarjian H, Lerner S, Keating MJ

Long-term results of first salvage treatment in CLL patients treated initially with FCR (fludarabine, cyclophosphamide, rituximab). Blood 124 (20) :3059-64, 2014. e-Pub 2014. PMID: 25281606

Koay EJ, Baio FE, Ondari A, Truty MJ, Cristini V, Thomas RM, Chen R, Chatterjee D, Kang Y, Zhang J, Court L, Bhosale PR, Tamm EP, Qayyum A, Crane CH, Javle M, Katz MH, Gottumukkala VN, Rozner MA, Shen H, Lee JE, Wang H, Chen Y, Plunkett W, Abbruzzese JL, Wolff RA, Maitra A, Ferrari M, Varadhachary GR, Fleming JB

Intra-tumoral heterogeneity of gemcitabine delivery and mass transport in human pancreatic cancer. Phys Biol 11 (6) :065002, 2014. e-Pub 2014. PMID: 25427073

Liu X, Kantarjian H, Plunkett W

Sapacitabine for cancer. Expert Opin Investig Drugs 21 (4) :541-55, 2012. e-Pub 2012. PMID: 22329458

Liu X, Wang Y, Benaissa S, Matsuda A, Kantarjian H, Estrov Z, Plunkett W

Homologous recombination as a resistance mechanism to replication-induced double-strand breaks caused by the antileukemia agent CNDAC. Blood 116 (10) :1737-46, 2010. e-Pub 2010. PMID: 20479284

Chen R, Wierda WG, Chubb S, Hawtin RE, Fox JA, Keating MJ, Gandhi V, Plunkett W

Mechanism of action of SNS-032, a novel cyclin-dependent kinase inhibitor, in chronic lymphocytic leukemia. Blood 113 (19) :4637-45, 2009. e-Pub 2009. PMID: 19234140

Van Roosbroeck K, Fanini F, Setoyama T, Ivan C, Rodriguez-Aguayo C, Fuentes-Mattei E, Xiao L, Vannini I, Redis R, D'Abundo L, Zhang X, Nicoloso MS, Rossi S, Gonzalez-Villasana V, Rupaimoole R, Ferracin M, Morabito F, Neri A, Ruvolo P, Ruvolo VR, Pecot CV, Amadori D, Aruzzo L, Calin S, Wang X, You MJ, Ferrajoli A, Orlowski RZ, Plunkett W, Lichtenberg T, Davuluri RV, Berindan-Neagoe I, Negrini M, Wistuba II, Hagop K, Sood AK, Lopez-Berestein G, Keating MJ, Fabbri M, Calin GA

Combining anti-miR-155 with chemotherapy for the treatment of lung cancers. Clin Cancer Res. e-Pub 2016. PMID: 27903673

Koay EJ, Baio FE, Ondari A, Truty MA, Cristini V, Thomas RM, Chen R, Chatterjee D, Kang Y, Zhang J, Court L, Bhosale PR, TammEP, Qayyum A, Crane CH, Javle M , Katz MH, Gottumukkala VN, Rozner MH, Shen H, Lee JE, Wang H, Chen Y, Plunkett W, Abbruzzese, JL, Wolff RA, Maitra A, Ferrari M, Varadhachary GR and Fleming JB.

ntra-tumoral heterogeneity of gemcitabine delivery and mass transport in human pancreatic cancer. Phys. Biol. 11. e-Pub 2014
| | |
| --- | --- |
| Title: | Chronic Lymphocytic Leukemia Research Consortium |
| Funding Source: | NIH |
| Role: | Project Leader |
| | |
| --- | --- |
| Title: | Biochemical Basis for Therapeutic Activity |
| Funding Source: | NIH |
| Role: | Principal Investigator |
| | |
| --- | --- |
| Title: | Strategies to target the pathophysiology of CLL |
| Funding Source: | CLL Global Research Foundation |
| Role: | Principal Investigator |
| | |
| --- | --- |
| Title: | CLL moon shot - ibrutinib |
| Funding Source: | MDACC Moon Shot Program |
| Role: | Principal Investigator |
| | |
| --- | --- |
| Title: | Cancer Center Support (Core) Grant |
| Funding Source: | NIH/NCI |
| Role: | Program Leader |