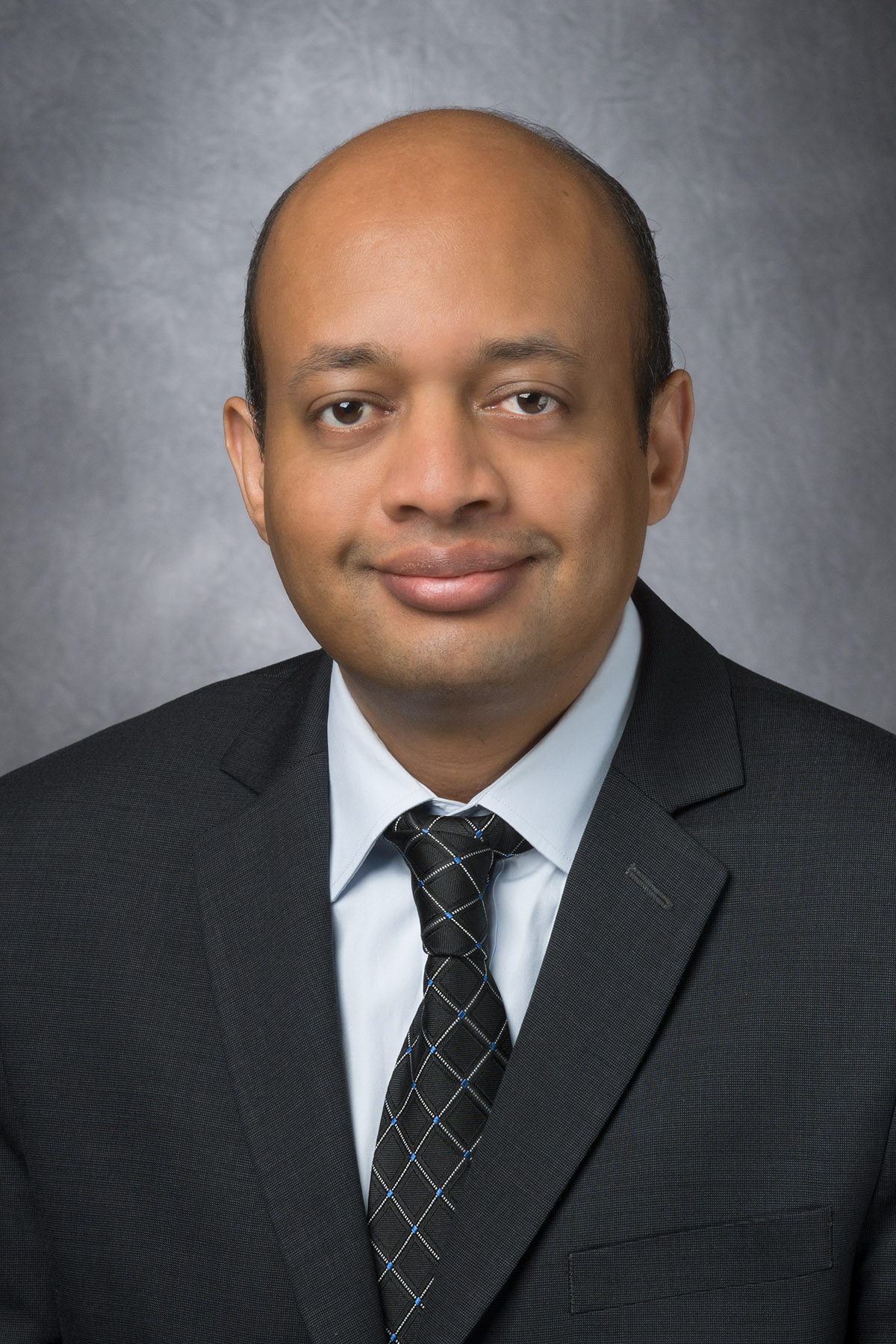 Yonathan Lissanu, MD, PhD
Department of Thoracic and Cardiovascular Surgery, Division of Surgery
About Dr. Yonathan Lissanu Deribe
My long-term career goal is to understand the molecular basis of lung cancers with genomic alterations in chromatin and epigenetic regulators and make an impact through identification of therapeutically relevant vulnerabilities in such tumors. I have extensive training and experience in cancer functional genomics under multiple institutions and proven track record of productivity. Hence, I have the expertise and deep motivation to successfully carry out the proposed research project. Currently, the research in my laboratory is focused on two major projects:

Identification of therapeutically relevant vulnerabilities in SWI/SNF chromatin remodeling complex mutant lung cancer including clinically applicable combinations for faster translation. Genomic studies have identified frequent mutations in the SWI/SNF complex (~20% of all human tumors). However, our understanding of how these mutations cause cancer is rudimentary. Furthermore, there are no therapies approved for targeting cancer with mutations in this complex. By developing a novel GEM model to study this complex in vivo and coupling it to analysis of human tumors, I have identified metabolic rewiring and dependence on oxidative phosphorylation of SWI/SNF mutant lung cancer. Importantly, I have demonstrated that SWI/SNF mutants are exquisitely sensitive to a newly discovered OXPHOS inhibitor. These observations are recently published in Nature Medicine.

Lissanu Deribe Y, Sun Y, Khan F, Peng Q, Marszalek J, Futreal AP. Mutations in the SWI/SNF complex induce metabolic rewiring and dependence on oxidative phosphorylation. Nat Med 24(7):1047-1057, 7/2018. PMID: 29892061. PMCID: PMC6650267

Leveraging my biochemical training and experience in the field of ubiquitination, I am also leading an effort to design, synthesize and characterize bifunctional small molecules, also known as proteolysis targeting chimeras (PROTACs) that induce ubiquitination and degradation of target proteins against a variety of cancer relevant targets. This project is in close collaboration with medicinal chemists at the Pharmaceutical Chemistry Core Facility (PCF) of MD Anderson. Proving my capacity to lead such a project, we have already successfully developed potent PROTACs that induce the degradation of the glucocorticoid receptor (GR). GR is emerging as a major mechanism of drug resistance in multiple cancer types. The Technology Commercialization office of MD Anderson has recently filed patent application for our GR PROTACs ( # PCT/US19/27163) where I am an inventor.

I have 15 years of experience in basic research and I have committed my professional life to cancer research. I have mentored two undergraduates, a clinical fellow and trained three research technicians. Currently, I am mentoring two postdoctoral fellows and two research technicians. In summary, my long-term goal is to identify cancer vulnerabilities that have translational possibility and develop small molecules that can address these vulnerabilities.
Read More
Dual/Joint/Adjunct Appointment
Assistant Professor, Department of Genomic Medicine, Division of Cancer Medicine, The University of Texas MD Anderson Cancer Center, Houston, TX
Degree-Granting Education
| | |
| --- | --- |
| 2010 | Goethe University of Frankfurt, Frankfurt, DEU, PHD, Biochemistry |
| 2004 | University of Heidelberg, Heidelberg, DEU, MS, Molecular and Cellular Biology |
| 2001 | Gondar College of Medical Sciences (now University of Gondar), Gondar, ETH, MD, Medicine |
Peer-Reviewed Articles
Lissanu Deribe Y, Sun Y, Terranova C, Khan F, Martinez-Ledesma J, Gay J, Gao G, Mullinax RA, Khor T, Feng N, Lin YH, Wu CC, Reyes C, Peng Q, Robinson F, Inoue A, Kochat V, Liu CG, Asara JM, Moran C, Muller F, Wang J, Fang B, Papadimitrakopoulou V, Wistuba II, Rai K, Marszalek J, Futreal PA

. Mutations in the SWI/SNF complex induce a targetable dependence on oxidative phosphorylation in lung cancer. Nat Med 24(7):1047-1057, 2018. e-Pub 2018. PMID: 29892061.

Lissanu Deribe Y

. Interplay between PREX2 mutations and the PI3K pathway and its effect on epigenetic regulation of gene expression in NRAS-mutant melanoma. Small GTPases 7(3):178-85, 2016. e-Pub 2016. PMID: 27111337.

Lissanu Deribe Y

. Mechanistic insights into the role of truncating PREX2 mutations in melanoma. Mol Cell Oncol 3(3):e1160174, 2016. e-Pub 2016. PMID: 27314100.

Lissanu Deribe Y, Shi Y, Rai K, Nezi L, Amin SB, Wu CC, Akdemir KC, Mahdavi M, Peng Q, Chang QE, Hornigold K, Arold ST, Welch HC, Garraway LA, Chin L

. Truncating PREX2 mutations activate its GEF activity and alter gene expression regulation in NRAS-mutant melanoma. Proc Natl Acad Sci U S A 113(9):E1296-305, 2016. e-Pub 2016. PMID: 26884185.

Cancer Genome Atlas Network.

. Genomic classification of cutaneous melanoma. Cell 161(7), 2015.

Berger MF, Hodis E, Heffernan TP, Deribe YL, Lawrence MS, Protopopov A, Ivanova E, Watson IR, Nickerson E, Ghosh P, Zhang H, Zeid R, Ren X, Cibulskis K, Sivachenko AY, Wagle N, Sucker A, Sougnez C, Onofrio R, Ambrogio L, Auclair D, Fennell T, Carter SL, Drier Y, Stojanov P, Singer MA, Voet D, Jing R, Saksena G, Barretina J, Ramos AH, Pugh TJ, Stransky N, Parkin M, Winckler W, Mahan S, Ardlie K, Baldwin J, Wargo J, Schadendorf D, Meyerson M, Gabriel SB, Golub TR, Wagner SN, Lander ES, Getz G, Chin L, Garraway LA

. Melanoma genome sequencing reveals frequent PREX2 mutations. Nature 485(7399):502-6, 2012. e-Pub 2012. PMID: 22622578.

Ikeda F, Deribe YL, Skånland SS, Stieglitz B, Grabbe C, Franz-Wachtel M, van Wijk SJ, Goswami P, Nagy V, Terzic J, Tokunaga F, Androulidaki A, Nakagawa T, Pasparakis M, Iwai K, Sundberg JP, Schaefer L, Rittinger K, Macek B, Dikic I

. SHARPIN forms a linear ubiquitin ligase complex regulating NF-κB activity and apoptosis. Nature 471(7340):637-41, 2011. PMID: 21455181.

Deribe YL, Pawson T, Dikic I

. Post-translational modifications in signal integration. Nat Struct Mol Biol 17(6):666-72, 2010. e-Pub 2010. PMID: 20495563.

Scharner D, Rössig L, Carmona G, Chavakis E, Urbich C, Fischer A, Kang TB, Wallach D, Chiang YJ, Deribe YL, Dikic I, Zeiher AM, Dimmeler S

. Caspase-8 is involved in neovascularization-promoting progenitor cell functions. Arterioscler Thromb Vasc Biol 29(4):571-8, 2009. e-Pub 2009. PMID: 19122169.

Deribe YL, Wild P, Chandrashaker A, Curak J, Schmidt MH, Kalaidzidis Y, Milutinovic N, Kratchmarova I, Buerkle L, Fetchko MJ, Schmidt P, Kittanakom S, Brown KR, Jurisica I, Blagoev B, Zerial M, Stagljar I, Dikic I

. Regulation of epidermal growth factor receptor trafficking by lysine deacetylase HDAC6. Sci Signal 2(102):ra84, 2009. e-Pub 2009. PMID: 20029029.

Jozic D, Cárdenes N, Deribe YL, Moncalián G, Hoeller D, Groemping Y, Dikic I, Rittinger K, Bravo J

. Reply to "The binding stoichiometry of CIN85 SH3 domain A and Cbl-b". Nat Struct Mol Biol 15(9):891-2, 2008. PMID: 18769463.

Moncalián G, Cárdenes N, Deribe YL, Spínola-Amilibia M, Dikic I, Bravo J

. Atypical polyproline recognition by the CMS N-terminal Src homology 3 domain. J Biol Chem 281(50):38845-53, 2006. e-Pub 2006. PMID: 17020880.

Jozic D, Cárdenes N, Deribe YL, Moncalián G, Hoeller D, Groemping Y, Dikic I, Rittinger K, Bravo J

. Cbl promotes clustering of endocytic adaptor proteins. Nat Struct Mol Biol 12(11):972-9, 2005. PMID: 16228008.
| | |
| --- | --- |
| Title: | Glucocorticoid Receptor degrading bifunctional molecules as therapeutics in cancer |
| Funding Source: | NIH/NCI |
| Role: | Principal Investigator |
| | |
| --- | --- |
| Title: | Mechanisms and Vulnerabilities of SWI/SNF chromatin remodeling complex mutant lung cancer |
| Funding Source: | NIH/NCI |
| Role: | Principal Investigator |
| | |
| --- | --- |
| Title: | Assistant Professor Start Up Funds |
| Funding Source: | UTMDACC |
| Role: | Principal Investigator |
| | |
| --- | --- |
| Title: | Development of a therapeutics discovery pipeline for the treatment of small cell (SCLC) and non-small cell lung cancer (NSCLC) patients |
| Funding Source: | MDACC Moon Shot Program |
| Role: | Co-Investigator |
| | |
| --- | --- |
| Title: | Targeting SMARCA2 as a therapeutic strategy in SMARCA4 mutant lung cancer |
| Funding Source: | NIH/NCI |
| Role: | Principal Investigator |
| | |
| --- | --- |
| Title: | Targeted Degradation of SMARCA2 as a Therapeutic Strategy in SMARCA4 Mutant Lung Cancers |
| Funding Source: | American Lung Association |
| Role: | Principal Investigator |
| | |
| --- | --- |
| Title: | METI (MDA Epigenetics Therapeutics Initiative) |
| Funding Source: | MDACC Moon Shot Program |
| Role: | Co-Leader |
| | |
| --- | --- |
| Title: | Investigation of YD23, a novel, potent and selective SMARCA2 degrader, as |
| Funding Source: | Lung Moonshot Program |
| Role: | Principal Investigator |